TV Watch
The Real Housewives of New Jersey
The Real Housewives of New Jersey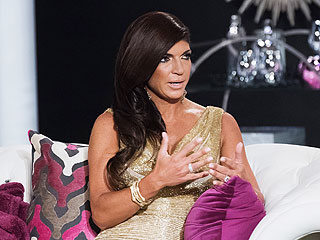 Credit: Charles Sykes/Bravo/Getty
The Real Housewives of New Jersey not only ended its season and reunion Tuesday night, but it also said goodbye to Teresa Giudice – perhaps forever.

"Do you think this is it for you?" host Andy Cohen asked her.

"Yeah, I think so," said an emotional Giudice, who is scheduled to report to prison on Jan. 5 to serve a 15-month sentence for fraud charges. "You're gonna make me cry, Andy. This is probably gonna be my last reunion."
Teresa Giudice stormed off the set of The Real Housewives of New Jersey reunion Sunday night when talk turned to her fraud indictment and impending imprisonment.

"I need a break. You all can have the conversation without me," Giudice said, abruptly standing up in her gown and walking off set, asking a producer, "Where's the bathroom?"

Giudice was upset when her cousins Kathy Wakile and Rosie Pierri joined the show and a clip was shown in which their mother (Teresa's aunt) stated that if people do something wrong, it will eventually catch up with them.
Teresa and Joe Guidice put their legal troubles aside Saturday to mark a special occasion.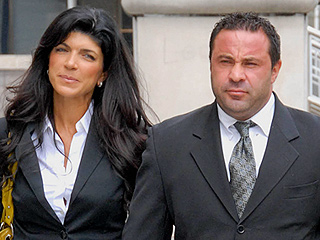 Joe Giudice acknowledged Thursday in the final part of a special Watch What Happens Live interview that there was not only a chance he could be deported following his 41-month prison term but that he also had a drinking problem.

While Teresa Giudice was in the spotlight Monday – her first interview since being sentenced to 15 months in prison for fraud – the focus was squarely on her husband in part two.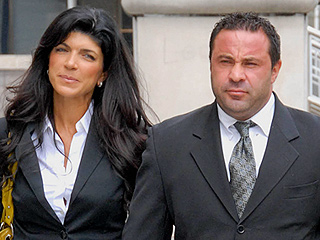 While Teresa Giudice may have pleaded guilty to bank and wire fraud charges in connection to a long-running financial conspiracy with husband Joe Giudice, her former attorney Jim Kridel – who represented the couple back in 2010 in their original bankruptcy case – says it's possible she may have committed the crimes unknowingly.

"I did not believe that Teresa was all that knowledgeable about any of the finances of her family until ultimately she became the breadwinner," Kridel tells PEOPLE.

"Everyone seems to blame her that she knew or should have known. I don't find that to be true in real life, though," he says. "People come in and sign tax returns quite often, and the spouse who is not in charge of the finances has no information. They just do what the accountant tells them."
With Teresa Giudice scheduled to report to prison on Jan. 5 to serve a 15-month sentence for fraud charges, the mom of four is focusing on her husband and daughters before the family is split up.


The Real Housewives of New Jersey
Get PEOPLE Everywhere
Advertisement