TV Watch
The Real Housewives of New Jersey
The Real Housewives of New Jersey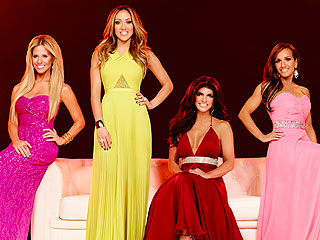 Credit: Alex Martinez/Bravo
The Real Housewives of New Jersey went in search of alligators as part of their girls' trip to Florida on Sunday night, but Amber Marchese's husband, Jim, had the biggest bite of them all.

"Better watch out for the gators," Kathy Wakile wisely told her sister, Rosie Pierri, as she showed her the new house she was building. "And I'm not even talkin' about the ones in the Everglades."

"Don't you sing or something?" Rosie asked, looking directly at Kevin Jonas, who co-owns a construction company and is helping to build the Wakile family's new home.
Jacqueline's back!

Sunday's The Real Housewives of New Jersey featured the return of former housewife Jacqueline Laurita, who emotionally admitted to reaching out twice to her BFF-turned-enemy Teresa Giudice. But, she said she received little response in return.

"You are weighing heavily on my mind," said Laurita, reading from one of two lengthy texts she had sent Giudice to former housewife Kathy Wakile. "You were like a sister to me … I wish I could be there to hug you."
Things got real for The Real Housewives of New Jersey Sunday night.

Breast cancer survivor Amber Marchese received stressful news after going to see her doctor for her five-year checkup.

"This is always a time of stress … you always fear the worst," Marchese said at church during Lent before her tests. "I'm always praying I'm healthy and have a long life with my children."

However, "the tests were inconclusive," an emotional Marchese told her husband after her doctor called about her bloodwork. "He wanted me to return for more testing … that's never happened. If I have a relapse, it doesn't look so good. You know that."
After months of reading about the legal woes facing Teresa Giudice and her husband, Joe – including her pleading guilty to four counts of fraud – viewers were finally able to see the drama that went on behind the scenes on Sunday's Real Housewives of New Jersey.

The most heartbreaking moment came when the Giudices' 13-year-old daughter, Gia, broke down, telling her mother she understood everything that was happening.

"I obviously know what's going on," Gia said. "I'm old enough to understand."
It looks like even more drama could be in store.

Dropped star Jacqueline Laurita is returning to The Real Housewives of New Jersey for a few episodes, a source confirms to PEOPLE.

"Jacqueline wasn't happy to not be returning to the show [as a cast member]. She was sad about it," an insider said.
They may be rookies, but the three newest Real Housewives of New Jersey certainly brought out old-school Jersey drama on Sunday.

The housewives attended a First Responders-themed costume party, only to witness a five-alarm fire breaking out when hostess Nicole Napolitano confronted Amber Marchese about the rumors that she heard Marchese was spreading about her being a homewrecker.
Trash, trash talk and talk Teresa Giudice didn't want to hear filled Sunday's Real Housewives of New Jersey.

"I don't go to psychics regularly," said Giudice, who went to see BFF Dina Manzo's friend and spiritual medium, James Van Praagh. "It is weird, right?"

Maybe she should have listened to her own intuition, because she didn't like what she heard about husband Joe's fraud charges.
The Real Housewives of New Jersey
Get PEOPLE Everywhere
Advertisement