TV Watch
The Real Housewives of New York City
The Real Housewives of New York City
The tears continue to fall for Real Housewives of New York City star Bethenny Frankel.

On last week's RHONY, Frankel had an emotional reunion with her estranged stepfather, whom she called "the only father I've ever known."

In PEOPLE's exclusive clip of tonight's episode, Frankel, 44, breaks down from the pressure to spend time away from her own daughter, Bryn, 5.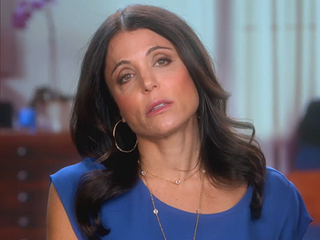 While Ramona Singer continued to celebrate her birthday with girlfriends on Tuesday's Real Housewives of New York City, Bethenny Frankel went in search of family.

"Oh, my God, I don't fit in," Frankel said at Singer's party. "I've been to women's Upper East side parties before. Some women look great, and some have gone over the top. It looks like the Star Wars bar."

Frankel told her therapist she also felt like she didn't fit in if she didn't make an effort to reconnect with her stepfather John Parisella, whom she hadn't seen in years.

"He raised me. It got a little hairy at the end, and we stopped speaking," she said. "But he was the only father I've ever known. I feel like I need to reopen that door."
Bethenny Frankel may be a successful business mogul, but that doesn't mean she's got every aspect of her life together.

"I think I suck at choosing the right people for me," the Real Housewives of New York star says in the May issue of Haute Living New York.

"I don't think that I actually suck when I'm in a relationship, but I think that I haven't gone with my gut enough," she continues. "I've made decisions out of fear, which is the biggest mistake people can make. You have to make decisions out of truth."
When it comes to dating Ramona Singer, guys better bring their A-game.

"If on the first date, if he doesn't help me with my coat, then I don't want to be with him," Singer tells PEOPLE.

"I like a man who is attentive from the very beginning. If he's not, then you don't want him."
It looks like a bicoastal Real Housewives feud is brewing.

When Dr. Terry Dubrow went on Watch What Happens Live Monday night, he was asked to pick up the scalpel, but he brought out the metaphorical claws instead.

In the show's first segment, a caller asked both Dubrow and his partner in plastic, Dr. Paul Nassif, "Which Real Housewife would you have on Botched, and what would you do to her?"
It all boils down to brunch.

The Real Housewives of New York City's Ramona Singer clashes yet again with Bethenny Frankel in tonight's episode of the Bravo series when the duo goes head to head over brunch-hosting duties.

The catfight kicks off during a trip to the Hamptons where the ladies visit LuAnn's new home, and Frankel gets a little to close to Singer's BFF Sonja Morgan.
After writing a book about her relationship problems, reality star Bethenny Frankel opens up about her divorce drama and how she's learning from her mistakes. Subscribe now for instant access to the exclusive interview, only in PEOPLE.

Bethenny Frankel's had her fair share of romance woes, and now she's dishing on why she believes some of her relationships went down in flames: money.

"Someone said to me recently, 'We are pricing ourselves out of the market,' " says the Skinnygirl mogul, 44, in the new issue of PEOPLE.
The Real Housewives of New York City