So You Think You Can Dance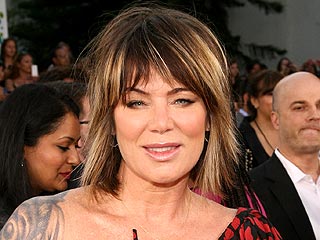 Credit: Jesse Grant/WireImage
After a two-week hiatus during the London Olympics, the top 14 contestants on So You Think You Can Dance returned Wednesday – and four were sent home.

The episode featured some of the best routines choreographed by three-time Emmy winner Mia Michaels. "I was very honored. It was cool as an artist to be celebrated like that," Michaels told PEOPLE after the show. "It's the most amazing feeling ever. It is actually better than any gold Emmy statue."

But while some dancers soared with their recreations of past numbers, others couldn't recreate the magic of the original performances from seasons past.

"It was a slaughterhouse to be honest with you," Michaels said about the judges' critiques and comparisons. "Tonight just wasn't it and I was disappointed. But the dancers did the best they could."
After another night of fantastic dancing, the top 16 became the top 14 on So You Think You Can Dance, as another boy and girl were sent home Wednesday night.

"It's a terrible situation," judge Nigel Lythgoe said after the bottom-six dancers were revealed to be Amber Jackson, Lindsay Arnold, Eliana Girard, George Lawrence II, Brandon Mitchell and Dareian Kujawa.

Lythgoe told Lawrence that he "looked a little tired" after his Nappytabs hip-hop number, but he was eventually saved.
The entire top 20 took to the stage to perform Wednesday on So You Think You Can Dance, but only 16 made it through season 9's first elimination.

"You must be dreading it," host Cat Deeley said to the judges at the beginning of Wednesday's live show.

The judges were tasked with sending home two men and two women of the six dancers voted into the bottom by viewers.

But first, all 20 contestant took to the stage to perform this week's routines, which ended with a rousing Bollywood number by Whitney Carson, 18, and Chehon Wespi-Tschopp, 23.
Fresh off the show's 200th episode, So You Think You Can Dance's season 9 had its first live show on Wednesday.

After a workplace-set group number by the top 20, judge Mary Murphy handed out a ticket on the "hot tamale train" to ballroom dancer Witney Carson, 18. But her ballet-dancer partner Chehon Wespi-Tschopp, 23, did not fare as well.

"When we pulled ballroom I wanted to die a little bit. I'm so new to this and I felt awkward," Wespi-Tschopp told PEOPLE of working with their choreographer, Dancing with the Stars pro Louis Van Amstel, who called him a "pretty boy with work to do" in rehearsal.

Receiving more positive feedback were jazz dancer Tiffany Maher, and contemporary dancer George Lawrence II, both 19, who left Murphy "breathless" after their Sonya Tayek contemporary routine.
So You Think You Can Dance
is turning 200-episodes-old!
Fox's hit dance competition, which requires hip-hoppers to tackle the tango and ballroom dancers to try Bollywood, is celebrating with a special episode, airing Wednesday (8 p.m. ET).
The judges will announce this season's top 20 finalists (10 men and 10 women), "who will perform their own specialties, free of any judgment, so that America can get to know more about them and their talents," according to a press release.
But that's not all! The show has also put together this video tribute, showing 200 dancers in 200 seconds. It's a fun way to spend the next three minutes and 20 seconds!
Fresh off being named America's Favorite Dancer on Thursday night, So You Think You Can Dance season 8 winner Melanie Moore was still recovering from the shock of her victory that to many viewers had been a forgone conclusion since the beginning of the season.

"I was ready to take second [place] very graciously. In my head I really thought Sasha was going to win," Moore told reporters of her fellow finalist moments after the winner was announced. "Just being up there and being named one of the final two I was like, 'Wait, is this really happening?' I just started crying."

She also cried over her family's flying in to be with her for the finale.
Despite strong performances by all four finalists, head judge Nigel Lythgoe predicted that the winner of So You Think You Can Dance on Thursday night would be one of the two remaining women: Sasha Mallory or Melanie Moore.

Was he right? Or did the victory go to one of the men, Marko Germar or Tadd Gadduang? Read on to find out.
Coming in to Wednesday's So You Think You Can Dance performance finale, the judges believed it was a race between Sasha and Melanie, but after the first few routines it was clear that it was anyone's game to win.

"You were a little uncomfortable with the style," judge Nigel Lythgoe told Melanie and Marko after their disco routine.  "I hope I'm going to see better from you in later routines."

"On paper it looked like it was going to be good," Lythgoe told reporters of the super couple reuniting for the first time in weeks. "But did it translate? Not to me."

A little later Sasha and Tadd also received feedback that their routine was "uncomfortable."
It was a pretty special night out – even for the 5-year-old who has everything.

On Wednesday night in Los Angeles, Suri Cruise attended the live performance finale of So You Think You Can Dance.

While her mom Katie Holmes played guest judge on the show, Suri got her own royal treatment in the audience.

Arriving with three other kids and two adults, the daughter of Holmes and Tom Cruise wore a black dress and her hair in a side braid, tied with a purple ribbon. But her most important accessory was a sign she proudly held up with her friends: "We Love You Katie."
Thursday nights at So You Think You Can Dance are usually tough for the judges, who have to choose two dancers to send home – but this week it was all up to America.

With room for only four dancers in next week's finale there was no "bottom four" on Thursday's results show. Instead, it was a celebration of the two guys and two girls who made it through.

"I'm happy [the decision was based on votes] because I couldn't have made that decision. I didn't want to make that decision," judge Mary Murphy told PEOPLE after Thursday's show.

The first talented dancer given the good news from host Cat Deeley was Melanie Moore – no surprise since she has been called "a beast" since the first week of the competition.

"Melanie is just bonkers," guest judge Lil C told reporters.
So You Think You Can Dance