So You Think You Can Dance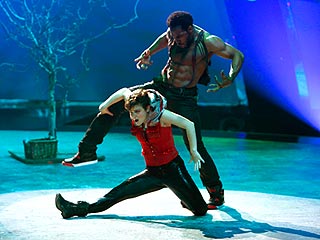 Credit: Adam Rose/FOX
With just one elimination before the So You Think You Can Dance finale, emotions were high and tears flowed freely as the women shined and the men fell flat on Wednesday's episode.

Melanie Moore and all-star Twitch opened the show with a Little Red Riding Hood-inspired hip-hop routine that left guest judge Christina Applegate saying, "You give me hope. You take us on a journey."

"I'm not a hip-hop dancer at all, so I was just so vulnerable in that state. Just to hear her give such nice comments – that's just what I wanted," Moore told reporters of being moved to tears by Applegate's comments.

Next up was an emotional contemporary routine featuring Sasha Mallory and season 6 finalist Kent that had both Mallory and the judges in tears.
"It's a Thursday. Boo," host Cat Deeley told the studio audience just before going live for Thursday's So You Think You Can Dance elimination episode. And less than three minutes after cameras started rolling she was already in tears.

"That was amazing," Deeley said with watery eyes of the top 8's circus-themed opening group number. But later in the program there were more tears – and not happy ones.

After a night of performances that had guest judge Lady Gaga throwing her shoe on stage Wednesday, it was time for two dancers to be sent home.


The top 8 contestants on So You Think You Can Dance astounded Lady Gaga when she joined what host Cat Deeley called a "mind-blowing panel of judges" Wednesday.

Walking in to a thunderous applause from the studio audience before the cameras started rolling, Gaga held an air of regality in her Asian-inspired Sgt. Pepper outfit Wednesday, but as soon as the dancers took to the stage, her true SYTYCD fan-girl came out.

"I have a sweet spot for you," she told Ricky Jaime. "I think you're extremely sexy," she said to Caitlynn Lawson. But it was Melanie Moore who had Gaga on her feet instigating a standing ovation – and in over-sized platform shoes, she towered above fellow judges Nigel Lythgoe, Mary Murphy and Hollywood director Rob Marshall.

"As soon as I am done with the SYTYCD tour, Gaga, I will be calling you," Moore told PEOPLE of being offered a spot as a dancer on Gaga's tour.
The So You Think You Can Dance contestants competed as individuals this week, and without the protection of their partner's popularity, some dancers found themselves struggling to find their own winning style.

The first dancer to be voted in to the bottom two guys Thursday was Mitchell Kelly, a predictable vote after his Broadway routine was deemed "over baked" by the judges the evening before.

"You can't just have this big smile. There's got to be something else attached to it," judge Nigel Lythgoe told reporters after Thursday's elimination. "I don't think Mitchell found the style."
The top ten took to the stage with returning all-stars on Wednesday's So You Think You Can Dance, and while some contestants were lost in the shadows of the superior veterans, others outshined their more experienced counterparts.

"The all-stars coming in was almost like a dream," Melanie Moore told reporters after Wednesday's show. "They brought such an air of positivity."

And the positivity was infectious.

After landing in the bottom last week, former partners Jordan Casanova and Tadd Gadduang both wowed the judges by managing to outshine season 5's Brandon and "out hip-hop" season 4's Comfort.
Just before the top 10 was to be revealed on Thursday's So You Think You Can Dance, Emmy-nominee Cat Deeley said what all the contestants must have been thinking: "Going home at this stage is the cruelest."

And after two performances from each couple on Wednesday, it was up to America to be "cruel" and vote three couples in to the bottom three.

"It's really helpful for us as judges. Nobody will be safe when you start doing two numbers," judge Mary Murphy told PEOPLE of getting to see dancers forced to dance outside their genres.

After their high-concept hip-hop routine was "lost in translation" to guest judge Sonya Tayeh Wednesday, the first couple put in danger was Mitchell Kelly and Caitlynn Lawson. Perennial bottom three couple Ricky Jaime and Ryan Ramirez soon joined them.
The remaining contestants on the Emmy-nominated show So You Think You Can Dance performed their swan songs as couples Wednesday, and while the judges anticipate some dancers will soar into the top 10, others came across as ugly ducklings.

"[You've] got to pull so many strings tonight to make sure you're in that top 10," judge Nigel Lythgoe warned the contestants Wednesday. But not all of them were given the opportunity to shine.

Some routines, like Sasha Mallory and Alexander Fost's paso doble, were choreographed as showstoppers. Others, like Jordan Casanova and Tadd Gadduang's "Out Tonight" routine, left guest judge Sonya Tayeh saying, "I know your abilities and I didn't see them."
Before the So You Think You Can Dance cameras went live Thursday, the top 14 marked Nigel Lythgoe's birthday on stage with balloons and cake, but the head judge knew the jubilation would be short-lived.

"Everyone's smiling now, but later two people are going to pick up that cake and drop it on my head," Lythgoe told the studio audience about his having to send two dancers home later that evening.

Assisting Lythgoe in that tough decision was Mary Murphy and guest judge – and former SYTYCD contestant – Travis Wall. (Wednesday night's guest judge Carmen Electra was not present for the deliberations.)

"Today was the worst part. I like critiquing, but I do not like sitting there watching someone's heart break," Wall told reporters. "I've been in [their] position, so I can put myself in their shoes."
The judges called it "the best performance of the night," but it almost didn't happen.

Just minutes before Caitlyn Lawson and Mitchell Kelly took to the stage on So You Think You Can Dance Wednesday, producers weren't sure if the couple would be able to perform.

"My foot – my muscle – it [was swollen] to the size of a tennis ball," Kelly told reporters of the injury that developed overnight before the taping. "I was scared because I couldn't even put my weight on it."

Immediately, SYTYCD season 7 contestant – and assistant to choreographer Mandy Moore – Robert Roldan was called in to take Kelly's place (as he did the first week of the competition when Kelly injured his arm).
There were no stitches needed after Wednesday's So You Think You Can Dance, but probably a lot of lip gloss.

Following an exhilarating kiss between contestants Marko Germar and Melanie Moore, the judges panel turned in to a kissing booth with Nigel Lythgoe kissing Mary Murphy, then guest judges Kristin Chenoweth and Lil' C locking lips. Even Lythgoe and Lil' C smooched before it was all over. (Watch a clip below.)

"We started the fire and it just spread," Moore told reporters after her performance.

But the kisses weren't just on-camera.
So You Think You Can Dance