So You Think You Can Dance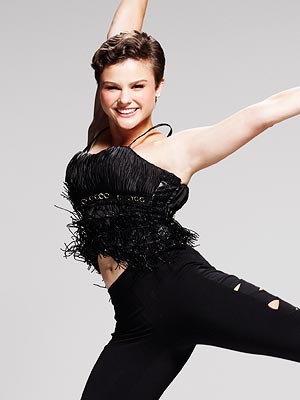 Credit: James Dimmock/FOX
Fresh off being named America's Favorite Dancer on Thursday night, So You Think You Can Dance season 8 winner Melanie Moore was still recovering from the shock of her victory that to many viewers had been a forgone conclusion since the beginning of the season.

"I was ready to take second [place] very graciously. In my head I really thought Sasha was going to win," Moore told reporters of her fellow finalist moments after the winner was announced. "Just being up there and being named one of the final two I was like, 'Wait, is this really happening?' I just started crying."

She also cried over her family's flying in to be with her for the finale.
Despite strong performances by all four finalists, head judge Nigel Lythgoe predicted that the winner of So You Think You Can Dance on Thursday night would be one of the two remaining women: Sasha Mallory or Melanie Moore.

Was he right? Or did the victory go to one of the men, Marko Germar or Tadd Gadduang? Read on to find out.
Coming in to Wednesday's So You Think You Can Dance performance finale, the judges believed it was a race between Sasha and Melanie, but after the first few routines it was clear that it was anyone's game to win.

"You were a little uncomfortable with the style," judge Nigel Lythgoe told Melanie and Marko after their disco routine.  "I hope I'm going to see better from you in later routines."

"On paper it looked like it was going to be good," Lythgoe told reporters of the super couple reuniting for the first time in weeks. "But did it translate? Not to me."

A little later Sasha and Tadd also received feedback that their routine was "uncomfortable."
It was a pretty special night out – even for the 5-year-old who has everything.

On Wednesday night in Los Angeles, Suri Cruise attended the live performance finale of So You Think You Can Dance.

While her mom Katie Holmes played guest judge on the show, Suri got her own royal treatment in the audience.

Arriving with three other kids and two adults, the daughter of Holmes and Tom Cruise wore a black dress and her hair in a side braid, tied with a purple ribbon. But her most important accessory was a sign she proudly held up with her friends: "We Love You Katie."
Thursday nights at So You Think You Can Dance are usually tough for the judges, who have to choose two dancers to send home – but this week it was all up to America.

With room for only four dancers in next week's finale there was no "bottom four" on Thursday's results show. Instead, it was a celebration of the two guys and two girls who made it through.

"I'm happy [the decision was based on votes] because I couldn't have made that decision. I didn't want to make that decision," judge Mary Murphy told PEOPLE after Thursday's show.

The first talented dancer given the good news from host Cat Deeley was Melanie Moore – no surprise since she has been called "a beast" since the first week of the competition.

"Melanie is just bonkers," guest judge Lil C told reporters.
With just one elimination before the So You Think You Can Dance finale, emotions were high and tears flowed freely as the women shined and the men fell flat on Wednesday's episode.

Melanie Moore and all-star Twitch opened the show with a Little Red Riding Hood-inspired hip-hop routine that left guest judge Christina Applegate saying, "You give me hope. You take us on a journey."

"I'm not a hip-hop dancer at all, so I was just so vulnerable in that state. Just to hear her give such nice comments – that's just what I wanted," Moore told reporters of being moved to tears by Applegate's comments.

Next up was an emotional contemporary routine featuring Sasha Mallory and season 6 finalist Kent that had both Mallory and the judges in tears.
"It's a Thursday. Boo," host Cat Deeley told the studio audience just before going live for Thursday's So You Think You Can Dance elimination episode. And less than three minutes after cameras started rolling she was already in tears.

"That was amazing," Deeley said with watery eyes of the top 8's circus-themed opening group number. But later in the program there were more tears – and not happy ones.

After a night of performances that had guest judge Lady Gaga throwing her shoe on stage Wednesday, it was time for two dancers to be sent home.


The top 8 contestants on So You Think You Can Dance astounded Lady Gaga when she joined what host Cat Deeley called a "mind-blowing panel of judges" Wednesday.

Walking in to a thunderous applause from the studio audience before the cameras started rolling, Gaga held an air of regality in her Asian-inspired Sgt. Pepper outfit Wednesday, but as soon as the dancers took to the stage, her true SYTYCD fan-girl came out.

"I have a sweet spot for you," she told Ricky Jaime. "I think you're extremely sexy," she said to Caitlynn Lawson. But it was Melanie Moore who had Gaga on her feet instigating a standing ovation – and in over-sized platform shoes, she towered above fellow judges Nigel Lythgoe, Mary Murphy and Hollywood director Rob Marshall.

"As soon as I am done with the SYTYCD tour, Gaga, I will be calling you," Moore told PEOPLE of being offered a spot as a dancer on Gaga's tour.
The So You Think You Can Dance contestants competed as individuals this week, and without the protection of their partner's popularity, some dancers found themselves struggling to find their own winning style.

The first dancer to be voted in to the bottom two guys Thursday was Mitchell Kelly, a predictable vote after his Broadway routine was deemed "over baked" by the judges the evening before.

"You can't just have this big smile. There's got to be something else attached to it," judge Nigel Lythgoe told reporters after Thursday's elimination. "I don't think Mitchell found the style."
The top ten took to the stage with returning all-stars on Wednesday's So You Think You Can Dance, and while some contestants were lost in the shadows of the superior veterans, others outshined their more experienced counterparts.

"The all-stars coming in was almost like a dream," Melanie Moore told reporters after Wednesday's show. "They brought such an air of positivity."

And the positivity was infectious.

After landing in the bottom last week, former partners Jordan Casanova and Tadd Gadduang both wowed the judges by managing to outshine season 5's Brandon and "out hip-hop" season 4's Comfort.
So You Think You Can Dance