True Blood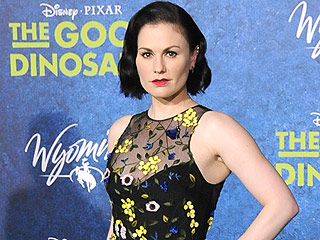 Credit: Barry King/Getty
Anna Paquin knows how to put Internet body shamers in their place.


It was love at first bite for Stephen Moyer and Anna Paquin.

Moyer, 46, stopped by Watch What Happens Live on Wednesday night to "spill the tea" – actually, blood – about steamy vampire show True Blood, including his marriage to on-screen lover Paquin.

"We met screen testing for the show. We were both single at the time, and there was just this kind of spark," he said, adding that things really started to sizzle when filming began.
Mad Men is ending, and while the show's opening credits are inseparable from RJD2's haunting theme, there was a time when that beat was known only as "A Beautiful Mine," by RJD2 and rapper Aceyalone.

Matthew Weiner originally wanted a Beck song to play as the show's opening theme, but the singer turned down every offer from the show's producers. Weiner was driving and listening to NPR one day when he heard "A Beautiful Mine" played as segue music between two stories and was immediately struck by it, though the version that ultimately was used was so different from the original that RJD2 didn't recognize it when he first heard it. He's probably okay with it now, though.
HBO's favorite vampy fairy may be returning to work on another sexy show, but this time as a mere human.

Former True Blood actress Anna Paquin is in talks to play the lead in Madame X, according to The Wrap.

The miniseries is adapted from Kate Manning's period novel My Notorious Life, which is based on a true story from the Victorian era. The series follows Axie Muldoon (Paquin), a penniless daughter of immigrants who becomes a successful, yet controversial, midwife and abortionist in New York City.

Paquin, 32, and real-life hubby Stephen Moyer, 45, are reportedly working on the project together. The duo will executive produce the series through their production company CASM Films, alongside actor-comedian Jack Black, 45, according to Deadline.
There's an unspoken tradition among British stage actors to drink up after a job well done.


Bikers, blood and now … a Bastard?

For fans longing for their fix of dearly departed series Sons of Anarchy and True Blood, a new FX series is teaming up two familiar – but unexpected – faces.

SOA's Katey Sagal and True Blood's Stephen Moyer will costar in the period drama The Bastard Executioner, the latest offering from Sons creator and Sagal's husband Kurt Sutter, 54.
If True Blood has taught fans anything, it's that nothing lasts forever – even immortal vampires.

After seven seasons, the HBO drama died the true death and ended on Sunday after 80 episodes of vampires, shape-shifters, werewolves, witches and fairies.

Warning: True Blood spoilers ahead for the final time.
True Blood