True Blood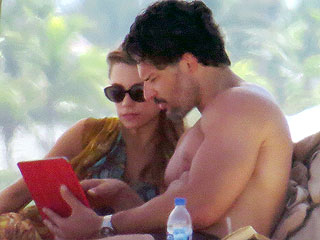 Credit: FameFlynet
It doesn't get much hotter than Sofia Vergara and Joe Manganiello – but then, the ridiculously good-looking couple had to head to the sweltering summer sun of Mexico!


If True Blood has taught fans anything, it's that nothing lasts forever – even immortal vampires.

After seven seasons, the HBO drama died the true death and ended on Sunday after 80 episodes of vampires, shape-shifters, werewolves, witches and fairies.

Warning: True Blood spoilers ahead for the final time.
Too much time around vampires? That may be the case for True Blood actor Jim Parrack, who recently admitted he like to indulge in drinking a bit of real blood.

After mentioning this at the opening last March of Broadway's Of Mice and Men, Parrack confirmed he wasn't kidding when he reiterated his taste for blood in a recent interview with Vulture.

"I was being literal. I like the real deal," the actor said, but that doesn't necessarily mean he's quenching his thirst every day.
Relationships can be complicated. Relationships with vampires can be downright impossible.


Alexander Skarsgard is best known for playing True Blood's resident bad-boy vampire Eric Northman, but he found his role as the kindly Father in The Giver to be a welcome departure.


Tara's death was swift and sudden in the True Blood season 7 premiere, but fans finally got to say a proper goodbye to Rutina Wesley's character on Sunday's episode of the HBO hit.


Jim Parrack and Leven Rambin are engaged!


It's always nice to see old friends come home again.

Warning: True Blood Spoilers Ahead.
True Blood
Get PEOPLE Everywhere
Advertisement