True Blood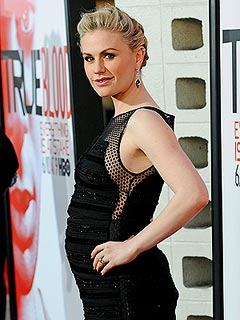 Credit: Jason LaVeris/FilmMagic
Anna Paquin's own big premiere is still several months away, but the actress showed off her growing baby bump Wednesday at a Hollywood screening of the new season of True Blood.

"I feel fantastic," she told reporters. Paquin, 29, who's expecting her first child with husband and costar Stephen Moyer, sported a stylish black dress, with her bump noticeably larger than last month, when she stepped out at the White House Correspondents' Dinner.

"It's always amazing," Moyer told PEOPLE of being a dad again (he has two children – Lilac, 10, and Billy, 12 – from a previous relationship). "I love my kids so much. And the fact that Anna is pregnant just adds more crazy to the bundle of fun."


The new season 5 teaser for HBO's True Blood begins, appropriately enough, with an ending – a grave-digging scene, with Sookie (Anna Paquin) burying a body.

Is it the body of Tara (Rutina Wesley), last seen getting shot in the season 4 finale? That's just one of many questions raised by the quick flashes we get of the new season, which premieres in June.

It's not all doom and gloom, though. We also get glimpses of Eric (Alexander Skarsgard) kissing ... well, somebody. And Eric and Sam (Sam Trammell) shirtless.
Joe Manganiello has plenty of experience stripping down for his role as Alcide Herveaux on True Blood – and there's nothing wrong with that, says the hunk.

"As far as the butt cheeks stuff goes, it just makes sense" Manganiello, 35, tells OUT magazine's March issue, of his frequent nudity on HBO's hit series.

"It's not gratuitous; it's realistic," he says. "If you're a werewolf and you transform, you lose everything and there are your butt cheeks."
The True Blood twins have arrived.

Sam Trammell and longtime love Missy Yager welcomed "two healthy baby boys" on Tuesday, his rep confirms to PEOPLE.

After meeting in New York doing theater, the pair has been together for eight years.


Yager, 43, has appeared on
Mad Men
and
Boston Public
, while Trammell, 42, currently plays Sam Merlotte on the HBO vampire series.
Sometimes Anna Paquin's most intimate moments with husband Stephen Moyer aren't so intimate. Like when there's a camera crew filming them.

"Maybe it should be weird, simulating sex with your husband in front of people? But it's really not," the True Blood star tells V Magazine of her steamy scenes on the HBO vampire series with her character's lover, played by Moyer.

"When it's a love scene with someone you actually love, there's no feeling like, 'Can I touch him here? Can I touch him there?' You know what your boundaries are – or what they aren't, I suppose."
As evidenced by True Blood's season 4 premiere Sunday night, a lot has changed since fans last saw Sookie Stackhouse and the residents of Bon Temps.

Spoiler alert: Major new plot points revealed below.

Sookie begins the episode in a glowing Eden-like fairyland that exists on an alternate plane and its own timeframe. There she meets her fairy godmother, Claudine – and runs into her grandfather, whom she hasn't seen in 20 years (though he thought it was only the day before). The idyllic scene quickly turns sinister when an evil fairy chases Sookie, who narrowly escapes back into her own, human realm.

Once home, Sookie learns that although in fairyland only a few minutes passed, she's been missing for more than a year. Her brother Jason and everyone else presumed she was dead, likely at the hands of a vampire, and Jason has sold her house to an unknown company. And that's not the only big change since Sookie's been gone:
With Sunday's season premiere of True Blood, fans are eagerly set to anticipate the fate of heroine Sookie Stackhouse – particularly where her love life will lead her.

As played by Anna Paquin, Sookie spent the first two seasons of the HBO hit engaging in some of TV's most explicit, lusty romps with her vampire lover Bill Compton, portrayed by Paquin's real-life husband, Stephen Moyer.

At the end of season 3, Sookie learned the heartbreaking secret that Bill had been sent on a mission to woo her by the Queen of Louisiana – putting into question everything about the relationship between the two.

Was their entire romance a sham, or did he truly fall in love with Sookie? Could she ever trust him again?


Does talk of vampire royalty, shape-shifters, fairies, werewolves and were-panthers make your head spin?

Have no fear, True Blood neophytes! There's a new video to get you up to speed on HBO's supernatural hit before the season 4 premiere.

In less than five minutes, all the supernatural creatures lurking around Bon Temps will be explained – not to mention Sookie Stackhouse's complicated love life and the trouble that befalls her brother Jason and her friends Tara and Lafayette.

True Blood season 4 premieres Sunday (9 p.m. ET) on HBO.


Oh, Sookeh! When we last left our heroine Sookie Stackhouse (Anna Paquin), she was betrayed by her true love, vampire Bill (Stephen Moyer) and whisked away to a magical land through ... a chandelier?

Before season 4 of HBO's supernatural hit premieres on June 26 (9 p.m. ET), watch a sneak peek at the magical fairlyland where Sookie meets an old friend, telepath Barry the Bellboy (Chris Coy), her grandfather (Gary Cole) and her fairy godmother, Claudine (Lara Pulver).
Anna Paquin is one lucky girl!

The True Blood heroine finds herself surrounded by a host of sexy leading men – Alexander Skarsgard, Joe Manganiello, and real-life husband Stephen Moyer – in new photos released by HBO to promote the upcoming fourth season of the vampy show.

Last viewers checked in with Paquin's Sookie Stackhouse, she had left Bon Temps, La., for her fairy relatives, and had shut Moyer's Bill Compton out of her life after Skarsgard's vampire character Eric revealed her love's betrayal.
True Blood
Get PEOPLE Everywhere
Advertisement