True Blood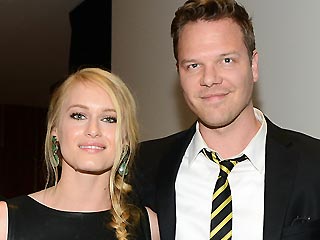 Credit: Araya Diaz/Getty
Too much time around vampires? That may be the case for True Blood actor Jim Parrack, who recently admitted he like to indulge in drinking a bit of real blood.

After mentioning this at the opening last March of Broadway's Of Mice and Men, Parrack confirmed he wasn't kidding when he reiterated his taste for blood in a recent interview with Vulture.

"I was being literal. I like the real deal," the actor said, but that doesn't necessarily mean he's quenching his thirst every day.
Relationships can be complicated. Relationships with vampires can be downright impossible.


Alexander Skarsgard is best known for playing True Blood's resident bad-boy vampire Eric Northman, but he found his role as the kindly Father in The Giver to be a welcome departure.


Tara's death was swift and sudden in the True Blood season 7 premiere, but fans finally got to say a proper goodbye to Rutina Wesley's character on Sunday's episode of the HBO hit.


Jim Parrack and Leven Rambin are engaged!


It's always nice to see old friends come home again.

Warning: True Blood Spoilers Ahead.
Dealing with lawyers can be quite frustrating – even when you're a vampire.

Warning: True Blood Spoilers Ahead.

Facing mortality for the first time in over 100 years, Bill (Stephen Moyer) has quickly accepted his Hep-V positive status and makes the practical decision to update his last will and testament before his deadly condition worsens.
True Blood has always celebrated the undead, but on Sunday night it was all about celebrating the actually dead.


True Blood