True Blood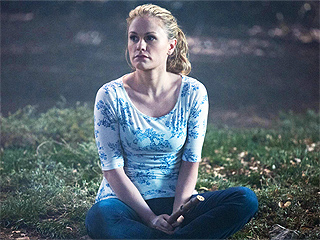 Credit: Tony Rivetti/HBO
True Blood fans may still be mourning the loss of Tara, but a few familiar faces returned to the HBO show on Sunday to make the grief a little more bearable – that is, until more people start dying.

Although she met the true death in season 4, the deliciously austere Nan Flanagan appears in a 1980s flashback that had the seemingly ever-nude Eric (Alexander Skarsgard) forced by a group of hit men to choose between saving the life of his beloved progeny, Pam, over his current human paramour.

In the present day, Pam (Kristin Bauer van Straten) uses the fact that the villainous Sarah Newlin (Anna Camp) survived the season 6 finale to motivate Eric out of his Hep-V-infected funk and on a vindictive mission of revenge that ends with the former pastor's wife hiding in a wine cellar as her yogi (and bed partner) is murdered by the same hit men Eric met back in 1986.

And there is murder in Bon Temps as well.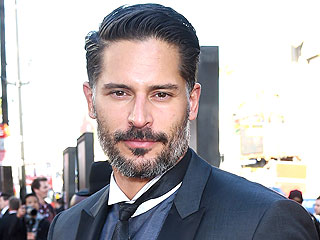 Joe Manganiello knows what he's looking for in a woman – he just hasn't found her yet.


Spoiler Alert: Things in Bon Temps, Louisiana, are going from bad to worse.

After last week's episode of True Blood – where a peaceful town barbecue ravaged by an unknown band of diseased vamps left many dead, including Rutina Wesley's formidable character, Tara – the show picks up in the eerie aftermath.

Dazed and confused, citizens gather at the local church, where Mayor Sam Merlotte (Sam Trammell) instructs them all to go and help clean up the mess the previous day's massacre left behind, while he and the police set out to find the culprits.
In honor of True Blood's final-season premiere Sunday night, Sesame Street brought back its "True Mud" parody, which replaces all the HBO series's sex and violence with adorable lessons about rhyming.

The plot is simple enough for a 4-year-old to follow: A puppet version of Bill Compton appears at Merlotte's Bar and Grill, in desperate need of some "true mud." Unfortunately for him, the patrons only want to give him things that sound like mud – from cud, to a spud, to some guy named Bud.


One episode into its brand-new season, and True Blood is already making a killing.

HBO's hit vampire series returned for its seventh and final season Sunday night and began mid-bloodbath, as a group of disease-infected vampires attacked a peaceful barbecue in the Louisiana town of Bon Temps, where humans and human-friendly vamps had gathered to break bread.

WARNING: Spoilers ahead. Plot developments to be revealed ...
True Blood vampires may cry tears of blood, but cast members on HBO's long-running horror hit wept the real salty thing as they read the script for the show's final episode.

"It kind of snuck up on me," Anna Paquin told PEOPLE at Tuesday's premiere of the show's seventh and final season at Hollywood's Chinese Theater.

Paquin, 31, admitted she was one of several cast members who found themselves overcome by emotions during the final script run-through, but because the show is still shooting, she had more pressing matters on her mind.

"We're still working 15 hours a day, so there's not been a lot of reflection yet," she admitted. "I'm just more worried about whether or not I will know my lines tomorrow!"
Anna Paquin isn't afraid to get nude in front of her husband, even when it's with another man, Entertainment Weekly reports.

In the premiere of the HBO show's final season, the True Blood star is directed by husband Stephen Moyer. The episode features a love scene between Paquin and hunky Joe Manganiello, who plays Alcide – and both Paquin and Moyer are okay with that.
Anna Paquin celebrated her own bisexuality and called for equal marriage rights for all on Monday – in a single Tweet!


There's less than 50 days to go before True Blood's seventh and final season starts and fans are licking their lips with anticipation over what happens to Sookie, Bill and the rest of Bon Temps's residents.

Season 6 left off with the the Louisiana town fighting off an invasion of crazed vampires infected with Hep V, and while it's a pretty safe bet that there will be blood in the final 10 episodes of the hit show, these first-look pics show the cast (including Anna Paquin, Stephen Moyer, Ryan Kwanten and Joe Manganiello) looking surprisingly splatter-free.
True Blood