True Blood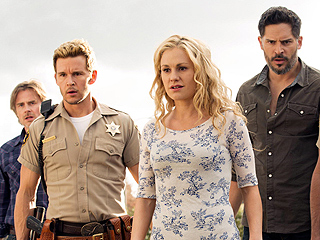 Credit: HBO
True Blood vampires may cry tears of blood, but cast members on HBO's long-running horror hit wept the real salty thing as they read the script for the show's final episode.

"It kind of snuck up on me," Anna Paquin told PEOPLE at Tuesday's premiere of the show's seventh and final season at Hollywood's Chinese Theater.

Paquin, 31, admitted she was one of several cast members who found themselves overcome by emotions during the final script run-through, but because the show is still shooting, she had more pressing matters on her mind.

"We're still working 15 hours a day, so there's not been a lot of reflection yet," she admitted. "I'm just more worried about whether or not I will know my lines tomorrow!"
Anna Paquin isn't afraid to get nude in front of her husband, even when it's with another man, Entertainment Weekly reports.

In the premiere of the HBO show's final season, the True Blood star is directed by husband Stephen Moyer. The episode features a love scene between Paquin and hunky Joe Manganiello, who plays Alcide – and both Paquin and Moyer are okay with that.
Anna Paquin celebrated her own bisexuality and called for equal marriage rights for all on Monday – in a single Tweet!


There's less than 50 days to go before True Blood's seventh and final season starts and fans are licking their lips with anticipation over what happens to Sookie, Bill and the rest of Bon Temps's residents.

Season 6 left off with the the Louisiana town fighting off an invasion of crazed vampires infected with Hep V, and while it's a pretty safe bet that there will be blood in the final 10 episodes of the hit show, these first-look pics show the cast (including Anna Paquin, Stephen Moyer, Ryan Kwanten and Joe Manganiello) looking surprisingly splatter-free.
Long before Joe Manganiello was True Blood's resident heartthrob, he worked as a roadie for the band Goldfinger.

On Tuesday, he made a surprise appearance at the band's concert at the Best Buy Theater in New York's Times Square.

Before Goldfinger launched into a set of ska hits, Manganiello introduced the band onstage.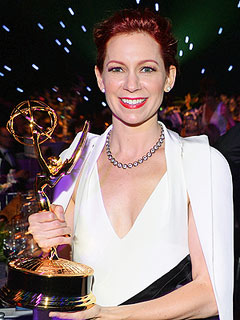 Carrie Preston, who won at Sunday's Creative Arts Emmy Awards for her role on The Good Wife, didn't even know she was nominated until her best friend texted her.

"[She] sends me a photo of herself weeping, so I thought, 'Let me give her a call and see what this is about,' " Preston, 46, told PEOPLE in a video interview. "She was like, 'You got nominated!' "

By the time the True Blood star's publicist called to confirm the good news, the excitement had begun to kick in.

"I was saying, 'Oh my God, oh my God, oh my God' in the streets of New York, which probably made me just look like any other crazy person walking around the city."
Watch out Prince Harry, a vampire has set his sights on you.

Alexander Skarsgard, who plays Norse vampire Eric Northman in the hit series True Blood, is racing to the South Pole against the British royal in November to raise funds for the Walking with the Wounded charity and says he has the mental and physical skills to beat the prince.

"I'm pretty stubborn and motivated and I don't give up easily," Skarsgard, 37, told PEOPLE at Thursday's Calvin Klein Spring 2014 Collection after party in N.Y.C. "I'm very focused and we're not going to lose!"
Two hot guys. One cold place. All for a good cause.

True Blood star Alexander Skarsgard will join Prince Harry on a trek to the icy South Pole in November as they team up for the Walking With the Wounded South Pole Allied Challenge.

The event, for which Harry, 28, is a patron, includes three teams of wounded service members from the U.K., the U.S. and Australia/Canada, competing to raise money for their national charities to help fund rehabilitation services for military veterans.
For True Blood fans, this news really sucks.

HBO announced Tuesday that the hit vampire show will be laid to rest after its seventh season, with the final 10 episodes set to air in the summer of 2014.

"True Blood has been nothing short of a defining show for HBO," the president of HBO programming, Michael Lombardo, said in a statement. "Together with its legions of fans, it will be hard to say goodbye to the residents of Bon Temps, but I look forward to what promises to be a fantastic final chapter of this incredible show."
True Blood
Get PEOPLE Everywhere
Advertisement