America's Got Talent
On America's Got Talent's season premiere Tuesday, comedian Drew Lynch didn't let his stutter keep him from winning over the audience and judges, especially Howie Mandel.

Lynch, 23, started stuttering at age 20 after he was hit in the throat at a company softball game. According to his website, "This life-changing injury sparked a passion for writing and performing stand-up, bringing to life the social hardships of dealing with a newly found speech impediment."

After a set of jokes revolving around his injury, including a particularly successful one imagining what he would be like as the voice of a navigation system, Lynch received a standing ovation from the crowd and Mandel, 59.

"I believe you can turn anything into a positive, that's why I'm here," Lynch said, and the judges clearly admired this optimistic attitude.
Make room for Piers Morgan!

The British TV personality is coming back to America's Got Talent, he announced Tuesday on Twitter.

"BREAKING NEWS: America's Got Talent returns for Season 10 tonight...and I return to the judges' desk later this summer," he wrote.
If you're skeptical of hypnotism, America's Got Talent might just change your mind.

In a preview of the 10th season of AGT, Howie Mandel appears to be cured of his public fear of germs by a professional hypnotist.
Anyone who's been around germaphobe Howie Mandel should know that the comedian doesn't like to shake hands.

That's all about to change on America's Got Talent.

On this season of the NBC competition show that returns in May, Mandel is successfully hypnotized, and the results are pretty extraordinary.
Mariah Carey and Nick Cannon could be counted on for their quirky photos in matching costumes and over-the-top displays of affection, but it seems their good times together have run out.

According to a source, their six-year marriage is on the rocks and "has been bad for a while."

While Carey, 45, remains at the couple's Manhattan apartment with their 3-year-old twins Moroccan and Monroe, Cannon, 33, "has been staying in hotels."

So what went wrong between the pop diva and the America's Got Talent host?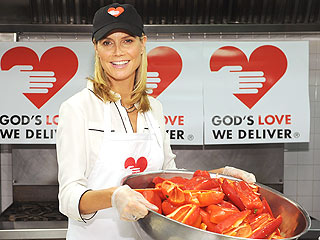 Heidi Klum has proven she's got moves on the runway, the red carpet and reality television – she was just nominated for an Emmy for Project Runway – but who knew she was such an aficionado of the kitchen?


A brave Marine who lost part of his leg in Iraq inspired all four judges on America's Got Talent Tuesday as he shared how music helped him through his pain.

Sal Gonzalez, 29, who lives in Nashville but grew up in Los Angeles, earned "yes" votes and praise for not only his singing but his work with the Wounded Warrior Project, in which he helps other injured veterans re-adjust to life back home.
America's Got Talent