America's Got Talent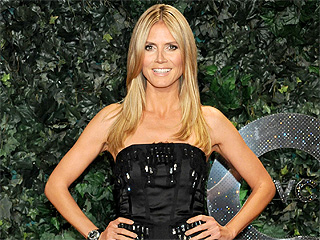 Credit: Gregg DeGuire/WireImage
Willkommen, America's Got Talent!

Heidi Klum is joining the NBC reality show as a judge, the network announced Monday morning.

Klum told PEOPLE: "I just arrived in New Orleans, and it was hard to go to sleep last night. I'm not sure who will be more nervous though – me or the contestants!"

Speaking about her fellow judge on the show, Klum added: "I've always wanted to work with Howard Stern. I think he's so funny, charming, handsome and smart. And, yes, he did tell me to say this."
Very funny, very clever, very cute – all six finalists had something to offer as the seventh season of America's Got Talent wrapped up on Thursday night.

But seven months after the first auditions were held, only one act could stand alone and snag the $1 million prize and a show in Las Vegas.

Who was crowned the winner? Read on to find out ...
This season's final performances on America's Got Talent had a little bit of everything – music, dancing, comedy, art … and yes, acrobatic dogs. But only one winner will take home the $1 million prize and a headlining show in Las Vegas.

All six finalists gave generally strong performances Wednesday in their last shot to impress judges Sharon Osbourne, Howie Mandel and Howard Stern.

David Garibaldi and His CMYKs (a group of backup dancers/painting assistants) whipped up an impressive portrait of Albert Einstein, while the other artist in the finals, Joe Castillo, did sand portraits of the judges and host Nick Cannon.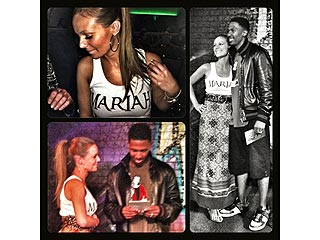 @peoplemag #CITA meeting nick cannon in Calgary, Alberta. passing on a card for his wife Mariah Carey. twitter.com/jessicaroyan/s…

— jessica royan (@jessicaroyan) August 28, 2012
Nick Cannon
is
fan
-tastic!
@JessicaRoyan
met the
America's Got Talent
host after he performed at The Laugh Shop at Hotel Blackfoot in Calgary, Canada, earlier this month.
After the show, Royan, who wore a top that read
Mariah
, met Cannon and passed on a card for his wife of four years.
"[He was] so kind! He said he would pass along my card to Mariah and took some time
to get some photos
," says Royan. "So so nice!"
Royan, who works to raise awareness about organ donation, and Cannon, who has
suffered from a lupus-like autoimmune disease
in the past, share a common ground in educating others about their respective causes.
"He shared about his kidney issues at the show ... I shared
my project about organ donation
in my card!"
– Maggie Coughlan
Talk about unexpected!
When Andrew De Leon walked out onto the stage in Austin, Texas, for his
America's Got Talent
audition Tuesday, his goth appearance – long black hair, dark eye makeup, Marilyn Manson-esque contacts and black clothes – initially drew smirks from the judges.
"Growing up, I was alienated because I was never interested in athletics or what everybody else in my family was interested in," a visibly nervous De Leon, 19, told host Nick Cannon, who addressed him as "Criss Angel" during an interview before the audition. "Singing was always an escape. It was always a comfort zone."
And he has a right to be comfortable with it. When De Leon opened his mouth to offer a note-perfect opera performance, the judges went from being skeptical to blown away. And the audience, which included De Leon's parents, roared.
It's not easy being a judge on
America's Got Talent
.
Howard Stern, who
joined the panel
alongside Sharon Osbourne and Howie Mandel for the
show's new season
, found that out the hard way when he buzzed a 7-year-old rapper named Mir Money.
After the Philadelphia student took the stage and had the crowd cheering along to his song, Stern hit his X button ("I think the X has a lot of power," he said in the season premiere. "I like hitting it"), before Osbourne followed suit.
"You're a very nice young man and you know that. No one likes hitting the X on a 7-year-old. You're very brave to get up there at 7 years old," Stern said, as Money started to cry.
Night two of
America's Got Talent
took the search for performers to San Francisco, where the judges – including
newcomer Howard Stern
– discovered a rapping 80-year-old grandmother known as Granny G.
"I caught the entertainment bug when I was a little girl, like four years old. But things get in your way like marriage and children and you wake up one day and you think, 'My life has passed me by!' " she said before her audition. "I never thought that I would have this wonderful opportunity. ... It would be the fulfillment of all my dreams. I want to be a star."
Taking the stage in a pink dress, pearls and a walker, she performed a rap about family values, dedicated to "all you horny boys out there." (Watch a clip above.)
Howard Stern made his debut on America's Got Talent Monday night, taking a seat next to Sharon Osbourne and Howie Mandel on the show's seventh season premiere.

"These executives at NBC must be out of their mind to take a risk on me," he said at the top of the hour. But in fact, the radio shock jock showed a lot of heart and proved he's got talent – for judging!

When the Light Wire Theater group performed a dance routine featuring glow-in-the-dark dinosaurs, Stern, who pointed out earlier in the night that he was the only American on the panel, had a moment of patriotism. "We are the greatest country in the world. We have the most creative people. You're everything that makes America great," he told the dancers. "I applaud your originality and I thank you for lifting everyone's spirit."
It was a sight you don't see every day: Howard Stern, sitting on Matt Lauer's lap with his arms around the
Today
host, and pressing his lips against Matt's cheek.
For his part, Lauer was smiling ear to ear.
It all started at the end of an interview Thursday in which Stern mostly discussed his role as a
judge on the new season
of NBC's
America's Got Talent
, which debuts Monday. After also analyzing his contract disagreement with Sirius Radio, Stern started to say something personal as Lauer tried to wrap up the segment.
Jugglers, singers, magicians and dancers – get ready to face Howard Stern.

The shock jock radio and TV star will serve as a judge on season 7 of America's Got Talent, NBC announced Thursday.

"Howard Stern's larger-than-life personality will bring a thrilling new dynamic to America's Got Talent starting this summer," NBC's Paul Telegdy said in a statement. "He's a proven innovator and his track record in broadcasting is truly remarkable. Howard is very passionate about this show and is fully committed to its future success."
America's Got Talent