America's Got Talent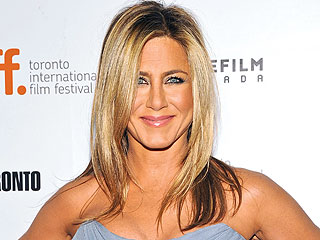 Credit: Brent Perniac/AdMedia/Sipa
Jennifer Aniston is known for keeping her private life under wraps, but she recently gave fans a fun glimpse into her off-camera life.


America's Got Talent, and NBC's got Howard Stern – at least for one more season.

The shock jock, 59, confirmed Tuesday that he will return to the reality competition for his third season as a judge, though it may well be his last.

"It started out as a goof. Now it's becoming a job," Stern said on his SiriusXM radio show. "I am very excited to be going back to America's Got Talent. I will go back [for] one more season."
Dancers, singers, comedians, magicians.

America had plenty to choose from Wednesday as the eighth season of America's Got Talent came to a close. But of course, only one performer could walk away with $1 million and the chance to headline a show in Las Vegas.

Whom did America choose? Read on to find out. (Warning: spoilers ahead.)
Summer's almost over, which means the season's guiltiest TV pleasure is coming to an end, too.

After the most entertaining season yet, America's Got Talent will name a winner on Wednesday. But which of the final six deserves to take home $1 million and get a show in Las Vegas? Will it be one of the singers, a comedian, a magician or the performer who defies description, Kenichi Ebina?

Vote for your favorite act below.
Loyal listeners tune in to Howard Stern's radio show knowing that anything can happen, but on Monday they got a surprise of a different kind – Stern's longtime sidekick Robin Quivers reveals that she's been fighting cancer for the past year.

In a frank discussion, Quivers, 61, explained why she's been absent from the studio (and broadcasting from home) since mid-2012. She revealed that she'd undergone surgery, chemotherapy and radiation treatment for a grapefruit-size tumor discovered in her uterus.

Quivers got emotional as she remembered the talk she had with Stern after getting the diagnosis – when doctors talked about "prolonging" her life, rather than "saving" it.
She can afford to buy works by Picasso, but the paintings decorating a wall at Heidi Klum's home didn't cost her millions of dollars – the America's Got Talent judge has created a showplace featuring artwork by her four kids.

"I display their gigantic canvases, watercolors and three-dimensional art on a big wall at home, like at an art gallery," she reveals in the October issue of Parents magazine. "Not only is the whole thing beautiful, but it makes the kids feel proud to see what they did hanging on the wall, and that really builds their confidence."

The model and fashion designer believes that nurturing her kids' imagination is very important.
Heidi Klum has taken the first significant step in her TV career since Project Runway, the show that established her as a reality star: Tuesday night, she joined a revamped and expanded judges' panel on season 8 of NBC's America's Got Talent.

It was a sensible and safe step for her. Simply by being gorgeous and charming and not Piers Morgan, she proved herself ready for a bigger, busier network platform.

But I think now she should move on to something else. What is good for Heidi may not be good for America's Got Talent.
Willkommen, America's Got Talent!

Heidi Klum is joining the NBC reality show as a judge, the network announced Monday morning.

Klum told PEOPLE: "I just arrived in New Orleans, and it was hard to go to sleep last night. I'm not sure who will be more nervous though – me or the contestants!"

Speaking about her fellow judge on the show, Klum added: "I've always wanted to work with Howard Stern. I think he's so funny, charming, handsome and smart. And, yes, he did tell me to say this."
Very funny, very clever, very cute – all six finalists had something to offer as the seventh season of America's Got Talent wrapped up on Thursday night.

But seven months after the first auditions were held, only one act could stand alone and snag the $1 million prize and a show in Las Vegas.

Who was crowned the winner? Read on to find out ...
This season's final performances on America's Got Talent had a little bit of everything – music, dancing, comedy, art … and yes, acrobatic dogs. But only one winner will take home the $1 million prize and a headlining show in Las Vegas.

All six finalists gave generally strong performances Wednesday in their last shot to impress judges Sharon Osbourne, Howie Mandel and Howard Stern.

David Garibaldi and His CMYKs (a group of backup dancers/painting assistants) whipped up an impressive portrait of Albert Einstein, while the other artist in the finals, Joe Castillo, did sand portraits of the judges and host Nick Cannon.
America's Got Talent