America's Got Talent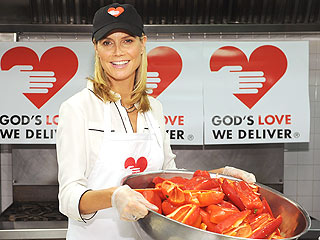 Heidi Klum has proven she's got moves on the runway, the red carpet and reality television – she was just nominated for an Emmy for Project Runway – but who knew she was such an aficionado of the kitchen?


A brave Marine who lost part of his leg in Iraq inspired all four judges on America's Got Talent Tuesday as he shared how music helped him through his pain.

Sal Gonzalez, 29, who lives in Nashville but grew up in Los Angeles, earned "yes" votes and praise for not only his singing but his work with the Wounded Warrior Project, in which he helps other injured veterans re-adjust to life back home.
Get out your checkbook! Heidi Klum is selling her Brentwood, California, estate and it could be yours – for $25 million.


In all her years on Project Runway, Heidi Klum never had to deal with a contestant stealing her unmentionables.

But in her second season as a judge on America's Got Talent, the German supermodel finds that magicians have no such professional compunctions against underwear theft. In this exclusive clip from the show's upcoming ninth season, Klum gets some hands-on lessons about magic from a young AGT hopeful, who finds his new magician's assistant has a quicker wit than he might have expected.
Jennifer Aniston is known for keeping her private life under wraps, but she recently gave fans a fun glimpse into her off-camera life.


America's Got Talent, and NBC's got Howard Stern – at least for one more season.

The shock jock, 59, confirmed Tuesday that he will return to the reality competition for his third season as a judge, though it may well be his last.

"It started out as a goof. Now it's becoming a job," Stern said on his SiriusXM radio show. "I am very excited to be going back to America's Got Talent. I will go back [for] one more season."
Dancers, singers, comedians, magicians.

America had plenty to choose from Wednesday as the eighth season of America's Got Talent came to a close. But of course, only one performer could walk away with $1 million and the chance to headline a show in Las Vegas.

Whom did America choose? Read on to find out. (Warning: spoilers ahead.)
Summer's almost over, which means the season's guiltiest TV pleasure is coming to an end, too.

After the most entertaining season yet, America's Got Talent will name a winner on Wednesday. But which of the final six deserves to take home $1 million and get a show in Las Vegas? Will it be one of the singers, a comedian, a magician or the performer who defies description, Kenichi Ebina?

Vote for your favorite act below.
Loyal listeners tune in to Howard Stern's radio show knowing that anything can happen, but on Monday they got a surprise of a different kind – Stern's longtime sidekick Robin Quivers reveals that she's been fighting cancer for the past year.

In a frank discussion, Quivers, 61, explained why she's been absent from the studio (and broadcasting from home) since mid-2012. She revealed that she'd undergone surgery, chemotherapy and radiation treatment for a grapefruit-size tumor discovered in her uterus.

Quivers got emotional as she remembered the talk she had with Stern after getting the diagnosis – when doctors talked about "prolonging" her life, rather than "saving" it.
America's Got Talent