America's Got Talent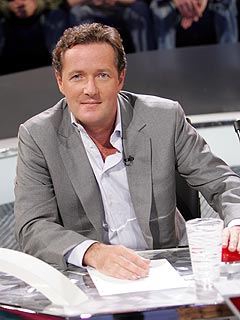 Credit: Chris Haston/NBC
America still has talent, but now it's missing a judge.

Piers Morgan is leaving NBC's America's Got Talent after six seasons, he announced Wednesday night, saying his schedule had become too hectic since he began hosting a nightly talk show, Piers Morgan Tonight, on CNN this past January.

"Turned out that juggling's harder than it looks, so I'm going to focus on CNN," he wrote on Twitter.
America's Got Talent winner Landau Eugene Murphy, Jr. never doubted his talent or passion. But it was life's obstacles that gave the Season 6 champ reason to believe his dreams wouldn't come true.

Homeless at 19 and working as a West Virginia car-washer to provide for his family just prior to competing on the show, Murphy, now 37, says becoming an overnight star is surreal.

"It's beyond belief," the Frank Sinatra-sound-alike jazz singer told PEOPLE alongside his teary-eyed wife on Wednesday night shortly after winning $1 million and his own headlining act in Las Vegas. "Is this really happening? I'm standing on a red carpet taking pictures. It feels wonderful."
America's Got Talent came down to an eclectic mix of four acts Wednesday night to win $1 million and their own headlining Las Vegas act.

Was it singing jazz sensation Landau Eugene Murphy, Jr., who recently told PEOPLE he is "the one to beat?" Or glow-in-the-dark dancers Team iLuminate? Or consistent fan favorites, Silhouettes? Or underdog music group Poplyfe?

Read on to find the Season 6 winner of the Nick Cannon-hosted show.
America is going to have a tough time voting for their favorite act after a nearly flawless night of performances on Tuesday's America's Got Talent.

The show's finals round – which featured routines by Season 6's remaining competitors: Landau Eugene Murphy, Jr., Team iLuminate, Poplyfe and Silhouettes – even had typically hard-headed judge Piers Morgan raving that "everyone in the top four is a winner."

The night began with another crowd-pleaser from season frontrunner Landau Eugene Murphy, Jr. The car washer-turned-jazz musician's rendition of Frank Sinatra's classic tune "My Way" was "a $1 million performance," according to Morgan.
With the top 10 acts on
America's Got Talent
fighting for one of the four spots in next week's final round, it was make-or-break time on Tuesday's performance show.
Team iLuminate's neon, glow-in-the-dark dance performance to electronic tunes was simply flawless.
"I don't think I've ever seen a more original, creative act," Piers Morgan told the group, while Sharon Osbourne said she "couldn't believe you're not already famous."
"You were spectacular," raved Howie Mandel. "You are always spectacular – one of the best acts you could possibly see here."
Landau Eugene Murphy, Jr. went from washing cars in West Virginia to singing classic jazz tunes in front of millions of America's Got Talent viewers. His hard work, combined with the positive response from the show's judges and audience make him confident he will definitely walk away with the prizes of $1 million and his own headlining show in Las Vegas.

"I'm the one to beat," Murphy told PEOPLE on Friday at an L.A. press day for the show. "The only thing that's missing in Vegas is the rat pack. That's it. Right now you've got Michael Bublé, Harry Connick, Jr., and then you have Landau Eugene, Jr. Put one more guy with us and you've got the whole rat pack."

But his desire to land big bucks and Sin City fame isn't entirely for selfish purposes.
As the
semi-finals continued
on
America's Got Talent
Tuesday, aerialists Gymkana had a close call with a ring of fire.
Just moments before the gymnasts completed their high-flying act, a member's flip through a flaming hoop went awry when a foot caught. The burning hoop tumbled down on another member of Gymkana. Luckily, the performers appeared to come out unscathed.
But with or without the scary blunder, the act didn't sit well with the judges. Piers Morgan expressed his "sympathy" for the dangerous mistake but even before the mishap, he had buzzed the acrobats, calling their stunts repetitive.
Piers Morgan declared Tuesday's semi-final round of competition on
America's Got Talent
the best on the show to date.
Morgan and the other judges, Sharon Osbourn and Howie Mandel, heaped their praise on musical group Poplyfe, who performed "Come Together" by the Beatles, putting their own soulful, rock 'n' roll twist on the well known song.
"You blew me away," Mandel said. "You guys are already stars."
Osbourne said she felt she was "looking at a winner," and Morgan agreed, telling Poplyfe they're sure to be a "huge band in this country."
America has voted, and the contestants going on to the semi-finals of this season's
America's Got Talent
have been selected.
But according to judges Piers Morgan, Sharon Osbourne and Howie Mandel, some contestants were wrongly eliminated from the competition. And thanks to Tuesday's wildcard round, each judge picked four favorites to vie for a second shot at the semi-finals.
The Kinetic King – who failed miserably last week – redeemed himself with a unique demonstration of the domino effect, using cans, plastic cups, balloons and metal trash cans. Watch a clip above.
Last week, the musical acts
hit a high note
on
America's Got Talent
. This week, it was all about the dancers – both serious and silly – that earned the judges' stamps of approval.
Zuma Zuma, the second act of the evening, made hardheaded Piers Morgan a newfound fan of pole dancing.
"That is exactly the kind I enjoy," Morgan told the Kenya-bred men's group, who courageously jumped and flipped from pole to pole. "[This performance was] exuberant, vibrant. If you're having fun, so is the audience."
Fellow judge Sharon Osbourne admired the group's "great speed and enthusiasm," while Howie Mandel praised their performance for being "dangerous" and "exciting."
Three acts later, Sam B. took the stage. The stout male – clad in a bright gold sparkly jacket – didn't do much more than wiggle, jump and sandwich himself in between a handful of women. But for some reason, that performance, which took place in front of a neon, '80s-themed backdrop, was enough to win over the fans and (most of) the judges. (Watch a clip.)
America's Got Talent