America's Next Top Model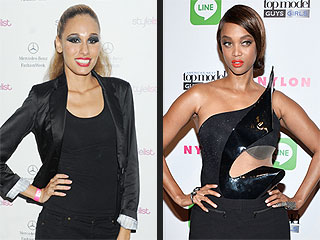 Credit: Demis Maryannakis/Splash News; Amanda Edwards/WireImage
America's Next Top Model is under fire after legal documents filed by former contestant Angelea Preston allege that the show and its host, Tyra Banks, wrongfully disqualified Preston because of her escort past.

The lawsuit, filed in Los Angeles Superior Court on Wednesday, claims that Preston originally won the reality show's cycle 17 and was entitled to a $100,000 contract with CoverGirl and a spread in Vogue Italia, but once it was discovered she had worked as an escort, Preston was disqualified. Lisa D'Amato was ultimately named the winner.
Long before Analeigh Tipton had lines to run, she had a runway to walk.


When Chantelle Brown-Young was 4 years old, a mysterious white patch appeared on her stomach. Diagnosed with the skin disorder vitiligo, Brown-Young watched as similar spots spread all over her body over the next few years, including on her hands, knees and face.

"The bullying started when I went to school," Brown-Young, 20, tells PEOPLE. "It was tough. I definitely had problems with self-esteem."

Although the cause of vitiligo is unknown, the disorder is believed to destroy cells that produce skin pigment, according to the National Institutes of Health. It causes white patches, which are more noticeable on naturally dark skin. In Brown-Young's case, these patches are nearly symmetrical.
Tyra Banks is not one to keep her self-doubt a secret.


Like mother, like son!

Lisa D'Amato's infant son, Daxel Vaughn, showed off his modeling skills on Tuesday when the America's Next Top Model alum posted an adorable snapshot on WhoSay.

"No pics of cool clothes, cool nails or a pic of me at a photoshoot- nothing cutting edge-just a pic of my morning view!" D'Amato wrote. "Have a great week!"

The photograph is the second image D'Amato has recently shared of the infant, who was born in September.
True or false: You spent the entirety of your weekend mentally preparing for the Breaking Bad finale.

If your answer is the same as ours, here are five things you might have missed:
And baby makes three!

America's Next Top Model all-stars winner Lisa D'Amato, 31, is now a proud mom to a newborn son.

"My baby boy Daxel Vaughn Friedman is born! He is 7 [lbs.] 2 oz. and he is perfect! I'm in love. #LibraBaby," she wrote on Twitter. She also included an Instagram photo of her little boy's feet and sleepy eyes.
Eva Marcille recently said her pregnancy is "more than just a dream." And indeed, reality is catching up with her.

"To see your stomach get bigger, to feel this leg kick inside of you, and then to see the baby, it's like, 'Whoa! There's really a baby in there!' " the former America's Next Top Model winner told PEOPLE on Saturday before hosting Robi Reed's 11th annual Sunshine Beyond Summer charity event in Los Angeles.

It's not all happiness and wonder, though. Marcille, 28, agrees with fellow ANTM alum Lisa D'Amato on the subject of a pregnancy glow.
Eva Marcille is about to be America's next top mom.

The TV personality, 28, who won cycle three of America's Next Top Model in 2005, is five months pregnant with songwriter-boyfriend Kevin McCall's child.

Marcille (née Pigford) tells BET that her pregnancy is "more than just a dream, it is a magical, mystical journey which I get to share with this amazing man."

A regular on the premiere network for black entertainment, Marcille adds, "My life continues to be a bundle of incredible experiences … I get to be a mom and live this amazing life that God has bestowed upon me. Who could ask for anything more?"
With just a couple of weeks to go until she gives birth to her first child, America's Next Top Model star Lisa D'Amato admits that she and her husband, Adam Friedman, "couldn't be more excited and scared s––tless at the same time."

The 31-year-old, who revealed in May that she was having a boy, tells PEOPLE that while she's had an "incredibly healthy" pregnancy, it hasn't been fun. She's still suffering from morning sickness every day, she says, even though she's more than eight months pregnant.

"I'm usually feeling pretty bad but always trying to stay positive," she says. "When people say I'm glowing, I tell them it's because someone needs to put on the AC. That whole 'pregnancy glow' thing is a joke! There is nothing pretty about pregnancy except creating a life – other than that I think it's pretty gross."
America's Next Top Model
Get PEOPLE Everywhere
Advertisement