America's Next Top Model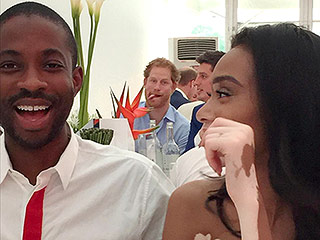 Credit: Source: Winnie Harlow/Instagram
Prince Harry may not be a fan of selfies, but he has clearly mastered the art of the photobomb.


Nyle DiMarco may have won Dancing with the Stars and America's Next Top Model, but there's one prize still up for grabs – his heart!

The 27-year-old told PEOPLE Now that he is not currently dating anyone: "I am very single. A relationship is not a priority of mine. But I'm hoping soon enough."

DiMarco also went on to explain what three things he looks for in a partner.
"
Fans of Dancing with the Stars weren't the only ones who tuned in to the season premiere – the cast members' former costars did, too!

Several DWTS contestants were showered with praise from their cast mates from previous shows after hitting the dance floor for the first time during Monday's telecast.
We were rooting for you, America's Next Top Model, we were all rooting for you – and now we have VH1 to thank for your return.

The hit modeling competition series is coming back to television after being picked up by VH1 following its cancellation by the CW last October.
Tyra Banks has announced who's "on top" for the final time.

Spoiler warning: If you haven't seen the cycle 22 finale of America's Next Top Model, the results will be revealed ahead. For those who have seen the episode, read on for PEOPLE's exclusive first interview with the winner.
America's Next Top Model