America's Next Top Model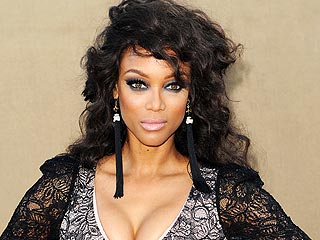 Credit: Splash News Online
The host and producer, 39, returns for the new season of America's Next Top Model on the CW with a new twist: female and male contestants and chatted with PEOPLE this week about "one last thing" ...
Finally, some happy news for America's Next Top Model star Lisa D'Amato.

She's five months pregnant with a son, she confirms.

"I'm very excited to be the mom I didn't get to have growing up ... I've always dreamt of that day," D'Amato, 31 writes.

"I will be the best mother – trust that. By the time my nose is 100 percent healed from my accident I will have a new baby boy ... to share with my amazing husband."
These are not photos for her model portfolio – or for the feint of heart.

Lisa D'Amato, who won the all-star cycle of America's Next Top Model in 2011, is recovering from a freak accident that broke her nose in several places and lacerated her forehead, lips and chin.

D'Amato, 32, posted graphic pictures on her Facebook and Instagram pages of her cut and swollen face from the accident last week in a Colorado hotel after she wrapped filming of an indie movie called Cowboys and Indians.
Step aside ladies, it's time for the guys to smize.

"The male model idea has been around for five years," Tyra Banks told PEOPLE days after announcing that men will be competing alongside women on America's Next Top Model – a first in the show's history – for its upcoming 20th season.

And it wasn't an easy feat.
America's Next Top Model's clash of nations wrapped up Wednesday night, with Britain's Sophie Sumner and America's Laura LaFrate squaring off in the finale.

So, who did their country most proud? Read on to find out the winner.
Tyra Banks embraces her anglophilia on cycle 18 of America's Next Top Model, which will pit British contestants against Americans when it premieres Wednesday.

"This is a boxing match between two regions," says Banks. "It's interesting to see these them battle it out to get on top."

Sure, every season has a makeover episode that comes with the requisite tears and resistance. But this season, the girls will be forced outside the box with amped-up style overhauls.
The British are coming!

Tyra Banks's hit show America's Next Top Model returns to the CW for its 18th cycle on Feb. 29 with a brand new twist: seven young women will compete against seven favorite contestants from Britain's Next Top Model.

"This cycle will feature a variety of seasoned women from across the pond that will do whatever it takes to make it as a model in America," reads a press release for the show. "They will compete against not only each other but a group of aspiring American models. Emotions run high, the women are divided and the competition is intense as they vie for the grand prize."
America's Next Top Model crowned a winner Wednesday night in its all-stars cycle, but not before a shocking and largely unexplained disqualification of one of the final three contestants.

Lisa D'Amato, Allison Harvard, and Angelea Preston were battling for the crown, but after an unusual panel, the judges declared that Preston was disqualified – without saying exactly why – and that D'Amato and Harvard would square off for the title.

Eventually, D'Amato was named the winner, but the buzz around the Internet continued to focus on the nature of Preston's dismissal.
The judging panel of America's Next Top Model will soon be getting a new look – in the form of fashion publicist and reality TV veteran Kelly Cutrone.

Cutrone, who appeared on MTV's The Hills and starred in Bravo's Kell on Earth, will replace André Leon Talley for cycle 18 early next year.

"I am a huge fan of America's Next Top Model and have watched the show for years," says Cutrone, 45, who owns People's Revolution. "Having worked in various aspects of the fashion industry over the course of my career, I am excited for this new opportunity and hope to bring a different perspective to the show."
Isis King is a self-proclaimed Renaissance woman and America's Next Top Model's only transgender contestant. The cycle 11 vet wrote about returning to ANTM as one of 14 all stars and blogs exclusively for PEOPLE about cycle 17.

In this post, King sounds off about her new makeover, posing with a hotdog and being judged by Ashlee Simpson.
–Janet Mock

Hate it or love it episode two of ANTM: All-Stars was the infamous makeover episode, where our new looks coincided with our personal brands as celebrity models.

After consulting with branding expert Martin Lindstrom, we were each given a single word that described our brands: Bianca Golden got "candid," Bre Scullark nabbed "girlfriend," and Sheena Sakai earned "unexpected." My amazing word was "inspiration" which was fitting because I inspire to be the best at everything I do, and motivate others to do the same.
America's Next Top Model
Get PEOPLE Everywhere
Advertisement