America's Next Top Model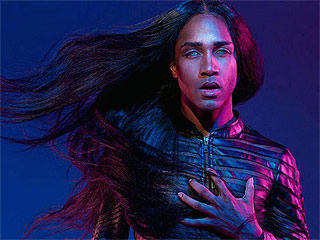 Credit: Jono Photography
America's Next Top Model contestant Bello Sanchez always got noticed for his striking crystal blue eyes, but the attention wasn't always positive.


Nyle DiMarco fits the bill of an America's Next Top Model contestant – he's gorgeous, tall and knows how to pose for the camera – but unlike the other contestants competing for the title on cycle 22, he's Deaf.


Has the bad blood between Janice Dickinson and Tyra Banks cleared up once and for all?

Though Dickinson apologized to her former America's Next Top Model colleague late last year for disparaging comments – calling Banks fat in 2007 and accusing the show of being "rigged," among other offenses – she still has some explaining to do.

In an exclusive clip from Saturday's episode of Oprah: Where Are They Now, Dickinson, 60, talks about her storied career as the self-proclaimed "world's first supermodel" and, later, a TV personality on shows including ANTM and Celebrity Rehab.
Former America's Next Top Model contestant Mirjana Puhar was found dead in a Charlotte, North Carolina, apartment on Tuesday. She was 19.

Puhar was one of three victims, including her boyfriend, Jonathan Alvarado, 23, and Jusmar Gonzaga-Garcia, 21. Gonzaga-Garcia was Alvarado's best friend and roommate, according to TMZ.

A source tells TMZ that a friend of Puhar and her boyfriend heard the gunshots and called the police after entering the home and finding the bodies.
America's Next Top Model is under fire after legal documents filed by former contestant Angelea Preston allege that the show and its host, Tyra Banks, wrongfully disqualified Preston because of her escort past.

The lawsuit, filed in Los Angeles Superior Court on Wednesday, claims that Preston originally won the reality show's cycle 17 and was entitled to a $100,000 contract with CoverGirl and a spread in Vogue Italia, but once it was discovered she had worked as an escort, Preston was disqualified. Lisa D'Amato was ultimately named the winner.
Long before Analeigh Tipton had lines to run, she had a runway to walk.


When Chantelle Brown-Young was 4 years old, a mysterious white patch appeared on her stomach. Diagnosed with the skin disorder vitiligo, Brown-Young watched as similar spots spread all over her body over the next few years, including on her hands, knees and face.

"The bullying started when I went to school," Brown-Young, 20, tells PEOPLE. "It was tough. I definitely had problems with self-esteem."

Although the cause of vitiligo is unknown, the disorder is believed to destroy cells that produce skin pigment, according to the National Institutes of Health. It causes white patches, which are more noticeable on naturally dark skin. In Brown-Young's case, these patches are nearly symmetrical.
Tyra Banks is not one to keep her self-doubt a secret.


Like mother, like son!

Lisa D'Amato's infant son, Daxel Vaughn, showed off his modeling skills on Tuesday when the America's Next Top Model alum posted an adorable snapshot on WhoSay.

"No pics of cool clothes, cool nails or a pic of me at a photoshoot- nothing cutting edge-just a pic of my morning view!" D'Amato wrote. "Have a great week!"

The photograph is the second image D'Amato has recently shared of the infant, who was born in September.
America's Next Top Model