America's Next Top Model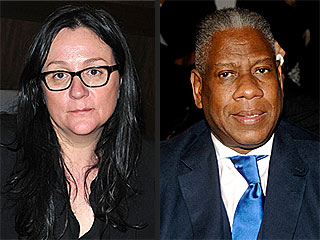 Credit: Tony DiMaio/Startraks, Ben Gabbe/Getty
The judging panel of America's Next Top Model will soon be getting a new look – in the form of fashion publicist and reality TV veteran Kelly Cutrone.

Cutrone, who appeared on MTV's The Hills and starred in Bravo's Kell on Earth, will replace André Leon Talley for cycle 18 early next year.

"I am a huge fan of America's Next Top Model and have watched the show for years," says Cutrone, 45, who owns People's Revolution. "Having worked in various aspects of the fashion industry over the course of my career, I am excited for this new opportunity and hope to bring a different perspective to the show."
Isis King is a self-proclaimed Renaissance woman and America's Next Top Model's only transgender contestant. The cycle 11 vet wrote about returning to ANTM as one of 14 all stars and blogs exclusively for PEOPLE about cycle 17.

In this post, King sounds off about her new makeover, posing with a hotdog and being judged by Ashlee Simpson.
–Janet Mock

Hate it or love it episode two of ANTM: All-Stars was the infamous makeover episode, where our new looks coincided with our personal brands as celebrity models.

After consulting with branding expert Martin Lindstrom, we were each given a single word that described our brands: Bianca Golden got "candid," Bre Scullark nabbed "girlfriend," and Sheena Sakai earned "unexpected." My amazing word was "inspiration" which was fitting because I inspire to be the best at everything I do, and motivate others to do the same.
Isis King is a self-proclaimed Renaissance woman and America's Next Top Model's only transgender contestant. The cycle 11 vet, who famously transitioned on television, returned to ANTM as one of 14 all stars and blogs exclusively for TV Watch about cycle 17.

In this post, the fan-favorite poser sounds off about the show's model-mansion, wearing a revealing bikini, being judged by Nicki Minaj and landing on top with the coveted photo of the week.
–Janet Mock

I walked into the mansion (which made the cycle 11 house look like an apartment in comparison) full of beautiful Top Models with intriguing personalities that matched.

Although I knew my complete transition (I had sex reassignment surgery in 2009) would be discussed as a refresher for those who haven't kept up with my story, I must admit I was a little taken aback by seeing my "pre-transition picture" featured in the premiere episode.
Isis King will definitely be tuning in to watch herself and her 13 competitors on America's Next Top Model's 17th cycle.

"Until I watch it I'll never know what people say behind closed doors!" says King, 25, who is returning to compete against other previous contestants. "I'm sure there will be some Twitter drama when the show airs – it will be very juicy!"

The multi-talented King, who calls herself a "Renaissance woman," says viewers can expect to see more of her own clothing designs on the show.

"My clothes are edgy, bold," says the Art Institute of Philadelphia grad. "Growing up, my favorite designer was Donatella Versace."
Take two!
For its 17th cycle,
America's Next Top Model
is giving 14 fan favorites from previous seasons a second chance at the title – including Isis King from season 11, the show's only transgender contestant.
Other familiar faces will include Bianca Golden from cycle 9, Angelea Preston from cycle 14, and Alexandria Everett from cycle 16 – surely making for a combustible season of drama.


Judging by the vast array of characters she portrays in an exclusive video, Tyra Banks may have a future as a regular on Saturday Night Live.

In a promo touting cycle 16 of America's Next Top Model, Banks parodies the typical contestants who try out on the show, starting with an airheaded blonde giggling her way through her interview: "I'm 19 years old, and my favorite designer is Hello Kitty," Banks says in her best Valley Girl accent.

Next up is a tattooed, surly contestant with an attitude who says, "I'm not here to make friends," followed an angry model with in goth dress and makeup.
Are you ready for more catfights, catwalking and over-the-top photo shoots?

Cycle 16 of America's Next Top Model begins Feb. 23 (8 p.m. ET) on the CW with a set of 14 new beauties vying for a contract with IMG Models, fashion spreads in Vogue Italia and Beauty in Vogue a $100,000 contract with CoverGirl cosmetics.
– Dahvi Shira
After being taunted while growing up for being unusually tall and ultra skinny, Ann Ward was crowned of America's Next Top Model this week.

The 6-ft., 2-in.-tall 19-year-old from Dallas spoke with PEOPLE about dealing with the backlash over her shockingly small waist (runway coach Miss J was seen fitting his hands around it in a controversial promo), how she wants to inspire other girls to feel comfortable in their own skin, and what's next for the formerly painfully shy Texas girl.

What does winning Top Model mean to you?
Being America's Next Top Model is really awesome, because I really like being an inspiration for people. I've been getting messages on the Internet about how I've helped people get through something they were going through, like bullying, so I'm really excited about people being able to look up to me through the struggles they're going through.
"Do you understand how serious this is? This is Top Model – elevated," Tyra Banks emphasized to the finalists on Wednesday's show, referring to cycle 15's superior prizes, including a spread in Italian Vogue, and the presence of big-name designers like Robert Cavalli.

Despite its heavily promoted "elevated" status, the Top Model finale competition pretty much remained the same. Finalists Ann (whose super-slim, 6-ft., 2-in.-tall frame was the subject of controversy) and Chelsey (the blonde, gap-toothed beauty with modeling experience) had to do a print-ad photo shoot for Cover Girl, film a commercial for the cosmetics giant and walk a runway show for Just Cavalli. Then, as usual, Tyra took her time critiquing the ladies' work and announcing the winner.
Before Wednesday's finale of America's Next Top Model, the show's host, judge and head diva in charge, Tyra Banks, spoke with PEOPLE about the final two contestants.
Ann, 19, from Dallas, Texas
"Ann's awkwardness is actually quite lovely and beautiful," Banks says of the 6-ft, 2-inch beauty, who almost didn't make it on the show. "A lot of people didn't even want her to fly into L.A. for casting week, did not even want her to go to the next round ... It feels good to walk around the office now [that she's in the finale] and be like, I told you so!"
Chelsey, 22, from Boise, Idaho
"Chelsey has a very strong actual knowledge [of modeling], a fashion base," Tyra says of the waitress. "She knows how to walk really well. She's my star walker in this [competition].
America's Next Top Model