America's Next Top Model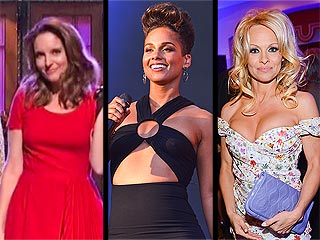 Credit: NBC; Stephen Lovekin/Getty; Michael Buckner/Getty
True or false: You spent the entirety of your weekend mentally preparing for the Breaking Bad finale.

If your answer is the same as ours, here are five things you might have missed:
And baby makes three!

America's Next Top Model all-stars winner Lisa D'Amato, 31, is now a proud mom to a newborn son.

"My baby boy Daxel Vaughn Friedman is born! He is 7 [lbs.] 2 oz. and he is perfect! I'm in love. #LibraBaby," she wrote on Twitter. She also included an Instagram photo of her little boy's feet and sleepy eyes.
Eva Marcille recently said her pregnancy is "more than just a dream." And indeed, reality is catching up with her.

"To see your stomach get bigger, to feel this leg kick inside of you, and then to see the baby, it's like, 'Whoa! There's really a baby in there!' " the former America's Next Top Model winner told PEOPLE on Saturday before hosting Robi Reed's 11th annual Sunshine Beyond Summer charity event in Los Angeles.

It's not all happiness and wonder, though. Marcille, 28, agrees with fellow ANTM alum Lisa D'Amato on the subject of a pregnancy glow.
Eva Marcille is about to be America's next top mom.

The TV personality, 28, who won cycle three of America's Next Top Model in 2005, is five months pregnant with songwriter-boyfriend Kevin McCall's child.

Marcille (née Pigford) tells BET that her pregnancy is "more than just a dream, it is a magical, mystical journey which I get to share with this amazing man."

A regular on the premiere network for black entertainment, Marcille adds, "My life continues to be a bundle of incredible experiences … I get to be a mom and live this amazing life that God has bestowed upon me. Who could ask for anything more?"
With just a couple of weeks to go until she gives birth to her first child, America's Next Top Model star Lisa D'Amato admits that she and her husband, Adam Friedman, "couldn't be more excited and scared s––tless at the same time."

The 31-year-old, who revealed in May that she was having a boy, tells PEOPLE that while she's had an "incredibly healthy" pregnancy, it hasn't been fun. She's still suffering from morning sickness every day, she says, even though she's more than eight months pregnant.

"I'm usually feeling pretty bad but always trying to stay positive," she says. "When people say I'm glowing, I tell them it's because someone needs to put on the AC. That whole 'pregnancy glow' thing is a joke! There is nothing pretty about pregnancy except creating a life – other than that I think it's pretty gross."
The host and producer, 39, returns for the new season of America's Next Top Model on the CW with a new twist: female and male contestants and chatted with PEOPLE this week about "one last thing" ...
Finally, some happy news for America's Next Top Model star Lisa D'Amato.

She's five months pregnant with a son, she confirms.

"I'm very excited to be the mom I didn't get to have growing up ... I've always dreamt of that day," D'Amato, 31 writes.

"I will be the best mother – trust that. By the time my nose is 100 percent healed from my accident I will have a new baby boy ... to share with my amazing husband."
These are not photos for her model portfolio – or for the feint of heart.

Lisa D'Amato, who won the all-star cycle of America's Next Top Model in 2011, is recovering from a freak accident that broke her nose in several places and lacerated her forehead, lips and chin.

D'Amato, 32, posted graphic pictures on her Facebook and Instagram pages of her cut and swollen face from the accident last week in a Colorado hotel after she wrapped filming of an indie movie called Cowboys and Indians.
Step aside ladies, it's time for the guys to smize.

"The male model idea has been around for five years," Tyra Banks told PEOPLE days after announcing that men will be competing alongside women on America's Next Top Model – a first in the show's history – for its upcoming 20th season.

And it wasn't an easy feat.
America's Next Top Model's clash of nations wrapped up Wednesday night, with Britain's Sophie Sumner and America's Laura LaFrate squaring off in the finale.

So, who did their country most proud? Read on to find out the winner.
America's Next Top Model