Bachelor Pad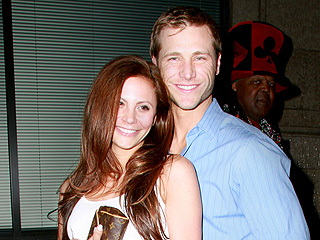 Credit: Greg Tidwell/Pacific Coast News
Jake Pavelka had to pull his car over to the side of the road because he couldn't stop crying when he learned castmate Gia Allemand had died.

Allemand, who was taken off life support Wednesday after an apparent suicide attempt, was "an angel," he tells PEOPLE.

"I am in complete shock and devastated to hear the news about Gia," says Pavelka, who romanced Allemand, 29, on season 14 of The Bachelor. "She was one of the sweetest people I have ever known. And a very dear friend. My heart goes out to her family during this very difficult time. We have lost an angel today."
Gia Allemand, who starred on season 14 of The Bachelor, has been admitted to a New Orleans hospital in critical condition.

The 29-year-old was taken to University Hospital "following a serious emergency medical event" on Monday night, ABC says in a statement.

Allemand's mother is with her, as is her boyfriend, NBA player Ryan Anderson of the New Orleans Pelicans.
Less than two months after they got engaged on the finale of Bachelor Pad 3, Blakeley Jones and Tony Pieper have gone their separate ways.

"This didn't end the way I wanted it to," Pieper tells PEOPLE. "I thought Blakeley was the love of my life."

Pieper, who competed for Emily Maynard's heart on The Bachelorette, met Jones, from Ben Flajnik's season of The Bachelor, on the third installment of Bachelor Pad. The pair became partners, cozied up on several romantic dates and by the finale, Pieper shocked fans and viewers by proposing with a Neil Lane engagement ring.
It seems only fitting that this dramatic season of Bachelor Pad would conclude with an explosive finale – featuring shocking relationship updates, an on-air engagement and a very unexpected allocation of the prize money.

The final two couples vying for the $250,000 jackpot were fan favorite Rachel Trueheart and her partner Nick Peterson, and season villain Chris Bukowski and his partner Sarah Newlon.

Who took home the cash? Read on for spoilers.
After an unpredictable and drama-filled season of Bachelor Pad, it has come down to just two couples – Chris Bukowski and Sarah Newlon, and Rachel Truehart and Nick Peterson – who must rely on the votes of their former housemates to claim the ABC show's $250,000 prize.


In The Bachelor world, Chris Bukowski, 25, has taken over for Kalon as public enemy No. 1. But the Chicagoan defended his women-juggling, lying and general cockiness as necessary qualities to win Bachelor Pad during a recent conference call about the show.

The Chris on the The Bachelorette seems very different than the Chris we see on Bachelor Pad.
I definitely took a totally different approach. On Emily Maynard's season, I was there for love, was close to finding it, it didn't work out and I was heartbroken.

A little of the way I acted on Bachelor Pad was because I was hurt by that. There was only one thing on my mind – the money.
Ed Swiderski spent the first two Bachelor Pad episodes drinking, belching, swimming naked, hooking up loudly and making Chris Harrison's eyes roll.

But being in the bottom two was a giant wakeup call for Jillian Harris's former flame, 33, who declared during a conference call that playtime is over and Reid, who is consipiring against him (watch a clip of Monday's episode below), better watch out.

Were you really sweating bullets about being voted off?
Every bone in my body thought that I was going home. It was the weirdest feeling ever because [while] it sounds egotistical, I never felt that way on The Bachelorette. I was shocked. I thought these people were trustworthy. I packed my bags and didn't want to be there thinking, "Maybe this isn't the right place for me."
Let the backstabbing begin.

As some of the most familiar (and infamous) faces from the The Bachelor and the The Bachelorette make their way to the Bachelor Pad for its third season, the behind-the-back drama kicks off right away with the arrivals.

In a new clip of the show (watch below), which premieres Monday (8 p.m. EST) on ABC, Jaclyn Swartz and Rachel Truehart, who vied for Ben Flajnik's affection on the 16th season of The Bachelor, are none too thrilled to give Blakely Jones a warm welcome.

"She makes me tense," Swartz tells Truehart. "She's not a normal person."
Almost a month after revealing the cast of Bachelor Pad 3, ABC has finally announced the name of the show's final contestant: Chris Bukowski.

The 25-year-old Chicago native, who was voted Class Hottie in high school and works as a sales manager at Sears Centre Arena, decided to join Bachelor Pad 3 after getting sent home by Emily Maynard on Monday night's episode of The Bachelorette.
Bachelor Pad