Bachelor Pad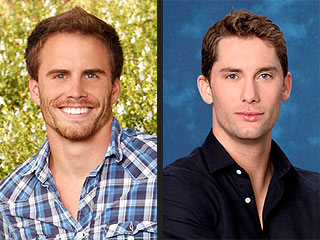 Credit: Craig Sjodin/ABC(2)
Get ready for some drama!

The new cast of ABC's guilty pleasure Bachelor Pad 3 was announced Thursday morning – and some of the most infamous former contestants from the match-making series are among them.

First off, last season's winner Michael Stagliano, who witnessed his former fiancée Holly Durst fall in love with Blake Julian during the summer 2011 production, will be back. (Durst and Julian tied the knot on June 2.)

Stagliano is hoping to repeat his victory while competing against current Bachelorette villain Kalon McMahon, who Emily Maynard sent packing on Monday's show after he referred to her 6-year-old daughter Ricki as "baggage."

Also setting up house this season: Ed Swiderski, who proposed to season five Bachelorette star Jillian Harris, and Reid Rosenthal.
Holly Durst and Blake Julian's engagement bombshell shocked many on the season finale of Bachelor Pad. But on Saturday, the reality couple let everyone know that their love is the real deal.

Durst and Julian tied the knot in front of approximately 115 guests, including former small-screen costars Erica Rose, Ella Nolan, Justin Rego and West Lee.

"I couldn't be happier," Durst tells PEOPLE. "Blake is my best friend and now my husband. I have a beautiful future ahead of me with this man. I love him with all my heart!"

The Ohio-bred children's author said "I do" to Julian at The Cliffs country club in South Carolina.
Things did not end amicably between Holly Durst and her ex-fiancé Michael Stagliano when Bachelor Pad's season two finale aired in September.

Although they were partners throughout the season and even ended up winning the competition, it was Durst's bombshell announcement – she got engaged to fellow contestant Blake Julian – during the final episode that caused a permanent rift in their rapport.

"I think the show ruined the friendship with the way they portrayed everything in the finale," Durst tells PEOPLE. But she and Julian are not letting Stagliano's hard feelings get in the way of their wedding planning.
Vienna Girardi has a new love in her life!

The former Bachelor Pad star, who split with Bachelorette contestant Kasey Kahl in November, has welcomed a second puppy to her home.

"Meet Kylo! Chloe is a big sister now, she loves him," Girardi Tweeted Feb. 5, referring to her other petite pup.
Kasey Kahl knew his recent mug shot was no laughing matter, but says it was easy to smile when he did nothing wrong.

"I was really friendly, and I knew what was going on wasn't what it was in its entirety," the veteran of Bachelor Pad and The Bachelorette, 27, said of his Jan. 15 arrest and subsequent highly photogenic mug shot.

"I wasn't drunk. I smiled. I wasn't charged with anything. I wasn't convicted of anything. There were no charges filed. I just smiled because [jail personnel] told me to."
Kasey Kahl's publicist says the reported bar fight that led to his client's arrest on Sunday was instigated by fame seekers who likely attacked the reality star out of booze-fueled jealousy.

"We would not be surprised if these persons bent on attaining their 15 minutes of fame, while intoxicated and perhaps fueled by jealousy, will antagonize and attack stars such as Kasey in a Jersey Shore type brawl given the opportunity," Richard Harlow says in a statement.

He adds: "These persons wanted their 15 minutes, which they received, and now those 15 minutes are over. The recent reports emphasizing any brutality on his behalf and downplaying his act of self-defense are entirely speculative and false."
What started as innocent fun with friends turned into an arrest for reality star Kasey Kahl – and one heck of a mug shot.

The former Bachelor Pad and Bachelorette star, 27 – who is also the ex-boyfriend of Vienna Girardi – was taken into custody at 2:47 a.m. Sunday at Club Habanos in Fresno, Calif., authorities tell E! Online.

Kahl was booked on a drunk-and-disorderly-conduct charge, and released around 8:30 a.m.
Are Kasey Kahl and Vienna Girardi trying to salvage their relationship?

The former Bachelor Pad couple will take a seat on a therapist's couch next spring for VH1's new relationship counseling show, Couples Therapy.

In a series of one-hour episodes, therapist Dr. Jenn Berman will work with couples who are "at a crossroads" in high-profile relationships, as their ups and downs are chronicled in the media, according to a press release from VH1.

Over the course of three weeks, the couples will participate in group and individual therapy to try to resolve their issues.
It's another Bachelor break-up: Vienna Girardi and Kasey Kahl have called it quits.

"Yes vienna and I have split. It's been 5 weeks now. I can't fake it anymore. I will always love, be there for her, and wish her the best," Kahl, 27, posted to Twitter on Sunday.

"@KaseyRKahl will always be my best friend, but yes we have split. No idea what the future holds for us but we will always remain friends," Girardi, 25, posted to her account.
On last season's Bachelor Pad, Michelle Money and Graham Bunn looked like they were headed for coupledom. But now, the 2,000 miles between them is preventing their relationship from blossoming.

"I adore him and if we lived in the same city we'd be inseparable," Money, 30, told PEOPLE. The single mother lives in Salt Like City while Bunn, 32, lives in New York City.

"We need to be smart about it. I can't move my 6-year-old out to New York. It's not what I have envisioned for her at this point. And he can't move to Utah, so we're being realistic."

Of course, that's not what either of them want.
Bachelor Pad