Bachelor Pad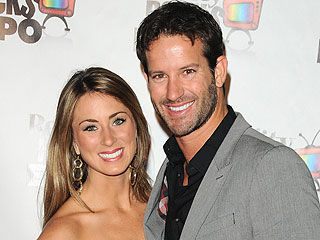 Credit: Sara De Boer/Startraks
Another season of Bachelor Pad has come and gone, and this year was full of some major twists and turns.

Two couples found themselves in the finale – and one couple walked away with $250,000 – but to get there took strategy, clever negotiating and walking on the tight rope of maintaining integrity.

As the remaining four couples found themselves in Vegas for the final challenge, we wondered who would have to be the person to make the dreaded decision of sending two couples home that week to get down to the final two couples to go to the finale.

Thankfully, one of the new twists of the season brought past Bachelor franchise alumni (Trista, Jason, and Ali) back to judge the final challenge and do part of the dirty work.
Michael Stagliano may have won Bachelor Pad with his former fiancée Holly Durst, but the finale proved to be as complicated as it was celebratory.

Before their victory was announced, the entrepreneur, 27, found out on camera that aspiring author Durst, 28, was newly engaged to fellow contestant Blake Julian.

Still recovering from the shock they'd heard only an hour before, they spoke with PEOPLE exclusively at the finale's taping last week in their hometown of Los Angeles.
After six weeks of tears, teams and a new romance-turned-engagement, the second season of Bachelor Pad concluded Monday night.

Kasey Kahl and Vienna Girardi were the early frontrunners of the game, and of the eight contestants at the end, PEOPLE.com readers thought Ella Nolan and Kirk Dewindt were the most deserving of the $250,000 prize.

So which couple emerged victorious? Read on to find out!
At this point, there seems to be more baggage than contestants in the Bachelor Pad house.

The four remaining couples – Vienna and Kasey, Michelle and Graham, Holly and Michael, and Ella and Kirk – each have their own unique histories, strategies, and, naturally, drama, which should add up to fireworks on Monday night's finale.

Masterminds from the start, real-life couple Vienna and Kasey have been able to influence other contestants since they all moved in together, but their arguing and manipulation could get the best of them.
Holly Durst may have voted off Blake Julian on Bachelor Pad this week, but the note she handed him at the rose ceremony – saying that it wasn't the end for them – has turned out to be rather telling.

That's because the pair, both 28, who have flirted all season long, are now engaged to be married, a source tells PEOPLE.

Their courtship was always complicated, given that Durst's former fiancé Michael Stagliano was also competing on the show, and still had feelings for her. And Julian himself was involved with fellow contestant Melissa Schreiber throughout much of the season.
Despite putting up quite a fight in The Nearlywed Game challenge, law student Erica Rose, 28, and dentist Blake Julian, also 28, were sent packing from the Bachelor Pad on Monday. The doomed duo spoke with reporters about house hook-ups – both good and bad – failed strategy and why they saved Kasey and Vienna.

What would you have done differently?
Blake: I don't think we were ready for the amount of emotional depth and strategy involved. Partner selection would have been considered much more carefully on my part.
Erica: The first two weeks I wasn't playing the game, wasn't thinking for myself and was just voting the way Kasey told me. If I could go back in time, I would start thinking early on.
Brilliant. That's the first word that comes to mind when describing Graham and Michelle's "Nearlywed" challenge strategy on this week's episode of Bachelor Pad.

In true "work smarter, not harder" fashion, these two devised a simple plan that consisted of "seven, Michael, Holly." And that, friends, is how you turn three simple responses into two powerful red roses. However, immunity is only part one and this happens to be a two-part victory.

In addition to securing their spot in the Bachelor Pad for another week, Graham and Michelle also managed to navigate another potentially emotional and tormenting challenge without giving up any real information about their personal lives and more importantly without offending any of their fellow housemates. Deciding to give canned responses based on the type of question as opposed to the content of the question turned out to be the perfect strategy.
Months after teaming up on season 2 of Bachelor Pad, Michelle Money and Graham Bunn are closer than ever.

"Graham and I talk multiple times a day," Money told PEOPLE over the phone recently. "When I left the show, we both knew that he was going back to New York and I'm going back to Utah, and we live very different lives. We don't live close to each other by any stretch of the imagination, so we knew that it was kind of like, 'We'll see what happens.' And since then, we have definitely grown closer."
Melissa Schreiber, a 32-year-old waitress, and cell phone salesman William Holman, 30, got the ax instead of the rose on Monday night's episode of Bachelor Pad. They spoke to reporters via conference call about their disadvantages, dramas – and the deserving contestants they're hoping will win.

If you could get a redo, how would you change your strategy?
William: I think I played the game pretty well but I wasn't as competitive as other people. The only thing I would change was the last night. I would have tried to convince everybody that I was worth keeping around and Kasey should have been voted off. Because I laid low, it was easy for people to say, "Let's take William out. We don't want to hurt Kasey's feelings. He'll definitely say something to us."
Melissa: Do I wish I had done things differently [and] chosen a different partner in the beginning? Absolutely.
Last week we learned that every rose has its thorn. This week on Bachelor Pad we learned that some roses actually have daggers. Two and a half new relationships were over-powered by the devastatingly loud snap of one broken man (Michael). Hearts don't break quietly.

This week opened with the closing of last week's rose ceremony. Some departing words from Jake led us all to believe that this week would be all about strategy and the game. One sleep-deprived night later, however, the Bachelor Pad residents awoke to two words you never want to hear coming from Chris Harrison: "kissing contest." (While it was said that this was a favorite challenge from last year we can assure you that was not the consensus around the house.)

The kissing contest is as much about heart and brains as it is about lips. Now more then ever, it's important to make the right decision about how to handle this challenge as there is an existing relationship and a recent engagement present in the house. Do you put all circumstances out of mind and focus in on the money or do you tell yourself that some things are more important then money? Personally, we feel it's a no-brainer – respect your housemates first and keep your character intact.
Bachelor Pad