Bethenny Getting Married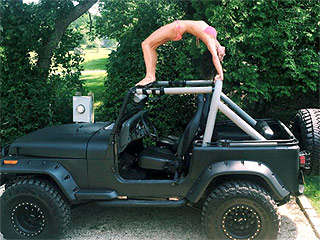 Credit: Getty
In the latest chapter of the never ending divorce saga between Bethenny Frankel and her estranged husband Jason Hoppy, the reality star told fans last week that she didn't follow her own mantra of "going with her gut" when making her decision to wed Hoppy in 2010.

At the NYU Alumni Association's Speakers on the Square event (moderated by PEOPLE) Frankel – an NYU alumni who majored in Psychology and Communications – spoke out about her belief in going with your gut in everything from her business to personal life.

Asked by an audience member what her gut told her as she was about to wed Hoppy, she said, "I think my instinct and gut going into my marriage [knew] it would turn out the way it did. I could feel it, but I intellectualized it. People are always talking about 'Do I go with my head or my heart?' Go with your gut."
Her divorce from Jason Hoppy may not be finalized yet, but Bethenny Frankel is 100 percent positive that she never wants to walk down the aisle again.

In an interview on Bravo's Watch What Happens Live, host Andy Cohen asked the Real Housewives of New York star if she still believed in marriage following the nasty, public split from her estranged husband.

"I will never get legally married again," she told Cohen. "It doesn't mean that I would not commit to someone, and I'm not jaded or bitter about love. I think there are amazing guys out there, but I will never, ever be legally married again."
Bethenny isn't going back to reality TV just yet.


While Bethenny Frankel and Jason Hoppy aren't scheduled to return to divorce court for a few more weeks, the reality-star-turned-talk-show-host has been giving a lot of thought to how far apart she and her ex have drifted.

At the time of the split, Frankel released a statement in which she said that she and Hoppy hoped to "amicably co-parent" their daughter Bryn, who turns 3 next month.

Now, in an exclusive interview with PEOPLE, Frankel says she can see that's going to be a challenge.

"I really did think it would be amicable. I absolutely did," she says. "I wrote that entire statement myself. And every single word, I believed to be true."
Bethenny Frankel documented her marriage to Jason Hoppy on television – and now she's opening up about her divorce on television, too.

"I can't just only be on reality TV and show everything when it's fairy princess, fairytale, and then not take my hits when I have to," she says on Wednesday's The Ellen DeGeneres Show. "Just going through something personal you have so many different emotions, and I feel like a bit of a disappointment to all of you. And, I feel like a failure."

"You are not a disappointment. You are not a failure," DeGeneres says.
It's business as usual for Bethenny Frankel.

After filing for divorce from husband Jason Hoppy a few days earlier, the Skinnygirl mogul took her beloved dog, Cookie, for a walk in New York's Tribeca neighborhood on Sunday.

Bundled up in a down jacket and boots, Frankel, 42, shielded her face with sunglasses as she strolled down the street with her pup trailing behind her.
Though Bethenny Frankel has made her mark in the entertaining world of reality shows, her daughter will not be following in her footsteps if she has anything to do with it. In fact, she calls the idea "traumatizing."

So what will the new mom do if Brynn, who was born in May, grows up and tells her she wants to be on a reality show?

"I will kill somebody," Frankel said jokingly at the East Harlem Target store opening Tuesday. "Not her, but I will kill somebody."

Frankel did say it depended what kind of reality show it was, pondering the idea of a show like Bethenny Getting Married?, where she says you're supposed to be "really, totally honest and be yourself." But then she quickly dismissed the idea all together, hoping that it is something she will never have to worry about.

"By the time she grows up," said Frankel, "there won't be even be reality shows."
A honeymoon should be relaxing and romantic -- especially for
Bethenny Frankel
, who had a heck of a time planning her
March nuptials
.
Apart from the time crunch -- she had little over a month -- she fought with her
wedding planner
over the
venue
and with her groom, hubby
Jason Hoppy
, over the
menu
. But the big day finally came and went off without a hitch (despite a
close call with her dress
).
She walked down the aisle and said, "I do," but Bethenny Frankel's wedding didn't go off without any hitches – and it almost didn't happen with her wedding planner, Shawn Rabideau.

Recalling their showdown at the hair salon, Rabideau says the reality star was like a "Dementor from Harry Potter. You know, those specters that suck the life out of you?"

All joking aside, "I felt beat down," he tells PopEater. "For a fleeting, like, half a second, I thought about saying 'forget it.' But you know what? I wasn't giving up and I knew I could do this and I was going to work my butt off and do an amazing job."
Before
Bethenny Frankel
says "I do,"
she has business to attend to – and it's personal.
Nature calls as the fully-dressed
(and pregnant!)
bride-to-be prepares to walk down the aisle on Thursday's new
Bethenny Getting Married?
.
"I want to know the next rest stop," she asks her wedding planner. "I can't walk through the guests to get to the restroom and say, 'Hey everyone, just stepping to the loo.' Let me just lift my leg and then walk down the aisle."
Bethenny Getting Married