Big Brother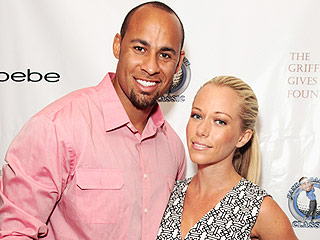 Credit: Rodrigo Vaz/Getty
Apparently, Kendra Wilkinson and Hank Baskett need a little more "reality" in their life to shore up their marriage.

The couple, who briefly split and then got back together on last season's Kendra on Top, will join the third season of Marriage Boot Camp: Reality Stars on WE tv (the same network that airs their reality show).

Wilkinson and Baskett will be joined on the show by Mike "The Situation" Sorrentino and Lauren Pesce from Jersey Shore and The Sorrentinos, Aubrey O'Day and Travis Garland from Making the Band and Celebrity Apprentice, Tami Roman and Reggie Youngblood from Basketball Wives, and Jeff Schroeder and Jordan Lloyd from Big Brother.
When Big Brother winner Dick Donato decided to go public with his HIV-positive status earlier this month, he wasn't sure what to expect.

After all, Donato was best known as "Evel Dick," a reality-TV villain. "We'll see what people have to say about it," he told PEOPLE at the time. "Everyone will have an opinion."

As it turns out, the public has embraced Donato, who is currently appearing on Couples Therapy.

"The reaction has been overwhelmingly positive," he tells PEOPLE. "Absolutely fantastic."
When Big Brother 8 winner Dick Donato signed up to appear on VH1's Couples Therapy, he decided to use the show to go public with a very personal struggle: He has been living with HIV since 2011.

The reality-TV villain, who often goes by the nickname "Evel Dick," is appearing on the VH1 show with his on-again, off-again girlfriend Stephanie Rogness-Fischer. On Wednesday's episode of Couples Therapy, he'll reveal his struggle with the show's therapist, Dr. Jenn Berman. In an upcoming episode, he will share the news with the rest of the show's cast, including The Bachelor's Juan Pablo Galavis and Nikki Ferrell.
After 97 days, 15 evictions and one marriage proposal, Big Brother 16 has a winner!

Victoria Rafaeli, Derrick Levasseur and Cody Calafiore began their Big Brother adventure alongside 13 other contestants – including Ariana Grande's brother Frankie. But one by one, their fellow houseguests were sent packing until the final three were left to face off for the power to choose who would sit next to them in the finals.
A showmance that became a full-fledged romance is about to become a permanent alliance for two of the most popular players on Big Brother.


There was plenty to celebrate this weekend, from the Bachelorette winner's big birthday to another reality couple reuniting off-camera. One star announced she's pregnant, and another made it clear her wedding ring is on tight. Here's the news you might have missed:


Warning: This post may contain spoilers to those who don't watch the Big Brother live feed.

Has all that peroxide messed him up in the head?

Frankie Grande, a colorful and very popular contestant on this season of CBS's Big Brother, finally revealed to his fellow houseguests late Friday that his half sister is pop phenom Ariana Grande, according to the reality competition's live feed.
She's the vocal powerhouse behind what is shaping up to be the song of the summer, but even Ariana Grande hasn't always felt confident.


The Big Brother casts have always been known for their outrageous characters and big personalities, but last season the show also became known for scandal.

After season 15 contestant Aaryn Gries sparked a controversy by making racist remarks, the entire house was placed under a more-scrutinized microscope, and several contestants were let go from their jobs.

And the season 16 contestants – including Ariana Grande's half brother Frankie – understand more than ever that America is watching (and judging) their every move.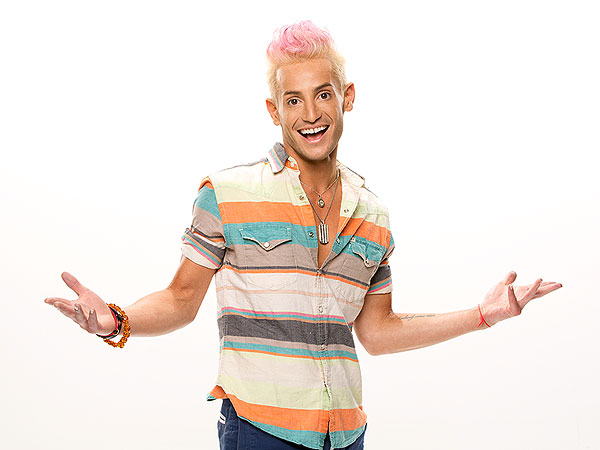 Ariana Grande is used to paparazzi following her every move, but now her half brother Frankie is the one who will have cameras on him 24 hours a day as a contestant on the new season of Big Brother.

"I've always said I was funny and I should have my own reality show," Frankie, 31, tells PEOPLE of what inspired him to audition for the CBS reality competition's 16th season. "And then I thought, 'Maybe I should be on somebody else's show!' "

While he initially auditioned for Survivor, a chance meeting with a Big Brother casting director led to Frankie becoming one of the 16 contestants competing for a $500,000 prize this summer.

Big Brother has had cast members with notable relatives in the past – former Survivor super-villain Russell Hantz's brother Willie and Big Brother season 13 winner Rachel Reilly's sister, Elissa Slater, both competed in previous seasons – but Frankie is actually more worried about being recognized as a YouTube personality than as a Grande.

"I don't want people knowing I have an online following because it will put an unnecessary target on my back," says Frankie, who has a YouTube channel with more than 185,000 subscribers and nearly 10 million views. "If there is an America's Vote or America's Player, they might assume that I will win it."
Big Brother