Big Brother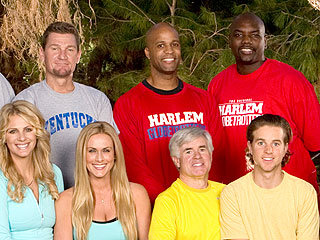 Credit: Monty Brinton/CBS
Will the second time again be the charm for Rachel Reilly?


When Kat Edorsson played Survivor: One World, she was known for her goofy antics – dancing, cracking jokes, and farting on her fellow castaways. Returning for Survivor: Blood vs. Water, Edorsson was much more subdued, never clicking with the people on her tribe. She found herself voted out on Day 16.

Playing the game with her boyfriend, Big Brother winner Hayden Moss, Edorsson worried aloud that he would dump her after she was voted off, because "no one wants to date someone who makes the merge." Edorsson, 23, talks about her experience – and whether she and Hayden are still together.
A handful of Big Brother houseguests are in hot water – and not just those up for eviction this week.

Since moving in to the house less than two weeks ago, contestants Aaryn Gries, GinaMarie Zimmerman, Spencer Clawson and others have been documented using racial, homophobic and misogynistic slurs on the 24-hour live feeds online.

The hate speech – which has reportedly been directed towards the women, African-Americans, Asians and gays in the house – has sparked a fervent reaction from both fans and former contestants of the CBS reality show.
Sixteen houseguests moved into the Big Brother house on Wednesday's premiere episode – and it wasn't long before the game play – and romantic entanglements – began.

"There are all kind of beautiful women in this house," said Howard Overby, 29, who had already caught the eye of pageant coordinator GinaMarie Zimmerman, 32.

But before any "showmances" could percolate, the alliances began to form. Overby aligned with railroad conductor Spencer Clawson, 31, and boat shop associate Jeremy McGuire, 23 ... but moments later, McGuire also joined an alliance with unemployed beauty Jessie Kowalski, 23, and lifeguard David Girton, 25.

"If nothing else, this is the best looking alliance in BB history," Kowalski said in the diary room.
Welcome to the Big Brother backyard!

The season 15 houseguests entered the Big Brother house just a few days ago and wasted no time making themselves at home poolside. Here's your first look at the group.

But the 16 houseguests – the largest cast in the CBS reality show's history – will not be spending all summer relaxing under the sun.

In a new twist, the show's two nomination chairs have been replaced by a "nomination couch" to make room for a third nominee's eviction every week. And a new power will be in play this summer as fans vote weekly for a "Big Brother MVP," whose special power will be explained by host Julie Chen.
Big Brother host Julie Chen teased there would be a "familiar face" among the season 15 cast announced Thursday – and it belongs to former contestant Rachel Reilly's sister Elissa Slater.

"I've always loved Big Brother and I've always wanted the opportunity to do it," Slater tells PEOPLE. "I hope people at home see that I am in it to win it and a force to be reckoned with."

Slater, 27, is one of 16 houseguests competing for the $500,000 prize during season 15 of the CBS reality show – the largest cast ever.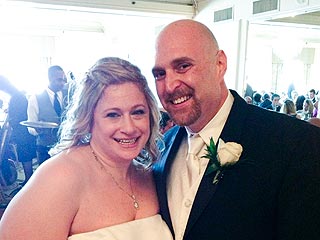 Here comes the bride and groom – and lots of bacon!

Adam Poch – the "Heavy Metal Teddy Bear" from Big Brother 13, who was known for his love of bacon and Tori Spelling – wed longtime girlfriend Fara Herzfeld on Saturday in a traditional Jewish ceremony at the Molly Pitcher Inn in Red Bank, N.J.

"Wait, traditional Jewish ceremony at a bacon-themed wedding, can you say 'oxymoron'?" Herzfeld tells PEOPLE. The best man, Poch's brother Seth, jokes that the couple united in "holy and unkosher matrimony."
In a bohemian-style wedding Saturday afternoon, Big Brother alums Dominic Briones and Daniele Donato tied the knot at the Newland House Museum in Huntington Beach, Calif.

The couple met while filming CBS's Big Brother 13 in the summer of 2011. She was a returning contestant; he, a newbie.

"Truth be told, I really didn't like him at first," she says with a laugh. "I thought he was a little troublemaker. But we became friends, and although I didn't like him like that, it just grew."
Ian Terry entered the Big Brother house a self-proclaimed nerd, but 75 days later he left feeling more mature – and $500,000 richer.

Terry, 21, beat out returning player – and former winner – Dan Gheesling to become the 14th winner of the CBS reality show Wednesday, with six of the seven jury members voting for him to take home the grand prize.

The morning after his victory, the Tulane University engineering student spoke to PEOPLE about his personal growth while in the house, what he plans to do with the money, and why he chose to stay loyal to Dan despite his history of betrayals.
After 75 days, 16 houseguests and dozens of competitions, Big Brother 14 has a winner!

Following last Thursday's elimination of their fellow Quack Pack alliance member Shane Meaney, the final three houseguests – Danielle Murphee, Ian Terry and returning player Dan Gheesling – battled it out for the final Head of Household of season 14. Spoilers ahead!

Ian, 21, won the three-part competition and kept his deal with Dan, choosing to evict Danielle, who became the final member of the jury tasked with voting between the final two and awarding one of them the $500,000 grand prize.
Big Brother