Big Brother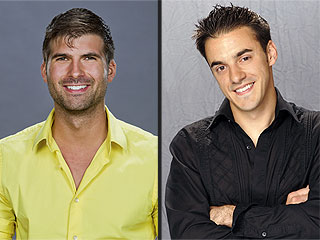 Credit: Sonja Flemming/CBS; John P. Filo/CBS
Handshakes mean nothing in the Big Brother house – and Shane Meaney learned that lesson the hard way.

He trusted his alliance with returning player Dan Gheesling so much that he allowed himself to be put up for elimination in Gheesling's place.

Did he even consider whether or not Gheesling would betray him? "Absolutely not," Meaney told PEOPLE the morning after his eviction. "I have no idea why Dan kept Ian over me. He went against his final three deal [with Danielle and me] that he shook my hand and swore on his wife's name."

The eviction has Meaney even questioning his relationship with his closest ally in the house, Danielle Murphree.
He was "the man with nine lives" but it only took six nominations before Frank Eudy was evicted from the Big Brother house last week. The son of wrestler Sid Vicious was an early threat on the reality show but avoided elimination until Thursday, when the Quack Pack finally took him down. The morning after his eviction, Eudy, 28, told PEOPLE about his alliance with Mike "Boogie" Malin and cheating to help Britney during a power of veto challenge.

Did you have any idea your eviction was coming this week?
All week I felt as though this were déjá vu. It was Joe and I on the block against each other and I had to trust Dan and Danielle. But last time they were not honest with me and I couldn't help but think they were lying to me again.

Do you ever think of toning down your "mourning" of Mike once he was eliminated?
We were both just so alike and we got along so well – especially when you think of the random circumstances. Here are two people who have such trust between each other. When you know that someone has your back 100 percent, it means so much in the Big Brother house. I did not expect to come out of this game with someone I feel is a new best friend in my life.

Did you ever contemplate throwing a competition to be seen as less of a target?
I don't think it mattered. They were always after me more than him. So at that point Mike was out and I was just giving homage to my friend Boogie. I don't think keeping his spirit alive in the game hurt me at all.
Rachel Reilly and Brendon Villegas spent two summers living with strangers on Big Brother and traveled around the world on The Amazing Race, but now they have taken their boldest trip ever – down the wedding aisle.

The reality stars married Saturday atop the AT&T Center in downtown Los Angeles, where the redheaded bride arrived via helicopter.

"She wanted to arrive like a big celebrity," celebrity wedding planner – and host of WE tv's My Fair Wedding – David Tutera tells PEOPLE. "The guests will watch her arrive on live camera before she walks down the aisle, which to me is one of the most over the top processionals ever."
With Frank and Jenn on the block, Ian and the Quack Pack were in control at the beginning of Wednesday's Big Brother. "They are almost all strategy," Head of Household Ian said of his nominations. "Frank is a strong player and if he was to win the veto and take himself down we'll just send Jenn home."

But just because Frank was the main target did not mean Jenn wasn't sweating it out in the hot seat. "I'm not at ease," Jenn said of being told by Danielle that she was not the target. "Because in Big Brother, pawns go home."

Meanwhile, Frank still believed he and Jenn both had a fighting chance to stay because of his alliance with Dan and Danielle – a deal that Dan confessed in the diary room he was "not going to hold up any of that." Frank's confidence even had him doing something he's never done in the six times he has been on the block – asking to stay on the block and get Dan to win the veto and take Jenn down.

"Frank, are you serious?" Dan asked in the diary room. "You're making it easier to stab you in the back. I want to win this veto so I can send him packing."
Another coach bites the dust.

Britney Haynes was infamously ousted by The Brigade alliance the first time she competed in the Big Brother house, but this season it was her own Quack Pack that sent her out the door.

The pharmaceutical sales rep, 24, told PEOPLE the morning after her eviction how Ian has become a force to be reckoned with, why Jenn's "big move" is a joke, and what she really thought of Dan's "funeral."
After promising "an epic move that could change everything," Big Brother's ominous voice did not disappoint.

With Dan and Danielle nominated by Head of Household Frank, the entire house was looking to Ian – armed with his extra power of veto – to stage a coup and keep the Quack Pack alliance complete. "Shane and I need to win this power of veto so we can remove Dan or Danielle from the block and Ian can use his on the other one," Britney explained of their master plan.

Meanwhile the house felt Frank was "alone in the house" but Jenn saw an opportunity to buck her status as a floater. "I'm not really aligned with anybody and it's time for me to make a move and team up with [Frank]," she said in the diary room. And Frank would need an ally heading in to the veto competition where he and Jenn would go up against Quack Pack allies Britney, Shane, Danielle and Dan.

But Dan was not entirely following the plan to let Britney or Shane win the veto. "This guy is super selfish. I was pissed," Britney said. "He told me he was going to throw it [but if he takes himself down] I'm going up as a replacement nominee."
Just minutes after eliminating the infamous Mike "Boogie" Malin, Big Brother contestant Ashley Iocco found herself walking out the door as well.

Iocco was not known as the best player of the season, but her reign as the season's most sought after date came to an end Thursday when she was eliminated during a double eviction week.

After her eviction Iocco explained to PEOPLE her "dating" escapades in the house, her desire to create a female alliance and her confusion during the final plea speeches.
The third time was not the charm for Big Brother contestant Mike "Boogie" Malin.

After winning Big Brother: All Stars seven years ago, Malin, who finished eighth in season two of the CBS reality show, was sent home by The Quack Pack on Thursday.

The morning after his eviction, Malin, 42, spoke to PEOPLE about being betrayed by his former player Ian, his desire to have remained a coach instead of entering the game as a player, and how becoming a father changed his gameplay.

When Jenn was put up next to you as a replacement nominee did you know you were going home?
I obviously held out hope I could sway people, but that was a tough moment. I thought if I could get Joe or Dan [nominated against me instead of Jenn] I would definitely stay, but I didn't know what was going on with Ian.
The Silent Six is out and The Quack Pack has taken control.

"Being up on the block next to my best friend in the house is just devastating," Frank said of being up for elimination with Boogie.

Boogie put it much more bluntly.

"Shane done lost his mind," he said. "You may be able to get Frank or I out but there is a chance that both of us end up staying and then guess who is public enemy number one?"
Wil Heuser entered the Big Brother house hoping to play a "clean game and be honest." That did not last long.

The marketing executive from Louisville, Ky. was evicted in a 6-2 vote by The Silent Six, an alliance Heuser, 24, had suspected existed for a while.

The morning after his eviction, Heuser spoke to PEOPLE about how he changed while in the house, why he did not get along with his coach Janelle, and why he rubbed some people the wrong way.
Big Brother