Big Brother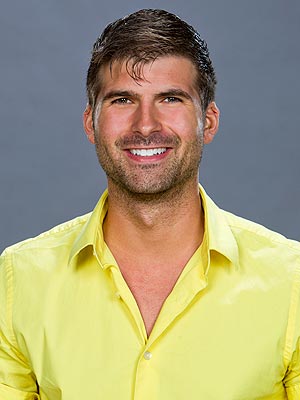 Credit: Sonja Flemming/CBS
It's the blondes versus the boys!

Just four episodes into season 14 of Big Brother, this season's coaches have already divided into two teams. "Britney and I are leading the witch hunt against Dan and Boogie," Janelle summed up in the diary room during Wednesday's episode.

And with Britney's player Willie as head of household, the women were holding all the cards going into the veto competition.

"So, who needs to go home?" Britney asked Janelle as they held court in the HoH room. "It's a toss-up." With Dan's player Kara and Boogie's player Frank on the block, the two boys were not going down without a fight.
She didn't even get a fighting chance.

As part of a Big Brother season 14 twist, contestant Jodi Rollins was one of three houseguests picked by returning player Dan Gheesling to be on his team in the house.

But after losing the first competition of the season, Gheesling had to choose one houseguest to send home only eight hours after entering – no veto, no vote, no chance for Rollins to save herself.

Freshly booted from the CBS reality show, Rollins spoke to PEOPLE about being evicted first, how she wishes she could have campaigned for votes, and whom she thinks has what it takes to win it all.
Big Brother promised this season would be "bigger than ever" – and with a record-breaking number of houseguests, the CBS reality competition didn't disappoint with its season 14 premiere.

Twelve new houseguests entered the BB house on Thursday, but shortly after choosing their beds and establishing their potential hookups for the summer, four returning players joined the ranks.

Season 2 player and Big Brother: All-Stars winner Mike "Boogie" Malin; season 10 winner Dan Gheesling; season 12's Britney Hayes; and season 6 and All-Stars favorite Janelle Pierzina entered the house. But unlike last season, these veterans were brought in to coach the newbies not compete against them.
First came Survivor's super-villain Russell Hantz; then his nephew Brandon tried to be Sole Survivor. Now Russell's brother Willie will go for reality TV greatness when he enters the Big Brother house this summer.

Willie, 34, hopes to follow in his older brother's footsteps and make it to the finals as Russell did on Survivor: Samoa and Survivor: Heroes and Villains, but he hopes to do one thing differently – win.
They have spent the past two summers pent up in the Big Brother house but now engaged couple Rachel Reilly and Brendon Villegas are travelling the world on The Amazing Race.

"We thought we would do well on The Amazing Race because its more our style of competition. We don't have to worry about getting along with everybody the whole time, we can just compete," Villegas told PEOPLE on Valentines Day, the couples' one-year anniversary of their engagement.

Just days after taking home the $500,000 Big Brother prize last September, Reilly and her fiancé were asked to join ten other teams for the upcoming season premiering Sunday.

"I don't think I knew what I was getting myself in to," Reilly said. "I thought, 'We could totally do this,' but the Race is so different from Big Brother."
Three months, 75 days and countless inane conversations later, season 13 of Big Brother came to an end Wednesday after a three-way battle for the final Head of Household.

It came down to Rachel the "veteran," Porsche the "newbie" and Adam the "piggy-backer" – meaning, it came down to Rachel and Porsche.

While both Rachel and Porsche made legitimate arguments for winning the $500,000, in the end there could only be one victor.

SPOILER ALERT: And the winner is …
With only four houseguests left in the house, Thursday's Big Brother was all about the power of veto.

"My lips are getting a little chapped from kissing some veteran butt," Adam said of how he has coasted in to the final four before winning Head of Household this week. "So lets see if these girls are kissing my butt the way I've kissed their butt all season long."

And despite having clung to the veterans most of the season, fellow newbie Porsche was the first person Adam attempted to make a deal with.

"I think me and you would have pretty good arguments in the end," Porsche said of going to the final two with him. "I love the fact that it would be two newbies and then, 'Hey, you guys have to choose between two new people.' "
It was a "special eviction episode" on Big Brother, Wednesday and with Rachel in power the newbies were on the chopping block.

"Basically, you guys nominated me," Rachel told her Kalia and Porsche after nominating them.

And while Kalia and Porsche have been allies for most of the game, that all went out the window going in to the veto competition.

"May the best woman win," Kalia said before pointing to herself in the diary room.

But the two allies did think of one way both of them could stay: Adam. If their fellow newbie were to win the veto and take one of them off, Rachel's ally Jordan would be forced on the block.
Power in the Big Brother house came down to doughnuts Sunday – but there was nothing sweet about nominations this week.

Adam and Rachel were "neck and neck" in the confection-themed Head of Household competition before Rachel pulled it out "for Brendon ... and for Jeff ... and me and Jordan."

So with the veterans in power, the newbies knew they were on the chopping block.

"Right now I'm bummed," Porsche said after Rachel's win. "I wouldn't be surprised if I'm put on the block this week."
The duos twist returned to Big Brother – gave those in danger a new lease on life this week.

"Rachel or Jordan were definitely going home but now just one of them needs to win veto and both of them are safe," Kalia said. "Twists always jack me."

And while Jordan was still devastated by the eviction of her boyfriend Jeff, Rachel – who has been showing a surprisingly sane side recently – had to focus her partner.

"This saved both of us," she told a tearful Jordan. "We have been having a horrible game. We have to put it behind us. When we win the veto, Shelly and Adam are forced on the block. This is our chance for redemption."
Big Brother
Get PEOPLE Everywhere
Advertisement