Celebrity Apprentice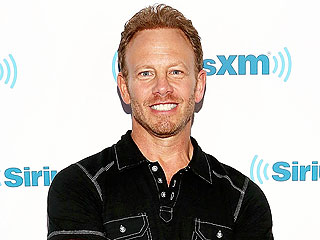 Credit: Gabriel Goldberg
He may have found fame in Beverly Hills, 90210, but Ian Ziering has set his sights on another zip code these days. Ziering relocated to New York City to vie for the title on Donald Trump's Celebrity Apprentice. Besides being a clothing entrepreneur – though he's also Chippendales-approved and ready for any tasks that require shirtlessness – Ziering has one major edge one his opponents: Have they ever faced off against a throng of sharks? That is, not in the boardroom …

Follow Ziering on Twitter and check back for his exclusive blog posts on PEOPLE.com after each episode of The Celebrity Apprentice.


Cosmopolitan Project
For the teams' fourth task, we had to come up with a four-page health and fitness layout layout for
Cosmopolitan
. Having
Terrell Owens
and
Johnny Damon
on our team really helped focus us on what we needed, content-wise. We also used our athletes as fitness models.
Geraldo Rivera
modeled, too. With his infamous "
selfie at 70
" from last summer, he's feeling quite confident these days.
The various allegations of sexual abuse currently being leveled against Bill Cosby made Sunday's premiere of Celebrity Apprentice a little awkward, to say the least.

Keshia Knight Pulliam, best known for her role as the adorable Rudy Huxtable on The Cosby Show, was the first to get fired from Donald Trump's newest team of Celebrity Apprentice hopefuls.

As project manager, it was Pulliam's responsibility to ensure that her female-driven team – which included Housewives Brandi Glanville and Kenya Moore – raised more money for charity than their male opponents, led by Geraldo Rivera.
While Joan Rivers may have been known for a fairly caustic wit, her upcoming appearance on the new season of Celebrity Apprentice proved to Donald Trump and the rest of the cast and crew that she wasn't all sharp edges behind the scenes.


Eager to hear someone say, "Kate Gosselin, you're fired?" You may just get your chance!

The infamous mother of eight will join the cast of Celebrity Apprentice, which is returning to NBC on Jan. 4 before settling into its regular time slot on Mondays. The late Joan Rivers is also set to appear in two of the upcoming episodes. Since she won the second season, she will return as an advisor, as will Piers Morgan, Bret Michaels, John Rich, Arsenio Hall and Trace Adkins.
Omarosa Manigault has started a new chapter.

The Celebrity Apprentice contestant seems to have found love again, nearly one year after the death of her fiancé, Oscar nominee Michael Clark Duncan.

Manigault, 39, began dating WWE star Titus O'Neil, 36, after the two were introduced by their mutual friend Jawn Murray at the WWE Superstars of Hope Party in Beverly Hills in August, a source tells PEOPLE exclusively.
One Nashville country singer. One Las Vegas magician. Two hours. One crazy finale.

There was just one last piece of the puzzle left to add as the fifth season of All-Star Celebrity Apprentice wrapped up on Sunday night.

Who would emerge victorious – Trace Adkins or Penn Jillette? To find out who wasn't fired during the final showdown, keep reading ...
They've heard the dreaded "You're Fired" before, but they're back for more!

Celebrity Apprentice is back with its all-star season, giving fan favorites another shot at a $250,000 prize for the charity of their choice. Among the crop of 14 who'll battle it out in the boardroom: Bret Michaels, Trace Adkins, Lil Jon, Marilu Henner, Lisa Rinna, La Toya Jackson, Gary Busey, Stephen Baldwin, Penn Jillette and Omarosa.

Show host Donald Trump and the new cast appeared on Friday's Today show to talk about what's in store for this season, which starts shooting Monday and will premiere in March 2013.
The comedian and the crooner – Arsenio Hall and Clay Aiken – squared off for the title of Celebrity Apprentice on Sunday night, seeking to be Donald Trump's latest favored protégé.

The task at hand was to create a celebrity variety show and a 30-second public-service announcement for their respective charities.

In a close race, Hall, 56, ended up winning after producing a comedy show with his team of Adam Corolla, Lisa Lampanelli, Paul Teutel Sr. and Teresa Giudice. Aiken, 33, chose a carnival theme with his team of Penn Jillette, Debbie Gibson, Dee Snider and Aubrey O'Day.
Celebrity Apprentice