Celebrity Apprentice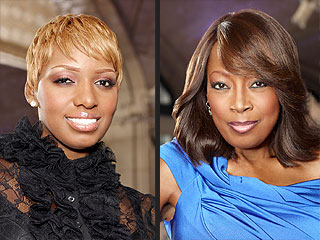 Credit: Virginia Sherwood/NBC (2)
Let the feuding begin!

With the latest season of The Celebrity Apprentice set to begin on Sunday, cast member NeNe Leakes is speaking out about her "one enemy" on the show – former host of The View Star Jones.

"Star Jones has got it in for me," The Real Housewives of Atlanta star told reporters during a conference call. "But it's all good. I'm okay with it. There are a lot of people who don't like Star, so I won't be the only one."
Charlie Sheen has a new job offer.

"I'd hire him in a minute," Donald Trump told PEOPLE about having the actor as a contestant on The Celebrity Apprentice.

Trump, who attended the Accessories Council 2010 Ace Awards at Cipriani 42nd Street in New York on Monday, had a cameo role alongside Sheen in the movie Wall Street 2: Money Never Sleeps.

"He's a good man, I know him," Trump added. "He's going through a difficulty."


More names of stars set to appear on The Celebrity Apprentice were dropped Thursday during Donald Trump's interview with the co-hosts of The View.

Dionne Warwick, LaToya Jackson, Lisa Rinna were all mentioned by Sherri Shepherd to Trump, who appeared in segment to chat about his reality show and a possible run for President.

The mogul himself added José Conseco – whom he called a "real piece of work" – David Cassidy and Meatloaf to the list.
Either Gary Busey and Mark McGrath have new careers selling pizza – or the Celebrity Apprentice is filming again.

Days after a supposed list of celebrity contestants on the new season of the NBC reality show hit the Web, Busey, McGrath, David Cassidy and Lil Jon were spotted out in New York City, hawking slices at a downtown pizzeria.

According to Internet reports the stars – who were all on the rumored list of contestants – were working on a challenge for Donald Trump's show.
She's hired! Well, not quite, but it looks like Donald Trump would like to say those words about Rachel Uchitel, the gorgeous Manhattan nightclub hostess and Tiger Woods's alleged mistress.


If Donald Trump has his way, Lindsay Lohan may be headed to Celebrity Apprentice.

"Donald approached Lindsay about being on Celebrity Apprentice, so we'll see where it goes," Lohan's mom Dina tells PEOPLE. "I think it's a great idea for her, but Lindsay has two movies coming up Machete and Inferno, so I don't know if Lindsay has time. It may conflict with her schedule."

But Dina says of Lindsay, who's wearing a court-ordered alcohol-monitoring bracelet on her ankle, "She can't leave L.A., the judge won't even let Lindsay go to Texas to shoot Machete, so I just don't know if it'll work out."
Rocker Bret Michaels faced off against actress Holly Robinson Peete on Sunday's Celebrity Apprentice season finale. Who was fired -- and who was hired?
It seems as though Bret Michaels will make it to the Big Apple to face off against Holly Robinson Peete on The Celebrity Apprentice – despite a detour.

Having boarded a New York City-bound flight Sunday in Arizona, the rocker's private jet first touched down in Nashville.

Michaels was "complaining of a headache, lower back pain and some cramping in his legs," sources at the airport tell PEOPLE.

After a brief stop, Michaels, 47, re-boarded the aircraft and is currently en route to New York.
With the season finale of The Celebrity Apprentice a mere day away, Bret Michaels looks forward to attending the live broadcast of the show on Sunday night to compete for the title – though his main concern continues to be his health.

As Michaels works to regain his strength after suffering several recent scares – including a "warning stroke" and a brain hemorrhage – the musician, 47, is careful not to take any "undue risks" with his recovery process.

"Bret is a very passionate person and refuses to live his life curled up in a ball wondering if or when something else might happen," the rocker's spokesperson Janna Elias said in a statement posted to Michaels' official Web site Friday.
Celebrity Apprentice
Get PEOPLE Everywhere
Advertisement