Celebrity Apprentice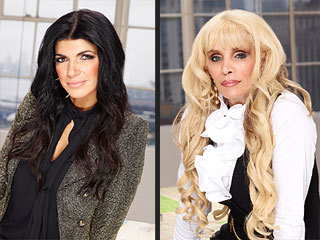 Credit: Mitchell Haaseth/NBC (2)
Would Teresa Giudice have the guts to flip a table on Victoria Gotti? Can supermodel Cheryl Tiegs outlast former Miss Universe Dayana Mendoza, who is four decades her junior? Who'll face the music first – Clay Aiken or Debbie Gibson?

Those are just a few of the mouth-watering matchups expected on the upcoming season of Celebrity Apprentice, premiering Feb. 12 on NBC. PEOPLE confirmed several of the contestants back in October, but the cast was officially revealed Wednesday.

"I just think we have a major group of celebrities, and we have a very iconic group," says the show's host, Donald Trump. "This is the best cast we've ever had, the biggest cast, and it's going to be special."


New season, new drama.

The Real Housewives of Atlanta returned for its fourth season on Bravo Sunday night, and NeNe Leakes kicked it off with a bang.

Leakes reignited her rivalry with cast mate Sheree Whitfield, after she accused Leakes of interfering with her making money at appearances during the show's hiatus.

"While you're running your mouth ... I was running to the bank to deposit a Trump check," says Leakes, referring to her stint on Celebrity Apprentice. "Donald Trump! I am very rich."

Says Whitfield: "I think the amount of success NeNe's had has gone to her head."
The brother of Celebrity Apprentice star Omarosa Manigault was murdered in a lover's quarrel last Sunday, police in Youngstown, Ohio, tell that town's Vindicator newspaper.

Jack Manigault, 40, received several gunshots, including a fatal wound to the head, after his home was broken into by Marco Cardenas, 22, say police. Manigault was asleep at the time with a woman who was formerly the girlfriend of the alleged assailant. Two children were also in the house.

A statement released by Omarosa Manigault through her Washington publicist said: "We thank everyone for their amazing outpouring of support surrounding the tragic death of my brother Jack. ... Right now it is an extremely difficult time and we ask that you allow family privacy to grieve and make all necessary arrangements."
While handbag designer Vanessa Trump and her husband, Celebrity Apprentice advisor Donald Trump Jr., await the arrival of their new son in eight weeks, their two children are already getting to know their cousin – Ivanka Trump's baby with husband Jared Kushner, Arabella Rose, who was born July 17.

"My daughter and son have both seen her. I'm very happy about that, because it's good practice, to see how they'll be when I have the baby in two months." Vanessa told PEOPLE this weekend at East Hampton's Blue & Cream store during a trunk show for La Poshett, a python-patterned handbag line that she designs with her mother and sister.
After a tumultuous season of rivalries on NBC's Celebrity Apprentice, John Rich and Marlee Matlin proved a harmonious final pairing.

Just before the final decision was announced on Sunday night – the final challenge had involved promoting a brand of soda – the pair performed a song, "For the Kids," which Rich sang and Matlin, who is deaf, signed.

Then came the moment of truth.

Stop reading here if you do not wish to know.


Perhaps surprisingly, the two calmest of this season's contestants – Marlee Matlin and John Rich – ended up making it to the finale of Celebrity Apprentice, which will air on NBC Sunday night.

Unlike others who went before them, the Oscar-winning Matlin, 45, and country music's Rich, 37, never locked horns with others, as did Meat Loaf with Gary Busey, and Star Jones with NeNe Leakes.

Not that there isn't some sense of rivalry between the two finalists. "We are friends but we are still competing," Rich tells PEOPLE. "We still have to go before [judge Donald]Trump and America. I want the quarter million [dollars for charity], and I want it bad."
NeNe Leakes never had second thoughts about quitting Celebrity Apprentice. It all just got to be too much, she says.

"I don't regret it. I felt very good about it. I always do what my gut tells me to do," the Real Housewives of Atlanta star says in an interview airing Wednesday on The Ellen DeGeneres Show.

She adds: "I'm a grown woman, and nobody makes decisions for me. I make my own decisions. It was a toxic situation for me."
The last time the Real Housewives of Atlanta star NeNe Leakes sat down to talk with Ellen DeGeneres, she called fellow Celebrity Apprentice contestant Star Jones "a disaster." After Sunday night's vicious spat between the contestants, Jones appeared on The Ellen DeGeneres Show – and she didn't miss her chance to strike back.

"What were you thinking when NeNe was going off like that?" DeGeneres asks Jones in an episode airing Tuesday.

"I was thinking my grandmother is going to watch this," Jones says. "I was thinking I need to keep calm."

She also couldn't resist comparing her costar to a feral animal. "When you're confronted in the wild with an un-caged animal you're supposed to retreat," Jones says. "You're not supposed to attack."
Celebrity Apprentice