Celebrity Apprentice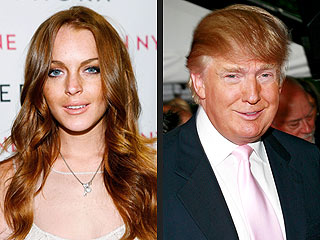 Credit: Michael Buckner/Getty; Charles Eshelman/FilmMagic
If Donald Trump has his way, Lindsay Lohan may be headed to Celebrity Apprentice.

"Donald approached Lindsay about being on Celebrity Apprentice, so we'll see where it goes," Lohan's mom Dina tells PEOPLE. "I think it's a great idea for her, but Lindsay has two movies coming up Machete and Inferno, so I don't know if Lindsay has time. It may conflict with her schedule."

But Dina says of Lindsay, who's wearing a court-ordered alcohol-monitoring bracelet on her ankle, "She can't leave L.A., the judge won't even let Lindsay go to Texas to shoot Machete, so I just don't know if it'll work out."
Rocker Bret Michaels faced off against actress Holly Robinson Peete on Sunday's Celebrity Apprentice season finale. Who was fired -- and who was hired?
It seems as though Bret Michaels will make it to the Big Apple to face off against Holly Robinson Peete on The Celebrity Apprentice – despite a detour.

Having boarded a New York City-bound flight Sunday in Arizona, the rocker's private jet first touched down in Nashville.

Michaels was "complaining of a headache, lower back pain and some cramping in his legs," sources at the airport tell PEOPLE.

After a brief stop, Michaels, 47, re-boarded the aircraft and is currently en route to New York.
With the season finale of The Celebrity Apprentice a mere day away, Bret Michaels looks forward to attending the live broadcast of the show on Sunday night to compete for the title – though his main concern continues to be his health.

As Michaels works to regain his strength after suffering several recent scares – including a "warning stroke" and a brain hemorrhage – the musician, 47, is careful not to take any "undue risks" with his recovery process.

"Bret is a very passionate person and refuses to live his life curled up in a ball wondering if or when something else might happen," the rocker's spokesperson Janna Elias said in a statement posted to Michaels' official Web site Friday.
Cyndi Lauper is singing the blues – and it has nothing to do with being fired from
Celebrity Apprentice
.
Next month, Lauper, 56, will release
Memphis Blues
, a collection of covers of classic tunes, featuring appearances by legends including B.B. King and Allen Touissant. While the genre might seem like a departure for Lauper, she explains, "Everything I ever sang, from jazz to rock to pop to dance, is based on rhythm and blues."
Get ready to say "you're fired . . . y'all!"


Although some of the stars of the upcoming third season of Celebrity Apprentice were photographed in New York City last October, the official cast has been announced -- and the list includes all-star athletes, wrestlers, iconic '80s singers, a supermodel, a celebrity chef and a politician.


Celebrity Apprentice
Get PEOPLE Everywhere
Advertisement