Celebrity Apprentice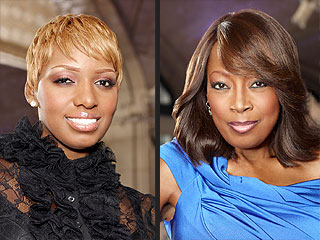 Credit: Virginia Sherwood/NBC (2)
How does NeNe Leakes really feel about her Celebrity Apprentice nemesis Star Jones?

"She is bossy, she is manipulative, conniving," Leakes says. "And I'm not even being funny. I think that is real. I honestly think that is who she is."

The Real Housewives of Atlanta star, who appears on an episode of The Ellen DeGeneres Show airing Wednesday, tells DeGeneres that she and Jones were never friendly.
Celebrity Apprentice contestant Richard Hatch turned himself into U.S. marshals on Monday to begin a nine-month prison sentence, according to The Providence Journal.

But Hatch, who is serving time for failing to pay taxes on his $1 million prize from the first season of Survivor, has someone on the outside who may be willing to help him.
After all the battles Bret Michaels has fought over the past 12 months, he still ranks winning Celebrity Apprentice as "one the toughest things I've ever done emotionally and physically, because they drain you down to find who the winner is." So now he has some expert advice for the show's remaining hopefuls.

"You got to work hard, delegate and be able to perform on a fume," says Michaels, who turns 48 March 15. "Because you don't eat a whole lot and you don't sleep a whole lot, and that's the truth."

He adds: "Listen to what Donald Trump and the task assigners are asking you to do. And you better be good at rallying your team, even when they don't like you or believe in you. Eventually, you're going to be facing the same people you worked with."
Things just got a whole lot worse than hearing, "You're fired."

Richard Hatch, who's currently appearing on The Celebrity Apprentice, was ordered back behind bars on Friday. He will serve a nine-month sentence for failing to pay taxes on his $1 million prize from the first season of Survivor.

The reality star previously served more than three years for tax evasion. He has been under supervised release and was supposed to re-file his taxes and pay what he owed from 2000 and 2001, but failed to do so, according to The Hollywood Reporter.
Celebrity Apprentice kicked off its fourth season Sunday, and while the challenge was to make pizza, the teammates spent more time making enemies.

Star Jones took the lead among the women, and rubbed people the wrong way by letting the rest of the team do prep work in the kitchen while she focused on the graphics for their advertising.

But when the group failed to deliver pizzas for charity, and lost out on a donation worth $35,000, the sniping began.
Let the feuding begin!

With the latest season of The Celebrity Apprentice set to begin on Sunday, cast member NeNe Leakes is speaking out about her "one enemy" on the show – former host of The View Star Jones.

"Star Jones has got it in for me," The Real Housewives of Atlanta star told reporters during a conference call. "But it's all good. I'm okay with it. There are a lot of people who don't like Star, so I won't be the only one."
Charlie Sheen has a new job offer.

"I'd hire him in a minute," Donald Trump told PEOPLE about having the actor as a contestant on The Celebrity Apprentice.

Trump, who attended the Accessories Council 2010 Ace Awards at Cipriani 42nd Street in New York on Monday, had a cameo role alongside Sheen in the movie Wall Street 2: Money Never Sleeps.

"He's a good man, I know him," Trump added. "He's going through a difficulty."


More names of stars set to appear on The Celebrity Apprentice were dropped Thursday during Donald Trump's interview with the co-hosts of The View.

Dionne Warwick, LaToya Jackson, Lisa Rinna were all mentioned by Sherri Shepherd to Trump, who appeared in segment to chat about his reality show and a possible run for President.

The mogul himself added José Conseco – whom he called a "real piece of work" – David Cassidy and Meatloaf to the list.
Either Gary Busey and Mark McGrath have new careers selling pizza – or the Celebrity Apprentice is filming again.

Days after a supposed list of celebrity contestants on the new season of the NBC reality show hit the Web, Busey, McGrath, David Cassidy and Lil Jon were spotted out in New York City, hawking slices at a downtown pizzeria.

According to Internet reports the stars – who were all on the rumored list of contestants – were working on a challenge for Donald Trump's show.
She's hired! Well, not quite, but it looks like Donald Trump would like to say those words about Rachel Uchitel, the gorgeous Manhattan nightclub hostess and Tiger Woods's alleged mistress.


Celebrity Apprentice