Celebrity Apprentice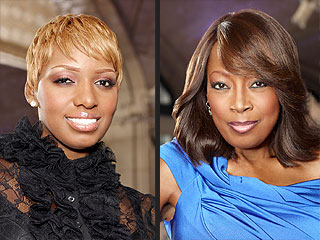 Credit: Virginia Sherwood/NBC (2)
She was the the reason she quit Celebrity Apprentice, but that isn't stopping NeNe Leakes from keeping it cordial with former fellow contestant Star Jones.

"Saying hello costs me nothing – that's free," the Real Housewives of Atlanta star, 43, tells ESSENCE.com. "I'm not so in a rage that I can't say hello and I can't stand in the same room as Star."

The two famously feuded and resorted to name-calling on the NBC show, and their rivalry hit a peak when Leakes unloaded on Jones in front of a client.
After a tumultuous season of rivalries on NBC's Celebrity Apprentice, John Rich and Marlee Matlin proved a harmonious final pairing.

Just before the final decision was announced on Sunday night – the final challenge had involved promoting a brand of soda – the pair performed a song, "For the Kids," which Rich sang and Matlin, who is deaf, signed.

Then came the moment of truth.

Stop reading here if you do not wish to know.


Perhaps surprisingly, the two calmest of this season's contestants – Marlee Matlin and John Rich – ended up making it to the finale of Celebrity Apprentice, which will air on NBC Sunday night.

Unlike others who went before them, the Oscar-winning Matlin, 45, and country music's Rich, 37, never locked horns with others, as did Meat Loaf with Gary Busey, and Star Jones with NeNe Leakes.

Not that there isn't some sense of rivalry between the two finalists. "We are friends but we are still competing," Rich tells PEOPLE. "We still have to go before [judge Donald]Trump and America. I want the quarter million [dollars for charity], and I want it bad."
NeNe Leakes never had second thoughts about quitting Celebrity Apprentice. It all just got to be too much, she says.

"I don't regret it. I felt very good about it. I always do what my gut tells me to do," the Real Housewives of Atlanta star says in an interview airing Wednesday on The Ellen DeGeneres Show.

She adds: "I'm a grown woman, and nobody makes decisions for me. I make my own decisions. It was a toxic situation for me."
The last time the Real Housewives of Atlanta star NeNe Leakes sat down to talk with Ellen DeGeneres, she called fellow Celebrity Apprentice contestant Star Jones "a disaster." After Sunday night's vicious spat between the contestants, Jones appeared on The Ellen DeGeneres Show – and she didn't miss her chance to strike back.

"What were you thinking when NeNe was going off like that?" DeGeneres asks Jones in an episode airing Tuesday.

"I was thinking my grandmother is going to watch this," Jones says. "I was thinking I need to keep calm."

She also couldn't resist comparing her costar to a feral animal. "When you're confronted in the wild with an un-caged animal you're supposed to retreat," Jones says. "You're not supposed to attack."
How does NeNe Leakes really feel about her Celebrity Apprentice nemesis Star Jones?

"She is bossy, she is manipulative, conniving," Leakes says. "And I'm not even being funny. I think that is real. I honestly think that is who she is."

The Real Housewives of Atlanta star, who appears on an episode of The Ellen DeGeneres Show airing Wednesday, tells DeGeneres that she and Jones were never friendly.
Celebrity Apprentice contestant Richard Hatch turned himself into U.S. marshals on Monday to begin a nine-month prison sentence, according to The Providence Journal.

But Hatch, who is serving time for failing to pay taxes on his $1 million prize from the first season of Survivor, has someone on the outside who may be willing to help him.
After all the battles Bret Michaels has fought over the past 12 months, he still ranks winning Celebrity Apprentice as "one the toughest things I've ever done emotionally and physically, because they drain you down to find who the winner is." So now he has some expert advice for the show's remaining hopefuls.

"You got to work hard, delegate and be able to perform on a fume," says Michaels, who turns 48 March 15. "Because you don't eat a whole lot and you don't sleep a whole lot, and that's the truth."

He adds: "Listen to what Donald Trump and the task assigners are asking you to do. And you better be good at rallying your team, even when they don't like you or believe in you. Eventually, you're going to be facing the same people you worked with."
Things just got a whole lot worse than hearing, "You're fired."

Richard Hatch, who's currently appearing on The Celebrity Apprentice, was ordered back behind bars on Friday. He will serve a nine-month sentence for failing to pay taxes on his $1 million prize from the first season of Survivor.

The reality star previously served more than three years for tax evasion. He has been under supervised release and was supposed to re-file his taxes and pay what he owed from 2000 and 2001, but failed to do so, according to The Hollywood Reporter.
Celebrity Apprentice kicked off its fourth season Sunday, and while the challenge was to make pizza, the teammates spent more time making enemies.

Star Jones took the lead among the women, and rubbed people the wrong way by letting the rest of the team do prep work in the kitchen while she focused on the graphics for their advertising.

But when the group failed to deliver pizzas for charity, and lost out on a donation worth $35,000, the sniping began.
Celebrity Apprentice