Desperate Housewives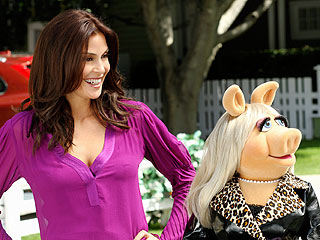 Credit: Ron Tom/ABC
She's known to be a little hopeless when it comes to her amphibian friend Kermit the Frog, but Miss Piggy's latest stunt might just top her list of desperate antics.


There always seems to be available real estate on Wisteria Lane for new neighbors moving in from other TV neighborhoods: Beverly Hills, 90210's Brian Austin Green will join the Desperate Housewives cast as a working class contractor who catches the eye of both Bree (Marcia Cross) and another newbie, Ugly Betty's Vanessa Williams. And series creator Marc Cherry also hopes to save some property for his longtime friend Betty White.

"Marcia will have a new love interest in the form of Brian Austin Green," Cherry said at a Television Critics Association panel on Tuesday. "We wanted Bree to be involved with a hunky blue collar contractor and take her out of her refined and educated world – someone who's a bit younger and someone who would be challenging to Bree. We read the first script of the season and I introduced Brian as Marcia's new love interest and then I said, 'You're welcome, Marcia!' and Marcia blushed."
Wisteria Lane has a new resident!


Television and Broadway actress Dixie Carter passed away Saturday morning at the age of 70.

"This has been a terrible blow to our family," her husband, actor Hal Holbrook, said in a statement. "We would appreciate everyone understanding that this is a private family tragedy."

Carter died from complications arising from endometrial cancer, publicist Steve Rohr tells PEOPLE.

Best known for her role as interior designer Julia Sugarbaker in Designing Women, the Tennessee native earned an Emmy nomination in 2007 for her guest appearance on Desperate Housewives.


Her Broadway credits include a stint in
Thoroughly Modern Millie
in 2004.
Carter and Holbrook, who married in 1984, appeared together last year in
That Evening Sun
, an independent film based on a short story by author William Gay.
In addition to her husband, Carter is survived by two daughters from a previous marriage.
Nicollette Sheridan won't be surprised if the legal response against her is, well, desperate.

After filing a lawsuit Monday alleging she was assaulted and then was wrongly fired from ABC's Desperate Housewives, her lawyer alleges show creator Marc Cherry was abusive on the set – and the attorney anticipates more of the same now.

"We expect the case to be hard fought, and it will not be a surprise if ABC and Mr. Cherry try to depict Nicollette to be something other than a team player and long-standing industry professional," says attorney Mark Baute.


Sheridan, 46, is suing for $20 million, alleging assault and battery, gender violence and wrongful termination. She says that Cherry hit her in the face when she questioned a script and that she was then killed off the show last year when she complained.
It's a lawsuit worthy of a juicy Desperate Housewives storyline.

Nicollette Sheridan alleges the show's creator hit her in the face on the set and that she was then fired in retaliation for complaining about him, "resulting in her losing millions in future earnings," says the suit filed Monday in Los Angeles Superior Court.

Sheridan, whose character was killed off the show last year, is suing for $20 million, alleging assault and battery, gender violence and wrongful termination. She claims series creator Marc Cherry created a hostile work environment, "behaving in an extremely abusive and aggressive manner."

Sheridan, a Golden Globe nominee who played sexy Realtor Edie Britt, claims that Cherry directed his abuse at other cast and crew members, even at star Teri Hatcher after she went above his head to ABC executives.
Looks like Wisteria Lane could soon be doubling as a runway! According to E! Online, an ABC rep confirmed that supermodels and reality TV staples Heidi Klum and Paulina Porizkova have just inked deals to guest star on ABC's Desperate Housewives. According to sources, they'll be playing themselves in an episode tentatively slated to air in March.


Neal McDonough, who played Edie's crazy husband Dave Williams on Desperate Housewives, and his wife, Ruvé, have a new addition to their family.

Daughter London Jane McDonough was born on the morning of Jan. 11 at the Good Samaritan Hospital in Los Angeles, PEOPLE confirms. She weighed 7.95 lbs and measured 19 inches long.

"Morgan Patrick, 4, and Catherine Maggie, who is 2 ½, are thrilled to have a new baby sister in the house," Ruvé tells PEOPLE exclusively. "The first words out of their mouths when they wake up or come home from preschool are, 'Where's Baby London?' "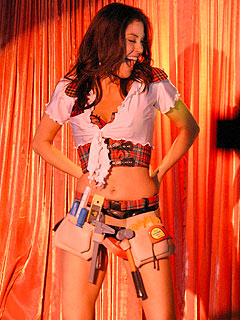 You don't see this every day at Home Depot!


With Sunday night bringing the final episode of Desperate Housewives to star original cast member Nicollette Sheridan – who is leaving the show for good – her neighbors on Wisteria Lane gathered to pay brief tribute to her during a panel discussion about Housewives at the Paley Center for Media in Los Angeles.

According to James Denton (the actor whose plumber Mike on the ABC show was the object of Sheridan's character Edie's insatiable lust), at the table-read of the first script that would not feature Sheridan, she took a moment to address the writers and actors. "She said, 'While you're all together, I'm here to say thank you for everything. You guys are great. You guys are awesome,' " Denton said.

"She walked out of the room, and Felicity [Huffman] looked at me and said, 'Classy,' and it sure was."
Desperate Housewives
Get PEOPLE Everywhere
Advertisement