Real Housewives
The three-part Real Housewives of New York City reunion came to an explosive end on Wednesday. But although the night was packed with major surprises (like how Ramona Singer almost invested in Sonja Morgan's Tipsy Girl?), none seemed to shock as much as what happened in the night's final moments.
Teresa Giudice's "baby" isn't a baby anymore!

The Real Housewives of New Jersey star celebrated her youngest daughter's birthday on Wednesday with a trip to the American Girl store in New York City.

"Happy Birthday to my baby Audriana. Can't believe she's 7 today! I love you! Celebrating at American Girl in the city today! #americangirl #americangirldoll," Giudice shared in the first of three sweet Instagram posts in honor of Audriana's birthday.
Time behind bars has apparently done Real Housewives of New Jersey star Joe Giudice some good.

Teresa Giudice revealed to Extra that her husband has lost a significant amount of weight within the first six months of his 41-month sentence.

"I talk to him every day, sometimes twice a day. He calls me and we email constantly throughout the day and I see him every week," Teresa, 44, said of staying in constant communication with her husband.
Milania Giudice is only 10 – but something tells us she's going to be quite the star.

Teresa Giudice took to Instagram to share a slew of photos and videos from her daughter's experience walking the Tumbler & Tipsy runway Tuesday evening at New York Fashion Week.

"With my beautiful Milania she did amazing tonight Tumbler & Tipsy Show," Teresa, 44, captioned a sweet photo of her and her daughter.
Slade Smiley is doing everything he can to make sure that his 16-year-old son Grayson receives the medical care necessary to fight his aggressive brain cancer.

Throughout his time on The Real Housewives of Orange County, audiences watched 42-year-old Smiley accrue debt while caring for his ill son. Though he is in the process of paying down his debts, both Smiley and his fiancée Gretchen Rossi are not allowing monetary worries to dictate their happiness.

"I am happy to be in debt as long as Grayson gets to stay here with us," Smiley exclusively tells PEOPLE.
Heather Dubrow revealed to PEOPLE that the terrifying dune buggy accident she and her fellow Real Housewives of Orange County castmates were involved in caused her post traumatic stress disorder.

Reliving Monday evening's episode, which showed Dubrow, Vicki Gunvalson, Tamra Judge and Kelly Dodd overturn in a dune buggy, was "very difficult" for the Bravo personality.

"I was very nervous about watching this episode. It was very difficult to watch. I cried watching it. I cried watching my son in the other dune buggy saying to Kelly's daughter, 'Your mom and my mom are okay. They're good. They're okay,' " Dubrow says of her son. "It was very difficult to watch."
Lauri Peterson is figuring out how her single daughter, Ashley Zarlin, can get a rose from the newest Bachelor leading man, Nick Viall.

"What are you waiting for @ashleyzarlin?" the Real Housewives of Orange County alum Tweeted Wednesday after one of the show's producers, Elan Gale, announced on social media that casting for the reality series' 21st season is ending.

"Casting for the next season of The Bachelor ends VERY soon," Gale Tweeted last week. "If you want to be considered stop wasting time and apply."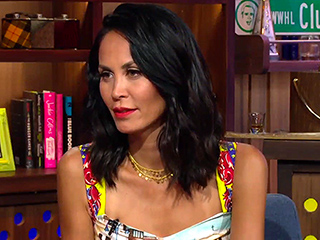 Real Housewives of New York City star Jules Wainstein and her estranged husband, Michael, are attempting to work things after being locked in a contentious divorce.

Nearly a month after 35-year-old Jules was granted a temporary restraining order against Michael, a source confirmed to PEOPLE on Thursday that the order has been lifted.
Real Housewives