Real Housewives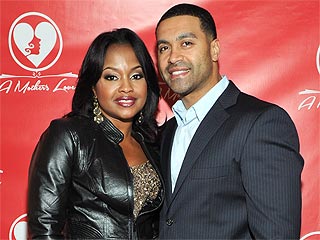 Credit: Prince Williams/FilmMagic
One place Phaedra Parks is planning to visit this holiday season? Prison.

When TMZ cameras asked the Real Housewives of Atlanta star if she was planning to let sons Ayden, 5, and Dylan 19 months, visit her estranged husband Apollo Nida in jail over the holidays, Parks made it clear there's no more bad blood between the two.

"I would love to," she said. "I have sent him a Christmas card and everything. I speak to him all the time."
[YOUTUBE "re28eM0azu8"]
Did you know that Gia Giudice is in a girl group called 3KT?


Following last week's disastrous dinner party – which saw NeNe Leakes and Cynthia Bailey pull out the knives instead of burying the hatchet – Sunday's The Real Housewives of Atlanta's meal ended on a sweet note.

"I tried to get over it, but I feel like there are certain lines that must not be crossed," Bailey told Leakes referring to last season when Leakes called Bailey's husband Peter Thomas a bitch.

"If you are a real friend, like you claim to be, you'd call up your real friend," Leakes told Bailey after the other wives had departed dinner to give the former BFFs some alone time. "But you chose to do it in front of everybody else."
A trip aboard a luxury yacht with Kyle Richards turned into a nightmarish vacation for Yolanda Foster on Tuesday's The Real Housewives of Beverly Hills when she learned her daughter had been arrested for a DUI.

"This yacht is gorgeous," said an excited Richards, who went to Mallorca, Spain, with her husband and two of her daughters. "I can't believe we're going to float around on this for one week in the Mediterranean."

When Foster joined Richards, the two toured Spain, went tubing – the Dutch model referred to hers as a "bagel" – and jumped off the side of the yacht, before she received a call from her husband, music producer David Foster, informing her that her 17-year-old daughter, Bella Hadid, had been arrested.
Freezing your eggs in order to preserve your fertility has become more and more commonplace among women – and celebrities are no exception.

Real Housewives of Miami star Joanna Krupa, 35, is among them. The model, who says that while she's newly married she is still not quite ready to have children, is beginning the process – and has invited PEOPLE along for the experience.

"One of my best friends had a tough time getting pregnant, and her situation had me really thinking about freezing my eggs," Krupa told PEOPLE while getting a checkup at The Fertility Institutes in Encino, California.
Kandi Burruss organized a "peaceful" dinner party so The Real Housewives of Atlanta" could mend fences and move forward – but the knives were out instead.

"We might need a word of prayer before these heifers get here," said Phaedra Parks, offering up a mock prayer with Burruss at the restaurant. "We come against whores … and liars. I want God to be in the midst, because I know this could turn out horribly wrong."

And it did.
Kandi Burruss, cast member on Bravo's Real Housewives of Atlanta, and her husband Todd Tucker are mourning the loss of his mother.

Sharon Tucker, affectionately known as "Miss Sharon" on the show, passed away on Tuesday, suffering a fatal stroke.

"Today I lost my partner, my ride or die my best friend!" Tucker wrote in an Instagram caption with a picture of himself and his mom. "I don't know what to do? I'm lost!"
Real Housewives
Get PEOPLE Everywhere
Advertisement