Real Housewives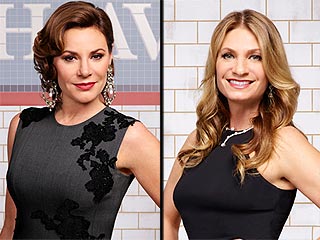 Credit: Mathieu Young/Bravo(2)
Have these frenemies buried the hatchet?

Heather Thomson has been criticizing The Real Housewives of New York City costar LuAnn de Lesseps' behavior during their "Scary Island Part 2" trip to Turks and Caicos. (They argued after the Countess brought a male guest back to the ladies' vacation home, startling Thomson when she woke up.)

"LuAnn is always painting someone else to be the villain because LuAnn takes no responsibility for her own behavior or her own actions," Thomson, 45, told PEOPLE Now.
Lauren Manzo is officially Mrs. Scalia!

The former Real Housewives of New Jersey star tied the knot with longtime love Vito Scalia on Saturday.The pair got engaged in November 2013.

The 27-year-old Manzo'd with Children star had been teasing her upcoming nuptials on Instagram for weeks, including sharing a cute shot of pre-wedding "Love" balloons.
If there's one thing in life women of any age should never do, it's break the "Girl Code."

And to spread that awareness, Real Housewives of New York City's Countess LuAnn de Lesseps debuted a new girl-power hit called "Girl Code (Don't Be So Uncool)" on iTunes.

The Countess tells PEOPLE the song was inspired by the women on the show: "This is about girls who steal boys from other girls," says de Lesseps, 50. "It's an anthem for all women everywhere to have each other's backs. It's really multigenerational from a young age to women who are much older."

To educate women beyond the lyrics of her third single, de Lesseps shares seven rules a woman should never break:
Talk about a pain in the butt!


Though Kim Zolciak-Biermann fiercely denies rumors that she's had a facelift, there's one thing she isn't afraid to admit she paid for.

"I'm so thankful for my tatas that @drhochstein did!!!" Zolciak-Biermann, 37, captioned a busty selfie in a black and yellow string bikini on Tuesday. "I breastfed allllll 6 of my babies and he turned them back into my 16yr old tatas if not better!!"

"They don't call @drhochstein 'boob God' for nothing," added the reality star in praise of her plastic surgeon, complete with a series of hash tags: "BreastFeedingIsTheWayToGo #PerkyAtLast #IPaidForThemAndItIsSoWorthIt #FeelMyBest6KidsLater."
Though Monday's episode of The Real Housewives of Orange County saw tremendous joy for Tamra Judge, the birth of her granddaughter was shadowed by the pain from a bitter custody battle with ex Simon Barney.

The star broke down on Monday's Watch What Happens Live while discussing the how the clash has strained her relationship with 16-year-old daughter Ava.

"My oldest daughter has chosen to live with Simon because she is the one between the three kids – she got caught up in the middle of it," a visibly upset Judge told with host Andy Cohen. "It's a bad case of parental alienation, and it's hard, and it's still a struggle, and I love her more than anything."
What happens in the Turks and Caicos stays in the Turks and Caicos?

Not so for Real Housewives of New York City's Heather Thomson, who has plenty to tell PEOPLE Now about costar LuAnn de Lesseps.

Before the fourth and final installment of the Housewives' trip to the Caribbean island hits television screens Tuesday night, Thomson is sharing her not-so-friendly feelings about the Countess.
Yolanda Foster has an inspirational message for us all: "Never let your emotions overpower your intelligence."

The quote is the caption to a photo the Real Housewives of Beverly Hills star posted on Instagram on Monday, which shows her getting blood drawn in her treatment for Lyme disease.

The 51-year-old also added a series of inspirational hashtags: "#UncoveringTheMystery #ChronicLymeDiseaseAwareness #SearchingForACure #AffordableForAll," and most important, "#DONTGIVEUP."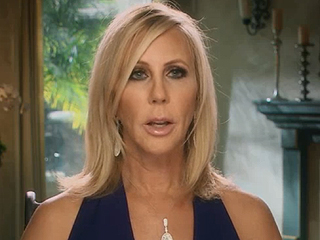 Ironies and tears filled Monday's episode of The Real Housewives of Orange County as Vicki Gunvalson buried her mother on the same day that Tamra Judge became a grandmother for the first time.

"One life in, one life out," Gunvalson told Judge, who came to visit her before she left for the funeral. "I feel lost, I feel lonely. I need my mom."

Although Judge joked that she was "going to be the hottest grandma in Orange County," she felt guilt about not being able to accompany Gunvalson.

"It's so not fair," she said. "Make sure your parents know that you love them."
Real Housewives