Real Housewives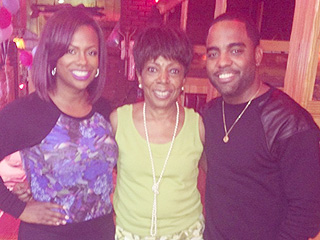 Credit: Courtesy Kandi Burruss
Kandi Burruss, cast member on Bravo's Real Housewives of Atlanta, and her husband Todd Tucker are mourning the loss of his mother.

Sharon Tucker, affectionately known as "Miss Sharon" on the show, passed away on Tuesday, suffering a fatal stroke.

"Today I lost my partner, my ride or die my best friend!" Tucker wrote in an Instagram caption with a picture of himself and his mom. "I don't know what to do? I'm lost!"
The Real Housewives of Beverly Hills turned into an episode of Days of Our Lives Tuesday night, when former soap stars Eileen Davidson and Lisa Rinna were reunited.

"The first time I met Eileen was in the late '80s … Eileen was huge on The Young and The Restless," said Rinna, referencing Davidson's role as Ashley Abbott, before the two worked together on Days – Davidson as the villainous Kristen DiMera and Rinna as Billie Reed.

"At this point in my life and career, I feel incredibly grateful," Davidson said about her 2014 Daytime Emmy win for best actress on Days. "I've been doing this for so long … it might never happen again for me."
NeNe Leakes tossed enough shade on Sunday's The Real Housewives of Atlanta to chill the state of Georgia.

At a spa day with Kandi Burruss, Phaedra Parks and Porsha Williams, Leakes opted to massage her vocal muscles, first taking on former BFF Cynthia Bailey.

"When we stopped talking, I missed her friendship," Leakes said of Bailey, recalling their feud on last season's reunion. "Now I'm over it. Cynthia is trying to make her mark. It really doesn't look cute on her. I'm never gonna be friends with her again. Ever!"
Between the pink sapphires and private planes, Tuesday's The Real Housewives of Beverly Hills was a glam slam – but at least Lisa Rinna was keeping it hilariously real.

"To stay relevant, I've had to reinvent myself over and over and over again," said Rinna, who had lunch with her new, 25-year-old "hustler" agent. "I need someone who is working day and f---ing night."

Added Rinna, joking only somewhat dryly about the infamous Depend commercial she did: "I got paid more money to do that than anything in my life. I was winking all the way to the bank. I don't say no very much."


Teresa Giudice is gearing up for Thanksgiving with her family this Thursday, trying to make the most of the time she has left with them before she heads to prison on Jan. 5.


Just when you thought things couldn't get any uglier between Phaedra Parks and husband Apollo Nida, the relationship went from bad to worse on Sunday's The Real Housewives of Atlanta.

"Phaedra is very calculated," said Nida, who is currently serving eight years in prison for bank fraud. "I despise everything about her, but I still love her."

Nida secretly met with an attorney to discuss divorcing Parks – before she could divorce him while he was in jail.

"I don't have anything," Nida told the laywer. "The government's taken everything."
The Real Housewives of Beverly Hills has always been filled with drama, but Season 5 will likely reach new heights with the addition of soap opera divas Lisa Rinna and Eileen Davidson.

"If you spend enough time in this town, you know everybody," replied Rinna, smiling through her famed lips.

Continued Rinna about her family and husband, Mad Men actor Harry Hamlin: "It is a trip and a half to raise two teenage daughters … Harry is king. We play along with that. Sometimes I rebel against that."
Real Housewives
Get PEOPLE Everywhere
Advertisement