Real Housewives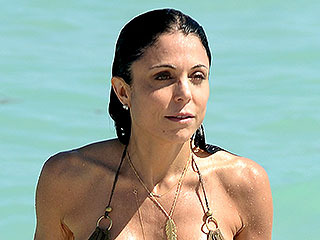 Credit: INF Photo
Golden girl! Bethenny Frankel showed off her abs of steel in a shimmery gold two-piece bathing suit in Miami, Florida, on Monday.


The Real Housewives of Beverly Hills attended a surprise birthday party for Lisa Vanderpump Tuesday night, but the biggest surprise may have been that her frenemy, Brandi Glanville, was invited.

"I want you to be on your best behavior," Vanderpump's husband, Ken Todd, told Glanville when he invited her. "I don't want anything to spoil her birthday."

"Me on my best behavior is me not talking," joked Glanville, who was on her best behavior, as she was in the midst of a 21-day cleanse – meaning no sugar or alcohol – inspired by Yolanda Foster, who asked her point-blank last week if she was an alcoholic.

But Glanville did have to work for her cake – and to earn Vanderpump's approval – by singing for the guests, including Lance Bass.
Jim Marchese says he doesn't think it's a good idea for Teresa Giudice to return to Bravo's Real Housewives of New Jersey when she finishes her prison sentence.


On a frightening The Real Housewives of Atlanta Sunday, an angry Apollo Nida showed up at Phaedra Parks's home instead of reporting to the big house to begin serving an eight-year prison sentence for fraud.

"Apollo threatened to do all kinds of horrific things, and I was scared for our safety," said Parks, who was having all of the locks on her house re-keyed when Nida showed up and angrily began flying through the house. "I've got to make sure I'm safe."

"Why would you lock me out of my own house," Nida yelled after pulling into the driveway, where the garage door code was being changed. "Who would do some lowdown sh-- like this?"

"You're supposed to be reporting to prison today," replied a calm Parks. "A mind is a terrible thing to waste ... and his is clearly gone."

"Are you gonna call the police on me?" asked Nida. "Don't play me right now."

Instead of calling the police, Parks called Nida's friend, Bun, who came over to try to calm him.

"It's like he's got a death wish," Parks said of her estranged husband, who finally took off in his car, before returning yet again.

"Stop playing with me!" he yelled.

"I'm not sure what he's capable of at this moment," said a still calm Parks, "because he has nothing to lose."

Nida then stormed through the house once more before rushing into the garage with a power drill he kept turning on and off.

"Go away from me with this!" yelled Parks.

"Listen to me for one second," Nida whispered into her ear threateningly, the drill in his hand. "Do not call the police."

"I might not be here when you get back," Parks said to Nida when he finally walked away.

"You always leave me," he said.

"I'm praying for you," she replied.

"You should. You took everything from me. You got all these people brainwashed."

Nida was referring to his earlier conversation with Cynthia Bailey's husband, Peter Thomas, in which he told him he had discovered texts on Parks's phone that showed she was having an affair with an African man named "Chocolate."
Lisa Vanderpump says she and her fellow Housewives have "turned a corner," but that doesn't mean The Real Housewives of Beverly Hills star has forgotten what happened last year.

"I had a horrible season last year," the veteran reality star, 54, tells PEOPLE at the launch of EVINE Live Friday in New York City. "They threw everything at me last year, the other women. It was nasty and it was mean-spirited."

Specifically, Vanderpump had a falling out with former friend Brandi Glanville, who helped turn the rest of the cast against Vanderpump at the end of last season.
It's only right that Skinnygirl is making Valentine's Day a ladies' night.


Yolanda Foster asked Brandi Glanville pointblank if she were an alcoholic on Tuesday's The Real Housewives of Beverly Hills, following Glanville's angry confrontation with Kyle Richards last week.

"[The girls say] Brandi's an angry drunk," Foster told Glanville when she invited her over to do yoga. "I don't want people going around saying you're an alcoholic … pause right there. If you are, I want to help."

"I'm not," Glanville said, although she said all the talk "makes me want to do it more."

"Maybe it's time for her to look in the mirror," Foster said, telling her, "You can go out and not drink too much."
While the Grammys were alive with the sound of music on Sunday, The Real Housewives of Atlanta" were alive with shouting between Claudia Jordan and Porsha Williams.

"After being low down and dirty in Puerto Rico, let's just hope she has good enough sense not to show up to my party," Williams said of Jordan in advance of a party welcoming Williams to Dish Nation.

But Jordan – who claimed Williams got her Rolls (and other goodies) from an African married man after Williams laughed when NeNe Leakes called her a whore on the trip – showed up, which led to the war of words when Jordan tried to approach her.
David Foster admitted that it can be difficult at times to be there for his wife, Yolanda Foster.


Sibling rivalry is tough enough, but put Brandi Glanville between sisters Kyle and Kim Richards and it turns into a family feud.


Real Housewives
Get PEOPLE Everywhere
Advertisement