Real Housewives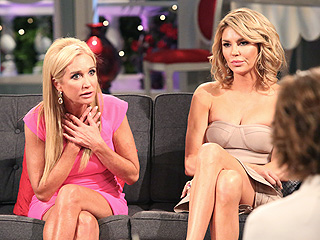 Credit: Evans Vestal Ward/Bravo/NBC/Getty
She's known for dishing it out on The Real Housewives of Beverly Hills, but after a particularly brutal reunion show, Brandi Glanville felt the heat in a big way.

"Brandi really struggled," a source close to Glanville tells PEOPLE. "She felt bullied at the reunion."

Says the source of the single mom of two, whose ongoing feud with Kyle Richards, Lisa Rinna and Lisa Vanderpump came to boiling points at the taping. "She feels like everyone else in the cast can do whatever they want, but whatever she does gets criticized."
Kenya Moore's relationship with Phaedra Parks has been strained to say the least since Park's estranged husband Apollo Nida lied about Moore wanting to have sex with him, but in a clip for Sunday night's episode of Real Housewives of Atlanta, the former enemies seem to put aside their differences and move forward.

"I was in a place of being angry, and I was very hurt by what had transpired," Parks tells Moore in a one-on-one conversation during the cast's trip to Manila.

"When we first met we were working on a friendship, and when this crazy stuff started happening, I was hurt. Hurt people do things to hurt others sometimes," continued Parks.
Lisa Rinna has proven once and for all that you can rock a bikini bod at any age.


Part One of The Real Housewives of Beverly Hills reunion didn't bring an epic brawl Monday night, but it did provide plenty of drama, most of which was focused on Brandi Glanville.

In fact, Brandi was a dandy, providing some of the night's best lines despite being in the line of fire.

"I can give you a lap dance if you want, if you're nice," Glanville said in response to Andy Cohen's question if she drank too much and was a mean drunk.
With just a week left until Bethenny Frankel returns to The Real Housewives of New York City, the faces may have changed, but fans are bound to wonder whether the feuds – on and off camera – remain the same.

Frankel's former RHONY costar Jill Zarin took to the radio waves last week to set the record straight about her relationship with Frankel, 44, saying that she has no hard feelings toward her old pal.

"There is no feud between myself and Bethenny or myself and anybody that I know of unless they come forth and tell me there's a feud," Zarin – who left RHONY in 2011 – told her longtime friend, crisis manager Wendy Feldman, on the March 25 debut of her new Dash Radio talk show The Hollywood Fixer (airing Wednesdays, 1-3 p.m. PT).

When Zarin, 51, and her husband, Bobby, ran into Frankel last summer, Zarin said the three of them "were so civil. She had a private conversation with [my daughter] Ally. She danced with Bobby."
Viewers may have witnessed a first on Sunday's The Real Housewives of Atlanta: A girls' trip with little drama.

The wives had a lot of baggage to deal with (both the personal and travel varieties) during their jaunt to the Philippines, but they did leave something behind: NeNe Leakes.

Leakes stayed back to meet with the creative director of Cinderella, who gave her a taste of her own shade when her reading with him was, well, not nearly as magical as a glass slipper.

"I want to bring it," Leakes said, suggesting she wanted to try out "two accents," an idea that did not float well.

"You better bring it," he said. "Your name is on the marquee."
Lesson to all would-be cheaters: If you're going to be unfaithful, don't let Patti Stanger see it.

On Thursday's Watch What Happens Live, the Millionaire Matchmaker star told a shocked Andy Cohen that she was a firsthand witness to Mario Singer stepping out on his now-estranged wife Ramona Singer.

Now, Stanger has exclusively talked to PEOPLE to fill in the details of the night when she "saw the whole thing go down." In fact, Stanger says she witnessed what she believes was the beginning of Mario's long-term affair with twenty-something Kyle "Kasey" Dexter.
Real Housewives
Get PEOPLE Everywhere
Advertisement