Real Housewives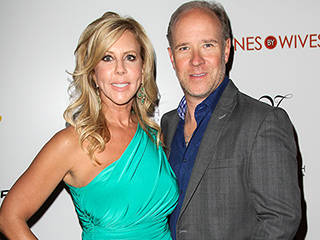 Credit: Getty
Brooks Ayers is opening up after admitting in November he forged medical records relating to his cancer diagnosis.


Joe Giudice said goodbye to his wife Teresa and the couple's four daughters on Wednesday to begin serving his 41-month sentence for fraud, but once he finishes his time at New Jersey's Federal Correction Institute, Fort Dix, Giudice may be forced to leave the country.

Since it was revealed that the Real Housewives star is not a citizen of the United States (he was born in Italy), he is facing possible deportation at the end of his jail term.

"I'm not even worried about that as far as that goes," he tells PEOPLE. "That, we'll worry about when I get out."
Kim Richards' longtime struggle with alcoholism has made national headlines in recent years, most recently following an arrest for public intoxication last April, but the reality star's issues with alcohol didn't start until she was in her mid-20s.

"I had my first real drink at 24," Richards tells PEOPLE exclusively in this week's issue. The former child actress, who now stars on Lifetime's The Mother/Daughter Experiment: Celebrity Edition, says prior to that she had "sips every now and then," but the problem only developed during the painful end of her second marriage.
Joe Giudice plans to leave prison as soon as he possibly can.


After a painful – and public – feud, including a nearly yearlong estrangement, Kim Richards is picking up the pieces of her relationship with her sister Kyle.

"I miss my sister," Kim, who stars on Lifetime's The Mother/Daughter Experiment: Celebrity Edition, tells PEOPLE exclusively in this week's issue. "I look at her face today and I want this relationship."
Joe Giudice's days of freedom are officially over.



On Wednesday, Giudice goodbye to his wife Teresa, sharing one final embrace as he left his home to turn himself in to report to the prison where he'll be spending the next 41 months serving out his bankruptcy fraud sentence.
It's almost time to say goodbye.

Joe Giudice is set to report to prison Wednesday, and wife Teresa took to Instagram in his final hours with his family to share several sweet pictures.

"My Beautiful Family," she captioned a shot of her, Joe and their four daughters: Gia, 15, Gabriella, 12, Milania, 10, and Audriana, 6.
Real Housewives