Real Housewives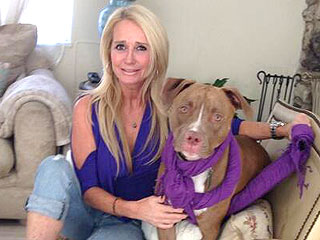 Credit: Courtesy Kim Richards
After Kim Richards's beloved pit bull Kingsley attacked her niece, Alexia Umansky, earlier this month, The Real Housewives of Beverly Hills star has temporarily removed the dog from her home.


Apollo Nida dropped a bombshell on Sunday's The Real Housewives of Atlanta when he apologized to Kenya Moore and admitted he lied about her wanting to have sex with him in L.A. last season.

"I apologize to you. It was a lie," Nida said of the allegation that infuriated his wife, Phaedra Parks, last year and made her and many of the wives turn their backs on Moore.

"You don't get what I've been through because of the things you said to your wife," said Moore. "She [said] I did these things, and they believed it. I've never been anyone's whore."
Most people have cried at work at least once, but Bethenny Frankel says she's made a career out of it.


Season 7 of The Real Housewives of Atlanta started where The Real Housewives of New Jersey ended – with some of its cast in legal trouble.

On its premiere Sunday night, viewers were able to peek behind the scenes at Phaedra Parks's husband Apollo Nida's sentencing day, just as they were for Joe and Teresa Giudice's fraud indictments.

"Life is extremely difficult right now," said Parks, who took her two sons, Ayden and Dylan, leaving her husband alone on his day in court. "Apollo's actions are the ultimate betrayal … I thought he was a changed man."
This type of decision is never easy – especially when you consider your dog your "best friend."


Lisa Vanderpump is known for her lavish lifestyle, but her most treasured possessions may surprise you.

While sitting in what she calls her "boudoir," the Real Housewives of Beverly Hills star reveals her "most sentimental things" – and PEOPLE has the exclusive footage.
Teresa Giudice stormed off the set of The Real Housewives of New Jersey reunion Sunday night when talk turned to her fraud indictment and impending imprisonment.

"I need a break. You all can have the conversation without me," Giudice said, abruptly standing up in her gown and walking off set, asking a producer, "Where's the bathroom?"

Giudice was upset when her cousins Kathy Wakile and Rosie Pierri joined the show and a clip was shown in which their mother (Teresa's aunt) stated that if people do something wrong, it will eventually catch up with them.
Teresa and Joe Guidice put their legal troubles aside Saturday to mark a special occasion.


Real Housewives
Get PEOPLE Everywhere
Advertisement