Real Housewives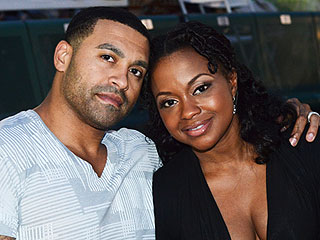 Credit: Paras Griffin/Landov
There was no delay with the drama as part one of The Real Housewives of Atlanta reunion started on fire and just kept getting hotter.

"My husband definitely has a temper, and he can get out of hand," Phaedra Parks said about estranged husband Apollo Nida, who stormed into her home this season before starting his eight-year prison sentence for fraud.

"Did he ever get physical with you?" asked Andy Cohen.

"I just don't know if I need to discuss that with you, to be honest," Parks finally stated after a very long silence, looking as if she were holding back tears.
Real Housewives of Beverly Hills star Kim Richards has entered rehab, PEOPLE has learned.

"Kim went to rehab finally because she got arrested, she humiliated her kids and she wants to avoid jail," a source tells PEOPLE.
This celeb social media campaign is way tastier than dumping ice on your head – and for a just as important cause.

Yolanda Foster is asking her famous friends to help spread awareness of Lyme disease by posting Instagram photos of them sucking on – you guessed it – actual limes.

"It takes a village, please pass it on," Foster, 51, captioned a picture of her and her husband, music mogul David Foster, biting into the fruit Sunday.
Despite concern about her sobriety and her arrest last week for public intoxication, Real Housewives of Beverly Hills star Kim Richards is holding off going to rehab right now, a longtime family friend tells PEOPLE.

"As of now, she is saying no to rehab," says the friend. "People are trying to get her to go. A lot of people are worried about her."

Richards, 50, was arrested early Thursday morning after officers responded to "a report of a possible fight" at the Polo Lounge at the Beverly Hills Hotel at around 1:30 a.m.
For five gay and gender-nonconforming dancers from Mobile, Alabama, a surprise meeting with NeNe Leakes was enough to send them screaming.

Oxygen's newest reality show, The Prancing Elites Project, follows a dance troupe of the same name who practice J-Setting, a form of dance that combines cheerleading-style movements with hip-hop.

In an exclusive clip shared with PEOPLE, watch Adrian Clemons, Kentrell Collins, Kareem Davis, Jerel Maddox and Timothy Smith utterly lose their minds in spectacular, hilarious fashion upon meeting their hero. Seriously – it's pure joy to watch.
After her arrest for public intoxication on Tuesday, Real Housewives of Beverly Hills star Kim Richards must confront whether continuing her life in the spotlight is healthy.

Though Bravo has yet to weigh in on Richards's future on the popular franchise, at least one sobriety expert suggests that dismissing the 50-year-old former actress may be the best way to help her help herself.
Kim Richards's arrest for public intoxication is hurting the people she loves the most – her four children, Brooke, Whitney, Chad and Kimberly.

"Kim's children are very disappointed in her," a source tells PEOPLE. "They're so upset. This is hard for them."

According to the Beverly Hills Police Department, the Real Housewives of Beverly Hills star, 50, was arrested at the Polo Lounge at the Beverly Hills Hotel on Thursday morning, and "was displaying symptoms of alcohol intoxication including slurred speech and belligerent insolent behavior cursing at the officers and passively resisted arrest."
In the hours leading up to her arrest for public intoxication, trespassing and more, a source at the Beverly Hills Hotel tells PEOPLE that Kim Richards, who spent time in a treatment facility for alcohol abuse issues in 2011, had been drinking.

Richards, 50, is a "frequent guest" at the Beverly Hills Hotel where she was arrested early Thursday morning, says the source. She dined in the Polo Lounge and then stayed for "several cocktails by the bar. She was drinking vodka."

Adds the source: "Later in the evening, she became aggressive, loud and insulting to other guests. It was clear that she was very drunk."
Real Housewives
Get PEOPLE Everywhere
Advertisement