Real Housewives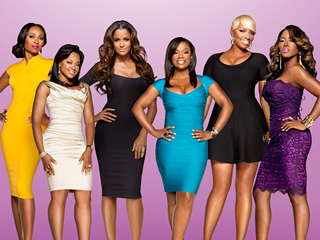 Credit: Alex Martinez/Bravo
While the stars were celebrating the Golden Globes in Los Angeles on Sunday, the The Real Housewives of Atlanta were in Puerto Rico throwing more shade than the palm trees.

"Is that shade, Phaedra?" asked Demetria McKinney, who invited all the women to Puerto Rico to watch her perform. "There have been a couple of moments I have felt … I want to make sure that if it is shade, I address it."

McKinney was addressing Parks's constant disses about her age to become a pop star, her relationship, her fashion sense and even if she had done crack.
Careful, kids – your parents officially know about Snapchat.

Former Real Housewives of Atlanta star Kim Zolciak-Biermann busted her daughter, Brielle, 17, for sending a sassy photo of her mother's backside over Snapchat.

The caption? "When ur moms ass is fatter than urs."
Teresa Giudice hasn't been in prison for a week, but things are looking up already.


The days of frequent blowouts, over-the-top shopping sprees and extravagant parties are over for Teresa Giudice, now that she is in federal prison.


Starting Monday, Real Housewives of New Jersey star Teresa Giudice will be trading her sexy designer duds for elastic-waist khakis and a poly-blend button-down shirt when she begins her 15-month prison sentence for fraud.

She'll be sleeping next to strangers and could be assigned to a job scrubbing toilets or washing dishes. If she wants sunglasses, she can buy them for $1.50 in the prison camp commissary.

"For somebody who has lived life on a reality TV show, prison is going to be hard," says the star's former legal crisis counselor, Wendy Feldman.


Life at Joe and Teresa Giudice's house is going to be shaken up come Monday, and daughter Gia appears to be feeling the stress.


Real Housewives
Get PEOPLE Everywhere
Advertisement