Real Housewives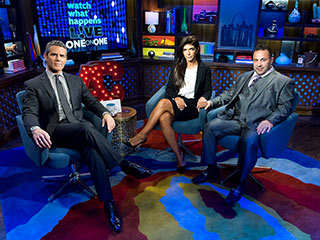 Credit: Charles Sykes/Getty
It took no hesitation for Andy Cohen to name his most difficult interview subjects.

"That Teresa and Joe [Giudice] interview was no piece of cake," said the Watch What Happens Live host when the question was put before him during a fan Q&A at the Gilt City Miami launch party at Villa Azur for the just-published The Andy Cohen Diaries, now at the top of Apple's top paid iBook list.
Just when you thought things couldn't get any uglier between Phaedra Parks and husband Apollo Nida, the relationship went from bad to worse on Sunday's The Real Housewives of Atlanta.

"Phaedra is very calculated," said Nida, who is currently serving eight years in prison for bank fraud. "I despise everything about her, but I still love her."

Nida secretly met with an attorney to discuss divorcing Parks – before she could divorce him while he was in jail.

"I don't have anything," Nida told the laywer. "The government's taken everything."
The Real Housewives of Beverly Hills has always been filled with drama, but Season 5 will likely reach new heights with the addition of soap opera divas Lisa Rinna and Eileen Davidson.

"If you spend enough time in this town, you know everybody," replied Rinna, smiling through her famed lips.

Continued Rinna about her family and husband, Mad Men actor Harry Hamlin: "It is a trip and a half to raise two teenage daughters … Harry is king. We play along with that. Sometimes I rebel against that."
Apollo Nida dropped a bombshell on Sunday's The Real Housewives of Atlanta when he apologized to Kenya Moore and admitted he lied about her wanting to have sex with him in L.A. last season.

"I apologize to you. It was a lie," Nida said of the allegation that infuriated his wife, Phaedra Parks, last year and made her and many of the wives turn their backs on Moore.

"You don't get what I've been through because of the things you said to your wife," said Moore. "She [said] I did these things, and they believed it. I've never been anyone's whore."
Most people have cried at work at least once, but Bethenny Frankel says she's made a career out of it.


Season 7 of The Real Housewives of Atlanta started where The Real Housewives of New Jersey ended – with some of its cast in legal trouble.

On its premiere Sunday night, viewers were able to peek behind the scenes at Phaedra Parks's husband Apollo Nida's sentencing day, just as they were for Joe and Teresa Giudice's fraud indictments.

"Life is extremely difficult right now," said Parks, who took her two sons, Ayden and Dylan, leaving her husband alone on his day in court. "Apollo's actions are the ultimate betrayal … I thought he was a changed man."
Real Housewives
Get PEOPLE Everywhere
Advertisement