Real Housewives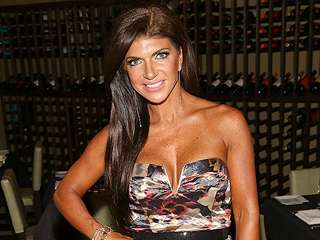 Credit: Manny Carabel/Getty
Teresa Giudice is making the most of her final few days of freedom.

The Real Housewives of New Jersey star, 42, took her children to the Crystal Springs Resort and Spa in New Jersey for a day of skiing on Saturday.

Giudice – glammed-up in full makeup – hung out with friends outside while her kids took to the slopes.

With 10 days remaining until her 15-month prison sentence begins on Jan. 5, the mother of four looked "super stressed out," according to an onlooker. "She kept uncomfortably rubbing her neck."
Kim Zolciak Biermann is showing off some major new bling.


Tuesday's The Real Housewives of Beverly Hills was filled with difficult goodbyes.

Lisa Rinnareturned to her childhood hometown of Medford, Oregon, to visit her aging, ailing parents and say goodbye to the house in which she grew up.

"I just belong in a big city," said Rinna upon returning to the small town and recalling what it was like to grow up there as a kid. "Why am I here? I'm more fabulous than this."
Despite being a housewife, Phaedra Parks's marriage to Apollo Nida is over.

"We're amicably resolving this marriage," the Real Housewives of Atlanta star told Andy Cohen on Watch What Happens Live on Sunday. "We're resolving this marriage ... resolving to dissolve, yes," she added.
Two penguins couldn't have shared an icier hug than the one that Phaedra Parks and husband Apollo Nida shared on Sunday's The Real Housewives of Atlanta.

"Phaedra looks like she's seen a ghost," Cynthia Bailey said upon the unexpected arrival of Nida at a music video release party for new housewife Demetria McKinney. "Aren't you happy to see your husband, Miss Southern Belle?"

She wasn't.
One place Phaedra Parks is planning to visit this holiday season? Prison.

When TMZ cameras asked the Real Housewives of Atlanta star if she was planning to let sons Ayden, 5, and Dylan 19 months, visit her estranged husband Apollo Nida in jail over the holidays, Parks made it clear there's no more bad blood between the two.

"I would love to," she said. "I have sent him a Christmas card and everything. I speak to him all the time."
Real Housewives
Get PEOPLE Everywhere
Advertisement