Real Housewives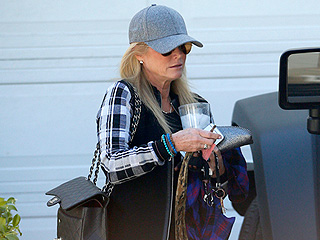 Credit: Splash News
Kim Richards isn't going to stay out of the public eye.


Teresa Giudice's homecoming following her release from prison just might take place in a house elsewhere than the one she left behind.

As she continues to serve a 15-month sentence for fraud – a few months of which were shaved off for an early release in February of next year – Teresa's husband, Joe, put their sprawling Montville, New Jersey, mansion back on the market.

Their home was originally listed at $3.999 million in September 2014. The asking price dropped by $500,000 in November and fell once more in January for a final ask of $2.999 million. The home was removed from the market for a period following the start of Teresa's sentence and has just been re-listed at $2.999 million.
It looks like a bicoastal Real Housewives feud is brewing.

When Dr. Terry Dubrow went on Watch What Happens Live Monday night, he was asked to pick up the scalpel, but he brought out the metaphorical claws instead.

In the show's first segment, a caller asked both Dubrow and his partner in plastic, Dr. Paul Nassif, "Which Real Housewife would you have on Botched, and what would you do to her?"
It all boils down to brunch.

The Real Housewives of New York City's Ramona Singer clashes yet again with Bethenny Frankel in tonight's episode of the Bravo series when the duo goes head to head over brunch-hosting duties.

The catfight kicks off during a trip to the Hamptons where the ladies visit LuAnn's new home, and Frankel gets a little to close to Singer's BFF Sonja Morgan.
Their relationship has been strained for some time, but Kyle Richards may finally be ready to make amends with Kim and put their bitter family feud behind them.

This weekend, Kyle captioned an Instagram post: "#NationalSiblingsDay these are my siblings @kathyhilton & @kimrichards11 #sisters no matter what …."
Eileen Davidson is taking all that bad behavior she witnessed on The Real Housewives of Beverly Hills and putting it to good use!

The 55-year-old soap star, who joined the Bravo reality series earlier this year, will briefly return to Days of Our Lives for a short but juicy arc.

In this exclusive clip, Davidson reprises her role as Kristen Blake DiMera, who's been living in Italy with Theresa's (Jen Lilley) stolen baby. Now Kristen plans to hire some baddos to kidnap Theresa and bring her to Italy so she can help save the baby who's suffering from some rare, made-for-daytime-TV disease.
When Real Housewives of Orange County returns for season 10 later this year, audiences will finally get to see the "real" side of Heather Dubrow.

As an actress–turned–reality star, Dubrow admittedly had a bumpy transition when she joined the cast in season 7.

"I came in not knowing anyone. I came from the scripted world, and I was very uncomfortable doing reality," Dubrow tells PEOPLE.

"When I first started the show, I was very buttoned-up and very reserved. It's really been an evolution for me in the group and on the show."
Real Housewives
Get PEOPLE Everywhere
Advertisement