Kate Plus Eight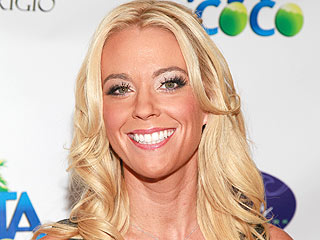 It's been more than two years since Kate Gosselin and her brood of eight – twins Mady and Cara, 12, and sextuplets Alexis, Collin, Hannah, Joel, Leah and Aaden, 9 – appeared on their own TV series, and the single mom is decidedly humble about her circumstances.

"I'm living very carefully these days," Gosselin tells PEOPLE in its latest issue, on newsstands Friday.

Now that her TLC reality show is a thing of the past, the matriarch is making ends meet "piecing and patching together" an income from a variety of projects, she says.
Now that Kate Gosselin's TLC reality show, Kate Plus 8, has been canceled, she may be looking toward her next career move. In addition to being a reality star, Kate is a registered nurse and a best-selling author – not to mention a super mom. So, what should she do next? Here are some ideas:

Kate serves up healthy meals for her eight children and prefers organic, so why not become a natural foods chef? She can certainly handle cooking for picky customers – and lots of them.

She and her ex-husband Jon Gosselin weren't afraid to squabble in front of the cameras while filming Jon & Kate Plus 8. Maybe it's time to put that experience to good use and have straight-shooter Kate sit down with bickering couples as their marriage counselor.


Her show has just been cancelled and her marriage crumbled in 2009, but Kate Gosselin doesn't seem to have regrets about her tumultuous past few years.

"I know that I'm glad to be divorced and on my own," she says, addressing ex-husband Jon Gosselin, 34, in a clip from an episode of Kate + 8, which airs Monday night on TLC; the show's final episode will air Sept. 12.

"I wouldn't change my marriage because I have eight awesome kids that I would not change," Kate, 36, says on Monday night's episode. "But people change and they're not who you thought they were and if they're not for you, move on. And I have."
Kate Gosselin's days as a reality star are done for now.

TLC – the network that gave viewers a firsthand glimpse of Kate's tumultuous and highly publicized split from ex-husband Jon Gosselin while they continued to raise their eight children – will no longer follow the 36-year-old and her brood with cameras.

"TLC has decided not to renew another season of Kate Plus 8," a network rep told PEOPLE in a statement. "By the end of this season Kate Plus 8 will have hit the 150 episode mark (including Jon & Kate Plus 8); an exceptional milestone. TLC hopes to check in with Kate and the family periodically with specials in the future."
– Dahvi Shira
Jon and Kate Gosselin had the end of their marriage play out in the tabloids and on their reality show, Jon and Kate Plus 8, but the single mom says tensions have finally calmed between the exes.

"It's just naturally gotten more peaceful, which is good," Kate, 36, told PEOPLE on Friday. "He's working now, which is great. He has somewhere else to put his attention, which is good."

Although Kate considers her parenting skills "very different" from Jon's, she believes whatever he's doing is working.


Who says elephants love peanuts? In an exclusive first look at a new episode of Kate Plus 8, Kate Gosselin and her kids prove that the animals have a thing for bananas.

"Australia Adventure," which airs Monday (10 p.m. ET) on TLC, follows the Gosselins as they travel to Australia – a 21-hour trip with eight kids! – to ring in 2011. The adventures that await them include camping, a boat ride out to sea to swim with sharks, meeting with Australian aborigines to learn about dancing, didgeridoos and boomerangs and a trip to the Australia Zoo in Brisbane to feed the elephants.


So much for camping!

On Sunday's episode of Sarah Palin's Alaska, the former Republican vice presidential candidate invited fellow reality star Kate Gosselin into her home and out into the Alaskan wilderness for an overnight camping trip with their kids.

Though the women hit it off at first, bonding over paparazzi woes, Gosselin, who arrived with her eight children in tow, became uncomfortable pretty quickly. Palin did her best to prepare – and frighten – her guest during a bear safety course, which included a segment on shooting guns at a firing range.

"I can't say I'm a gun advocate," Gosselin said, "but ... if I had to use a gun to save my kids, absolutely [I would]." And she did, firing off a shot for target practice.

When it came time for camping, it was the rain, rather than the bears, that worried the women. Though Palin was determined to have a good time, Gosselin admitted she didn't understand the appeal of being in the great outdoors where it's wet and cold.
After taking care of some unusual household chores, Kate and her eight are heading to the Big Apple.

In a new Kate Plus 8 special, Kate Gosselin takes twins Mady and Cara and her sextuplets Alexis, Hannah, Leah, Aaden, Collin and Joel to New York City by train for some sightseeing, including a trip to the Statue of Liberty, Chinatown and Times Square.

While riding in a double-decker bus, Kate decides to stop to get ice cream – cookie dough, cookies and cream, vanilla or chocolate? – for the kids. Well, it's been a hot summer in NYC, and after scooping up eight cones, Kate, with production assistants Danny and Clark trotting in her wake, sprints in heels back to the bus as the ice cream melts. "It instantly started ... streaming down our arms, dripping off of our elbows and I thought, we will run or we will be handing the kids puddles."

The new Kate Plus 8 airs Monday (9 p.m. ET) on TLC.
Summer is a time to get things done in Kate Gosselin's household. "I'm home now, post Dancing with the Stars, here I go," she said during Sunday's double episodes of Kate Plus 8.

The first order of business: construction of a chicken coop and starting her own little egg farm. "I buy four, five, or more dozen eggs a week," she said. "That's it, we're getting chickens."

And so they did – with the help of Farmer Dave and Farmer Dan, who trucked in an easy-to-assemble coop for 16 chickens and one rooster.

The whole clan pitched in to help, a phenomenon Kate dubbed the "Farmer Dan Effect."

"The kids were willing to carry pieces of the coop and in no time all of those pieces were in the field," she said. "These are moments that make me very happy. The kids were suddenly very willing to participate ... It was a family event – we're putting together our chicken coop."


The Gosselin gang is about to get bigger!

On a one-hour special of Kate Plus 8, Kate Gosselin gets chickens for the family -- as pets.

And now that the supermom has hung up her Dancing shoes, it's time to get to work. "I don't want to get wet," she says, as she pressure cleans the side of her house. "Whoa, I got wet!"
Kate Plus Eight