TV Watch
Keeping Up with the Kardashians
Keeping Up with the Kardashians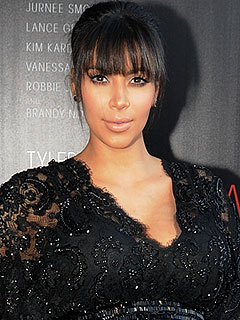 Credit: Chris McKay/Wireimage
Get ready for Keeping Up with the Kardashians, courtroom edition.

Kim Kardashian's reality show will collide with real life at her divorce trial next month as her witness list includes her mother Kris Jenner, a show producer and even her ex Kris Humphries to try to prove her wedding wasn't a made-for-TV sham.

Kardashian, who filed for divorce in 2011 after a 72-day marriage and is now expecting a baby with boyfriend Kanye West, also put herself on the witness list.
After revealing on social media that he's put on weight over the last year, Rob Kardashian has been working hard to shed the pounds.

"I'm trying to lose 40," the Keeping Up with the Kardashians star told PEOPLE at his birthday party Friday at 1 OAK Las Vegas. "It's a little journey."
'Tis the season for ... Photoshop?

In an appearance on The Ellen DeGeneres Show, The X Factor host Khloé Kardashian shared the secret of her family's annual Christmas card: If a family member can't attend the shoot, they get Photoshopped in to make the picture complete.

"We pretend that we're always together," Kardashian said during the interview airing Wednesday. "The powers of cameras and Photoshop."

While the Kardashian clan can't always be in the same physical space, they do their best to make lasting memories, she says.
Kim Kardashian is showing there "ain't no mountain high enough" when it comes to trying out a new style.

The Keeping Up with the Kardashians star, 31, has posted pictures of herself reminiscent of legendary performer Diana Ross – for a shoot she did with lensman Hype Williams.

"[Stylists] Clyde Haygood and Joyce Bonelli glammed me up and we went for a fun, crazy look," Kardashian writes on her Celebuzz page. "Definitely a new look for me."

Williams is no stranger to working with Kardashian or her boyfriend, Kanye West.
It's no secret that the Kardashian family is privileged – but no one recognizes that more than the Kardashian sisters themselves.

Asked by Oprah Winfrey on a webisode of Oprah's Next Chapter whether they considered themselves "spoiled," the sisters said they're certainly "blessed," but added that they've worked hard for all of the charms they enjoy.

"I think I'm spoiled. I'm not a brat, but I'm definitely spoiled," Khloé admitted. "Look around us."


Kim Kardashian may have finally found the right man in current beau Kanye West.

That, at least, is what she suggests in the second part of her interview with Oprah Winfrey, which airs this Sunday (8 p.m. ET) on OWN.

"It's very comforting to have someone that knows everything about you, that respects you, understands, has gone through the similar things," Kim tells Oprah. "I can really relate to his mother passing. He can really relate to my father passing. I mean, there's so many similarities in our life that ... I feel like I'm at a really happy, good space."
Oprah Winfrey wanted to know: Was Kim Kardashian's marriage to Kris Humphries a publicity stunt?

"This interview I'd say was another level of forthrightness and honesty," Winfrey writes on her Facebook page."Why did she leave after 72 days? Her answer leveled me."

To prepare for her sitdown with the reality TV clan for this weekend's Oprah's Next Chapter the talk show magnate "did a full on Kardashian Kram."

"I had never met them, nor seen the show," she writes.

Winfrey calls it the "longest interviewing session I can ever recall, talking to ALLLLLLLL the Kardashians."
Sometimes you've got to get away from reality TV to get real.

So say Khloé Kardashian and Lamar Odom in addressing rumors that E! pulled the plug on their show, Khloé and Lamar.

"Our show is not cancelled," Kardahsian, 27, tells "Lamar and I have chosen ... to take a break this summer. ... We just want to take a little time off for Lamar to be with family time, kids, basketball, Olympics, you never know. So, we have a lot on our plate right now."
Keeping Up with the Kardashians
Get PEOPLE Everywhere
Advertisement