TV Watch
Keeping Up with the Kardashians
Keeping Up with the Kardashians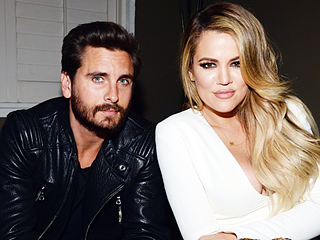 Credit: Chris Weeks/Getty
Driving fancy cars is what really gets Scott Disick's motor running – not his ex's sisters.

In a Snapchat video posted by Kylie Jenner, Disick is behind the wheel of his sports car pulling up alongside Khloé Kardashian. The snap seemed innocent enough, but eagle-eyed fans noticed that while the pair were conversing between their vehicles, Disick's hand moves to his crotch region where he casually gives the area a few squeezes.

Jenner, 18, then focused the camera away from Disick's pants and pointed it back up towards Khloé's face, who was unaware that Kourtney's ex was adjusting himself.
Another Period stars Natasha Leggero and Riki Lindhome are known to watch episodes of Keeping Up with the Kardashians, but they want to be clear why they're doing it.

As one of the creators of a comedy based on the premise of "if the Kardashians moved into Downton Abbey," Leggero admits she watched the E! reality show, "but only for research purposes."

"I want to be clear: I hate the Kardashians, personally," she tells PEOPLE.
Auntie Kris, you might want to sit down for this one.

In a sneak peek at Sunday's episode of Keeping Up with the Kardashians, Scott Disick does his famous Todd Kraines impression in front of the actual Todd Kraines, so consider your week made.

In case you're not a seasoned KUWTK viewer, the Todd Kraines prank goes way back: Disick – in cahoots with Kim, Khloé and Kourtney Kardashian – used to regularly call up momager Kris Jenner and pretend to be a man named Todd Kraines, a longtime family friend. Without fail, Jenner's irritated reaction was hilarious every single time.
She may be the selfie queen, but that doesn't mean Kim Kardashian West always feels camera-ready.

"There was a moment after [son Saint was born last December] when my body was mush," Kardashian West tells PEOPLE exclusively. "I felt like Gumby. There was definitely a moment when I looked in the mirror and I was like, 'I am never going to be the same.' "
When Kylie Jenner was first spotted out and about with rapper PartyNextDoor after her split from Tyga, the reality star's friends said she was just trying to make her ex jealous.

But now, while a source tells PEOPLE exclusively Jenner, 18, and PartyNextDoor, 22, still "aren't serious," the star's "friends and family are actually surprised how all over him she is."
If you've ever watched an episode of Keeping Up with the Kardashians and found yourself wondering why everyone keeps shouting "Bible!" at one another, then you're probably in need of a little KarJenner vocab refresher.


Khloé Kardashian didn't set out to drop nearly 40 lbs., but when her marriage to Lamar Odom was becoming too "toxic," she used the gym as her personal safe haven.

In a new interview for Harpers BAZAAR, the reality star opened up about how her healthy weight loss was unintentional, but couldn't have come at a better time in her life.

"My home [with Odom] was dark and toxic," says Kardashian. "At the time, my family didn't know what I was going through. It was the biggest secret I've kept. I just needed a place to go."
Even someone as famous as Khloé Kardashian gets lonely.

The 31-year-old has enjoyed getting her space back since Rob Kardashian left his big sister's home, but Khloé does admit there are both positives and negatives to living solo.
[YOUTUBE "b6PPltFI8mk"]
Blac Chyna wasn't the only one surprised when Rob Kardashian popped the question.

In a new preview for Sunday's episode of Keeping Up with the Kardashians, Kim Kardashian, 35, reveals that Rob neglected to let his family know about his engagement plans.

It turns out the Kardashians found out about Rob's engagement at the same time as everyone else through social media.

"We wake up to all of these pictures of my brother getting engaged," Kim says in an interview, asking, "How does our own brother not tell us?"
Keeping Up with the Kardashians