TV Watch
Keeping Up with the Kardashians
Keeping Up with the Kardashians
Keeping Up With the Kardashians fans have yet to find out what fresh drama the Kardashian-Jenner women will face in season 11, but one thing is certain: They will look phenomenal while doing it.


Kris Jenner is revealing her most embarrassing moment, a detail that fans may have heard (and seen) her share before.


DASH Dolls star Malika Haqq was arrested early Thursday for a suspected DUI.


It's official: Kylie Jenner can glam up any activity – even if said activity involves driving around the middle of the desert.


It's time for Corey Gamble to meet the parents … uh, daughter.

In a sneak peek at the next episode of Keeping Up with the Kardashians, Khloé Kardashian sits down with Kris Jenner's boyfriend – and she doesn't pull any punches while asking about his intentions with her mother.

"Have you ever been to jail?" she asks right off the bat, later adding, "Do you want to get married?"
Kylie Jenner's garage just made room for one more.

The reality star debuted a brand new set of wheels Friday, showing off her whip – reportedly a $320,000 white Rolls Royce Ghost – in a series of Snapchats.

"Yaaay! It's here!" the Keeping Up with the Kardashians star, 18, squealed in one video, as the car was delivered on the back of a truck.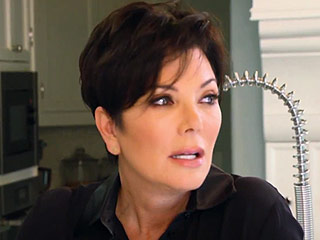 Sunday's episode of Keeping Up with the Kardashians chronicled the debut of Caitlyn Jenner's Vanity Fair cover piece – which the famous family was not pleased with.

At the beginning of the episode, Kim Kardashian West, 34, was in San Francisco to promote her video game app. At this point, the VF article (in which Caitlyn made her debut as a woman in June) had not been released yet and all seemed be well between Kim and Caitlyn, with Kim even offering her the chance to be featured as her own character in the game.
Keeping Up with the Kardashians