TV Watch
Keeping Up with the Kardashians
Keeping Up with the Kardashians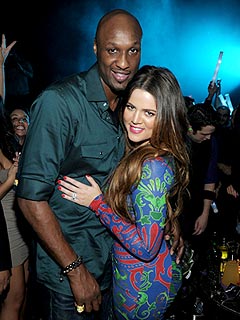 Credit: Denise Truscello/Wireimage
Will Khloé and Lamar be back for another season? Depends on how the basketball bounces.

A rep for Kardashian says that reports that E! pulled the plug on the reality show featuring Khloé her NBA player husband are incorrect.

"It has NOT been cancelled," the rep tells PEOPLE. "It's just on hold now while schedules are figured out. It will depend on their schedules, as Lamar's basketball schedule is a priority."
Niecy Nash is doing a family show.

After tying the knot with Jay Tucker – on TV – the actress and former Dancing with the Stars contestant is settling into marriage with their family – on TV.

Leave It to Niecy, which premieres March 25 (10 p.m. ET) on TLC, will chronicle Nash's attempt to get their three children – Niecy's son Dominic, Jay's son Romallis and Niecy's daughters Donielle and Dia – to bond as a family.
Maybe it was just the post-Valentine's Day buzz talking, but Khloé Kardashian says that if rumors that her big sister Kim Kardashian and Reggie Bush are rekindling their romance are true, she's, well, behind it.

"I love 'The Bush and The Tush,' " Kardashian, 27, told Ryan Seacrest on his KIIS-FM radio show on Wednesday. "You can't do much better than that."

But Kardashian said she could neither confirm nor deny that Kim, 31, and the 26-year-old Miami Dolphins running back were back on after two years apart and only a handful of months after her quickie marriage to Kris Humphries ended. (The two were spotted at lunch together on the patio of the Polo Lounge in the Beverly Hills Hotel on Sunday.)


When Bravo's Andy Cohen gets talking about his pop culture obsessions, you know there will be at least one Real Housewives star on the list. But who are his other favorite figures of 2011?

Cohen, the network's executive vice president of original programming and development – and host of Watch What Happens Live – talked to PEOPLE about his obsessions.

One (possible) surprise on his list: the Republican presidential debates, which he calls pure "entertainment."
What does Rob Kardashian want for Christmas? A girlfriend? Not so fast, he says, just time with family will do.

 "I mean, I want a girlfriend. I've been single for a while, but I'm 24 years old and I feel like I have a lot of work to do on myself first and that's really what I've been focusing on. I'm focusing on my health and getting into shape and my career," he tells PEOPLE at the Daughtry concert for the Duracell Holiday Insurance Program in New York on Wednesday. "I like being single right now."

  With the holidays approaching, getting into shape may prove difficult if he plans to feast on his mom's and sisters' dishes. "They make great eggs and my mom makes awesome French toast – a whole big buffet," Rob says.
We asked – and you answered.

PEOPLE.com readers weighed on 2011's best (and worst) moments in celebrity news – picking the star they'd most love to date, chat with on Twitter and read about all year.

Readers told us they were "so into" Duchess Catherine in 2011 – though Ryan Gosling came in a close second.

But with all their wedding, pregnancy and speedy divorce drama, readers revealed they're "so over" the Kardashians – choosing the reality TV family in a landslide in our poll.

As for the star readers would most like to date: sexy Ryan Reynolds easily won everyone's hearts. Mila Kunis was a runner-up in the "Hollywood's hottest date" category. The Friends with Benefits actress was a stylish favorite with readers handily ruling that she, well, ruled the red carpet in 2011.


On the premiere of Kourtney and Kim Take New York, Kim Kardashian and Kris Humphries revealed the first signs of trouble in their super-short marriage. On this week's episode, the fighting continued.

After Kris left to go focus on his off-season basketball training in Minnesota, Kim chased after him. "I've decided to confront Kris to talk about our living situation," she said, after friends and family found it strange for the newlyweds to be living apart.

"It's your off season and I feel like you should be living with me," Kim told Kris, who said he tried living with Kim, her sister Kourtney, her boyfriend Scott Disick and their son Mason in the same apartment in New York.

"You tried what? You tried one week," Kim said.
Mommy fight!

The war of the words is on between Kourtney Kardashian and Teen Mom's Farrah Abraham.

It started when Abraham, 20, slammed Kardashian, 32, who announced Nov. 30 that she is expecting her second child with boyfriend Scott Disick, 28: "Im Shocked Kourtney Kardashian is pregnant again, Did she not learn anything from TEEN MOM? Maybe its a fake pregnancy like kims wedding. SAD."
Kourtney and Kim Take New York had its season premiere Sunday night and with all the bickering between the show's newlyweds, Kim Kardashian and Kris Humphries, it could have been called Kim and Kris Break Up. But whose behavior was worse?

Among the lowlights ...

Before they left, for New York, Kris said, "You're my wife now ... It's going to take a lot to get rid of me." Then he scooped her up and said, "God, you ate a lot of wedding cake."

Once they were settled into their New York apartment, Kris admits to intentionally leaving clothes around just to annoy Kim, who's a known neat freak.
Keeping Up with the Kardashians
Get PEOPLE Everywhere
Advertisement