TV Watch
Keeping Up with the Kardashians
Keeping Up with the Kardashians
Since when is 59 too old for the club?

In a sneak peek at this week's episode of Keeping Up with the Kardashians, Kris Jenner doesn't get the response she's looking for when she tells her kids about her upcoming birthday celebration in Las Vegas.

She interrupts Khloé's selfie-taking session with Kylie and family friend Jonathan Cheban – "I only know how to do duck lips, and they were Khloé lips before the duck took them," Khloé says – to ask who wants to attend her "birthday bash in Vegas."

All a shocked Khloé can say is "stop."
What's that they say about doing business with your family?

In a preview of the next episode of Keeping Up with the Kardashians, Scott Disick and Kris Jenner butt heads when Kris tries to back out of a scheduled appearance.

Scott was apparently the one who arranged the appearance and is worried he'll receive all the backlash for her absence.

"Now it's becoming a problem for me if you say no, only because they started promoting it," he tells Kris. "If it was two, three weeks out, you could cancel it, but they already spent money and time promoting it, and now what?"
Kendall Jenner may be one of the hottest It girls of the moment. But that doesn't mean she won't draw the line when it comes to her family's privacy.


Despite doubts from her daughters, Kris Jenner still appears to be going strong with Corey Gamble.

Jenner, 59, was seen leaving Craig's restaurant in West Hollywood with Gamble, 33, on Tuesday night.

Gamble, a road manager with Scooter Braun/SB Projects, and Jenner have been dating since October, took a trip to Mexico in November and celebrated Kris's 59th birthday in Las Vegas.
As Kim Kardashian West gets in touch with her roots in Armenia, it looks like her brother, Rob, is there in spirit.

"The girls wanted Rob to enjoy Armenia," a source tells PEOPLE, so the Keeping Up with the Kardashians star carried around a cardboard cutout of her brother's head on a stick while walking through the streets of Yerevan on Sunday. As you do.

While taking Rob for a walk, Kim, 34, left little to the imagination in a skintight, long-sleeved top and a pair of high-waisted silk pants.
Raising a teenager is no easy task, as was made abundantly clear to Kris Jenner on Sunday's episode of Keeping Up with the Kardashians.

Now that Bruce Jenner is living separately from his daughters, Kylie, 17, can find refuge in her father's home when her relationship with Kris becomes too strained.

When Bruce asked after the rest of the family, Kylie couldn't even answer his question about Kris as Kylie hadn't spoken to her in two weeks.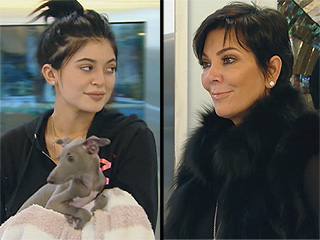 Not even Kris Jenner is immune to the sulking, moody reality of trying to interact with one's 17-year-old daughter.


Looks like a catfight is brewing in Los Angeles!

In a clip from this week's Keeping Up with the Kardashians, Khloé's best friend Malika Haqq tries to justify why she's involved in Khloé's relationship with French Montana.

Malika sits down with Khloé and tells her she wants to get past the "awkward phase" they're currently in, but Khloé is clearly not swayed by the sentiment.
Keeping Up with the Kardashians
Get PEOPLE Everywhere
Advertisement