TV Watch
Keeping Up with the Kardashians
Keeping Up with the Kardashians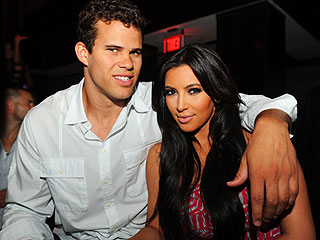 Credit: Seth Browarnik/StarTraks
It was supposed to be about Kim Kardashian and her sister Kourtney. But all eyes were on Kim and Kris Humphries on Sunday as the new Kardashian reality show premiered on E! – offering a glimpse into the dynamics of a marriage that imploded spectacularly last month after just 72 days.

Kourtney & Kim Take New York begins with the news of Kris and Kim's breakup, then flashes back to eight weeks earlier, as the newlyweds try to adjust to their new lives together. There was trouble from the beginning.

Living arrangements, professional commitments, personal habits – it seems Kim and Kris couldn't see eye to eye on much of anything.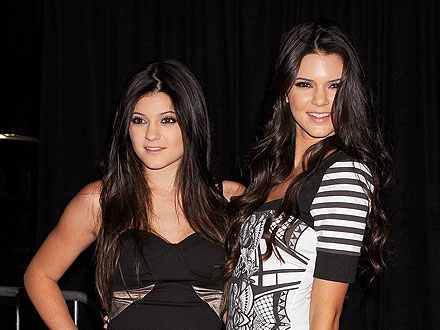 She celebrated in style! Kendall Jenner rang in her 16th birthday in Sin City, stopping into the Sugar Factory at the Mirage Hotel & Casino with sister Kylie Jenner. The two picked up some treats, including sour cherry gummy candies and caramel apples, which they also gave to their crewmembers who were filming their appearance for an upcoming E! special. – Jessica Wedemeyer
Kim Kardashian and Kris Humphries are hardly the first celebrity couple to go from saying "I do" to saying "I divorce" in a matter of weeks. But they may be the first couple whose courtship, wedding and break-up will be documented on reality TV.

Fans watched as love blossomed between Kardashian and Humphries on Keeping Up with the Kardashians. They witnessed the sometimes difficult adjustments of bringing someone new into a close-knit family.

When the time came, they announced their engagement on the cover of PEOPLE. And the entire wedding-planning process, as well as the over-the-top ceremony at a private Montecito, Calif., estate, aired in October during two special episodes of their hit E! show.
When Kim Kardashian walked down the aisle and tied the knot with Kris Humphries in a extravagant ceremony to kick off a marriage that would fall apart only 72 days later, millions watched. But did she make millions of dollars off her televised fairy tale wedding?

"Kim definitely made money [but] when it was all said and done, Kim had to pay a lot of money," Kardashian's mom Kris Jenner told the co-hosts of The View Wednesday.

"The money that she made went to the wedding. She still owed money to make her fairy tale dream come true."


Cheryl Burke has said that Rob Kardashian is "turning into a man" and "changing his way of thinking about himself" as he performs at her side week after week on Dancing with the Stars.

Well, he also believes he's changing the way others think about him.

"This show is definitely showing [me] in a newer light," he told PEOPLE after Monday's performances. "I feel like [people are] starting to see a different side of me."


Kim Kardashian may have walked down the aisle in one of the most talked-about weddings of the year, star in hit reality shows and have more than 10 million followers on Twitter. But not everyone loves her.

In fact, some people hate Kim.

Take Deena, for instance, whose rant about the reality star will appear on the latest episode of H8R.

The show, which airs Wednesdays (8 p.m. ET) on the CW, gives celebrities a chance to win over people who hate them.

Among Deena's reasons for disliking Kim is her claim that the Kardashians don't do enough to help the African-American community.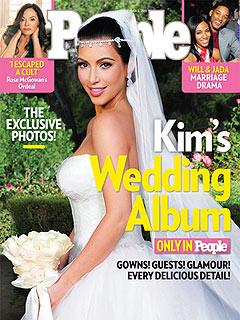 It was the most lavish celebrity wedding of the year, but Kim Kardashian and Kris Humphries are happy to report that all their expectations were met – and more!

"It was like we were in heaven," Kardashian tells this week's PEOPLE in a cover story with an exclusive wedding photo album.

Adds Humphries: "I'm going to remember how perfect it was."

According to wedding planner Sharon Sacks, the couple mixed tradition with over-the-top glamour at their Aug. 20 ceremony at a private Montecito, Calif., estate.
Saturday's lavish wedding wouldn't have been complete without a lavish reception, and newlyweds Kim Kardashian and Kris Humphries certainly didn't disappoint.

With Old Hollywood being the theme, the party, created by celebrity wedding planner Sharon Sacks, included black place settings on a black and white tablecloth. In keeping with the black-and-white theme, the narrow, multi-tiered wedding cake, by Hansen's Cakes, was chocolate and vanilla flavored and studded with chocolate chips.

The couple changed clothes before entering the ballroom – Humphries wore a black Zenga tuxedo to the reception, while Kim donned an ivory dress designed, by Vera Wang, who also designed her wedding gown. Next up: they danced the night away with their 400 guests.
"We are officially married!" beautiful bride Kim Kardashian – now happily wed to Kris Humphries – posted on her Celebuzz site after Saturday night's ceremony before some 450 guests at a lavish estate in Montecito, Calif.

Called for 6 p.m., the ceremony actually got underway at 6:37, and lasted about 30 minutes, reports E! News.

"I so wish my dad could be here today to walk me down the aisle, But I know in a way he is here, and I feel his loving presence all around me. I love and miss you, dad," read Kim's message in a printed program handed to guests. The words paid tribute to her late father, attorney Robert Kardashian. Also remembered were Kris's grandparents.

The Humphries family's pastor, Joel Johnson, officiated the traditional Christian service.
Before meeting his soon-to-be-bride Kim Kardashian at the end of the aisle on Saturday evening, Kris Humphries needed to shake off a little case of the nerves.

Waiting to walk out in front of the nearly 450 guests and E! cameras that were recording his and Kim's wedding on a lavish estate in Montecito, Calif., Humphries remarked to his groomsmen about just how he was feeling.

"I'm nervous," he told his pals before preparing to take his place at the altar.
Keeping Up with the Kardashians
Get PEOPLE Everywhere
Advertisement