TV Watch
Keeping Up with the Kardashians
Keeping Up with the Kardashians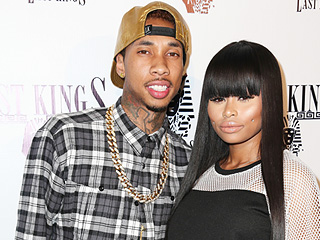 Credit: Imeh Akpanudosen/Getty
Are Tyga and Blac Chyna having money problems or do they just want to streamline their lives?

The former couple is holding a three-day estate sale for all of their shared belongings, TMZ reports, and their assets are pricey. They're selling a Ms. Pac-Man arcade game, a marble table, a crystal chandelier, Tyga merchandise, a $500 Egyptian statue and furniture, among other items, with prices ranging from $500 to $1,200.
It's been a rocky road for Kylie Jenner and soon-to-be sister-in-law Blac Chyna.

They share a passion for cosmetics and an entangled romantic history, so it's only natural that Jenner, 18, has been slow to embrace her brother Rob Kardashian's fiancée, who revealed on Friday will also be this mother of his first child.

But, says a source close to the Kardashian-Jenner family, Kylie is joining her sisters in accepting Chyna – albeit somewhat reluctantly – "for the greater good."
The only constant for Rob Kardashian's family these days is change.

News of his engagement to Blac Chyna was quickly followed last week by the revelation that they're expecting their first child together.

"The family in general still feels Rob's relationship with Chyna is very rushed," a Keeping Up with the Kardashians source tells PEOPLE. "They were hoping that Chyna would be more like a rebound. Someone who was able to help Rob, but that he then would move on. They never expected an engagement and a baby."

Though the family has taken time to warm up to the model and entrepreneur, 27, "Rob has made it clear though that this is what he wants," the insider adds. "He seems very happy. The family knows that they need to be on his side, or he will shut them out. They are really playing by Rob's rules now."
Khloé Kardashian will always support her little brother.

The 31-year-old reality star has long been Rob Kardashian's biggest fan, opening her home to the 29-year-old and offering the former recluse help to no avail. But a source says it hasn't been easy for Kardashian to come to terms with her brother's relationship with Blac Chyna.

"Khloé loves and supports Rob and always has. She's always been his biggest supporter and has been trying to get him on the right track for years," a source tells PEOPLE.
The happy news is out that Rob Kardashian and Blac Chyna are expecting. But it's the way that news broke that is dampening the moment for the young couple.


Keeping Up with the Kardashians