TV Watch
Keeping Up with the Kardashians
Keeping Up with the Kardashians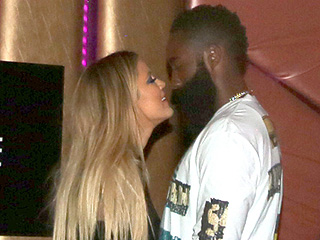 Credit: Brian Prahl/Splash News
Despite being based in different states,Khloé Kardashian and James Harden are still going strong, a source tells PEOPLE.


It was a busy year for Kendall Jenner – and at times too busy. The star took to her website and app on Monday to share her list of New Year's resolutions, and to also reveal that she was recently hospitalized.

"I'm not big on New Year's resolutions. I don't write a list down or anything, it's definitely more of an in-my-head kind of thing," Jenner, 20, said. "I set random goals like 'find a boyfriend' but it's not legit at all, lol."
Almost six months after Kourtney Kardashian ended her nine-year relationship with Scott Disick, fans are finally getting a glimpse at his emotional apology.

A clip from the upcoming episode of Keeping Up with the Kardashians shows Disick, 32, struggling to explain his wild behavior in a meeting with Kourtney, 36, her two sisters and Kris Jenner at the momager's Calabasas, California, mansion.

Kourtney, 36, and the father of her three children broke up in July when he was photographed partying hard and cozying up to another woman in Monte Carlo.
Kourtney Kardashian is hinting that things are not always what they seem.

The mother of three shared a cryptic quote on Instagram Saturday possibly referring to her difficult split from ex Scott Disick.

"The prettiest smiles hide the deepest secrets. The prettiest eyes have cried the most tears, and the kindest hearts have felt the most pain," the quote read, and Kardashian, 36, captioned the photo simply with a blue heart emoji.
Kylie Jenner sure sparked questions about the status of her relationship with Tyga this holiday.

After the 18-year-old Keeping Up with the Kardashians star posted a photo of a dazzling diamond on Dec. 25, fans began to wonder if she and the 26-year-old rapper had gotten engaged. Jenner set the record straight on Saturday.
Keeping Up with the Kardashians