TV Watch
Keeping Up with the Kardashians
Keeping Up with the Kardashians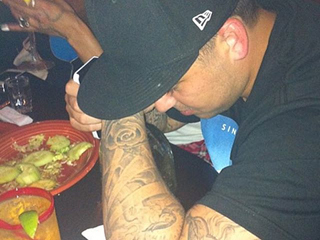 Credit: Courtesy Rob Kardashian
Rob Kardashian showed off his impressive sleeve of tattoos on Instagram Saturday, marking another step forward in his gradual return to social media after a lengthy hiatus.

The only male sibling in the famous Kardashian-Jenner clan is seen resting with his elbows on the table in the photo, a full beverage just in front of him and a plate of vegetables off to the side. Kardashian's face is mostly hidden by his baseball cap, but his arm of tattoos is prominently featured.
What's in a name? That's the question Sunday's episode of I Am Cait asks when Caitlyn Jenner decides to use her former name, Bruce, on an application for a golf course membership.

"I don't understand why you're putting Bruce down, as opposed to Caitlyn," Jenner friend Ronda Kamihira says in an exclusive clip from the episode.
Kim Kardashian West's famous selfies have earned her the title of the most followed person on Instagram.

On Wednesday, the Keeping Up with the Kardashians star celebrated reaching 45 million followers on the app, sharing a slew of cleavage-revealing selfies.

"45 million Instagram followers!!!!!," she captioned the first celebratory photo. "I love you guys!!!!!"
It's been almost two months since her split from Scott Disick, but Kourtney Kardashian continues to post cryptic messages on her social media.

On Wednesday, the reality star took to Twitter to share a Bible verse about love that may be about the painful breakup.

"Proverbs 4:23 'Above all else, guard your heart, for it is the wellspring of life,'" she tweeted, adding that the message came "via deep texts" with Rich Wilkerson Jr., the 31-year-old pastor who officiated the wedding of Kim Kardashian West and her husband Kanye.
She's been publicly scrutinized for her famous family, love life and physical appearance. Now, Kylie Jenner is using her popularity on Instagram as a platform to combat bullying.


When you're a Kardashian, a mirror pic before a big night is just a basic requirement – and you would think momager Kris Jenner's boyfriend Corey Gamble would know that!

Kourtney Kardashian, 36, took to Instagram on Monday to share a funny picture of herself just doing her Kardashian duty before attending the 2015 MTV Video Music Awards, with Gamble in the background trying to hurry things up.

"Me taking an outfit selfie while @coreygamble tells me it's time to go," Kardashian wrote as the caption to the picture, in which she's holding a banana and an apple as a snack "for the car ride."
For the first time, Kylie Jenner and Tyga are openly showing the world their love on camera.

The youngest member of the Kardashian family stars in her rapper boyfriend's new music video, which dropped on Sunday, for his song "Stimulated" – and the couple shows plenty of PDA with hugs, kisses and piggyback rides.
Kylie Jenner and Tyga may have gotten themselves into some hot water ... pun fully intended.


The first step to solving a problem is admitting you have one.


Keeping Up with the Kardashians