Mad Men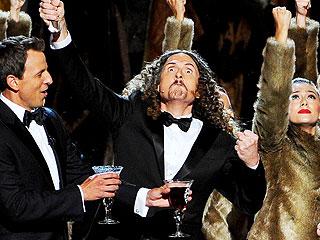 Credit: Vince Bucci/Invision for the Television Academy/AP
The "Weird Al" Yankovic resurgence continues.


To avoid a conflict with Sunday Night Football, NBC moved the 2014 Emmy Awards telecast up a month, to August 25. But in swerving clear of the football juggernaut, the Emmys steered right into the lane of the landmark cultural occasion of late August: the MTV VMAs, scheduled for one day prior.

It got us thinking: What if we took things to their logical conclusion and handed MTV control of the Emmys, as well?

Using categories from both the VMAs and their summertime counterpart, the MTV Movie Awards, we've imagined what would happen if the cable network was in charge of handing out trophies for everything that's on TV, not just music videos.

Massive spoilers below!


Say, which shows are nominated at the Emmys this year?

You may be able to name a few, but we're betting you can't remember every single series nominated in the Outstanding Drama, Outstanding Comedy and Outstanding Miniseries categories this year.

So, we've built this infographic to test your TV knowledge. Can you get the names of all 18 shows just from one object or symbol? It's harder than it looks, so to help you out, we've listed each show's network underneath.

Happy guessing! (The answers are at the bottom, if you want to cheat.)


Jon Hamm, a St. Louis native and proud hometown booster, says the images coming out of suburban Ferguson, Missouri, near where he grew up and where relatives still live, have been painful to see.


It's mad small, but also adorable – and exquisitely designed.


Christina Hendricks is best known for her role as Joan Holloway, and the Mad Men star's own experience with agencies (ad or otherwise) is about as fraught as her fictional counterpart's.


From the moment suave, brooding Don Draper entered the pop culture ether, Jon Hamm, along with his new sex symbol status, was shot into the stratosphere of fame. Not that he takes any of the attention too seriously.


Mad Men began its final season Sunday on AMC with a somber, even opaque episode that was probably a case of holding its final hand close to the vest. You hope there are some sensational cards there. Creator Matthew Weiner, whose baby this is, can be sensational or sensationally drab, exactly as he chooses.

The show's integrity is unmatched, admirable and every so often deeply irritating.

At any rate, I think it will be a while before anyone sings "Zou Bisou Bisou" again.
Mad Men
Get PEOPLE Everywhere
Advertisement