Mad Men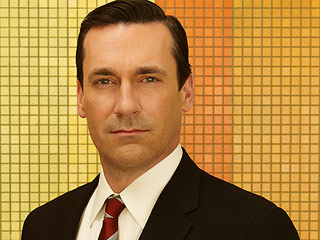 Credit: Frank Ockenfels 3/AMC
Mad Men is ending, and while the show's opening credits are inseparable from RJD2's haunting theme, there was a time when that beat was known only as "A Beautiful Mine," by RJD2 and rapper Aceyalone.

Matthew Weiner originally wanted a Beck song to play as the show's opening theme, but the singer turned down every offer from the show's producers. Weiner was driving and listening to NPR one day when he heard "A Beautiful Mine" played as segue music between two stories and was immediately struck by it, though the version that ultimately was used was so different from the original that RJD2 didn't recognize it when he first heard it. He's probably okay with it now, though.
Jon Hamm and Don Draper have a lot in common.

Just like the Mad Men ad exec he plays on his hit AMC drama, Hamm started with nothing before skyrocketing to the top of his profession later in life.

"This will be 20 years that I've been in Los Angeles," the 44-year-old told reporters Wednesday while doing press for the final episodes of Mad Men.
His character Don Draper, is famous for his demons, and it turns out Jon Hamm has been battling his own, too.


Jon Hamm has already admitted he got teary while filming the final episode of Mad Men, so it's only natural the actor might hope to find comfort in the advice of someone who'd been through a similar experience.

Unfortunately for Hamm, a fellow AMC veteran gave crystal-clear advice that the path ahead could be rocky.

The actor, 44, reveals in the April issue of GQ (on newsstands March 31) that Breaking Bad star Bryan Cranston was blunt with his advice: "It's hard, man. It's hard to let it go. It'll hit you a couple of different ways at different times."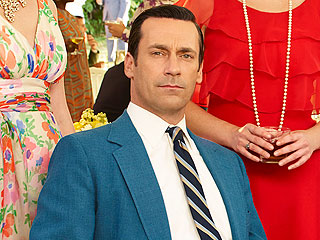 Aw sookie sookie now!

The tagline for Mad Men's final seven episodes reads, "The Party's Over," but a new trailer suggests it's actually in full swing.

It's the '70s baby. Diana Ross's sultry "Love Hangover" provides the background for a summer Hamptons get-together, and the gang's all there.
Mad Men returns this April to wrap up the story of Don Draper, and Jon Hamm says it's "trippy" to confront the end of an incredibly rich personal and professional era.

Though he's not a collector, Hamm – who graces the cover of the new issue of emmy magazine (out Feb. 17) – saved a picture of the script's final page that reads "End of Series."

After seven seasons playing the complex and troubled Draper, Hamm, 43, tells the magazine that he cried after the word "cut" signaled his final take last July 3. Like the typically stoic Don, though, he adds, "Everyone did."

Mad Men creator Matthew Weiner, who directed the series finale, says the last night of filming "was emotional and completely surreal because it was something we'd been anticipating – the mood of finishing the show had been hanging over all of us for months as the final scripts were coming in – and then, here we were at the moment."
[BRIGHTCOVE "3951725281001" "" "" "auto"]
His Mad Men character, Don Draper, may drink Canadian Club whiskey and Old Fashioneds, but Jon Hamm has other ideas for what should be in a cocktail named after his tortured '60s ad exec character.


As Mad Men fans eagerly await the final seven episodes of the AMC hit this spring, the show's star, Jon Hamm, won the award for Television Performance of the Year – Actor at the PEOPLE Magazine Awards on Thursday.


Mad Men
Get PEOPLE Everywhere
Advertisement