Mad Men
Mad Men began its final season Sunday on AMC with a somber, even opaque episode that was probably a case of holding its final hand close to the vest. You hope there are some sensational cards there. Creator Matthew Weiner, whose baby this is, can be sensational or sensationally drab, exactly as he chooses.

The show's integrity is unmatched, admirable and every so often deeply irritating.

At any rate, I think it will be a while before anyone sings "Zou Bisou Bisou" again.
Apparently certain Mad Men fans are like the show's narrative progress or one of Betty's dinner parties or from-scratch cakes: they take their time and don't rush it.

So before the last season kicks off Sunday on AMC at 10 p.m., here is what you need to know (warning: if you are a binge-watcher and haven't gotten to season six, stop reading now or forever hold your spoiler-griping):


Don Draper certainly has a type. To use the comparison brought up by a memorable Sterling-Cooper ad pitch, Mad Men's mysterious protagonist has always gone more for Jackies than Marilyns. (As his marriage to Betty proved, when it comes to blondes, Don prefers the Grace Kelly model.)

To celebrate the premiere of Mad Men's final season, let's look back at the bevy of intellectual brunettes who have loved, lost and even sometimes married the cipher at the heart of the AMC drama.


It's so hard to say goodbye.

And when it comes to a hit show like Mad Men, which premieres the first episode of its seventh and final season on Sunday, that saying goes for the fans and actors alike.

"It's definitely getting sad," Elisabeth Moss told PEOPLE at the show's final season premiere party at Arclight Cinemas in Los Angeles on April 2. "We just started the last seven episodes that will air next year. It feels like it's almost the end. It's very strange."

So after seven seasons on the show, is she ready to move on? "The serious answer is of course, yes, it's time for everyone to move on at a certain point," said Moss, 31. "The not serious answer is no, and I will be staging a sit-in and not leaving. Ever!"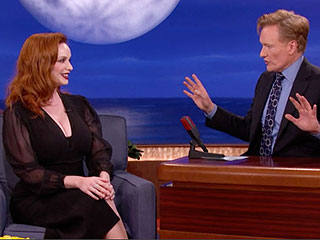 Mad Men's title doesn't refer to star Christina Hendricks's effect on men, but apparently that's not much of a stretch.

While visiting Conan on Monday, Hendricks related a time that one gawker got a little carried away, and almost had to be, well, carried away.
Christina Hendricks says she's not sure if she's ready to film the final scenes of her hit series Mad Men, but she's also enjoying spending quality time with her husband as she gets a month-long mini-break from the set.

Hendricks, 38, joined other celebs including Jaime King and Ellen Pompeo at a design party in Los Angeles Thursday for online retailer One King's Lane, which launched its new vintage decor line Hunters Alley.

"It's scary. But we had a really good run," Hendricks, who plays flame-haired and sexy office manager Joan Holloway, told PEOPLE as the clock ticks on shooting Mad Men's final seven shows. "You want to quit when you're still on top. I think [series creator] Matt [Weiner] is ready to move on. It's going to be hard … I don't feel ready."
This photo could be on a game show under the category "Before they Were Famous" and stump even the most devoted fans.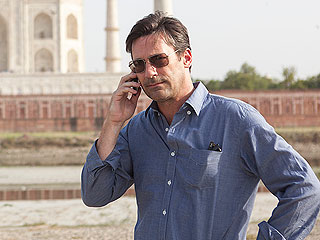 Need a little Jon Hamm between Mad Men seasons? Check out this new trailer for Million Dollar Arm.

Hamm plays J.B. Bernstein, a sports agent who is struggling to keep his business afloat when he has an unusual idea – bring talented cricket players from India to the U.S. to play pro baseball.

Based on the true story of Bernstein and baseball pitchers Rinku Singh and Dinesh Patel, Million Dollar Arm refers to the reality show competition Bernstein staged in India to select the cricket players with the most potential to become Major League pitchers.
Mad Men
Get PEOPLE Everywhere
Advertisement