Saturday Night Live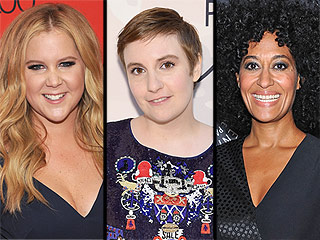 Credit: Andrew Toth/FilmMagic(2); Jamie McCarthy/Getty;
Amy Schumer has a theory about the inherent inequality of women in show business: "I think people hate women."

In a roundtable of comedic actresses assembled for The Hollywood Reporter's latest issue, the Inside Amy Schumer creator and star adds, "I don't think they want to hear a woman talk for too long. A lot of people project their mom yelling a them."

Schumer continues, "My [career] has been about tricking people into listening. I'm not saying all men hate women, but there's such an aggression."

For the magazine's June 5 issue, THR sat down with Schumer, Lena Dunham, Unbreakable Kimmy Schmidt's Ellie Kemper, Jane the Virgin's Gina Rodriguez, Black-ish's Tracee Ellis Ross and Saturday Night Live's Kate McKinnon to discuss the struggles of being a woman in entertainment and the sexism they've encountered throughout their careers.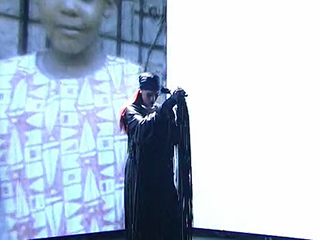 Rihanna took to Saturday Night Live this weekend, performing her two most recent singles, "Bitch Better Have My Money" and "American Oxygen."
Saturday Night Live's season finale was this weekend, so that may have been one reason host Louis C.K. decided to push the boundaries in his show-opening monologue.

Sunday morning, though, he may be having second thoughts.
[YOUTUBE "eIgEOTUJ4PM"]
Scarlett Johansson is hosting Saturday Night Live this week, and she made sure to promote her new movie, Avengers: Age of Ultron, in the promos for her appearance, but that's not all that was discussed.

In the ads posted online on Tuesday, Johansson and SNL's Kenan Thompson celebrate National Scat Day (before she realizes there's no such thing), and Thompson (who wears an eye patch like The Avengers' Nick Fury) compliments the Black Widow actress on her smoky voice that can make anything sound sensual.
Cecily Strong works with big-name stars every week as a regular cast member on Saturday Night Live, but none of the A-list talent she's encountered on the show have made her as nervous as she is about her next big gig, hosting the White House Correspondents Dinner on Saturday, April 25.

"I keep going between 'I'm so excited' and then 'I'm so nervous' and then going back to being so honored and humble," she tells PEOPLE. "I just don't even know where I stand this second."

While Strong is only the fourth woman to host the Washington, D.C., Nerd Prom – and one of the youngest at just 31 – the Illinois native says her comedic strategy for the evening is simple.
Barack Obama is a tough act to follow, and that doesn't just apply to the next president.


Saturday Night Live