Saturday Night Live
Is it too soon to joke about ISIS?


[YOUTUBE "LOdrQo3KpIY#t"]
In anticipation of this week's Saturday Night Live, host Dakota Johnson pokes fun at herself with a little help from Taran Killam.

When Killam asks Johnson, 25, if her mom, Melanie Griffith, ended up seeing Fifty Shades of Grey after their mother-daughter spat on the red carpet at the Oscars, she responds with a whine: "Nooo she didn't, and I'm reallllly upset about it!"

He sympathizes, "So not fair, she's, like, not supporting you!"
To hear – or read – Norm Macdonald tell it, "Eddie Murphy knows what will work on SNL better than any one."

And yet Macdonald couldn't convince Murphy to participate in the "Celebrity Jeopardy" skit during Sunday's mammoth Saturday Night Live reunion special on NBC.
While dozens of cast members returned to the Saturday Night Live stage for the show's star-studded 40th anniversary special on Sunday, one veteran comic was a no-show: Tracy Morgan.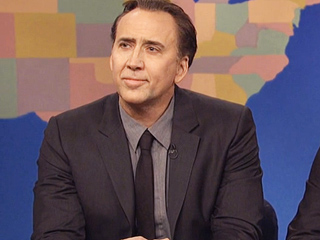 "Nicolas Cage is the most accomplished Renaissance man the solar system has ever witnessed."

That's the start of a Change.org petition created by superfan Christopher Isaacson to have the actor, 51, host Saturday Night Live for a second time.

Like Cage, Isaacson himself has a flair for the dramatic: "For him to not host Saturday Night Live for the first time in over 20 years would be a crime against humanity," he writes.
Saturday Night Live
Get PEOPLE Everywhere
Advertisement