Saturday Night Live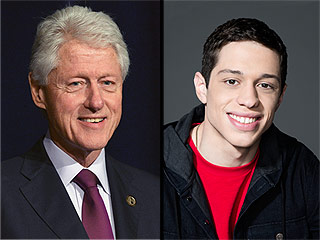 Credit: Slaven Vlasic/FilmMagic; Mary Ellen Matthews/NBC/NBCU
Bill Clinton likes saxophones, chicken enchiladas and, apparently, Pete Davidson's tenure on Saturday Night Live.


To hear – or read – Norm Macdonald tell it, "Eddie Murphy knows what will work on SNL better than any one."

And yet Macdonald couldn't convince Murphy to participate in the "Celebrity Jeopardy" skit during Sunday's mammoth Saturday Night Live reunion special on NBC.
While dozens of cast members returned to the Saturday Night Live stage for the show's star-studded 40th anniversary special on Sunday, one veteran comic was a no-show: Tracy Morgan.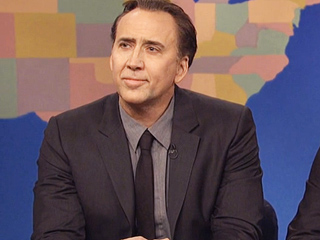 "Nicolas Cage is the most accomplished Renaissance man the solar system has ever witnessed."

That's the start of a Change.org petition created by superfan Christopher Isaacson to have the actor, 51, host Saturday Night Live for a second time.

Like Cage, Isaacson himself has a flair for the dramatic: "For him to not host Saturday Night Live for the first time in over 20 years would be a crime against humanity," he writes.
Live from New York, it's … an inconvenient scheduling conflict.

Twitter was noticeably upset that Saturday Night Live alumna Cheri Oteri was absent from the show's 40th anniversary celebration Sunday, but the masses can rest assured Oteri wasn't excluded for any personal reasons – other than her schedule.
Saturday Night Live's 40th anniversary had enough star power to light up all of Manhattan. Even at three and a half hours long, some of the much-hyped appearances left us wanting more – in a good way. Whether their sketches were sentimental or sidesplitting, five celebrity regulars and five SNL vets stood out from the remarkable pack.
Before Saturday Night Live showcased highlights from its 40-year history on Sunday, stars past and present gathered on the red carpet to honor the sketch show's historic run.

As they recalled their favorites, though, a few folks noted some missed opportunities. Below, find out who wishes they'd had the chance to keep a straight face around Stefon and which two gentlemen wish they could have demanded "More Cowbell!"

AJ McLean: "I would love to do anything with Stefon even though I would probably break character immediately because Bill Hader is amazing and that character is amazing, but if I could be, like, Stefon's little brother and we could do a whole skit without breaking character that'd be pretty awesome, that would be the one."


Tina Fey, Sarah Palin has a bone to pick with you.

While on the carpet ahead of Saturday Night Live's 40th anniversary special, the former Republican VP candidate called out Fey for not sharing the wealth.

"Well, have I helped her career or has she helped mine? I'm like come on Tina, you should be paying my kids' braces or something," Palin told reporters when asked whether being impersonated by Fey on the series had helped her career.
Saturday Night Live
Get PEOPLE Everywhere
Advertisement