Saturday Night Live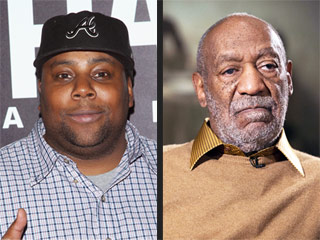 Credit: Getty; AP
Kenan Thompson got serious during a comedy show at the University of Pittsburgh on Monday and addressed the sexual assault allegations against Bill Cosby, according to a report from the college's student newspaper.


Most of the press surrounding Mumford & Sons's new record has been about the band progressing from their traditional acoustic arrangements to a more electric sound.

And while it wasn't exactly Dylan plugging in at Newport, the band did use their appearance on Saturday Night Live this weekend to show off some of that electricity.
Tarji P. Henson might have conflicted feelings about how much Cookie's taken over her life, but she sang about some of the perks of playing her Empire character on Saturday Night Live.

For one, "white people know who I am now."
It's not quite the Hillary Clinton presidential announcement we were expecting, but Saturday Night Live gave us a great one, with a surprising cameo from a returning alum.
In its most recent episode, Saturday Night Live put a darkly humorous, and musical, spin on many of the allegations laid out in HBO's much-discussed Scientology documentary, Going Clear.


Tommy Boy hit theaters 20 years ago on Tuesday, and star David Spade took to Facebook to remember his late costar and friend Chris Farley.


Dwayne "The Rock" Johnson's hosting stint on Saturday Night Live this weekend was proof that the actor and wrestler's comic timing is as impressive as his physique – and, beyond that, he's game for just about anything.

Case in point: The above sketch, which saw him starring as the titular forest animal in a live-action reboot of Disney's Bambi.
Saturday Night Live
Get PEOPLE Everywhere
Advertisement