Saturday Night Live
How hard is it to be a Christian wedding cake baker in America in 2016?


This weekend's episode of Saturday Night Live did a skit about a pool boy, who was carrying on an affair with an older woman, featuring musical guest Nick Jonas – but not as the pool boy.


Ryan Gosling is hot, and he's about to be a dad (again!) – but that doesn't mean he wants to be a hot dad.


Julia Louis-Dreyfus may have one of the most storied comedy acting careers of her generation, but the star says her start on Saturday Night Live in the early 1980s left something to be desired.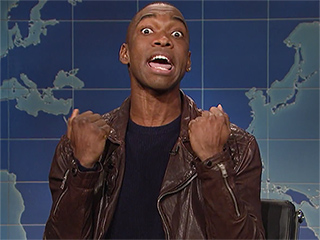 Jay Pharoah gets that fans want to test his talent first-hand. Just don't approach him when he's clearly busy.

Speaking about people who approach him on the street, Saturday Night Live's master impersonator told PEOPLE Monday at the 9th Annual Night of Opportunity Gala at Cipriani Wall Street: "Don't stop doing it. Just look at the surroundings."

He continued, "Like, if I'm trying to enjoy my meal and I'm with my family, don't run up and be like 'Oh, snap, can we get some Denzel [Washington]?' No, you can't get Denzel because my my mouth's full! So, just the appropriate time. I'm the nicest guy ever. I don't care, I can do impressions, just be aware of your surroundings."
Establishment politics have been catching a lot of flak this election, thanks in large part to the rise of politically incorrect Republican front-runner Donald Trump. But a "hot little mouse" known as P. Ryan and some "orange" dude named John Boehner are here to remind you that the OG GOPers are still some "pretty cool guys."


Saturday Night Live