The Vampire Diaries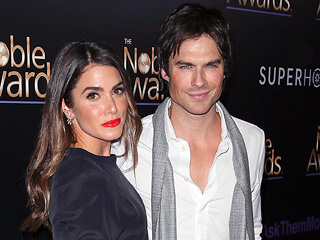 Credit: David Livingston/Getty
Ian Somerhalder just wanted to be left alone, but that was a hard message for some fans to take.


With the exit of star Nina Dobrev, many The Vampire Diaries fans are wondering what's next for the show – and Dobrev's costar Paul Wesley is right there with them.


After six years on The Vampire Diaries as its star and diarist in question, Nina Dobrev is moving on.

As she admits to PEOPLE, her last days on set in Atlanta were "bittersweet," but the cast and crew sent her off in the best way they knew how – by ganging up on her with a massive prank six years in the making that she won't soon forget.

The actress, 26, also opens up to PEOPLE about what it's like interacting with one of the biggest and most enthusiastic fandoms on the Internet as well as her favorite part about playing Elena (… /Katherine/Amara/Tatia).
During his six-year run as Tyler Lockwood on The Vampire Diaries, Michael Trevino truly was the focus of the series' most interesting storylines.

However, in later seasons, Tyler had less and less to do as a consequence of the fact that being a werewolf – and, later, an out-of-control vampire/werewolf hybrid under the control of a maniacal, 1,000-year-old vampire – didn't exactly endear him to the vampires on whom the show is primarily based.

So Trevino realizes that, with all characters, there is a time to move on. In a chat with PEOPLE, he says – earnestly, we might add – that he's "surprised" that Tyler didn't run out of things to do earlier, but that he's "grateful" he lasted as long as he did.

The actor, 30, also reveals his favorite part about playing Tyler and answers the dangerous, million-dollar question: Who's best for Caroline?
For those already mourning the loss of Nina Dobrev from The Vampire Diaries, all is not yet lost – the departure of Elena just might breathe new (un)life into the series.

"The last two scenes of the finale truly depict where the show is going," Ian Somerhalder told PEOPLE on the red carpet at the CW Upfronts on Thursday.

The actor promised that the series will return to the "volatile, sexy" days of yore – "stuff that we all fell in love with. Season 1 and 2 of the show were so dark. It was awesome."
Now that Nina Dobrev is no longer confined to the rigorous schedule of a TV star, the actress tells PEOPLE that she's enjoying her newfound free time.

As Dobrev, 26, documents her cross-country road trip/scavenger hunt on Instagram, she says that she's using the interlude following her run as Elena on The Vampire Diaries to "do the opposite of what I'd been doing for the last six years. I had a very scheduled, regimented life, and I've just been taking the whole month to not plan anything and see where life takes me and chill for a second before getting back into it and getting super-focused again."

Adds Dobrev, "I want to live like a twentysomething!"
There's no bad blood between Vampire Diaries stars Nina Dobrev and Ian Somerhalder.

Dobrev – who is exiting the supernatural CW series after Thursday's finale – told E! News she's thrilled her ex-boyfriend found love with Nikki Reed. (The couple tied the knot April 26 in Malibu, California.)
Nina Dobrev and Conan O'Brien could have a dual circus act somewhere in the future.

The Vampire Diaries actress, 25, stopped by Conan Monday night and ended up showing off her impressive flexibility – once again – alongside the 52-year-old late-night host.

"I can do the splits, yes," the actress confirmed – with slight trepidation – in the video.
With Klaus fully off the rails after a season spent discovering his softer side, Monday's finale of The Originals is set to be the most high-stakes yet.

As the tension between the Mikaelson siblings comes to a head, Claire Holt returns to play Rebekah, who has been portrayed by Maisie Richardson-Sellers ever since Rebekah took possession of Eva Sinclair's body.

Now that Eva's body has been killed – but really, that's never a true death sentence in the Vampire Diaries/Originals universe – Rebekah is back with a vengeance and Klaus (Joseph Morgan) is in her sights.
Not even his own wedding day keeps Alaric safe from snark.

In an exclusive sneak peek at Thursday's episode of The Vampire Diaries, Matt (Zach Roerig) and Tyler (Michael Trevino) toast Alaric's (Matt Davis) upcoming nuptials to Jo (Jodi Lyn O'Keefe), expressing incredulity over the fact that he'd limit himself to just one lady. Then again, as Tyler jokes, women aren't exactly "throwing themselves at an occult studies professor."

(Says you, Tyler.)
The Vampire Diaries