The Vampire Diaries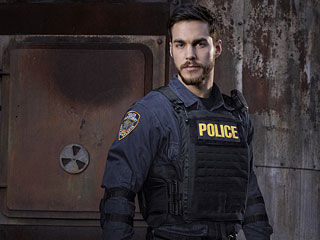 Credit: Justin Stephens/The CW
Working on The CW's outbreak drama Containment has definitely turned Chris Wood into a bit of a germaphobe.

"I definitely think of germs often when I touch something, and I think about how hundreds of people touched it," Wood, who played big bad Kai in the sixth season of The Vampire Diaries, tells PEOPLE. "When I fly, I think I'm more conscious of people sneezing and coughing next to me than I was before."

He adds, "I think I probably should do more Purelling."
Should the Mikaelsons actually be worried about Stefan Salvatore (The Vampire Diaries's Paul Wesley) coming to New Orleans?

In an exclusive clip from Friday's The Originals/The Vampire Diaries crossover, Klaus (Joseph Morgan) introduces Stefan to his "brand new older" sister Freya (Riley Voelkel).

"You're an old friend, are you?" Freya asks suspiciously.
This is the definition of a love-hate relationship.

On The Vampire Diaries last week, a flash forward revealed Bonnie (Kat Graham) and Enzo (Michael Malarkey) are romantically involved in the future. But a sneak peek of Thursday's episode exclusive to PEOPLE shows the witch and vampire are definitely still enemies for now.

Bonnie and Enzo arrive at the same time for Lily (Annie Wersching)'s party celebrating the truce between the Heretics and the Salvatore brothers' Mystic Falls squad ( ... or so she thinks). Though they're not exactly flirting, Bonnie and Enzo's brutal banter does suggest a flicker of chemistry.
Now that The Vampire Diaries Enzo has finally chosen a side, what's next for the wayward vamp?

When we last saw the English bloodsucker (Michael Malarkey), he was kidnapping Caroline (Candice King) on hybrid ringleader Lily Salvatore's (Annie Wersching) orders, and Malarkey tells PEOPLE Thursday's episode will shed light on why Enzo chose Team Lily.

"If you look at all the facts and way it all out, he's invested a lot in being there for Damon and Caroline over the course of the last season and a half," says Malarkey, 32. "And I think he feels like that loyalty has not been reciprocated from them. He's been there time and time again, and nobody seems to appreciate that. What he feels like Lily is providing is a reciprocated loyalty – also a sense of respect."
Remember bad boy Damon Salvatore? He's back and boozier than ever in Thursday night's Vampire Diaries season 7 premiere.

The episode opens with Damon (Ian Somerhalder), whose soulmate Elena (Nina Dobrev) is asleep in a tomb for the next 60 or so years, partying in Amsterdam with Alaric (Matthew Davis), whose fiancé and unborn twins were slaughtered on their wedding day.

Though Damon is missing Elena, he's focused on getting Alaric through his tragedy – with some liquid courage.
With her best friend entombed until the natural death of her other best friend, her mom dead from cancer and her hometown overrun by vampire/witch hybrids, Caroline Forbes isn't exactly her sunny self when The Vampire Diaries returns.

"Caroline is is trying to make sense of what is happening in Mystic Falls," star Candice King tells PEOPLE of the season 7 premiere. "She's dealing with the separation from Elena (Nina Dobrev), knowing that she will be gone for a while. She's still mourning the death of her mother, and she's also starting to mourn the death of Mystic Falls. In the season opener, we get to see how Mystic Falls became the desolate shell of what it was that we saw at the end of season 6 when Damon (Ian Somerhalder) was standing on the clock tower."

While Caroline knows she'll see fellow bloodsucker Elena in 60 or so years ("She's got eternal life on her side!"), King, 28, says Bonnie (Kat Graham) is grieving more.
The Vampire Diaries