The Vampire Diaries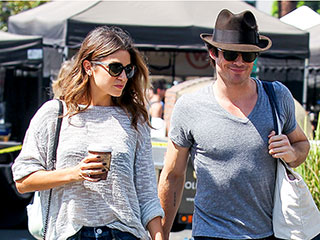 Credit: AKM-GSI
Looks like Ian Somerhalder has been bitten by love.


Don't have a date lined up this week? Oh, uh, this is awkward. Because Nina Dobrev has four.


Vampire Diaries star Sebastian Roché is married!


Fans crushing on Ian Somerhalder may be happy to discover that reports of the actor dating a new woman are false.


Olga Fonda is set to wed.


Attention, guys! If you want to date Nina Dobrev, you'd better be smart, funny and not too vain.

Speaking to September's Cosmopolitan (on sale Aug. 13), Dobrev talks about what she looks for in a man and explains that she prefers relationships to casual dating.

"You either have chemistry or you don't, but a lot of what attracts me is a guy's mind and humor and talent," says the Vampire Diaries star, 24. "I need to get to know all those things before I fall for someone. I'm not a one-night-stand kind of girl. I'm a relationship girl."
We know, we know: The #greatkatewait had you sitting on the edge of your beach chair.

But if you were busy soaking up some rays – or, equally likely, picking out a onesie for the royal baby – here are five things you might have missed this weekend:
It's been nearly a month since her fiancé popped the question, but bride-to-be Candice Accola is still basking in newly-engaged bliss.

"I can't even think about [the wedding] yet," the Vampire Diaries star, 26, told PEOPLE at Midori's Happy Hour Style Event Thursday evening at The London. "We're just enjoying the engagement with our friends and family right now."

Accola, who is the new face of the melon liqueur brand, met fiancé Joseph King (guitarist for the band The Fray) two years ago at a Superbowl event – but she was too shy initially to make a move.
The Vampire Diaries
Get PEOPLE Everywhere
Advertisement