The Vampire Diaries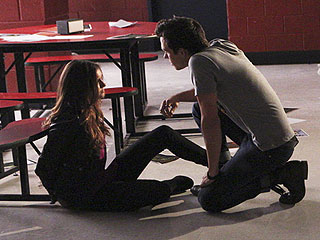 Credit: Annette Brown/The CW /Landov
The Vampire Diaries' midseason premiere, "Woke Up with a Monster," certainly gave fans a lot of options as to who might meet an impending and untimely end in the near future.

As the series begins its sprint to the season finale, characters both beloved and brand new stared down death.

Star Paul Wesley directed the episode, which picked up directly after Kai (Chris Wood) abducted Elena (Nina Dobrev) and as Caroline (Candice Accola) struggled to accept her mother's cancer diagnosis. Even amid those merciless circumstances, Elena and Sheriff Forbes (Marguerite MacIntyre) weren't the only folks in Mystic Falls whose lives were in peril.

But who looks most likely to say goodbye sooner rather than later?
When we last left the denizens of Mystic Falls, many of them were in mortal (or immortal) peril. Obviously.

Elena (Nina Dobrev) was kidnapped by Kai (Chris Wood), Enzo (Michael Malarkey) has vowed to ruin Stefan's life, and Matt (Zach Roerig) has been roped into helping him. Meanwhile, Caroline's (Candice Accola) mother has an inoperable brain tumor that vampire blood can't cure.

To find out whether our intrepid heroes will ever experience any modicum of happiness, The Vampire Diaries returns from its midseason hiatus on Thursday, with Paul Wesley at the helm as director.
Don't have a date lined up this week? Oh, uh, this is awkward. Because Nina Dobrev has four.


Vampire Diaries star Sebastian Roché is married!


Fans crushing on Ian Somerhalder may be happy to discover that reports of the actor dating a new woman are false.


Olga Fonda is set to wed.


The Vampire Diaries
Get PEOPLE Everywhere
Advertisement