The Vampire Diaries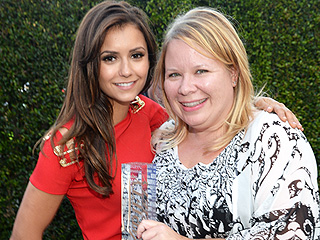 Credit: Michael Buckner/Getty
After Nina Dobrev announced she would be leaving The Vampire Diaries once her six-season contract was up, the show's creator, Julie Plec, had the same knee-jerk reaction to the news as the rest of us: denial.

"Nina had said earlier this year that she wanted to be done, and we spent a little time trying to talk her out of it," said Plec on a KCRW podcast. "[We'd say,] 'Oh, look at all these great plans of how you can stay!' "

However, said Plec, Dobrev "was just looking forward to moving on with no hard feelings and no drama. … She finally was like, 'No, I signed up for six years. I've done my six years. I'm ready to move on and spread my wings."
Kat Graham couldn't be more thrilled about Vampire Diaries costar Ian Somerhalder's engagement to actress Nikki Reed.

"I haven't met two people that were more of soul mates than those guys," Graham recently told PEOPLE during her shoot for Foster Grant. "They are so absolutely amazing. Everyone loves them, and I really can't imagine him with anyone else."
Nina Dobrev and Michael Trevino, who are both leaving The Vampire Diaries after season 6, commemorated their exits in the cutest way possible on Wednesday night: with a helium-voiced sayonara.

Dobrev, 26, who announced her departure on Instagram earlier this month, also posted a Polaroid-style shot of her hugging her costar, 30, whom she tagged as part of her "#TVDFamily."
Elena and Stefan, together forever.

Nina Dobrev's time on The Vampire Diaries is quickly coming to a close, and on Monday she reached a bittersweet milestone – her final scene with costar Paul Wesley.

Dobrev, 26, and Wesley, 32 – who goes by @paulwesley on Twitter and @paulvedere on Instagram – have been the show's leads through six seasons. With a seventh season on the way, Dobrev has announced she is leaving (as is Michael Trevino, who plays Tyler Lockwood) and officially commemorated the end of the Stelena era with a sweet Instagram post.
Nina Dobrev isn't long for Mystic Falls.

The original cast member of The CW's The Vampire Diaries confirmed Monday via her Instagram account that she'll depart the show after this season.

Underneath a picture of Dobrev, 26, with TVD creator and showrunner Julie Plec, the actress wrote, "I always knew I wanted Elena's story to be a six season adventure, and within those six years I got the journey of a lifetime."
There's nothing like a baby daughter to soften the heart of a vampire-werewolf hybrid who's more than 1,000 years old – however, The Originals star Joseph Morgan wants you to know that Klaus will soon be rediscovering his "villainous" side.

When the Vampire Diaries spin-off returns from a brief hiatus on Monday, the threat of Dahlia (Claudia Black) looms large as our heroes deal with the more immediate danger of Eva Sinclair (Maisie Richardson-Sellers) and whether they can truly trust Freya (Riley Voelkel).

In an exclusive chat with PEOPLE, Morgan, 33, reveals what's next for Klaus, what's going to happen with that gold dagger and whether another Originals/TVD crossover is in the works – and what he'd like to see happen if and when it does. Morgan also addresses the passionate fans of one massively shipped couple (hint: Klaroline) whose supporters may be the most vocal and opinionated in the Vampire Diaries universe.
After six years starring as Damon on The Vampire Diaries, Ian Somerhalder moved behind the camera for the very first time to direct Thursday's episode.

Having just learned that his mother may have actually been alive (or, more accurately, undead) for the past 100-plus years, Damon enters "The Downward Spiral" with a whole new set of abandonment issues.

In an exclusive chat with PEOPLE, the actor, 36, opens up about what it was like to direct for the very first time (which, funnily enough, segued into musings about the inevitable march of time), what's coming up for Delena (and even Bamon) and his ideal ending for The Vampire Diaries.
[BRIGHTCOVE "4102856065001" "" "" "auto"]
Could Damon and Stefan's mother be a vampire?

Though Damon (Ian Somerhalder) had always been under the impression that his mother died of consumption in 1858, the last episode of The Vampire Diaries revealed that Lily (Annie Wersching) was alive in a prison world in 1903 after Bonnie (Kat Graham) caught her on video.

When TVD returns from hiatus Thursday, Somerhalder makes his directorial debut in an episode that has Damon trying to get to the truth about his mother.
The Vampire Diaries