TV News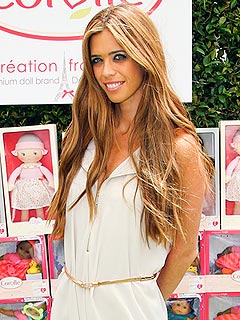 Credit: Jonathan Leibson/WireImage
When Lydia McLaughlin was offered the chance to join the eighth season of The Real Housewives of Orange County she leapt at the chance.

But now, just halfway through her maiden season, she admits that she may have been a bit naïve when she climbed aboard the reality TV ranks.

"It is more difficult than I thought it would be!" she told PEOPLE while attending Corolle's Adopt-a-Doll event in Los Angeles on Saturday.
One Nashville country singer. One Las Vegas magician. Two hours. One crazy finale.

There was just one last piece of the puzzle left to add as the fifth season of All-Star Celebrity Apprentice wrapped up on Sunday night.

Who would emerge victorious – Trace Adkins or Penn Jillette? To find out who wasn't fired during the final showdown, keep reading ...
There were plenty of divas on the stage at the American Idol finale Thursday night. But two of them had the distinction of being – at one time or another – judges on the show. (They're also both moms to twins!)

Mariah Carey and Jennifer Lopez took the stage during the two-hour musical extravaganza, which crowned Candice Glover the winner of season 12.

Mariah, dressed in a glittering, feathered gown and gobs of jewels, performed a medley of her hits, including "Vision of Love," "Make It Happen," "My All," "Hero" and "We Belong Together," as well as her new song, "#Beautiful." It was a fluttering – and, yes, pre-recorded – performance of vocal acrobatics from the singer and current judge.
The series finale of The Office took up an hour and 15 minutes of NBC's prime-time schedule Thursday night. The last quarter-hour had a special sentimental magic, as we got parting moments with each of the characters at the Dunder Mifflin paper company of Scranton, Pa.

The rest you could have fed into a shredder.

After a season that carefully worked out significant narrative strands – the ultimately inevitable ascension to manager of the insufferable Dwight Schrute (Rainn Wilson), the unexpectedly tender travails in the marriage of Jim and Pam (John Krasinski and Jenna Fischer) – this episode was poorly conceived and clumsily structured.

It really wasn't worthy of all the years of affectionate humor that had gone before it.
Ingo Rademacher wasn't wiping away any tears over his Dancing with the Stars semi-finals elimination on Tuesday night.

"I'm really happy that I don't have to learn two or three of those dances [next week]," the actor told PEOPLE just after his dismissal, while attending the show's 300th episode celebration at Boulevard 3 nightclub in Hollywood.

"I'm sore, I'm tired and this is it. We're going to have a party tonight while everyone else has to worry about choreographing. I'm really going to party."
ABC's upfront Tuesday afternoon was an upbeat affair – not all upfronts are – with shoutouts to breakout hit Scandal and its star, Kerry Washington; to late-night host Jimmy Kimmel; and to now destined-to-retire Barbara Walters.

Kimmel, as is traditional, did a few minutes' worth of jokes at the expense of the other networks (he referred to CBS as "smug @#%&!!!!s") and his own: He suggested that Splash, the diving-celeb reality show, should be replaced by one with an empty pool. To be called Splat.

The clips introducing new shows were, on balance, pretty promising. These are the ones that struck my television tuning fork and filled me with anticipatory vibrations:


The Little Couple recently introduced fans to their son William, whom they adopted from China – and now, PEOPLE has obtained a sweet sneak peek of the little boy getting his first glimpse at his new mom and dad.

As Dr. Jennifer Arnold and Bill Klein begin packing their bags for a multiple city China trip to pick up their boy on their reality show, Arnold tells her husband, "I got an email this morning, and Karen at the foster home … took pictures to show him seeing [pictures of] us for the first time."
On Monday night, we finally met their mother.

For eight seasons on the hit CBS sitcom, Ted Mosby (played by Josh Radnor) has been telling his children, in one long flashback, the story of How I Met Your Mother. At the end of Monday's penultimate-season finale, the title character was revealed.

To find out which actress stepped into the long-awaited role, keep reading. Spoilers ahead!
Monday night's Dancing with the Stars semi-finals got off to a lively start.

Kellie Pickler and Derek Hough's Argentine tango was a routine that judge Carrie Ann Inaba called "perfection."

The other two judges echoed similar sentiments and gave the pair 30 points out of 30.

Ingo Rademacher, who Inaba called "the underdog," had judges only semi-impressed with the 24-point samba he completed with partner, Kym Johnson.
She's made the reality television leap from singing on season 5 of American Idol to tearing up the parquet each week on Dancing with the Stars, but even Kellie Pickler thinks there's an Idol alum she'd rather see getting fake tanned and sequined.

Katharine McPhee "would do amazing," Pickler told PEOPLE while at the 20th Annual Race to Erase MS event in Beverly Hills.

The "Best Days of Your Life" singer doesn't have to stretch her imagination too far to explain why she feels the Smash actress would dominate on Dancing with the Stars.

"First of all, she's an amazing performer – obviously a very talented singer," says Pickler, 26, "but if you've seen her show Smash, she's dancing. I really don't think there's anything she can't do."
TV News
Get PEOPLE Everywhere
Advertisement