TV News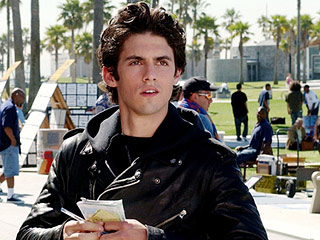 Credit: Warner Bros./Everett
Stars Hollow's resident bad boy – and runaway – Jess Mariano is back.

Milo Ventimiglia will reprise his role in the four-episode Gilmore Girls revival, Netflix confirmed Wednesday.

The actor who played Rory's (Alexis Bledel)'s next boyfriend, playboy media mogul with a heat of gold Logan Huntzberger (Matt Czuchry), has also signed on, leaving only high school sweetheart Dean Forster (Jared Padalecki) out of the mix ... for now.
With her husky voice and "wise guys" attitude, Angela "Big Ang" Raiola is always the life of the party on Mob Wives. Now, she's fighting for her own life after being hospitalized for stage 4 cancer.

A smoker for more than 40 years, the former owner of Staten Island's Drunken Monkey bar underwent two surgeries to remove a lemon-sized tumor from her throat last year. But last week, her sister revealed the reality star is now battling brain and lung cancer, and because chemotherapy isn't working, she set up a GoFundMe to raise money for alternative treatments. (The page surpassed its $25,000 goal in two days.)

Still, Raiola rallied to film about half of the series' 10-hour reunion special shoot Friday – and her costars were amazed by her strength.
Charlie Sheen is renouncing a man who claimed to have cured his HIV and injected himself with the actor's blood.

During his Wednesday appearance on The Dr. Oz Show, Sheen denied Dr. Sam Chachoua's account of treating him in a Mexico hotel room with a medically contested treatment involving goat milk.

"He would have stuff delivered at all hours of the night, and I was an idiot to keep taking it. It was just the BS started to really pile up with this guy. I was in Mexico probably for 32 hours. He says I was there for two months, so his math skills are equally as challenged as his science," said Sheen, 50. "I don't think I was dying. It's very bizarre, his memory of our initial time together. ... I couldn't keep track of this guy. He didn't really have an office I could go to."
Kim Kardashian West is a tough fashionista to please.

In a sneak peek at Sunday's upcoming episode of Keeping Up with the Kardashians, Kris Jenner tries on outfits for her 60th birthday party in front of her daughter and family friend Jonathan Cheban.

"My mom loves a theme so we wanted the party to be some kind of dress-up party," Kardashian West explains in an on-camera interview. "I set up this dress fitting, I just want her to have a good time and not worry about any of this."
Malcolm-Jamal Warner is criticizing the media "circus" surrounding his mentor and onscreen father Bill Cosby, who stands accused of drugging and/or sexually assaulting more than 50 women over the past few decades.


As Hannah Horvath on Girls, Lena Dunham has done more than the occasional nude scene – but says stripping down has actually become more difficult as the seasons progress.


There was no way 19-year-old Arkansas resident Mariah Boyle could have imagined that getting her wisdom teeth out would lead to a whirlwind trip to New York and face-time with Ryan Reynolds, but turns out that's exactly what happened.


The drama on The Real Housewives of Beverly Hills is spilling off-screen.

Lisa Rinna and Yolanda Foster had a heated Twitter exchange Wednesday over questions about the former model's children's Lyme disease.

The she-said, she-said trouble began earlier this season when Foster revealed her son Anwar and daughter Bella Hadid are also suffering from chronic Lyme. Asked by Kyle Richards about the shocking news, Lisa Vanderpump said their father Mohamed Hadid – her close friend and Foster's ex-husband – had never mentioned anything. (She later apologized for getting involved in a Bravo blog post.) New Housewife Erika Girardi told Foster that Richards and Vanderpump cast doubt on her kids' diagnosis, and after Rinna went to Foster's home to apologize for repeating a separate accusation about Munchausen syndrome, Foster confronted Vanderpump and Richards, saying Rinna told her about their alleged betrayal and brandishing the kids' medical records as proof of their illness.
It was a wedding that would have made any member of Bachelor Nation dizzy with excitement.

Jade Roper and Tanner Tolbert's Jan. 24 nuptials at the St. Regis Monarch Beach in California brought out dozens of franchise faves to help celebrate.
TV News