TV News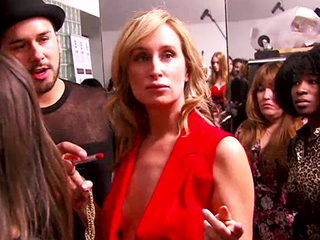 It was a major fashion don't on Tuesday's episode of The Real Housewives of New York City.

Sonja Morgan debuted her fashion line at New York Fashion Week, and the wheels nearly came off the clothing rack before the models were in their outfits.

"I'm hoping Sonja pulls this off," said Dorinda Medley. "I think she's going to pull that rabbit out of her hat."

But there was no magic behind the scenes.
Canadian television host Chris Hyndman has died at the age of 49, the Associated Press reports.


Jessa (Duggar) Seewald may be eagerly awaiting the arrival of her first baby, but on Tuesday she spent some quality time with her newest niece, Meredith Grace Duggar.

"Loving my little niece," Seewald Tweeted, along with a photo of her holding the 3-week-old baby in her arms.

Seewald's brother Josh Duggar and his wife, Anna, announced Meredith's birth via social media on July 19. She is the couple's fourth child, after daughter Mackynzie, 5, and sons Michael, 4, and Marcus, 2. On Wednesday, Josh and Anna were photographed eating dinner out with Meredith in tow.
After 40 years as a couple, Kermit and Miss Piggy called it quits Thursday, vowing the breakup won't affect their work – but could the frog's wandering eye have been the final straw?

Last March, Kermit, 60, got flirtatious with Muppets Most Wanted costar Tina Fey – who wed composer, director and producer Jeff Richmond in 2001 – during a press conference in Los Angeles. Piggy, 41, arrived conspicuously late to the event.

"I'm actually stretching myself quite a lot as a dramatic actor in this thing. I did many, many scenes with Tina. One particular scene stands out to me. It was a closed set. It was the scene where she licks me," Kermit told reporters. "But I just want to clear it up right here with the press that Tina is happily married. Jeff was there during the shooting. Closed set."
Kelly Osbourne has apologized after making a racist comment about the Latino community on The View on Tuesday, admitting she "whole-hearted[ly] f---ed up."

Osbourne, 30, who was a guest co-host on the show, was trying to make a point about presidential hopeful Donald Trump when she asked, "If you kick every Latino out of this country, then who is going to be cleaning your toilet, Donald Trump?"

Immediately after making the remark, the other co-hosts were taken aback and tried to stop Osbourne from speaking further, but she continued.
When Grey's Anatomy returns for season 12 in September, it will be without leading man Patrick Dempsey as Dr. Derek Shepherd.

Fans are still reeling from McDreamy's sudden death in April – and at the Television Critics Association's press tour Tuesday, ABC's president discussed the network's "difficult decision" to have him die in a car crash.

"Patrick obviously has lots of interests outside. He's very big in motosports. [Creator Shonda Rhimes] decided that was the way to go," Paul Lee told reporters. "We've seen the pitch for Grey's next season, and the show reinvents itself again."
There's nothing quite like meeting your husband's … new wife.

On the newest episode of Seven Year Switch (produced by the same team behind Married at First Sight), Danielle Wolf and Rachel Farris come face-to-face for the first time on the Santa Monica Pier.

In an exclusive clip, the two women seem excited at first to finally connect, but the situation quickly turns emotional – and awkward – when Wolf begins to reveal what she and Farris' husband CW McGee have been up to during the experiment.
Fans of The Walking Dead are used to constant anxiety about whether their favorite characters will survive another day of the zombie apocalypse – but it's the deaths caused by other people that are often the most stunning.

Witness the shocking exit of Beth Greene (Emily Kinney) in last year's midseason finale. In an exclusive bonus feature from the season 5 DVD/Blu-ray, members of the cast and crew reveal that learning Beth's fate was as tough for them as it was for viewers.

"I didn't see it coming at all," reveals Andrew Lincoln, who plays Rick. "Watching Norman [Reedus] carry her out was just the worst thing. And then seeing Maggie and Glenn's reaction ... it's so unbelievably sad," he added about the emotional moment when Beth's older sister (played by Lauren Cohan) sees the teen's lifeless body in the arms of an uncharacteristically emotional Daryl (Reedus).
TV News