TV News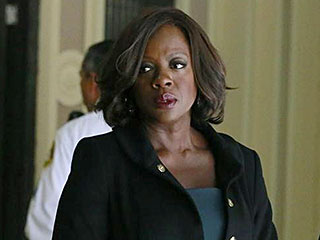 Credit: Mitch Haaseth/ABC
Any How to Get Away with Murder episode that begins with Annalise Keating (SAG award winner Viola Davis) putting on her wig is bound to be full-throttle.

HTGAWM has made a point of showing its anti-heroine in various states of polish and rawness. The dynamic between Annalise's fundamentally broken internal life and her very together outside appearance – not to mention when those two collide violently – is largely what has made the show so intriguing. Thursday's winter premiere, "Hello Raskolnikov," was no exception.

The episode opened as Annalise braced herself for questioning about her husband Sam's murder. As we saw in the midseason finale, Annalise is well aware what happened – and, frankly, not that all that bothered about it. Like a skilled lawyer/liar (funny how those words sound so similar), she ingeniously deflected her interrogator's questions, emphasized Sam's infidelity and cruelty, denied any knowledge of the infamous d--- pic and capped off her sob story with a gnashing-of-teeth recollection of discovering her dead husband's body.

It's worth noting that the wig Annalise put on in the episode's opening moments was very suburban soccer mom. Whereas the first half of the season saw Annalise in a gloriously alpha female short crop, now it's all about softening the look, presenting the image of a spurned wife and a would-be mother (after all, it's not the first time Annalise has used her womb as an excuse). Well-played, show. Well-played, Annalise.
Murder and torture are mainstays on Scandal. But it's still the kind of steamy drama you watch curled up on your couch with a glass of red wine in one hand and your phone teed up with sassy tweets about Scott Foley's abs in the other.

Not this week. From the How to Get Away with Murder-like time jumps (we see you, Shonda) to the Homeland-style setting, this wasn't the Scandal we've grown to love. It was something new, something darker and far more sinister than Pope & Associates has ever tried to fix.

Olivia Pope (Kerry Washington), the woman who wears the white hat and leads her gladiators into battle – arguably one of the most powerful people in Washington – lost control.
After months of sweat, tears and exhausting workouts, a new Biggest Loser has been declared.

The Biggest Loser: Glory Days host Alison Sweeney began Thursday's live finale with three very different contestants in contention for taking home the $250,000 prize, but only one could be victorious in the end.

Toma Dobrosavljevic, a 33-year-old senior project manager from Addison, Illinois, faced off against Sonya Jones, a 39-year-old physical education teacher from Springfield, Illinois, and Rob Guiry, a 26-year-old rugby coach from Springfield, Massachusetts.

So who emerged victorious?
Despite being eliminated from The Bachelor on Monday night's episode, esthetician Juelia Kinney insists she has no hard feelings against the show's hunky star, Chris Soules.

"We both were fond of each other, but we just didn't have that chemistry," Kinney says.

While Soules's lips may not have been completely in sync with Kinney's, "Prince Farming" has proved that he is no rookie when it comes to planting – kisses, that is.
Former CSI star Gary Dourdan has filed for bankruptcy for the second time.


It all comes down to this.

After months on the Biggest Loser ranch, the three Biggest Loser: Glory Days finalists were sent home to see who could return for the live finale Thursday with enough weight lost to take home the title of The Biggest Loser.

The competition is always steep on the NBC reality weight-loss show, but on a season where every contestant was a former athlete, no one was making it to the finals without putting up a major fight.
The end of an era is upon us. Yes, the moment we've all been dreading since the Bravermans entered our lives in 2010 has finally arrived.




All together now: "Ewwwwww!"

Jimmy Fallon must have known that Tonight Show fans everywhere have been clamoring for a highlight reel of his teen-girl talk show, "Ew!"

After all, who doesn't want to be BFFs with Fallon's ridiculously over-the-top Sara? (The long-running sketch features Fallon as Sara – no "h" – who is grossed out by absolutely, like, everything.)
TV News
Get PEOPLE Everywhere
Advertisement