TV News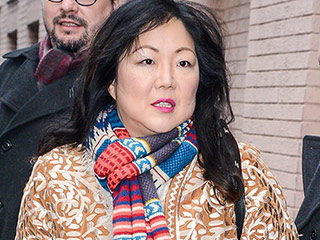 Credit: Getty
Margaret Cho is opening up about horrific sexual abuse she endured as a child.




Justin Bieber made his triumphant return to the stage at Sunday's MTV Video Music Awards, but it was his emotional breakdown at the end of his performance that had people talking. The singer explained the reasons for his tears during an interview with Jimmy Fallon on Wednesday.

"It was just so overwhelming for me, everything, just the performance – I missed some cues so I was a little disappointed at that – and just everyone, just the support," the 21-year-old said. "Honestly, I just wasn't expecting them to support me in the way they did … Last time I was at an award show I was booed."
Though her husband has denied being unfaithful to her, Kristen Taekman is distraught over his involvement in the Ashley Madison scandal, a source tells PEOPLE.

The drama began in late August, when Josh Taekman apologized for "foolishly" signing up for the infidelity website with his friends.

"I deeply apologized for any embarrassment or pain I have brought to my wife and family," he told PEOPLE in a statement. "We both look forward to moving past this and getting on with our lives."
Shock has now turned to anger in Duggarville.

As a disgraced Josh Duggar is away seeking treatment at Reformer's Unanimous in Rockford, Illinois, a faith-based rehab center that's reportedly helping him overcome his proclivity for infidelity and pornography, tension is brewing back at home.

When it comes to some members of wife Anna's family, "They're very angry," a source close to Anna tells PEOPLE exclusively in this week's issue. "They want her and the kids to get away from him."

And for some, it seems Josh's extended stint in rehab may not be enough distance between them. "They would really like him to just disappear," says the source."
Kanye West can count on these two voters if he ends up running for president.


What do you get when you mix Neil Patrick Harris, A-list stars and pranks? The Best Time Ever, of course!


The Muppets are gearing up for their upcoming show with a little help from some familiar faces – though Kermit the Frog might soon regret that he ever set eyes on one heartthrob with whom he shares a network.

"We're super excited for our new show on ABC and they brought all the stars to kick it off," Kermit says in a new, extended promo for The Muppets.

Kermit, Miss Piggy, Fozzie and the gang are joined by the stars of ABC's Scandal, Fresh Off the Boat, black-ish and more – and it's clear the drama is already unfolding behind the scenes.

"Our new show is not like anything you've seen us do before," Miss Piggy reveals. "You are going to see behind the scenes of The Muppets." And boy do we – as in, the-morning-after-outside-Piggy's-trailer behind the scenes.
Tori Spelling is taking legal action against Benihana after sustaining a burn at the popular hibachi restaurant.


What's in a name? That's the question Sunday's episode of I Am Cait asks when Caitlyn Jenner decides to use her former name, Bruce, on an application for a golf course membership.

"I don't understand why you're putting Bruce down, as opposed to Caitlyn," Jenner friend Ronda Kamihira says in an exclusive clip from the episode.
Kim Kardashian West's famous selfies have earned her the title of the most followed person on Instagram.

On Wednesday, the Keeping Up with the Kardashians star celebrated reaching 45 million followers on the app, sharing a slew of cleavage-revealing selfies.

"45 million Instagram followers!!!!!," she captioned the first celebratory photo. "I love you guys!!!!!"
TV News