TV News
Lesson to all would-be cheaters: If you're going to be unfaithful, don't let Patti Stanger see it.

On Thursday's Watch What Happens Live, the Millionaire Matchmaker star told a shocked Andy Cohen that she was a firsthand witness to Mario Singer stepping out on his now-estranged wife Ramona Singer.

Now, Stanger has exclusively talked to PEOPLE to fill in the details of the night when she "saw the whole thing go down." In fact, Stanger says she witnessed what she believes was the beginning of Mario's long-term affair with twenty-something Kyle "Kasey" Dexter.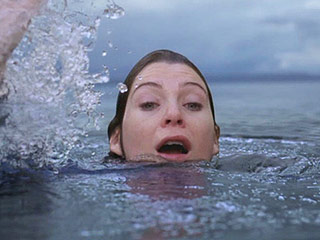 Sure, the doctors on Grey's Anatomy are all touted as the best in their fields. So when they're faced with the umpteenth catastrophe to hit Seattle (a ferry crash! a shooting! an earthquake!), it begs the question: Why don't they all make like Addison and head south for sunny Los Angeles?

But, for better or for worse, over the past ten years, the surgeons at Grey Sloan Memorial Hospital (once known as Seattle Grace Mercy West and before that, simply Seattle Grace) have stuck around through an endless series of disasters.

Here are just a few of the most traumatic incidents Meredith Grey and company have have been put through over the last decade:

The Train Crash
In the Grey's Anatomy version of Seattle, the city has a bit of crash problem, no matter the vehicle. The train crash in season 2 was particularly gruesome. A number of casualties come pouring through Seattle Grace's doors, but the most memorable was Bonnie and Tom, two strangers with a pole struck through their middles. As Bonnie's injuries were more severe than Tom's, she died shortly after after the doctors removed the pole.
This is Patrick Stewart as you've never seen him before – snorting coke, drinking, fighting and getting into trouble with police.

No, this isn't an episode of Star Trek Captains Gone Wild. Sir Patrick is playing a debauched cable news host named Walter Blunt in the new Starz series Blunt Talk.
Jimmy Fallon's dream came true – and turned into our nightmare.

"It's an emotion I can't describe," Tonight Show host said about the creation of his five new Madame Tussaud's wax figures. "I've never had this type of feeling. It's not as creepy as you'd think, it's more surreal because I'm a big fan of Madame Tussaud's and the fact that my career has gone this way, I'm very very lucky."

But it might be as creepy as you'd think.

Fallon celebrated his new likenesses with a video of himself singing The Beach Boys' "Barbara Ann" ... with the wax figures singing backup.
Though the show's massive international success could hardly have been anticipated, Downton Abbey star Hugh Bonneville is somehow "amazed" that the award-winning show went beyond its first season – as was everybody else involved.

"Those who follow the show might remember at the end of [season] 1, there was a slightly odd feeling because some of it was wrapped up in case the show never returned and some of it was led to pen in case it did – so, there was no guarantee the show was going to continue," Bonneville, 51, told ITV's Good Morning Britain.
Multiple injuries were reported following an explosion that caused apartment buildings to collapse in New York City's East Village on Thursday.

The homes of many were lost, including that of Shades of Blue star Drea de Matteo.

Matteo, 43, shared her loss on Instagram. "A hole where my N.Y.C. home of 22 years once stood," she wrote. "RIP 123 2nd Avenue."
Nick Jonas is going to be green, but not with envy.

As the host of the upcoming Kids' Choice Awards, the singer has already made peace with the fact that he will be doused with Nickelodeon's infamous green goo.

"But I feel like it's an honor," Jonas, 22, tells PEOPLE of being slimed. "It's a rite of passage."
TV News
Get PEOPLE Everywhere
Advertisement