TV News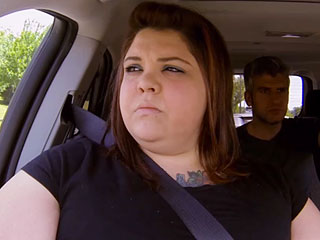 Credit: MTV
Ashley Sawyer, who appeared on MTV's Catfish, has died at 23, PEOPLE has confirmed. She died over the weekend and no cause of death has been disclosed.


Rob Kardashian's fiancé Blac Chyna has fallen victim to a sizable burglary, PEOPLE confirms.

Los Angeles Police Department media relations officer Drake Madison tells PEOPLE the incident occurred "from Friday at 9 a.m. and Sunday at 2 a.m. Property taken was a large sum of cash and jewelry."

Madison adds, "Investigators are at the scene and will continue working investigation."
Oprah Winfrey is set to star in HBO Films' upcoming adaptation of The Immortal Life of Henrietta Lacks, PEOPLE confirms.

Winfrey, 62, has long been involved with the project, adapted from Rebecca Skloot's 2010 book of the same name.

The media mogul signed on as an executive producer when the book's film rights were first acquired in 2010, and the network announced on Monday that she will star in the biopic as well as co-executive producing it with Skloot and True Blood creator Alan Ball.
It's not always easy having older sisters growing up – but what about having two fabulous, self-assured older sisters? Khloé Kardashian would know, and she admits it wasn't always easy.

In a new post on her website and app, Khloé, 31, opened up about what her school years were like as she followed in the footsteps of her older sisters Kim and Kourtney Kardashian, now 35 and 37, respectively.

"While I loved having my built-in group with Kim and Kourtney, it was hard for me at times," admits Khloé. "They may have already graduated when I got to school, but I remember that teachers would always exclaim, 'You're THEIR sister?' "

"I didn't have my own identity and was compared to them," she adds.
Sonia Manzano has changed addresses, but her heart still lives on Sesame Street.

The seasoned actress, who received the Lifetime Achievement Award at Sunday's 43rd Annual Daytime Emmy Awards, tells PEOPLE that life has been "wonderful" – albeit a little less furry – since she retired from the show last summer.

"This is the best year of my life, and at the pace I'm going it might be my last," Manzano, who portrayed Maria for 44 years, joked. "I swear, I'm doing so many things and traveling around and promoting books. It's wonderful."
Fans of Outlander might be hoping against hope that Caitriona Balfe and Sam Heughan will get together in real life because their on-screen chemistry is really that good – but sadly, it's just really, really good acting.

During an appearance on Taylor Strecker's SiriusXM radio show, Wake Up with Taylor on Monday, Balfe explained why she isn't likely to fall in love with her costar despite their hot-and-heavy sex scenes – as it turns out, those scenes aren't actually as steamy as they look.

"Well, I mean, for me I think it's quite easy not to develop feelings like that because it's acting, right?" said Balfe, who plays Claire Fraser. "You know, I feel very lucky, Sam and I have an amazing bond, we're really great friends – but, you know, it's acting."
On Sunday, CBS's The Talk won its first Daytime Emmy in six years, and the ladies credit their success to "respecting each other."

Cast members of The Talk tell PEOPLE that their show is unique in the way that they're friends with amazing chemistry that helps them all "gel together" every morning.

"I feel like it's a safe table for all of us to be ourselves," explains Aisha Tyler, 45. "I feel like people feel that when they watch the show. We are telling the truth, and we're trying to be as honest and as truthful version of ourselves as we can be. I think people connect with that, I hope."
TV News