TV News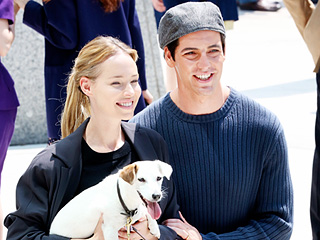 Credit: TheImageDirect.com
John F. Kennedy Jr. captured the hearts of the American people the moment he gave his famous salute in front of his father's coffin after the assassination in 1963.

The son of John F. Kennedy and Jacqueline Kennedy Onassis died in a plane crash in 1999 when the plane he piloted carrying Carolyn Bessette Kennedy and her sister Lauren crashed into the Atlantic Ocean on the way to Martha's Vineyard.

Seventeen years after his death, Reelz is filming a new miniseries The Kennedys – After Camelot about the the family's life after 1963, and new photos from set have been released of Canadian actor Brett Donahue on set as John John alongside Kristen Hager as Joan Kennedy and one adorable pup.
A version of this article originally appeared on EW.com.

You won't have to wait long to see Norman Reedus back on AMC as his new unscripted motorcycle series, Ride with Norman Reedus, debuts June 12 on the network, but you will have to wait another four-and-a-half months to see if Daryl Dixon survived that season 6 cliffhanger of The Walking Dead.

How often has the actor been asked who died since the season finale aired? "Probably about a zillion times," Reedus said when he stopped by Entertainment Weekly Radio (SiriusXM, channel 105) Thursday morning. "Like, all the time."
If you've ever watched an episode of Keeping Up with the Kardashians and found yourself wondering why everyone keeps shouting "Bible!" at one another, then you're probably in need of a little KarJenner vocab refresher.


People tend to get stuck on the numbers, and rightly so, they're impressive.

When the original Roots aired in 1977, nearly 85 percent of American homes watched some part of the eight-night event on the saga of Kunta Kinte (LeVar Burton) and his descendants. The finale alone attracted 100 million viewers, which is astounding when you consider that this is before most Americans had ever encountered acronyms like DVR or VCR.

But even more shocking than the historic ratings, is that the fact that Roots ever got made at all.
[YOUTUBE "kjCh1u8SQlE"]
James Corden and David Schwimmer might not be Friends after engaging in a vicious rap battle.

The former Must See TV star and the Late Late Show host went mic to mic on Thursday night with Corden, a.k.a. "The Rappin' Assassin," coming out hot.
When one door closes, another one opens. (Too soon?)

That certainly seems to be the case for Game of Thrones star Kristian Nairn, who portrayed the beloved Hodor on the series up until last Sunday's episode, when he tragically died holding a door closed.
Netflix and what now?

Though "Netflix and chill" meme seems to have permeated pop culture in 2016, there are still some people who have been in the dark as to what the term means – namely some of the stars of Netflix's own Orange Is the New Black.

Cast members Taylor Schilling, Selenis Leyva, Kate Mulgrew, Natasha Lyonne, Taryn Manning and Michael Harney attended the PaleyLive LA: An Evening with Orange Is the New Black event in Beverly Hills, California, on Thursday. And when they were asked by an audience member about the impact social media has had on the success of the show, the truth came out.
TV News