TV News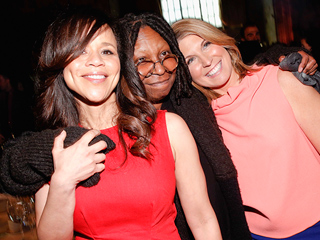 Credit: Brian Ach/Getty
The View had its fair share of scandals this year, but cohost Nicolle Wallace says everything's A-okay today.

"I think it was a year of ups and downs, but we've been having a great time. We've had great shows," Wallace told PEOPLE Friday at Variety's Power of Women luncheon, where her co-host, Whoopi Goldberg, was honored for her work with the Figure Skating in Harlem charity.
[YOUTUBE "UschNWVttUI"]
"This one, for them drunk squirrels."

Those were some of the crazy lyrics Chris Pratt sang along to the hit song "Uptown Funk" when he appeared on The Tonight Show on Friday.

The Jurassic World star grabbed a microphone alongside Jimmy Fallon as they indulged in some "Nonsense Karaoke."
It's been a long road, but Bruce Jenner has finally told the world the secret he's kept since he was a child: He was born with "the soul of a female."

The Olympic champ turned reality star spoke to 20/20's Diane Sawyer in an interview that aired Friday, discussing everything from the first time he felt different to his three marriages and what's next in his journey.

Here are some of his most riveting revelations:
When it comes to Bruce Jenner's six children and four Kardashian stepchildren, the former Olympian's famous family is fully supporting his life-changing decision to transition from male to female.

"When you're that close to someone, there are clues you can see," Brandon Jenner said of his father during Friday night's highly anticipated Diane Sawyer interview. "I feel like I'm getting an upgraded version of my dad, of a parent."

While Jenner's kids are standing behind the famed decathlete, he admits that opening up to them wasn't easy.
As Bruce Jenner told the world he's transitioning from male to female, his youngest daughter Kylie Jenner supported her dad on social media.

"Understandingly, this has been very hard for me," she Tweeted on Friday night. "You will hear what I have to say when I'm ready to but his isn't about me. I'm so proud of you, Dad. You are so brave. My beautiful Hero."

Kris Jenner, Kendall Jenner, Khloé Kardashian and Kourtney Kardashian also Tweeted well wishes.


Not only was I able to call him my husband for 25 years and father of my children, I am now able to call him my hero.

— Kris Jenner (@KrisJenner) April 25, 2015
so very proud of you, my hero.

— Kendall Jenner (@KendallJenner) April 25, 2015
Just finished watching the #BruceJennerInterview with the family. Bruzer, I'm soooo proud of you! Dads really are heros

— Khloé (@khloekardashian) April 25, 2015
Couldn't be a more proud daughter. With courage and bravery, let's change the world. I am honored to stand by Bruce's side and support him.

— Kourtney Kardashian (@kourtneykardash) April 25, 2015
Earlier in the day, Kylie, 17, posted a vintage photo of her father.
After months of speculation over whether it would actually happen, E! announced Friday that it will air a docuseries in July that chronicles Bruce Jenner's transition from male to female.

Before Jenner's interview with Diane Sawyer had finished airing on the East Coast, E! announced that it will air an eight-part series about Jenner, 65, seeking out "his new normal."
Though she stayed quiet for years after catching him wearing a dress around the house, Kim Kardashian West has been the "most accepting" of Bruce Jenner's transition, the Olympian says.

Kardashian West, 34, came around after husband Kanye West told her a story that she later repeated to her stepdad, he told Diane Sawyer during 20/20 on Friday.

"He says to Kim, 'Look it, I can be married to the most beautiful woman in the world, and I am. I can have the most beautiful daughter in the world, and I have that," Jenner, 65, said of the rapper. " 'But I'm nothing if I can't be me. If I can't be true to myself, it doesn't mean anything."
Bruce Jenner's decision to discuss his transition on national TV has inspired one 14-year-old teen who's about to launch a series of her own.

Jazz Jennings, a transgender teen girl who will star with her family this summer on TLC's All That Jazz, posted words of support for Jenner, who told Diane Sawyer in a televised interview Friday that God gave him "the soul of a female."
TV News
Get PEOPLE Everywhere
Advertisement