TV News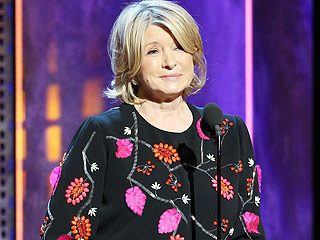 Credit: Michael Tran/FilmMagic
Let's face it – Martha Stewart did seem like an odd choice to roast Justin Bieber.

But the 73-year-old businesswoman, who Kevin Hart described as having "more street cred than Ludacris and Snoop Dogg combined," ended up being a laugh riot during Comedy Central's Bieber roast that aired Monday. The lifestyle guru took hilarious swipes at fellow roasters like Shaquille O'Neal, Ludacris, Chris D'Elia and Natasha Legerre. But she saved her best material for the guest-of-honor, who didn't seem to know how to react to the sassy mogul.
Charlotte McKinney didn't seem too surprised to learn that she was the second dancer to leave Dancing with the Stars on Monday – but she seemed to indicate that her struggles with dyslexia could have been at the root of her poor performance.

In the rehearsal clips from Monday's episode, McKinney can be seen struggling to learn the dance steps from her partner Keo Motsepe. "This stuff with the left instead of the right really throws me off," she said.
An interesting development occurred before everyone laced up their Danskins on Monday's Dancing with the Stars – Noah Galloway was fixing to dance with a prosthetic arm!

The Alabama native picked up a space-age prosthetic limb that "works through sensors in the sockets that touch what's remaining of my tricep and bicep," he told PEOPLE. Ultimately, the motivational speaker-cum-Kenneth Cole cologne pitch man left the prosthetic at home since the Argentine tango was no dance to try out a fancy new artificial limb.
Jill Dillard – and her unborn son – are officially on a deadline.

On the week leading up to Mother's Day, TLC will air special family-focused programming in an initiative titled "The Mother of All Weeks."
NBC is off to see the wizard for its next musical.


Once notorious for their on-camera feuds, former enemies Nene Leakes and Kim Zolciak Biermann will soon be back together on TV with a brand new show.

Bravo announced Monday that the Real Housewives of Atlanta standouts will executive produce and star in the forthcoming series, which follows the pair as they take an epic road trip.

According to a network statement, "Atlanta's 'most driven' Housewives … drive out of their comfort zones and across the country to discover America on a one-of-a-kind adventure."
They're best know for their Dancing skills, but Derek and Julianne Hough aren't too shabby at lip-synching, either.

In an exclusive preview of an upcoming episode of Spike's Lip Sync Battle, the siblings make some unexpected – and blush-inducing – choices as they show off their triple-threat talents.
Not to blow your mind or anything, but Kanye West has some pretty strong opinions.

On Sunday's episode of Keeping Up with the Kardashians, he lashed out at wife Kim's trainer for saying she "couldn't imagine" seeing Kim at her goal weight of 120 lbs..
TV News
Get PEOPLE Everywhere
Advertisement