TV News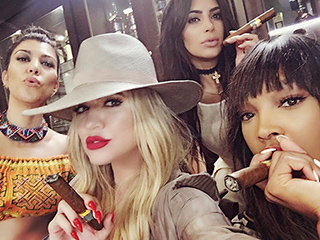 Credit: Instagram
As the Kardashians arrive in Cuba, some are questioning the impression of glamour they're bringing to the financially struggling country.

One outspoken U.S. representative had strong words on the reality stars' trip to Havana.

"I know it's cool for celebrities to go to Cuba, but the Cuban people don't experience the glamorous Havana that is featured on social media," South Florida Rep. Ileana Ros-Lehtinen tells PEOPLE in an exclusive statement. "Far from photo shoots and fruity drinks, everyday Cubans experience a different, sad reality."

"Now, the Kardashians are parachuting into the island to tape their vapid TV show," she added. "Haven't the Cuban people suffered enough?"
Eva Longoria is not afraid to get her hands – or body – dirty.

In an exclusive sneak peek, the Telenovela star is seen lying on the floor seemingly stabbed to death on the season 4 premiere of Devious Maids.

But fear not, Longoria fans!
Sarah Paulson generally remains reserved when it comes to her views on sexuality, but the actress recently decided to share a few choice (and four-letter) words on the subject.

The American Crime Story star opens up about in the new issue of NO TOFU magazine about her love life, which has received a lot of attention since it was revealed she's currently in a relationship with actress Holland Taylor.

"I believe that everyone should be allowed to speak their truth and just say what they want to say and show the world who they are," says Paulson, 41 . "You should be able to love whomever you f----- well please."
Syfy is celebrating May 4 in a big way, by releasing a Star Wars-themed movie poster for the fourth installment of the Skarknado series.

Front and center in the new poster is Finn Shepard (Ian Ziering), clutching his go-to chainsaw, and April Wexler (Tara Reid) – who's not dead – showing off her bionic arm, all the while channeling their inner "force."
Bethenny Frankel is no stranger to a little controversy, but according to her costar Sonja Morgan, that's why viewers love her.

"Bethenny can rip you a new one and it keeps it riveting," Morgan, 52, told PEOPLE Tuesday at the Love Heals 2016 Gala benefiting the Alison Gertz Foundation for AIDS in New York City.
After a frightening hospitalization last week, Little Women: LA star Briana Renee is now back home on bed rest.

According to a close friend, the reality star was released Wednesday morning after doctors "were successful in slowing down labor and eliminating her contractions."

Renee is six months into her pregnancy and was at risk for emergency surgery last week. "She hasn't seen her daughter in two weeks and is anxious to be home and hug her firstborn," adds the friend.
Chelsea Handler is paving her own way in late-night television – and not just because she's a woman.

The star, whose new Netflix talk show Chelsea debuts on May 11, told PEOPLE and Entertainment Weekly Editorial Director Jess Cagle recently that she easily decided against throwing her name in the ring for one of the previously up-for-grab network late night hosting positions (like The Late Late Show).

"It's flattering, but you know what? I was so sick of being asked the question, 'What is it like to be a female in late night?' that I wanted to take that question out of the equation," she explained. "Now I'm the only person in history that has a talk show that's launching in 190 countries, so the question isn't about me being a woman anymore. It's about being the first person to do that on this scale."
TV News