TV News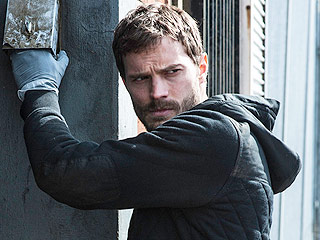 Credit: Courtesy Netflix
Jamie Dornan took getting into character to a whole new – and incredibly creepy – level.


Noah Galloway was a voracious fitness buff with an enviable six-pack before he dropped out of college to join the military after 9/11.

But a 2005 incident in Iraq would alter his life forever. Three months into his second tour of duty, Galloway, now 33, lost his left leg above his knee and his left arm above his elbow during an improvised-explosive-device attack. He remained unconscious in a German hospital for five days.

After returning home to Alabama, the vet says he fell into a deep depression.

"I was drinking, eating bad, spending days at the house without leaving," Galloway told PEOPLE. "And then one day I realized I wasn't being a good father, a good person. I let myself get out of shape, and something needed to change."
Scandal's Mellie Grant – played to polished perfection by Bellamy Young – is the epitome of class.

She coats her ruthlessness in a shiny, Southern belle varnish. But, as Gladiators will see on Thursday, refinement doesn't necessarily run in the family.

In a sneak peek of this week's episode exclusive to PEOPLE, the first lady and Senate hopeful is furious that her campaign manager Elizabeth (Portia de Rossi) wants to bring her sister Harmony (Lauren Bowles) to Washington.

Sorry, half-sister.
It took less 24 hours after the news that Trevor Noah would replace Jon Stewart on The Daily Show for the new host to land himself in hot water when Twitter users called out the comedian for controversial remarks made on his feed.

Despite the drama, one of the the show's correspondents is defending Comedy Central's newest headliner.

"It's much ado about nothing," Aasif Mandvi said Tuesday during a LinkedIn discussion series with executive editor Dan Roth in New York City.
Part One of The Real Housewives of Beverly Hills reunion didn't bring an epic brawl Monday night, but it did provide plenty of drama, most of which was focused on Brandi Glanville.

In fact, Brandi was a dandy, providing some of the night's best lines despite being in the line of fire.

"I can give you a lap dance if you want, if you're nice," Glanville said in response to Andy Cohen's question if she drank too much and was a mean drunk.
Take a pretty picture? They can do that!

PEOPLE has the exclusive First Look at the promotional art for I Can Do That, a new summer series that will star ex-Dancing with the Stars pro Cheryl Burke and Joe Jonas.
Tuesday was a good day for the cast and crew of General Hospital. The long-running soap opera picked up 28 Daytime Emmy nominations.

The awards will be held on April 26 and Betty White will be honored at the ceremony, where she'll be presented with a lifetime achievement award.

In other nods announced Tuesday, nominees for outstanding lead actress in a drama series are Maura West and Laura Wright for General Hospital, Alison Sweeney and Peggy McCay for Days of Our Lives, and Gina Tognoni for The Young and the Restless.
General Hospital fans, your wait is almost over: It's time to learn the truth about what caused Luke's mental break!

In this exclusive clip obtained by PEOPLE, Anthony Geary's alter ego goes to uncover some much-needed answers.

Luke revisits his old childhood home, now abandoned. Memories flood back as Luke starts to remember the dark secret that took him over the edge in the first place. What on earth was it? And what is it about that door jam that jogs his memory?
TV News
Get PEOPLE Everywhere
Advertisement