TV News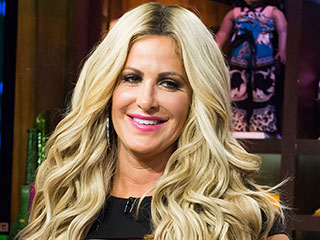 Credit: Getty
Kim Zolciak-Biermann is thankful that she's "still here on this planet" on the one-year anniversary of her stroke.

On Sept. 23, 2015, the Don't Be Tardy star suffered a mini stroke after flying home to Atlanta from another practice with pro partner Tony Dovolani on week 2 of Dancing with the Stars.

Following her health scare – "It was like a million ants were crawling over my body," she described to PEOPLE of the moment she recognized she was having a stroke – the mother of six underwent surgery to close a hole doctor's found in her heart.
A selfie in the streets doesn't necessarily mean a check in the voting box for Kim Kardashian West.

The Keeping Up with the Kardashians star, 35, revealed in her Wonderland cover interview that she has yet to decide which presidential candidate she'll pick come Nov. 8.

"At first I thought, 'Oh my god, I'm so Hillary [Clinton],' but I had a long political call with Caitlyn [Jenner] last night about why she's voting Trump," said Kardashian West in the magazine's print edition. "I'm on the fence."
Seven months have passed since Angela "Big Ang" Raiola died, and her presence is still deeply missed.

Raiola's former Mob Wives costar Karen Gravano opened up to PEOPLE on Thursday about how she and the rest of Raiola's cast mates are coping with the loss.

"It's a void every day," said Gravano, 44, at WEtv's New York City celebration of the return of Marriage Boot Camp: Reality Stars. "Especially being in this industry, you're always asked about her and she'll never be forgotten."
[YOUTUBE "K5kNiePo57Y"]
A version of this story originally appeared on EW.com.

Viewers won't be getting Whoopi Goldberg's view much longer.

On Friday, Goldberg appeared on The Wendy Williams Show and acknowledged that she has signed on for only one more season of The View and come next September, she most likely won't be returning. "No, probably not," she shared. "I have to do it, baby, because I have to go and grow. I got stuff to do, I got movies I need to direct, I got books I got to finish."
Ramona Singer is officially divorced from her ex-husband Mario, PEOPLE confirms.

After more than 20 years of marriage, the couple finalized their divorce this week.

The Real Housewives of New York star told PEOPLE, "Divorce is always bittersweet. I feel I had a successful long-term marriage. We were happily married for more than 20 years. We have a wonderful daughter together. Things aren't always forever, but my life is really good. I'm in a good place and I'm really happy."
Theresa Caputo has come to embrace her ability to communicate with the dead, but doesn't mean she hasn't had trouble accepting her gifts.

The Long Island Medium star, who is gearing up for a national tour kicking off Sunday, opened up to PEOPLE about how difficult it is to visit memorials: specifically Pearl Harbor and the 9/11 site.

"It's interesting, a lot of times just coming into [New York City] in general is very overwhelming," she tells PEOPLE. "I think that for me, I was reliving the whole thing all over again.

However, she shares that the national tragedy of Sept. 11, 2001, "was something that really pushed me to know that this is my soul's journey and this is what I was meant to do. I struggled with it for a long time."
Ken Jeong is enjoying the best of both worlds with his ABC comedy, Dr. Ken.

The actor, 47, who is a licensed medical practitioner, plays a doctor on the series who is interested in getting into comedy.

"This show is essentially what my life would be like if The Hangover had never happened and I stayed at the HMO I worked at," Jeong tells PEOPLE in this week's issue. In one episode, "my TV wife said, 'Ken, I support you doing comedy,' and it was basically words that my real-life wife had said to me. There are so many moments on the show that remind me of my real life."
[YOUTUBE "pZg1I5pCABU"]
On Saturday, The Walking Dead star Danai Gurira will speak out for HIV/AIDS education and eradication in Africa by presenting a special video (from Johnson & Johnson) at the Global Citizen Festival in New York City.

The video, which follows the lives of children living in the Nyumbani Village (a sustainable AIDS community in Nairobi, Kenya), is a project that is very near and dear to her heart.

The village, which was founded to support elders and children who are living with AIDS or orphaned due to AIDS, has become a model of support for communities affected by the AIDS pandemic. All of which the Zimbabwean American actress has witnessed with her own eyes after growing up in Southern Africa.
TV News