TV News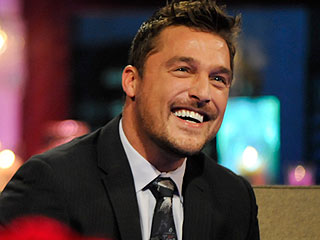 Credit: David Moir/ABC
Following a dramatic Tell All special, resident Bachelor Chris Soules came away from the experience relatively unscathed.

Given how sincere and honest he's been throughout the entire Bachelor process, it's no surprise that Chris was "not nervous at all" about the Tell All, he told PEOPLE following taping.

The reigning Bachelor does admit that he's made some mistakes, though, and he revealed what he thought went wrong between him, Kaitlyn, Jade and Britt. He also discussed why he kissed so many girls and why Kaitlyn would make a "great" Bachelorette.
Ellen DeGeneres has one explanation for the dress that had the Internet erupting into mayhem last week: "The dress is an optical illusion created by the devil."

Finally, somebody said it.

For what it's worth, the talk show host sees white and gold: "I know there are people out there who see blue and black – and those people are crazy."

Given all the confusion the dress has caused, DeGeneres claims that this is the reason she doesn't wear dresses.
Ellen's Design Challenge was short, but boy was that ending a whopper.

The hit HGTV show concluded last night with a shocking epilogue: Tim McClellan, the Western-style furniture designer who'd been named the winner, was disqualified and runner-up Katie Stout learned she would take home the $100,000 prize.

To be fair, producer and namesake Ellen DeGeneres had warned her audience on Monday's episode of her eponymous talk show that the finale would be "very dramatic. Even if you think you know what's going to happen, you don't know nothin'."
Apparently, The Daily Show was the only thing keeping Jon Stewart stable.

Now that he's retiring, he seems to have lost his mind a little bit.
Goodbye, Sue Sylvester. Hello ... angel?

Glee is not over yet, but Jane Lynch has already booked her next role.

The 54-year-old actress has been cast as a brassy and larger-than-life guardian angel named Amy in Angel from Hell, a new CBS comedy pilot in the works for this fall.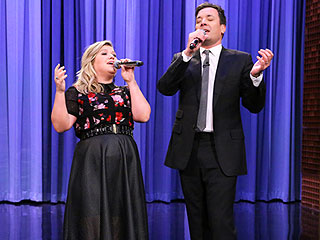 With as auspicious a guest as Kelly Clarkson, you know Jimmy Fallon was going to pull out all the stops. And he did, dueting with Clarkson on an extensive medley that contained pretty much the entire history of pop music.
While the Women Tell All special was emotional for all parties, no ousted Bachelor contestant was more affected by the proceedings than Britt.

Given that she essentially got herself kicked off the show by revealing her hurt over Chris giving a group-date rose to Kaitlyn rather than herself, it was no surprise that the Tell All had Britt, well, telling all.

We spoke to Britt following the taping of the Tell All, and she talked about her hurt over Carly's betrayal and over Chris deciding to send her home, and whether or not she'd consider becoming the next Bachelorette.
If The Bachelor: Women Tell All special taught us anything, it's that Chris Harrison makes a terrible referee.

The special opened with some truly epic squabbling between Britt and Carly – though Jillian also jumped in to defend Britt.

Just when it seemed as if the entire episode would be a series of high-pitched noises that only Whitney's stuffed-animal-humping dog could hear, Harrison eventually got a handle on things and we got to hear from Britt, Kaitlyn, Jade, Ashley S. and, of course, Chris Soules himself.
Glasses – and rumors – will be flying on Tuesday night's episode of The Real Housewives of Beverly Hills, when Kim Richards and Lisa Rinna go head-to-head over Rinna's husband, Harry Hamlin, during a drama-filled dinner.

Rinna, who is ever-protective of her husband of 17 years and their two daughters, explodes when Richards threatens to reveal a secret about Hamlin.
This season on The Voice, Adam Levine's team is getting some help from across the pond.

British singer Ellie Goulding will be appearing as a musical advisor for the "Sugar" singer's team, NBC confirms exclusively to PEOPLE.

"Ellie was so great," says Levine, 35. "She's so human and easy to talk to. You could tell she had a profound impact on my team, which is awesome."
TV News
Get PEOPLE Everywhere
Advertisement