TV News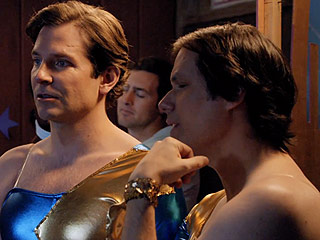 Credit: Netflix
Here's something to chat about over hot dogs and fireworks this holiday weekend – the official trailer for Wet Hot American Summer: First Day of Camp is here, and it's a feast of nostalgic (and not-so-clean) fun.

The cast alone is worth celebrating. In addition to Wet Hot's original players (Amy Poehler, Bradley Cooper, Paul Rudd, Janeane Garofalo, Michael Ian Black, Joe Lo Truglio, Molly Shannon, Elizabeth Banks, and director David Wain in an on-camera role), newcomers Kristen Wiig, Jordan Peele, H. Jon Benjamin, Jason Schwartzman, John Slattery, Michael Cera, "Weird Al" Yankovic and Jon Hamm signed on for the prequel sequel, upping the wackiness exponentially.

Among other things, the Netflix original series promises the characters from the 2001 film are younger and hotter (or, you know, 14 years older and often wearing terrible wigs). Here are some of the highlights of the nutty trailer:
Eli Roth might be best known as the man behind the Hostel horror franchise, but the director has a romance in mind for his next project, and the stars are ... sharks?

Roth's love for the kings of the ocean shines through in an exclusive new trailer he created to accompany his upcoming gig hosting Discovery's late-night talk show Shark After Dark, which airs during the network's annual Shark Week TV event.

"I've always been a huge fan of Shark Week," Roth, 43, tells PEOPLE. "When I was in New York City after college, there was a phone booth with the most incredible poster of a great white from Shark Week. I stole it and hung it my apartment because it was the coolest poster I had ever seen."
Hey, girl.

Emilia Clarke has already said she wants "something sexual" with Magic Mike XXL star Channing Tatum and his equally hot wife, Jenna Dewan-Tatum, and now she's set her sights on the Gos.

During an Unscripted Q&A with Moviefone, Terminator Genisys actor Jai Courtney asked Clarke a seemingly innocent question on behalf of Facebook user Trent: "If Sarah Connor and Daenerys Targaryen had a girls' night out, where would they go and what would they do?"
Polygamists in Montana are trying to apply the Supreme Court's historic ruling on same-sex marriage to their own union.

Nathan, Victoria and Christine Collier – who have appeared on TLC's reality show Sister Wives – applied for a marriage license Tuesday, according to the Associated Press.

Nathan, 46, and Victoria, 40, married in 2000 – but his second wife, Christine, is not legally his spouse.
Kerris Dorsey has worked with several of Hollywood's most famous dads.


Kourtney and Khloé take … the shooting range?


Following NBC's decision to drop the Miss USA telecast from the network in advance of its planned July 12 airdate, the Reelz network has picked up the baton.

"The decision on the part of Reelz to acquire the rights to the Miss USA pageant was based on our belief that this special event, and the women who compete in it, are an integral part of the American tradition," says Stan E. Hubbard, CEO of Reelz, in a statement released to PEOPLE.

"As one of only a few independent networks, we decided to exercise our own voice and committed ourselves to bringing this pageant to American viewers everywhere," the statement continues. "For us, this decision is about the dreams of the contestants who come from all walks of life across the United States, the city of Baton Rouge that has proudly come together to host this pageant and the viewers who will be watching and celebrating its 54th year on television."
She's helped generations of children grow up and she's met many a Muppet in her day. But after 44 years playing human Sesame Street resident Maria, actress Sonia Manzano is retiring.

Manzano, 65, made the announcement on Tuesday during an address at the American Library Association Annual Conference. She has since fielded an outpouring of grief from fans.
Fans of the good ol' boys of The Dukes of Hazzard will have to look elsewhere for their daily fix of the show: PEOPLE has confirmed that TV Land, which had previously been airing the show twice a day, has dropped the series from its schedule.

Though TV Land has declined to comment on its reasons for the change, many assume the choice stems from a controversy surrounding the Confederate flag, which is prominently painted on the roof of the Duke brothers' famous Dodge Charger, the General Lee.
TV News