TV News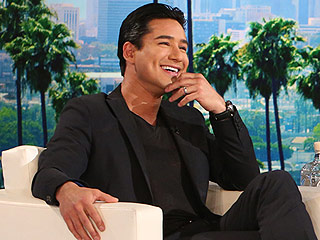 Credit: Michael Rozman / Warner Bros.
It's all fun and games until a Saved by the Bell star takes a pie to the face.

Mario Lopez appeared on Friday's The Ellen DeGeneres Show and got a sweet surprise when his former on-screen high school sweetheart Elizabeth Berkley showed up.

After welcoming Lopez's former castmate, DeGeneres pitted the pair against one another in a fun game of Pie Face. She sent the first trivia question over to Berkley asking for the amount of caffeine in a single cup of coffee. The actress, 43, answered incorrectly but came out unscathed.
[YOUTUBE "TwXIaj1W9KQ"]
Kelly Ripa was the first to admit she's relieved this week is over.

On Friday's Live! With Kelly and Michael, both she and co-host Michael Strahan excitedly welcomed the weekend, with Strahan saying at the top of the show: "We made it."

"Guys, we made it!" Ripa echoed as the crowd cheered. "Calm down, we got through it. It's the weekend! Oh, I love the weekend."
After seven stunning seasons, The Good Wife is finally coming to an end on May 8.

When the cast looks back on the show's early years, it's hard not to be surprised by how far they've come – especially for the show's lead, Julianna Margulies, who had a particularly hard time in the first season.

"I was so overwhelmed with being a new mom and being the lead of the show and trying to make everything work," Margulies told PEOPLE Thursday at the show's series finale party at New York City's Museum of Modern Art. "Anyone that has done a show can tell you that your first season is the hardest because nothing has been fleshed out yet."
Kirk Cameron is once again sparking conversations with his conservative views on marriage.

In a recent interview with the Christian Post, the former Growing Pains star said, "Wives are to honor and respect and follow their husband's lead, not to tell their husband how he ought to be a better husband. When each person gets their part right, regardless of how their spouse is treating them, there is hope for real change in their marriage."
All is right in the Kardashian world – Khloé Kardashian and her baby brother Rob have made peace.

On Thursday, the youngest Kardashian sister shared a heartwarming Snapchat photo of her and Rob tightly holding hands while she got her makeup done in a chair. The 31-year-old captioned the picture: "Rooooobbbbbbb."
Dr. Mehmet Oz and Daphne Oz are not only family – they're also Emmy rivals!

The father, 55, and daughter, 30, are nominated in two of the same Daytime Emmy categories (outstanding informative talk show host and outstanding talk show )for the second year in a row. Daphne and her The Chew team won the talk show host honor 2015. This year, the pair are involved in a friendly wager. If Daphne wins, her father and his team must eat 1,000 calories of her delicious banana pudding, but if Dr. Oz wins, members of The Chew team will have to do one burpee for each year they've been alive.

Talk about high stakes!

Ahead of Sunday's Emmys, where the two are presenting together, the Dr. Oz Show host and his The Chew co-host daughter opened up to PEOPLE about competing against family and who family matriarch Lisa Oz is really rooting for.
Landon Clements had the chance to gain national exposure far earlier than she did with Bravo's Southern Charm.


The second season of the History Channel's Alone premiered last week, and the conditions were just as harsh as one can imagine.


If you are in the right Los Angeles restaurant at just the right time, you might catch Pinky and the Brain enjoying a meal together (but not plotting to take over the world).


TV News