TV News
It's been over 20 years since Full House ended its 8-year run, but the thirst has been real ever since rumors started floating that a spin-off would hit Netflix.

Now that its return is officially official – John Stamos shared the big news on Jimmy Kimmel Live! earlier this week – it's time to revisit what exactly happened in the last season of the show that launched Mary-Kate and Ashley Olsen's careers as professional bazillionaires.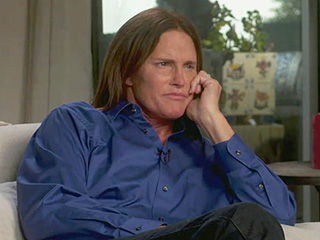 In January, PEOPLE confirmed what many had been speculating for months: Bruce Jenner is transitioning from male to female.


Patrick Dempsey played an integral role in the success of Grey's Anatomy, yet the only thing more stunning than his surprise death Thursday was the way he went out: with absolutely little to no fanfare or statements from fellow cast members.

Dempsey told Entertainment Weekly in an exclusive interview that his final day on the drama's Los Angeles set was "very quiet. It was raining, which was really touching." None of his costars came to the set to say goodbye before he walked alone to his car and drove home.

While he said that he's leaving the show on good terms with his fellow actors, star Ellen Pompeo (Meredith Grey) and Grey's other longtime stars like Justin Chambers (Alex Karev) were not available to comment to EW about Dempsey's departure.
Cecily Strong works with big-name stars every week as a regular cast member on Saturday Night Live, but none of the A-list talent she's encountered on the show have made her as nervous as she is about her next big gig, hosting the White House Correspondents Dinner on Saturday, April 25.

"I keep going between 'I'm so excited' and then 'I'm so nervous' and then going back to being so honored and humble," she tells PEOPLE. "I just don't even know where I stand this second."

While Strong is only the fourth woman to host the Washington, D.C., Nerd Prom – and one of the youngest at just 31 – the Illinois native says her comedic strategy for the evening is simple.
As Project Castor continues to pursue the Leda clones for original tissue samples, Helena's situation has not improved since we last saw her.

Orphan Black's season 3 premiere revealed that Helena (Tatiana Maslany) had been kidnapped by Project Castor after Mrs. S. (Maria Doyle Kennedy) gave her up in exchange for Kira (Skyler Wexler).
Evan Peters hasn't been scared off yet.

The actor is returning to American Horror Story for the anthology's fifth season, AHS: Hotel, FX announced Friday.

This makes the 28-year-old the only actor to have a starring role in each season so far: AHS vet Jessica Lange won't be checking in to Hotel, and Sarah Paulson only appeared in three episodes of 2011's Murder House.
Almost 14 years after Andrea Yates drowned her five children in a bathtub, her ex-husband Rusty Yates is speaking out on the tragedy in a new interview with Oprah Winfrey – and PEOPLE has the exclusive first look.


Before the premiere of Survivor: Worlds Apart, host Jeff Probst promised PEOPLE that they had assembled one of the strongest casts in the show's 30-season run.


After visiting her ancestors' homeland, Kim Kardashian West says she has new insight into her heritage, honoring those lost in the Armenian genocide on its 100th anniversary.

"I am proud to now say I have been to Armenia," she captioned an Instagram photo Friday. "I have seen the memorials and the people who survived and I am so proud of how strong the Armenian people are!"

Kardashian West, 34, and sister Khloé Kardashian, 30, toured Armenia earlier this month, ending with a trip to Jerusalem to baptize baby North West. Their late father, Robert Kardashian, was of Armenian descent.
National treasure Terry Crews competed on Lip Sync Battle Thursday, squaring off against Mike Tyson for the title of … most synchronized lips?


TV News
Get PEOPLE Everywhere
Advertisement