TV News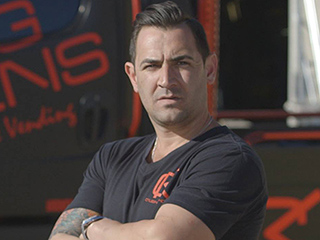 Credit: Source: Blue Collar Backers/Facebook
Starting a small business is no easy task – that's why the Blue Collar Backers are here to help.

The new Discovery Channel show features experts – Cameron Davies, Ron Douglas, Brian Stark, Wes James and twin brothers Cain and Cam Roberts – who are ready to help make small business dreams come true.

Because most bank loans that are requested in the hopes of starting a small business are frequently rejected, the American dream of owning one's own business is becoming more difficult – which is where Davies comes in.
A bout of food poisoning caused Kylie Jenner to take a small break from Snapchat recently. But when she returned from her hiatus, many of her followers noticed something was different about the 19-year-old model and lip-kit entrepreneur.


A lot can change in nine years, but there was definitely a feeling of familiarity when Lauren Graham and Alexis Bledel stepped back on set to film the show's Netflix revival of their fan-favorite series Gilmore Girls.

"Walking back into the Gilmore house made me feel like, 'I'm at home. I have to behave. Sit up straight!' " Graham, 49, says in the current issue of PEOPLE.

"I was excited to do all the scenes that included Kelly Bishop [as Grandma Gilmore]," adds Bledel, 34. "She puts our characters on edge."
Larry King and Shawn King are speaking out amid reports of infidelity in their marriage.

On Friday's episode of Home & Family, the talk show host and his actress wife break their silence following reports that Shawn was in a yearlong romance with British public speaker Richard Greene.

"[It's] an interesting word, 'rumor.' You know, I'm been in the business – next May'll be 60 years – and I've dealt with rumors a long time, interviewed people involved with rumors. Rumors are what they are – they're rumors. And I tell you the truth: I don't pay any attention to them," Larry, 82, says in a clip of the upcoming Hallmark Channel episode.
Five years have passed since Oprah Winfrey said goodbye to The Oprah Winfrey Show, but the veteran talk show host admits she sometimes wishes she had the platform back to discuss today's most pressing news stories, including the 2016 presidential election.

"The first time that happened was with [Jerry Sandusky]", Winfrey tells Entertainment Weekly, referring to the late Penn State football coach who was convicted in 2012 on multiple accounts of sexually abusing children.

"I thought, 'If only I had a show, I would be able to [talk] about it,' " the 62-year-old continued, adding, "Many times during this election, I thought, 'If only I had this show, I could explain what is happening.' "
After a PDA-filled year with Gregg Sulkin, Bella Thorne is newly single, ready to mingle and giving the rubber stamp of approval to her ex in his latest gig – all the better since she happens to be his boss!

The actress, who came out as bisexual this week, confirmed on Twitter on Thursday: "I ammmm single."
Former Real Housewives of Beverly Hills star Carlton Gebbia has separated from her husband, David, a source close to the reality star confirms to PEOPLE.

"Carlton and her husband have recently separated but are living together under the same roof for the wellness of their children," the source tells PEOPLE of the couple, who have been married for 18 years.
"My name is Kayla Mueller. I need your help."


TV News