TV News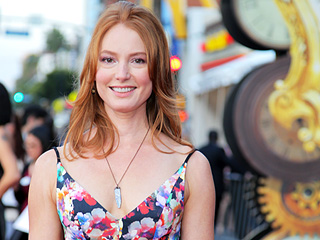 Credit: Chelsea Lauren/Variety/REX/Shutterstock
Nashville may be canceled, but newcomer Alicia Witt has plenty of other talents to fall back on – in fact, she may just be one of the smartest actresses in Hollywood.

Before she was an actress, Witt was a child prodigy and classical pianist. She was cast on her first film, David Lynch's Dune after his casting director saw her recite Shakespeare on That's Incredible when she was just 5 years old.
Sharon Osbourne has no problem with her daughter speaking out on her behalf. In fact, she thought it was rather funny.

On Monday night, Kelly Osbourne, 31, took to Twitter to write an angry message towards the celebrity hairstylist whose alleged affair with Ozzy is rumored to have led to her parents splitting after 33 years of marriage.

"Oh, Kelly has the best sense of humor ever. What can you do but laugh," Sharon, 63, told fellow The Talk co-hosts on Tuesday. "You have to laugh. And she's just so funny."
One of TV's power players a disturbing entertainment trend head-on.

Empire executive producer Ilene Chaiken, who was honored at this year's GLSEN Respect Awards, spoke to PEOPLE on Monday night about the "Bury Your Gays" trope in film and television.

"In what I do, which is make popular entertainment, it's been a lifelong battle for representation," Chaiken, 58, tells PEOPLE. "I think there's nothing more important than seeing ourselves reflected in the media, in our entertainment, in characters that speak to us. It means everything. It saves lives, it builds futures, it builds hope."
When your family of three becomes a family of eight overnight, chances are you're probably not thinking about having any more kids for a while.

For Danielle Busby, star of TLC's OutDaughtered, that's exactly the case, and in an exclusive sneak peek at Tuesday's episode, the mom of the only all-girl quintuplets in the country – who is also mom to 5-year-old daughter Blayke – has one very specific request for her husband Adam: "Get that snipped!"
Frank Dillane was arrested for battery on Sunday following a physical altercation with a studio security guard at the CBS lot in Los Angeles, PEOPLE has confirmed.

The Fear the Walking Dead actor was taken off the premises at 9:30 p.m., according to LAPD Officer Jenny Houser.
Holly Madison is more than just a Girl Next Door.

After packing her bags and leaving the Playboy Mansion in 2008, Madison was ready to get back into the dating pool, but she feared that "outside judgment" about her past relationship would haunt her.

"I had just spent so many years living in fear of judgment and what other people think, and it was finally just letting go of that," Madison told PEOPLE Now. "It kind of set me free, so that was a big lesson."
The Real Housewives of New Jersey are back.

The first trailer for the hit Bravo series's long-awaited seventh season promises "a whole new Jersey," starting with ...
TV News