TV News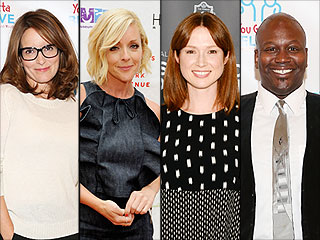 Credit: Monica Schipper/Filmmagic (2); Matthew Eisman/Getty; Presley Ann/PatrickMcMullan.com/AP
At their Television Critics Association panel on Tuesday, PEOPLE asked the cast of Unbreakable Kimmy Schmidt to share what is unbreakable about themselves:
Tina Fey knows a thing or two about political humor.

As the woman who impersonated 2008 vice-presidential candidate Sarah Palin on Saturday Night Live, Fey believes the 2016 presidential election is going to provide a wealth of material for the NBC series.

"I'm sure SNL [wishes] they were on the air right now," Fey told reporters at a Television Critics Association panel for her Netflix series Unbreakable Kimmy Schmidt on Tuesday.
Email chains are apparently not just for sharing YouTube videos with coworkers or planning group vacations.

They're also for reuniting the A-List cast of Wet Hot American Summer.
Queen Latifah and Mary J. Blige are off to see the wizard!

NBC announced Thursday that the stars have officially been cast in The Wiz Live!, the much-anticipated adaptation of the 1975 Broadway hit, PEOPLE and Entertainment Weekly can exclusively reveal.

In a bit of gender-blind casting, Latifah has been cast as the titular wizard (a role that Richard Pryor tackled in the 1978 film version). Blige will play Evillene, the Wicked Witch of the West.
When David Letterman announced he was retiring from the Late Show, there was much speculation that Chelsea Handler might be his lucky replacement – but the comedian actually wasn't interested in the job.

"I was not interested in going to a network. I was never interested in taking somebody else's job. That's not an interesting job for me. I [had already done] something very similar," the former Chelsea Lately host told reporters at a Television Critics Association panel on Tuesday. "It was never a very serious conversation."
Little People, Big World star Zach Roloff got married Saturday, and fans can watch him ask his twin brother Jeremy to be his best man in Tuesday night's episode.

In an exclusive sneak peek, Zach tells cameras that while things are coming together for his wedding, there's still one thing he "need[s] Jeremy to do."
Ramona Singer isn't known for having a filtered mouth on The Real Housewives of New York City. Forgetting about the TV cameras that surround the reality star comes easy, she says, because she's had to block out memories since she was a little girl.


The song "Peeno Noir" became a viral hit after Unbreakable Kimmy Schmidt premiered on Netflix earlier this year, but actor Tituss Burgess doesn't get asked to sing it as often as you might think.

"I don't get asked to sing it as much as people ask to sing it for me," Burgess, 36, told reporters at a Television Critics Association panel Tuesday. "I just get randomly sung at on the streets. It's pretty lovely."

Burgess, who has been nominated for an Emmy Award this year for his work on the Netflix series, has a long list of Broadway credits, and his musical aptitude immediately appealed to the show's creators Tina Fey and Robert Carlock.
TV News