TV News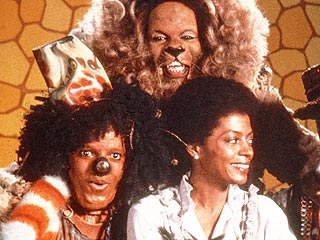 Credit: Mary Evans/Ronald Grant/Everett
NBC is off to see the wizard for its next musical.


Once notorious for their on-camera feuds, former enemies Nene Leakes and Kim Zolciak Biermann will soon be back together on TV with a brand new show.

Bravo announced Monday that the Real Housewives of Atlanta standouts will executive produce and star in the forthcoming series, which follows the pair as they take an epic road trip.

According to a network statement, "Atlanta's 'most driven' Housewives … drive out of their comfort zones and across the country to discover America on a one-of-a-kind adventure."
They're best know for their Dancing skills, but Derek and Julianne Hough aren't too shabby at lip-synching, either.

In an exclusive preview of an upcoming episode of Spike's Lip Sync Battle, the siblings make some unexpected – and blush-inducing – choices as they show off their triple-threat talents.
Not to blow your mind or anything, but Kanye West has some pretty strong opinions.

On Sunday's episode of Keeping Up with the Kardashians, he lashed out at wife Kim's trainer for saying she "couldn't imagine" seeing Kim at her goal weight of 120 lbs..
If you thought things couldn't get any worse for Nashville's Deacon, think again.


On Monday's Teen Mom, even as Amber Portwood takes her daughter to school, she's the one receiving life lessons.

Relishing her freedom after a 17-month prison sentence, Amber still struggles with accepting the changes that happened while she was incarcerated.
After an incredibly strong finish in last week's "My Jam Monday" on Dancing with the Stars, partners Patti LaBelle and Artem Chigvintsev have a lot of expectations to meet.

In an exclusive preview of Monday's Latin-night routine, Chigvintsev tells LaBelle that they'll be dancing a cha cha, which he describes as "a very flirtatious dance."

Asks LaBelle, "It's sexy?"

"Yeah, it's going to be very sexy," says Chigvintsev. "Some clothes might come off."
Clinton Kelly is returning to TLC!

The longtime What Not to Wear host will return to the network later this summer for an as-yet-untitled show on which he and Real World veteran Devyn Simone make over people's online dating profiles.

Though Kelly has been married to psychologist Damon Bayles since 2009, he freely admits he's obsessed with how dating works these days: "Whenever I have a single friend anywhere near me, and they're on their apps ... I'm like, 'Give me your phone.' I need to see what's out there. I'm fascinated by how crazy it is now."

The snap judgments the drive online dating are familiar turf for Kelly, who spent 10 years helping women improve the way they presented themselves to the world.
TV News
Get PEOPLE Everywhere
Advertisement