TV News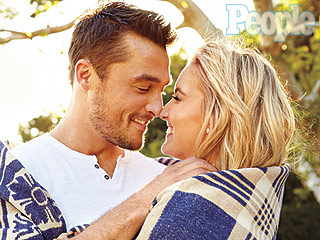 Credit: Ari Michelson
As Bachelor couple Chris Soules and Whitney Bischoff prepare to move in together in Soules' hometown of Arlington, Iowa, the newly engaged duo are still getting to know each other (and themselves) without the cameras rolling.

"I'm not the tidiest of people," Bischoff, 29, told reporters at the premiere of Winning: The Racing of Paul Newman in Hollywood on Thursday. "No. 2, I never realized this before, but I have got to have coffee in the morning before I can communicate with anyone at all."

But according to Soules, 33, it's his fiancée's penchant for clucking that was the biggest surprise of all.

Movie geeks, get ready to camp out.

On Sunday, a new series on Logo called Cocktails & Classics brings together the people behind some of the most beloved – and, yes, often over-the-top – films of all time with the entertainment fixtures who have made a career out of obsessing over them.

An exclusive episode from Cocktails' premiere episode, which accompanies 1989's Steel Magnolias, reveals the insider-y, chatty flavor of the series, which host Michael Urie tells PEOPLE is all about digging into "finding out what it is about these films that made them classics."

Unlike many movie companion series, Cocktails & Classics is "not just trivia," says the Ugly Betty alum, who's also an executive producer. "We do a certain amount of re-creating scenes. We definitely incorporate the great zingers that people love and remember. It's something that people who don't know the movies will be delighted to learn from, and people who do know the movies will be delighted to share the things that they already feel and giggle about."
Anna Kendrick and John Krasinski's "feud" on Lip Sync Battle have been going strong all week, but Thursday's installment is probably the one to top, considering it featured Krasinski doing a scarily on-point version of *NSync's "Bye Bye Bye."
After a 70-hour delivery and surprise C-section, Jill and Derick Dillard open up about their firstborn's arrival. Subscribe now for Jill and Derick's exclusive interview – and to see photos of their son Israel David – only in PEOPLE!

Jill Dillard was one relaxed expectant mom.

When her water broke in the early hours of April 4 following 41 weeks and 5 days of pregnancy, the 19 Kids and Counting star went to sleep and managed to squeeze in a morning appointment with her chiropractor. ("I wanted to get aligned before birth," Jill tells PEOPLE exclusively.)
One Directioners of the world: How are you?

It's been a little while since Zayn Malik left everyone's favorite post-aughts boy band. Has the pain lessened at all? No? Well, you're not alone.

Simon Cowell visited The Late Late Show Thursday, and explained to James Corden that he felt like he was "about to jump off a cliff" when he found out Malik was leaving the group that he helped put together. Same, Simon. Same.
Rosario Dawson is tougher than you. That's the gist of what we're getting from her interview on Conan Thursday, where the Daredevil star talked about – among other things – how her mom once trained her to use pepper spray by using it on her.

Dawson, 35, grew up in New York City, and told Conan O'Brien that her mom made she sure was prepared when she ventured out as a kid. The extent of that preparation sounds a little intimidating.
Thursday's episode of Scandal ended with a shocking twist and a major cliffhanger – even by the show's crazy standards.

At the end of "I'm Just a Bill," with a fan favorite's fate hanging in the balance, the Internet (egged on by Scandal's social media-savvy stars and producers) did what it does best: Hit the panic button.

Spoiler alert for those who haven't seen the latest episode: Pivotal plot details will be revealed.
TV News
Get PEOPLE Everywhere
Advertisement