TV News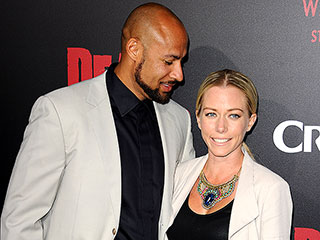 Credit: Vince Flores/Startraks
It was a shocking headline that caused a national media frenzy. In 2014, news broke that Hank Baskett had an affair with a transgender model while his wife Kendra Wilkinson was eight months pregnant.

Now, one year later, the parents of Hank IV, 5, and Alijah, 13 months, are finally coming clean about what really happened on that fateful day – and how they picked up the pieces.

"I messed up," a teary-eyed Baskett tells PEOPLE exclusively. "I put myself in a bad situation. And everything through me brought pain upon this family."
With more than 30 years of hosting Jeopardy under his belt, you'd think Alex Trebek could just coast from here on out. Nope. He still goes the extra mile for fans.


On Monday's episode of the game show, one clue contained some of the lyrics to the theme from
The Fresh Prince of Bel-Air
. While Trebek could have simply read the clue, he instead did his best at re-creating
Will Smith's
version of it.
Amy Schumer's career has never been hotter: Her skits on Inside Amy Schumer almost always go viral, her first movie, Trainwreck, is already getting rave early reviews and she totally stands a chance as the next Bachelorette.

So fans were a little disappointed when they learned earlier this month that the comedian was offered the job of succeeding Jon Stewart as host of The Daily Show and turned it down. (Trevor Noah got the gig.)

Still, Schumer,34, stands by her decision.
Donald Trump is suing Univision for cutting ties with his Miss USA pageant after his controversial comments about immigration.


Twinanigans!

In a move straight from Suite Life of Zack and Cody fan fiction set in the future, Dylan and Cole Sprouse decided to switch places – during their college graduation ceremony.

"We actually received each other's diploma's," Cole said in an interview with Teen Vogue.

"In fact, if you look up my graduating photo you'll see," Dylan added. "We just decided, you know, there's no reason not to. No one's going to notice."
The Brady Bunch's Carol Brady may be one of the most iconic mothers of all time, but it turns out star Florence Henderson was just as much a loving mom off screen as the famously blended family's matriarch was on.

"We spent so many hours together with the kids, and I sort of became like a second mother to them," Henderson told PEOPLE Friday on the set of Breaking Bread with Brooke Burke airing on Feeln. "I treated them with respect. They were treated as pros and they came prepared."

She added, "I was the only person on the show that was a mother in real life. I already had four children – my youngest was just a little tiny thing."

But, as most moms must do from time to time, Henderson occasionally had to give the actor playing the Brady kids a little tough love.
Missing Mona? Have no fear, Pretty Little Liars fans: actress Janel Parrish is returning in Tuesday night's episode.

PLL boss I. Marlene King broke the news with an Instagram of Mona rocking retro shades alongside Hanna (Ashley Benson).

"Mona's back, bitches," she captioned the still. "Happy Pretty Little Liars Day!"
The show must go on.

The Miss USA Pageant will take place as planned in Baton Rouge, Louisiana, on July 12 despite NBC's decision not to air the competition following Donald Trump's controversial comments about Mexicans. There's no word on what network, if any, will air the beauty queen competition.

"The Miss Universe Organization is built on a foundation of inclusion and continues to be a celebration of diversity and of all cultures," the group said in a statement Tuesday. "This year's Miss USA contestants represent many different ethnic backgrounds, including six Latinas (four of whom are of Mexican descent)."

Trump, who co-owns the pageant, is facing backlash after he outlined his immigration stance while announcing his bid for president.
TV News