TV News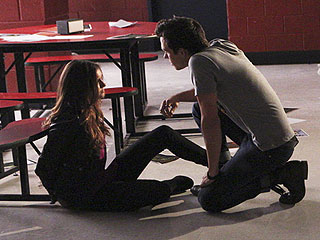 Credit: Annette Brown/The CW /Landov
The Vampire Diaries' midseason premiere, "Woke Up with a Monster," certainly gave fans a lot of options as to who might meet an impending and untimely end in the near future.

As the series begins its sprint to the season finale, characters both beloved and brand new stared down death.

Star Paul Wesley directed the episode, which picked up directly after Kai (Chris Wood) abducted Elena (Nina Dobrev) and as Caroline (Candice Accola) struggled to accept her mother's cancer diagnosis. Even amid those merciless circumstances, Elena and Sheriff Forbes (Marguerite MacIntyre) weren't the only folks in Mystic Falls whose lives were in peril.

But who looks most likely to say goodbye sooner rather than later?
Forget the Puppy Bowl on Feb. 1!

Okay, don't forget the Puppy Bowl (what are you, a monster?), but at least click away for a few minutes because Super Bowl XLIX will feature the triumphant return of the precious Budweiser puppy in the ad "Lost Dog."
[YOUTUBE "2gy4-lAO8NY"]
It stands to reason that anyone would want to throw up if they had to try to top Idina Menzel's Oscar-winning version of "Let it Go" from Frozen.

And it turns out, that's exactly what happened to Lea Michele. While visiting Jimmy Kimmel Live on Wednesday, Michele, 28, admitted that her experience crooning the ballad – which was sung by her Glee mom Menzel, 43 – totally turned her stomach.

"I was super nervous. The day didn't start off so well," said Michele of the song she performed for the season 6 premiere. "I was singing, there was snow falling. I looked up trying to make it magical and beautiful and ended up choking on the snow and vomiting. They have it on slo-mo."
[BRIGHTCOVE "4005282458001" "" "" "auto"]
Will Rosie O'Donnell ever run out of surprises? Don't bet on it.

Her latest: Injecting some of the hard truths about her personal life – such as the difficulty of raising four of her five children now that they are teenagers – into her recently reactivated standup-comedy act, which HBO has filmed for the documentary special Rosie O'Donnell: A Heartfelt Stand Up, premiering Valentine's Day, Feb. 14, at 10 p.m.

"People say, why would you have another baby when you have four teenagers?" The View co-host and actress-activist, 52, tells her audience at Levity Live, a comedy club within a shopping mall in Nyack, New York, the town up the Hudson River where she used to live. (She now calls Saddle Brook, New Jersey, home.)

O'Donnell's response: "Because I have four teenagers, and I needed to remind myself that I actually do love children, because teenagers suck."
The upcoming season of So You Think You Can Dance just might be the biggest one yet, with new additions to the judges' table and a new twist in the competition.
What's a midseason finale on The CW without a major cliffhanger?

When we left The 100 back in December, Clarke (Eliza Taylor) had executed Finn, her former lover, out of mercy before the grounders could torture him for killing 18 innocent people. Later, Clarke narrowly escaped a similar fate herself thanks to Lexa's (Alycia Debnam Carey) own sense of mercy. Furthermore, Harper (Chelsey Reist) was still missing following her kidnapping by Dr. Tsing (Rekha Sharma), whom we left screaming and strapped to a gurney as the good doctor extracted bone marrow from her hip.

The 100 came back from the winter break Wednesday in an explosive premiere in which Gustus nearly engineered a bloody end to the truce between the Grounders and the Sky People, and Clarke, still grieving over the loss of Finn, ultimately decided that love is weakness.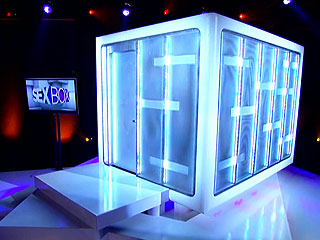 You might have heard it was coming. But now, it's a reality.

WE tv has released a sneak peek of its upcoming show Sex Box (adapted from a U.K. series), which is ... well ... pretty self-explanatory – participants go into a box, have sex and emerge to discuss.

Five things we learned from "the boldest show on TV":
[YOUTUBE "mNKEKlXY3Z4"]
Netflix released the trailer for its upcoming Tina Fey comedy, Unbreakable Kimmy Schmidt, and it's as winsome and weird as you might expect.

Kimmy stars Ellie Kemper (The Office, Bridesmaids) in the title role as a 20-something liberated from a doomsday cult who learns that the apocalypse never actually happened and her entire life was based on lies.

Fey's 30 Rock partner in comedy, Robert Carlock, is also behind the series, so it's no surprise a few familiar faces pop up among the eclectic oddballs Kimmy meets when she moves to New York, finds housing with a Times Square robot performer named Titus (Tituss Burgess) and lands a job nannying for high-strung, self-absorbed working mother Jacqueline (Jane Krakowski, playing to her strengths).
TV News
Get PEOPLE Everywhere
Advertisement