TV News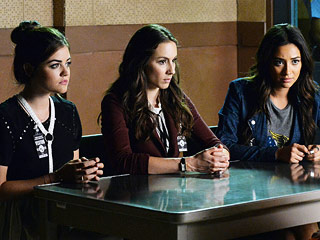 Credit: Eric McCandless/ABC Family
Big "A" means business.

The Pretty Little Liars villain has moved past sending threatening text messages to straight-up violent attacks.

But which characters finally sealed their flirtation with a kiss? Here's what happened Tuesday night:
Bikers, blood and now … a Bastard?

For fans longing for their fix of dearly departed series Sons of Anarchy and True Blood, a new FX series is teaming up two familiar – but unexpected – faces.

SOA's Katey Sagal and True Blood's Stephen Moyer will costar in the period drama The Bastard Executioner, the latest offering from Sons creator and Sagal's husband Kurt Sutter, 54.
Brides and grooms, come on down!

PEOPLE has learned exclusively that The Price Is Right plans to throw a mass wedding on its Los Angeles set this March 31.

Host Drew Carey, 56, was ordained online so he could officiate the nuptials, which he'll announce on tomorrow's installment of The Price Is Right.
Today's secret word is … "comeback!"

Thirty years after Pee-wee Herman (a.k.a. Paul Reubens) went in search of his missing bike in the cult-favorite comedy Pee-wee's Big Adventure, Netflix has confirmed that it will exclusively premiere his next feature film, Pee-wee's Big Holiday.

The film – which Reubens confirmed last October on The Tonight Show Starring Jimmy Fallon – finds Pee-wee embarking on his first-ever holiday, described in a press release as "an epic story of friendship and destiny."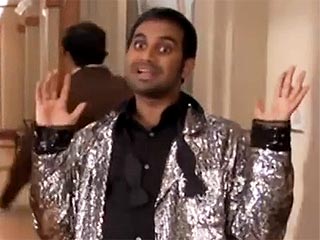 After seven brilliant seasons, Parks and Recreation airs its final episode on Tuesday night.

Though often overlooked despite its longevity and critical acclaim, the writers – with showrunner Mike Schur at the helm – created a rich universe filled with well-rounded characters whose quirks were celebrated often in the form of joke callbacks that were as hilarious on the second, third and 10th time they were told as they were the first.

In advance of the series finale, we thought we'd revisit seven of the best recurring jokes on Parks.
[BRIGHTCOVE "4076868378001" "" "" "auto"]
They've come a long way, baby.

In an exclusive sneak peek of TLC's hit reality show 19 Kids & Counting, airing Tuesday at 9:30 p.m., Jill and Derick Dillard go to their very first midwife appointment – and hear their baby boy's heartbeat for the first time.

Last week's season premiere ranked as the No. 1 cable program with women on Tuesday night, according to a press release from TLC.

This week will feature two episodes back-to-back: First, fans will get to watch Jill's younger sister Jessa Duggar, 22, go shopping for wedding dresses; then Jill and Derick give an on-the-scene look at a meeting with their midwifery team.
[YOUTUBE "2Js4Tp5O2lE"]
Justin Bieber got a new tattoo – and it's right on target.

The 20-year-old singer shot another promo to hype his upcoming Comedy Central Roast on March 30.

In it, Bieber adds to his collection of tattoos by getting a giant bullseye on his back. And who's doing the inking honors? None other than roast veteran Jeffrey Ross.
Congratulations – much belated! – to actor Charlie Weber, who just revealed that he's engaged. And has been for almost a year!

The How to Get Away With Murder star breaks the news in an appearance Tuesday on The Steve Harvey Show.

"After we shot the pilot in Philadelphia, I came home and proposed to my girlfriend," Weber, 36, says. "I did it. We've been engaged for just under a year, and I'm taking her to Bora Bora."
TV News
Get PEOPLE Everywhere
Advertisement