TV News
In an intense sneak peek at Friday's Marriage Boot Camp: Reality Stars premiere, it's Kendra Wilkinson's relationship with her mother Patti – and not with cheating husband Hank Baskett – that really seems to need the work.

In the clip, Wilkinson, 29, and Baskett, 32, are participating in a sharing exercise when mom Patti Wilkinson enters the faux-wedding setup.
Beau "Casper" Smart is taking his talents to TV.

The choreographer and actor has joined judges Harry Shum Jr. and Laurieann Gibson on season 2 of the performance art competition show Fake Off – think a super artsy America's Got Talent complete with dance, acrobatics, acting and breathtaking sets – and PEOPLE has the exclusive first look at his critique of contestants Tribe of Fools' historical homage to the fall of the Berlin Wall in 1989.

Smart, 29, gets emotional while giving his feedback in the clip above.
Guests on the Ellen DeGeneres Show should know what they're in for by now – the comedian has made her love and affinity for pranking no secret over the years. Despite regularly making celebrities jump out of their seats, however, DeGeneres still manages to spook a new crop of celebs every season.

In a new hilarious supercut, the 57-year-old shares some of her favorite pranks on some unsuspecting famous faces.
There's nothing like a turn on Dancing with the Stars to kick the rumors of your love life into overdrive, as Rumer Willis has discovered.

However, she's taking it in stride. Following their Mirrorball Trophy win, Willis is still friendly with her pro partner, Val Chmerkovskiy, and late on Tuesday, she posted a cute Dubsmash of Chmerkovskiy's "audition" for the next Despicable Me movie.

Earlier that day, Chmerkovskiy and Willis were snapped enjoying a friendly lunch date in Beverly Hills.
Amy Schumer did her best to "defend" disgraced comedian Bill Cosby during a sketch on her Comedy Central show Inside Amy Schumer, on Tuesday.

In a mock trial in the "Court of Public Opinion," Schumer played the nostalgia card as defense attorney to Cosby, blaring The Cosby Show theme song and showing clips of his beloved character Dr. Huxtable for the jury.
There's still no word on whether Scott Disick got a 32nd birthday present from Kourtney Kardashian, but he received lots of love from his longtime girlfriend on Instagram this Tuesday.

"Happy happy birthday to my handsome, hilarious, sweet soul mate," the Keeping Up with the Kardashians star, 36, wrote to Disick underneath a cute photo of him hugging their 5-year-old son Mason.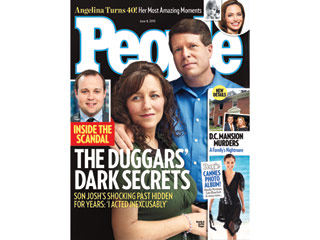 The famously conservative Duggars seemed to be models of wholesome family life, but son Josh was hiding a dark past: He allegedly molested five young girls as a teen. Subscribe now for an inside look at the Duggars' dark family secrets, only in PEOPLE.

The future of TLC's 19 Kids and Counting is on shaky ground following the revelation that a felony investigation was opened in 2006 after Josh Duggar was accused by his victims of molesting five underage girls.

In statements to PEOPLE, the Duggar family indirectly addressed the closed investigation by referring to the multiple incidents listed in the report unearthed by InTouch Weekly as "teenage mistakes."

Michelle and Jim Bob are "devastated" over the leak, a source close to the family tells PEOPLE. "They know that they did the best they could, but it doesn't mean they're not filled with regret."
[YOUTUBE "M7Y7QchQMqs"]
In the past, we've gotten a kick out of epic Jeopardy fails. Here's one fail that's still a win.

The Final Jeopardy clue asked contestants to name a hymn that happened to also be the title of a 2009 Tony-nominated musical. Contestant Choyon Manjrekar, who apparently saw the Final Jeopardy clue "hymns" and knew it wasn't his cup of tea decided to have some fun with his answer.

His answer? Kinky Boots, which is probably not the title of anyone's hymn but is a musical about a family-owned shoe factory that starts making high-heeled boots for drag queens.
TV News
Get PEOPLE Everywhere
Advertisement