TV News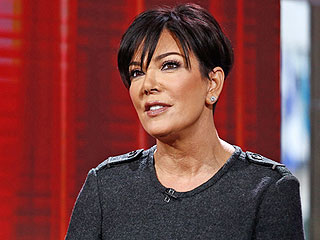 Credit: Peter Kramer/NBC
Kris Jenner is owning her reputation as a momager – literally.

The Keeping Up with the Kardashians matriarch has just filed legal documents to trademark the word "momager" and embracing a nickname that has stuck ever since her family's rise to fame, she confirmed to PEOPLE.

If her filing is granted, she would have the right to sue anyone who uses the moniker without permission, the site explains.
With two toddlers, a hit TV show and a brand new book out, The Little Couple stars Dr. Jennifer Arnold and Bill Klein admit that making time for romance hasn't been easy.

"With our busy lives, I think we need to work on having date nights," Arnold tells PEOPLE.

"We haven't done enough of that lately," she says. "It's all good, it's all important, but at some point you just gotta do it."
For reality-TV fans – Bachelor fans, especially – Lifetime's upcoming drama UnREAL will feel more than a little familiar.

PEOPLE has an exclusive sneak-peek clip of the series, starring Shiri Appleby and Constance Zimmer, which offers a behind-the-scenes look at a fictitious reality romance show in which a group of women vie for the heart of one suitor (see where we're going with this?).

"It's totally realistic," former Bachelor and Bachelorette star DeAnna Stagliano (née Pappas) tells PEOPLE of the clip.

"It reminded me of the show in the way the carriage rolled up and the woman got out playing the violin," she continues. "It's totally something a contestant would do to get someone's attention!"
Queen Latifah is on a mission to see just how far flattery can take her on Lip Sync Battle.

In a preview of Thursday's face-off against Marlon Wayans, the actress and musician lip-synchs along to "Rock the Bells" by LL Cool J.

Latifah channels her own hip-hop past as she raps along to the 1985 hit, wearing a red tracksuit, gold chains and a black hat, with backing from a group of similarly clad dancers.
There are many perks in being a teen star.

Ross Lynch, the 19-year-old star of Disney Channel's Austin & Ally, has just gotten one of the coolest perks of stardom – a wax figure at Madame Tussauds.

Lynch's figure was unveiled at Madame Tussauds Orlando on Thursday. It joins likenesses of other TV stars, including Jim Parsons, whose uncanny doppelgänger was unveiled in March.
Khloe Kardashian's latest fashion statement is causing quite the stir.

The Keeping Up With The Kardashians star posted a picture to her Instagram on Tuesday featuring her wearing a niqab, a cloth that covers the face as a part of the traditional abaya.

Kardashian, who posted the photo during a recent trip to Dubai, captioned the photo "Habibi Love." In Dubai, most women dress according to religious and cultural customs by wearing an abaya, a loose over-garment that covers the body from head to toe. Though it is not required for visitors, Kardashian decided to take part on the tradition and share with her fans.
Ellen DeGeneres raised Josh Groban up – right up out of his seat, in fact.

In a clip from Tuesday's Ellen DeGeneres Show, the singer gets quite the fright in the middle of an interview when a staffer pops out of what looked like an ordinary coffee table.

Coincidentally, Groban's gasp-inducing moment came not long after he told DeGeneres of singing the "Star-Spangled Banner" at the Kentucky Derby that "it's good to be scared."
TV News
Get PEOPLE Everywhere
Advertisement