TV News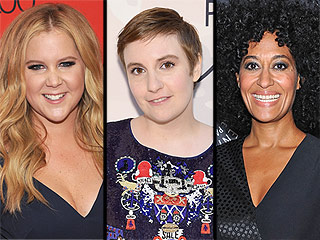 Credit: Andrew Toth/FilmMagic(2); Jamie McCarthy/Getty;
Amy Schumer has a theory about the inherent inequality of women in show business: "I think people hate women."

In a roundtable of comedic actresses assembled for The Hollywood Reporter's latest issue, the Inside Amy Schumer creator and star adds, "I don't think they want to hear a woman talk for too long. A lot of people project their mom yelling a them."

Schumer continues, "My [career] has been about tricking people into listening. I'm not saying all men hate women, but there's such an aggression."

For the magazine's June 5 issue, THR sat down with Schumer, Lena Dunham, Unbreakable Kimmy Schmidt's Ellie Kemper, Jane the Virgin's Gina Rodriguez, Black-ish's Tracee Ellis Ross and Saturday Night Live's Kate McKinnon to discuss the struggles of being a woman in entertainment and the sexism they've encountered throughout their careers.
From the time he was a child, Dash Mihok knew he was different.

"I remember I was in karate class and I had to shake my head violently," the Ray Donovan star tells PEOPLE exclusively about his first encounter with Tourette Syndrome, a neurological disorder characterized by involuntary movements and vocalizations called tics. "The tic was to shake my head violently. I had to feel the whip of my hair. When you're 6, it's a strange feeling."

Mihok, who describes his condition as "the greatest itch you've ever had, times 5000," travels the nation educating children and adults as a national ambassador for the Tourette Association of America.
Bruce Jenner has filed court papers to throw out the wrongful death suit filed by the stepchildren of the woman killed in an accident in February on Pacific Coast Highway in Malibu, California.


Just because Saturday Night Live's Kate McKinnon skewers Hillary Clinton on a weekly basis doesn't mean she isn't a fan.

With the spotlight intensifying on Clinton as she gears up her presidential campaign, McKinnon – who's made a name for herself impersonating the Democratic front-runner – knows it's her time to shine.

"I do feel pressure," the multi-talented impressionist tells The Hollywood Reporter.
Between the boxing and the stand-up comedy, a lot happened on The Bachelorette Monday.

But the key takeaway – other than that having a bunch of dudes hit each other is an awkward way to impress a lady – is that a lot of people really liked Amy Schumer's appearance. – and now ABC executive Robert Mills is saying he wants the comedian to be the next lady looking for love on national TV.
Instead of 19 Kids and Counting, could viewers soon be watching 2 Brides and Their Grooms?

TLC pulled all episodes of 19 Kids when a resurfaced police report from 2006 revealed that one of the show's stars, Josh Duggar, had been investigated for child molestation when he was a teen.
Miley Cyrus might be getting a thank-you note from Jane Fonda and Lily Tomlin.

The stars' Netflix comedy Grace and Frankie was quickly renewed for a second season Tuesday – just weeks after its premiere – largely due to the 22-year-old pop star's early love of the show about two women in their 70s who are forced to start over after their husbands leave them for each other.

"I found my show! #GraceandFrankie," Cyrus Tweeted in the middle of the night on May 25. "On a bender! Jane & Lily are so bad a$$!"
In an intense sneak peek at Friday's Marriage Boot Camp: Reality Stars premiere, it's Kendra Wilkinson's relationship with her mother Patti – and not with cheating husband Hank Baskett – that really seems to need the work.

In the clip, Wilkinson, 29, and Baskett, 32, are participating in a sharing exercise when mom Patti Wilkinson enters the faux-wedding setup.
TV News
Get PEOPLE Everywhere
Advertisement