TV News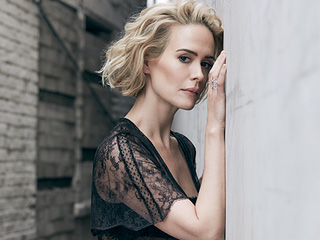 Credit: Photos by: Photographer Dennis Leupold
Sarah Paulson generally remains reserved when it comes to her views on sexuality, but the actress recently decided to share a few choice (and four-letter) words on the subject.

The American Crime Story star opens up about in the new issue of NO TOFU magazine about her love life, which has received a lot of attention since it was revealed she's currently in a relationship with actress Holland Taylor.

"I believe that everyone should be allowed to speak their truth and just say what they want to say and show the world who they are," says Paulson, 41 . "You should be able to love whomever you f----- well please."
Syfy is celebrating May 4 in a big way, by releasing a Star Wars-themed movie poster for the fourth installment of the Skarknado series.

Front and center in the new poster is Finn Shepard (Ian Ziering), clutching his go-to chainsaw, and April Wexler (Tara Reid) – who's not dead – showing off her bionic arm, all the while channeling their inner "force."
Bethenny Frankel is no stranger to a little controversy, but according to her costar Sonja Morgan, that's why viewers love her.

"Bethenny can rip you a new one and it keeps it riveting," Morgan, 52, told PEOPLE Tuesday at the Love Heals 2016 Gala benefiting the Alison Gertz Foundation for AIDS in New York City.
After a frightening hospitalization last week, Little Women: LA star Briana Renee is now back home on bed rest.

According to a close friend, the reality star was released Wednesday morning after doctors "were successful in slowing down labor and eliminating her contractions."

Renee is six months into her pregnancy and was at risk for emergency surgery last week. "She hasn't seen her daughter in two weeks and is anxious to be home and hug her firstborn," adds the friend.
Chelsea Handler is paving her own way in late-night television – and not just because she's a woman.

The star, whose new Netflix talk show Chelsea debuts on May 11, told PEOPLE and Entertainment Weekly Editorial Director Jess Cagle recently that she easily decided against throwing her name in the ring for one of the previously up-for-grab network late night hosting positions (like The Late Late Show).

"It's flattering, but you know what? I was so sick of being asked the question, 'What is it like to be a female in late night?' that I wanted to take that question out of the equation," she explained. "Now I'm the only person in history that has a talk show that's launching in 190 countries, so the question isn't about me being a woman anymore. It's about being the first person to do that on this scale."
Marc Maron is tackling a subject that hits close to him with the new season of his comedy Maron.

The WTF podcaster, who plays a fictionalized version of himself in the IFC show, is going to rehab in the new season after his character got hooked on pain killers and had a public meltdown in last year's season 3 finale.

For Maron, who is 16 years sober, the fictional stent in rehab comes decades after the first time he tried to get clean.

"I was a lot younger. I was, like, 22. I was clearly out of control. And my parents were worried," Maron, 52, tells PEOPLE. "I was worried for my sanity."
As JoJo Fletcher was preparing to begin her journey to find love on The Bachelorette, Sean Lowe reveals she was (understandbly) "nervous."

"It's actually funny," he told PEOPLE Now when asked if he has any advice for Fletcher, 25. "I'm actually friends with her brother back home in Dallas. Talking to him, he said that she was kind of nervous going in, didn't know what to expect."

Lowe, 32, who met his wife Catherine on The Bachelor after a turn on The Bachelorette, kept his advice simple.

"Have fun, go in there with an open mind, an open heart," he said. "Have fun, enjoy it and if you're lucky, or I should probably say blessed, you might find someone as good as I did. Find your life partner."
[YOUTUBE "LxWKhsniO30"]
Every member of the Kardashian-Jenner family encountered major change last year, and the family's process of reconciling several life-changing events is still playing out in a very real way.

In a sneak peek at Sunday's Keeping Up with the Kardashians, Kim Kardashian West reveals to Caitlyn Jenner that Jenner's estranged son-in-law Lamar Odom remained unclear about the details of her transition long after the rest of the family began to accept Jenner's new identity as a woman.

As Jenner, 66, introduced her new, authentic self to the world late last year, Odom was struggling with personal issues that ultimately led to a near-fatal overdose last October and long road to recovery both physically, mentally and emotionally.

And in the clip, Kardashian West reveals she had to explain Jenner's transition to Odom, 36, before they attended her husband Kanye West's Yeezy fashion show in New York City this past February.
John Slattery is opening up about his father's hearing loss and how it has affected the family.

On Tuesday, the Mad Men alum helped Duracell launch its new "Stay Connected" initiative, which to bring more attention to the issue of hearing impairment and encourage people to get tested and get a hearing aid if they suffer from loss.

Of his own father Jack Slattery's struggle with his hearing loss, the actor told PEOPLE: "He was disconnected from the every day events in his life and our life."
TV News