TV News
[BRIGHTCOVE "20881375" "" "" "auto"]
When it was announced that Uzo Aduba, 33, the actress who plays Suzanne "Crazy Eyes" Warren on the hit show Orange is the New Black, was nominated for a SAG award on Wednesday, Aduba was otherwise occupied.


Since fans can't get back the cul-de-sac, Home & Family decided to bring the cul-de-sac back to fans!

On Thursday, the talk show will feature a special reunion of Knots Landing castmembers Joan Van Ark and Donna Mills, as well as Kevin Dobson, Michele Lee and Ted Shackelford. Even Alec Baldwin, who appeared on the Dallas spin-off from 1984-85, showed up via Skype.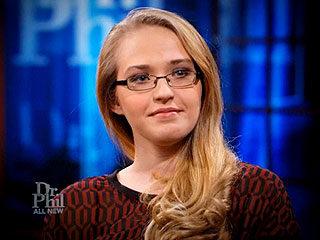 Anna "Chickadee" Cardwell refuses to remain silent about her mother's alleged relationship with a convicted child molester.


[BRIGHTCOVE "20881357" "" "" "auto"]
Who knew that Lady Edith Crawley could pound it out?

The Downton Abbey cast stopped by the PEOPLE Now studios on Wednesday just in time to hear that the show had been nominated for two Screen Actors Guild awards.

While Maggie Smith grabbed a nod for outstanding performance by a female actor in a drama series, the cast was also honored with an ensemble nomination.
Gird thyselves, fellow nerds – a Sherlock and Doctor Who theme park is an actual thing that is actually happening.

(Probably.)

BBC Worldwide has signed a £2 billion deal with London Resort Company Holdings, reports The Guardian.
David Letterman has picked the date he'll say goodbye on CBS.

The 67-year-old star will host his final Late Show on CBS on May 20.

"David Letterman has given to all of us a remarkable legacy of achievement and creative brilliance that will never be forgotten," said Leslie Moonves, president and CEO of the CBS Corporation. "It's going to be tough to say goodbye, but I know we will all cherish the shows leading up to Dave's final broadcast in May."
Remember Nate Richert from Sabrina, the Teenage Witch?

He famously played Melissa Joan Hart's onscreen sweetheart – the lovable, dependable Harvey Kinkle – in the '90s series. Besides being the boy-next-door cutie, he also spent quality time (when he wasn't unwittingly under a spell!) with Sabrina's beloved cat, Salem, and who doesn't love a guy with a soft spot for furry felines.

Fast-forward to over a decade since the series has ended, and Richert is still in show business – but has taken on a whole new role.

He is still capable of melting hearts, but this time as a musician. Check out his recently published video.
That was one wild night.

The Voice threw precedent out the window Tuesday night when it brought back eliminated artists from the Top 12 to perform one last time to earn the newly created fourth wild card spot in next week's finale.

The switch-up meant that (for once) Carson Daly wasted no time in revealing the three finalists advancing to next week: Craig Wayne Boyd of Team Blake Shelton and Matt McAndrew and Chris Jamison – who was the recipient of the Twitter instant save the previous week – of Team Adam Levine.
Was Vic Mackey responsible for bringing Sons of Anarchy to an explosive end on Tuesday?


TV News
Get PEOPLE Everywhere
Advertisement