TV Watch
The Real Housewives of Beverly Hills
The Real Housewives of Beverly Hills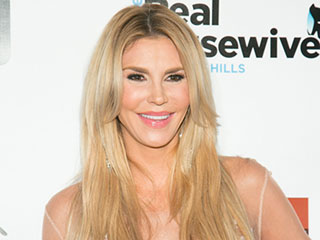 Credit: Instagram
Brandi Glanville is bringing sexy back with the one-piece swimsuit.


The drama on The Real Housewives of Beverly Hills is spilling off-screen.

Lisa Rinna and Yolanda Foster had a heated Twitter exchange Wednesday over questions about the former model's children's Lyme disease.

The she-said, she-said trouble began earlier this season when Foster revealed her son Anwar and daughter Bella Hadid are also suffering from chronic Lyme. Asked by Kyle Richards about the shocking news, Lisa Vanderpump said their father Mohamed Hadid – her close friend and Foster's ex-husband – had never mentioned anything. (She later apologized for getting involved in a Bravo blog post.) New Housewife Erika Girardi told Foster that Richards and Vanderpump cast doubt on her kids' diagnosis, and after Rinna went to Foster's home to apologize for repeating a separate accusation about Munchausen syndrome, Foster confronted Vanderpump and Richards, saying Rinna told her about their alleged betrayal and brandishing the kids' medical records as proof of their illness.
Kim Richards' friends are rallying behind the former Real Housewives of Beverly Hills star after the death of her ex-husband Monty Brinson, who died of cancer on Jan. 24

"Kim's friends have been showing so much support after Monty died. They are texting and calling her and trying to visit as much as possible," a source tells PEOPLE. "Kim's been devastated and feels like part of her is gone. He was her rock."
Kim Richards is mourning her ex-husband Monty Brinson, who died of cancer on Jan. 24.


Lisa Vanderpump didn't hold back when discussing Yolanda Foster's children's health battles on the latest episode of The Real Housewives of Beverly Hills – something she's sorry for now.

After telling her costars that Bella and Anwar Hadid's father, Mohamed Hadid, had denied they suffered from Lyme disease during Tuesday's episode, Vanderpump wrote in her Bravo blog, "I regret even acknowledging the subject, but we live and we learn."

"On the subject regarding Lyme disease, I can't stress this enough: I believe when we initiate conversation on a reality show, whether inadvertently or not, we open the doors for discussion," she explained. "I have initiated sensitive subjects myself, with regard to my children."
Two women and their feud sat down to dinner. It was just like every other installment of the Real Housewives franchise, until it was not.


Eileen Davidson says she spent years blaming herself for domestic abuse she suffered during two different relationships.

"It's a feeling that you can't live without them, even if they hit you. It's 'Oh maybe I did something to make this happen. It's me,' " the Real Housewives of Beverly Hills told Jenny McCarthy on her SiriusXM show Dirty, Sexy, Funny Tuesday. "I was so afraid of being alone I just had to have a boyfriend. I was very codependent. Extremely codependent. I would break up and then I would find a reason to put it on myself. 'He hit me because of this. I'm so sorry. I made you do that.' "
The Real Housewives of Beverly Hills