TV Watch
The Real Housewives of Beverly Hills
The Real Housewives of Beverly Hills
The wait is (almost) over!


As several cast members from The Real Housewives of Orange County attempt to shut out Vicki Gunvalson (in part due to her ex-boyfriend Brooks Ayers' alleged fabrications about having cancer) by threatening not to film with her anymore, Gunvalson has found an unlikely ally in former franchise star Brandi Glanville.

"I just though she got a bad rap," The Real Housewives of Beverly Hills vet Glanville told PEOPLE at the Rhonda's Kiss All-Star benefit concert to raise funds for cancer care in Los Angeles on Tuesday. "Without her and Brooks this season, they wouldn't have had a storyline, and now they're saying they don't want to shoot with her? It disgusts me!"

Glanville, who left her show earlier this year after a negative social media backlash, said she doesn't think Gunvalson should get the ax because of Ayers' behavior.
The moving trucks have come and gone, and the Foster family's magnificent floor-to-ceiling refrigerator sits sadly empty.

Reality star Yolanda Foster and husband David Foster have officially moved out of their sprawling Malibu, California, mansion.

"Beautiful ending to a beautiful chapter of our life," Yolanda wrote on Instagram Sunday, alongside of a photo of her and David by the home's pool. "Colorful memories of Love, Life and Family will live within our hearts forever...... #SaluteToMalibuMagic #ByeByeHomeSweetHome #OverAndOut."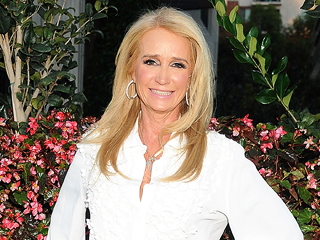 After a tumultuous few months of legal and substance abuse struggles, Kim Richards seems to be on the road to recovery.


This week, Yolanda Foster revealed that two of her children, Bella and Anwar Hadid, were diagnosed with Lyme disease.

The 51-year-old former model has been open about her own 3-year struggle with the illness on social media and on her blog for The Real Housewives of Beverly Hills.
Fans of the Real Housewives franchise were shocked and concerned when Kim Zolciak-Biermann was hospitalized in late September after having a mini stroke.

Though the scare forced the Atlanta-based mother of six out of the competition on Dancing with the Stars, Zolciak-Biermann has been making a full recovery in recent weeks.

Of course, Zolciak-Biermann is far from the first Housewife to endure a difficult health crisis or face down a terrifying diagnosis.

In the years since the franchise first began, fans have watched and supported their favorite stars through their battles with chronic illness and scary hospital stays. And in many instances, the wives themselves have stuck by one another through all manner of horrific health struggles.
Permalink | Filed Under: Health, Real Housewives of Atlanta, The Real Housewives Of New Jersey, The Real Housewives Of Orange County, Real Housewives of Beverly Hills, The Real Housewives of..., People Picks, TV News, Amber Marchese, Camille Grammer, Cynthia Bailey, Kim Zolciak, NeNe Leakes, Yolanda Foster
The Real Housewives of Beverly Hills