TV Watch
The Real Housewives of Beverly Hills
The Real Housewives of Beverly Hills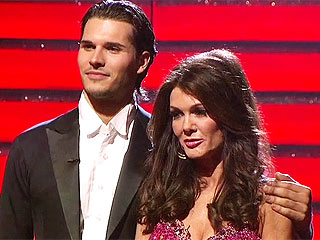 There's a good reason Lisa Vanderpump didn't shed a tear after her elimination from Dancing with the Stars on Tuesday.

The Real Housewives of Beverly Hills star – who was partnered with hot new pro Gleb Savchenko – felt "an element of relief" to leaving the competition, she told PEOPLE backstage after her dismissal.

"I have to be honest," she said. "I'm okay with it. That's why I didn't fall apart crying."

In fact, Vanderpump is proud of what she's accomplished. "I did it," she said. "It's the fourth week of the competition. We knew we weren't going to win. We were competing against an Olympian and a 16-year-old dancer. I'm a 52-year-old restaurateur. Give me a break. It is what it is."
Gleb Savchenko is not only one of the new pros added to season 16's Dancing with the Stars cast, but he's also partners with glamorous Real Housewives of Beverly Hills star, Lisa Vanderpump.

Read on to learn five things about the sexy, Russian, 6"1' animal lover, including what he thinks of Vanderpump, partying and making his private life public.
Lisa Vanderpump is a restaurateur, designer, author, philanthropist and star of The Real Housewives of Beverly Hills. She's competing on season 16 of Dancing with the Stars with new pro Gleb Savchenko – and blogging about it on PEOPLE.com

Here we are again ... this time in our third round in the Dancing with the Stars ballroom.

Before the first elimination of the season, my partner Gleb Savchenko and I were around the middle of the leader board but the fan vote was low, which put us in jeopardy. I have a feeling that because The Real Housewives of Beverly Hills was airing its final episode and the first part of the reunion at exactly the same hour, we may have lost my fan base.
When it comes to Real Housewives of Beverly Hills stars Kyle Richards and Mauricio Umansky, what you see is what you get – and that's why their marriage works.

"We're the same, with or without cameras. We're just super real and we know each other and we're real," Umansky tells PEOPLE Friday at Cirque Du Soleil's One Night For One Drop benefit show in Las Vegas.

The couple also confessed they never worried about what secrets of their marriage may leak out once they signed on for the Bravo show.


It's time for another The Real Housewives of Beverly Hills reunion – but this time, one important cast member will be missing.

Host Andy Cohen starts off the reunion by announcing Maloof's departure from the reality series, "Today we are missing one of the Housewives who has been with us since the beginning. Adrienne Maloof has decided not to participate today," he explains. (Watch the video below.)

"This season was hard on Adrienne – as you know all know – a secret about her family was revealed by Brandi [Glanville] and from that moment on, Adrienne refused to speak directly about it ... Not only is she absent tonight, but she won't be on the show next season," Cohen continues.
Another one bites the dust.

Following the news of Camille Grammer's departure from The Real Housewives of Beverly Hills, sources have confirmed that Adrienne Maloof will not be returning for season 4 – and that she was fired.

"She was let go," says a source close to Bravo's hit show. "Producers were sick of her constant tardiness and her issues."
Don't look for Camille Grammer on the upcoming Real Housewives of Beverly Hills reunion – nor on season 4 for that matter: The reality star has decided to call it quits, a source close to Grammer tells PEOPLE.

"There were some good times and some not so good times, but it's very hard to live your life out on the screen," the source says, referencing her divorce from Kelsey Grammer, which played out on the show's first season.

Grammer's decision comes at a time when there is great uncertainty regarding the upcoming season's cast.
She said what?!

On The Real Housewives of Beverly Hills, Brandi Glanville often comes under fire for being so outspoken.

But in her new book, Drinking & Tweeting, the 40-year-old is telling her side of the story on everything from plastic surgery to her highly publicized split with ex-husband Eddie Cibrian – and pulling out all the stops.

Here are the four most shocking things in Glanville's new book:
Adrienne Maloof wants to make one thing clear about Sean Stewart: "We are not living together. He has his own place. He has a nice place."

Otherwise, she tells PEOPLE, what you've read is true: The 51-year-old, recently single star of Real Housewives of Beverly Hills is, in fact, enjoying a budding relationship with the 32-year-old son of Rod Stewart.

"This started as a business relationship and now we're casually dating," she says, emphasizing, "It's casual, real casual."
The Real Housewives of Beverly Hills
Get PEOPLE Everywhere
Advertisement