TV Watch
The Real Housewives of Beverly Hills
The Real Housewives of Beverly Hills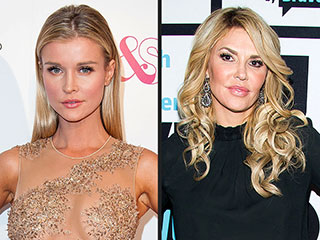 Credit: Getty
Bravo should insist that cameras be allowed in the courtroom for this pending Real Housewives battle.

Real Housewives of Miami star Joanna Krupa has sued Brandi Glanville for slander after the Real Housewives of Beverly Hills personality took a serious swipe at Krupa on a November 2013 episode of Watch What Happens Live.
Push came to shove on Tuesday's Real Housewives of Beverly Hills – and Brandi Glanville has plenty to say about her portrayal on the episode as well as the motivations of costar Kyle Richards.

When Kyle's sister Kim Richards, who checked in to rehab in 2012, showed up to a poker party acting like she might be under the influence, Kyle panicked that her older sister had fallen off the wagon.

Though Kim, 50, privately admitted to Kyle, 46, that she had "taken something" for pain, Kim walked away from her sister to find a sympathetic ear in Glanville, and the resulting clash between sister and friend turned violent.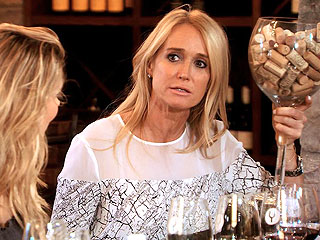 Eileen Davidson organized a poker party on Tuesday's The Real Housewives of Beverly Hills, and any time the wives have a game night you can bet it's not going to end well.

Things got off to shaky start at a spa day Kyle Richards organized.

"If Eileen can be in a van with Brandi Glanville after getting a glass of wine thrown in her face, I guess I can, too," said Lisa Vanderpump.

Things got shakier when a luncheon turned into wine tasting, something that made Richards and her sister, Kim – who entered rehab in 2012 and is now sober – uncomfortable.
Most days, Yolanda Foster says she feels like someone "tied my hands behind my back, "just so she can watch "life go by without me."

The 51-year-old star of The Real Housewives of Beverly Hills – who was diagnosed with Lyme disease in 2012 – wrote in a candid and heartfelt blog post that her illness has left her feeling like "someone came in and confiscated my brain."

"I have lost the ability to read, write, or even watch TV, because I can't process information or any stimulation for that matter," Foster wrote. "It feels like someone came in and confiscated my brain and tied my hands behind my back to just watch and see life go by without me participating in it."
Tuesday's The Real Housewives of Beverly Hills was filled with difficult goodbyes.

Lisa Rinnareturned to her childhood hometown of Medford, Oregon, to visit her aging, ailing parents and say goodbye to the house in which she grew up.

"I just belong in a big city," said Rinna upon returning to the small town and recalling what it was like to grow up there as a kid. "Why am I here? I'm more fabulous than this."
A trip aboard a luxury yacht with Kyle Richards turned into a nightmarish vacation for Yolanda Foster on Tuesday's The Real Housewives of Beverly Hills when she learned her daughter had been arrested for a DUI.

"This yacht is gorgeous," said an excited Richards, who went to Mallorca, Spain, with her husband and two of her daughters. "I can't believe we're going to float around on this for one week in the Mediterranean."

When Foster joined Richards, the two toured Spain, went tubing – the Dutch model referred to hers as a "bagel" – and jumped off the side of the yacht, before she received a call from her husband, music producer David Foster, informing her that her 17-year-old daughter, Bella Hadid, had been arrested.
The Real Housewives of Beverly Hills turned into an episode of Days of Our Lives Tuesday night, when former soap stars Eileen Davidson and Lisa Rinna were reunited.

"The first time I met Eileen was in the late '80s … Eileen was huge on The Young and The Restless," said Rinna, referencing Davidson's role as Ashley Abbott, before the two worked together on Days – Davidson as the villainous Kristen DiMera and Rinna as Billie Reed.

"At this point in my life and career, I feel incredibly grateful," Davidson said about her 2014 Daytime Emmy win for best actress on Days. "I've been doing this for so long … it might never happen again for me."
The Real Housewives of Beverly Hills
Get PEOPLE Everywhere
Advertisement