TV Watch
The Real Housewives of Beverly Hills
The Real Housewives of Beverly Hills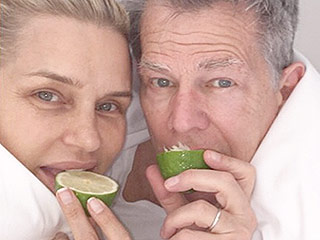 Credit: Courtesy Yolandah Foster
This celeb social media campaign is way tastier than dumping ice on your head – and for a just as important cause.

Yolanda Foster is asking her famous friends to help spread awareness of Lyme disease by posting Instagram photos of them sucking on – you guessed it – actual limes.

"It takes a village, please pass it on," Foster, 51, captioned a picture of her and her husband, music mogul David Foster, biting into the fruit Sunday.
Despite concern about her sobriety and her arrest last week for public intoxication, Real Housewives of Beverly Hills star Kim Richards is holding off going to rehab right now, a longtime family friend tells PEOPLE.

"As of now, she is saying no to rehab," says the friend. "People are trying to get her to go. A lot of people are worried about her."

Richards, 50, was arrested early Thursday morning after officers responded to "a report of a possible fight" at the Polo Lounge at the Beverly Hills Hotel at around 1:30 a.m.
After her arrest for public intoxication on Tuesday, Real Housewives of Beverly Hills star Kim Richards must confront whether continuing her life in the spotlight is healthy.

Though Bravo has yet to weigh in on Richards's future on the popular franchise, at least one sobriety expert suggests that dismissing the 50-year-old former actress may be the best way to help her help herself.
Kim Richards's arrest for public intoxication is hurting the people she loves the most – her four children, Brooke, Whitney, Chad and Kimberly.

"Kim's children are very disappointed in her," a source tells PEOPLE. "They're so upset. This is hard for them."

According to the Beverly Hills Police Department, the Real Housewives of Beverly Hills star, 50, was arrested at the Polo Lounge at the Beverly Hills Hotel on Thursday morning, and "was displaying symptoms of alcohol intoxication including slurred speech and belligerent insolent behavior cursing at the officers and passively resisted arrest."
In the hours leading up to her arrest for public intoxication, trespassing and more, a source at the Beverly Hills Hotel tells PEOPLE that Kim Richards, who spent time in a treatment facility for alcohol abuse issues in 2011, had been drinking.

Richards, 50, is a "frequent guest" at the Beverly Hills Hotel where she was arrested early Thursday morning, says the source. She dined in the Polo Lounge and then stayed for "several cocktails by the bar. She was drinking vodka."

Adds the source: "Later in the evening, she became aggressive, loud and insulting to other guests. It was clear that she was very drunk."
It looks like a bicoastal Real Housewives feud is brewing.

When Dr. Terry Dubrow went on Watch What Happens Live Monday night, he was asked to pick up the scalpel, but he brought out the metaphorical claws instead.

In the show's first segment, a caller asked both Dubrow and his partner in plastic, Dr. Paul Nassif, "Which Real Housewife would you have on Botched, and what would you do to her?"
Their relationship has been strained for some time, but Kyle Richards may finally be ready to make amends with Kim and put their bitter family feud behind them.

This weekend, Kyle captioned an Instagram post: "#NationalSiblingsDay these are my siblings @kathyhilton & @kimrichards11 #sisters no matter what …."
Eileen Davidson is taking all that bad behavior she witnessed on The Real Housewives of Beverly Hills and putting it to good use!

The 55-year-old soap star, who joined the Bravo reality series earlier this year, will briefly return to Days of Our Lives for a short but juicy arc.

In this exclusive clip, Davidson reprises her role as Kristen Blake DiMera, who's been living in Italy with Theresa's (Jen Lilley) stolen baby. Now Kristen plans to hire some baddos to kidnap Theresa and bring her to Italy so she can help save the baby who's suffering from some rare, made-for-daytime-TV disease.
The Real Housewives of Beverly Hills
Get PEOPLE Everywhere
Advertisement