TV Watch
The Real Housewives of Beverly Hills
The Real Housewives of Beverly Hills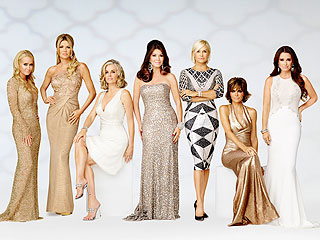 Credit: Michael Larsen/Bravo
The Real Housewives of Beverly Hills attended a surprise birthday party for Lisa Vanderpump Tuesday night, but the biggest surprise may have been that her frenemy, Brandi Glanville, was invited.

"I want you to be on your best behavior," Vanderpump's husband, Ken Todd, told Glanville when he invited her. "I don't want anything to spoil her birthday."

"Me on my best behavior is me not talking," joked Glanville, who was on her best behavior, as she was in the midst of a 21-day cleanse – meaning no sugar or alcohol – inspired by Yolanda Foster, who asked her point-blank last week if she was an alcoholic.

But Glanville did have to work for her cake – and to earn Vanderpump's approval – by singing for the guests, including Lance Bass.
Lisa Vanderpump says she and her fellow Housewives have "turned a corner," but that doesn't mean The Real Housewives of Beverly Hills star has forgotten what happened last year.

"I had a horrible season last year," the veteran reality star, 54, tells PEOPLE at the launch of EVINE Live Friday in New York City. "They threw everything at me last year, the other women. It was nasty and it was mean-spirited."

Specifically, Vanderpump had a falling out with former friend Brandi Glanville, who helped turn the rest of the cast against Vanderpump at the end of last season.
Yolanda Foster asked Brandi Glanville pointblank if she were an alcoholic on Tuesday's The Real Housewives of Beverly Hills, following Glanville's angry confrontation with Kyle Richards last week.

"[The girls say] Brandi's an angry drunk," Foster told Glanville when she invited her over to do yoga. "I don't want people going around saying you're an alcoholic … pause right there. If you are, I want to help."

"I'm not," Glanville said, although she said all the talk "makes me want to do it more."

"Maybe it's time for her to look in the mirror," Foster said, telling her, "You can go out and not drink too much."
David Foster admitted that it can be difficult at times to be there for his wife, Yolanda Foster.


Sibling rivalry is tough enough, but put Brandi Glanville between sisters Kyle and Kim Richards and it turns into a family feud.


Kris Jenner delivered some much needed happiness to Yolanda Foster today – sending a beautiful get well bouquet to her ill friend.


All bets were off at the poker game from hell as sisters Kyle and Kim Richards battled on Tuesday's The Real Housewives of Beverly Hills.

"It was like the party from hell," said Eileen Davidson who organized the party. "There was a brawl in my driveway."

When Kim attempted to exit the party early after Kyle had exhibited concern about her whackadoodle behavior, saying, "It looks like you're drinking," Brandi Glanville attempted to intervene.
Bravo should insist that cameras be allowed in the courtroom for this pending Real Housewives battle.

Real Housewives of Miami star Joanna Krupa has sued Brandi Glanville for slander after the Real Housewives of Beverly Hills personality took a serious swipe at Krupa on a November 2013 episode of Watch What Happens Live.
Push came to shove on Tuesday's Real Housewives of Beverly Hills – and Brandi Glanville has plenty to say about her portrayal on the episode as well as the motivations of costar Kyle Richards.

When Kyle's sister Kim Richards, who checked in to rehab in 2012, showed up to a poker party acting like she might be under the influence, Kyle panicked that her older sister had fallen off the wagon.

Though Kim, 50, privately admitted to Kyle, 46, that she had "taken something" for pain, Kim walked away from her sister to find a sympathetic ear in Glanville, and the resulting clash between sister and friend turned violent.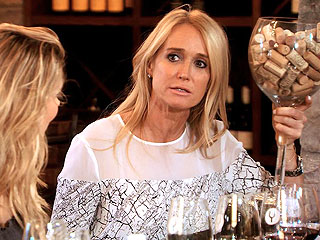 Eileen Davidson organized a poker party on Tuesday's The Real Housewives of Beverly Hills, and any time the wives have a game night you can bet it's not going to end well.

Things got off to shaky start at a spa day Kyle Richards organized.

"If Eileen can be in a van with Brandi Glanville after getting a glass of wine thrown in her face, I guess I can, too," said Lisa Vanderpump.

Things got shakier when a luncheon turned into wine tasting, something that made Richards and her sister, Kim – who entered rehab in 2012 and is now sober – uncomfortable.
The Real Housewives of Beverly Hills
Get PEOPLE Everywhere
Advertisement