TV Watch
The Real Housewives of Beverly Hills
The Real Housewives of Beverly Hills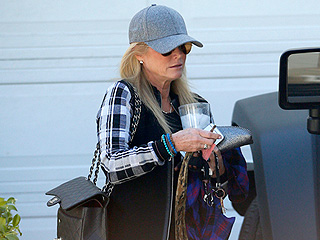 Credit: Splash News
Kim Richards isn't going to stay out of the public eye.


It looks like a bicoastal Real Housewives feud is brewing.

When Dr. Terry Dubrow went on Watch What Happens Live Monday night, he was asked to pick up the scalpel, but he brought out the metaphorical claws instead.

In the show's first segment, a caller asked both Dubrow and his partner in plastic, Dr. Paul Nassif, "Which Real Housewife would you have on Botched, and what would you do to her?"
Their relationship has been strained for some time, but Kyle Richards may finally be ready to make amends with Kim and put their bitter family feud behind them.

This weekend, Kyle captioned an Instagram post: "#NationalSiblingsDay these are my siblings @kathyhilton & @kimrichards11 #sisters no matter what …."
Eileen Davidson is taking all that bad behavior she witnessed on The Real Housewives of Beverly Hills and putting it to good use!

The 55-year-old soap star, who joined the Bravo reality series earlier this year, will briefly return to Days of Our Lives for a short but juicy arc.

In this exclusive clip, Davidson reprises her role as Kristen Blake DiMera, who's been living in Italy with Theresa's (Jen Lilley) stolen baby. Now Kristen plans to hire some baddos to kidnap Theresa and bring her to Italy so she can help save the baby who's suffering from some rare, made-for-daytime-TV disease.
She's known for dishing it out on The Real Housewives of Beverly Hills, but after a particularly brutal reunion show, Brandi Glanville felt the heat in a big way.

"Brandi really struggled," a source close to Glanville tells PEOPLE. "She felt bullied at the reunion."

Says the source of the single mom of two, whose ongoing feud with Kyle Richards, Lisa Rinna and Lisa Vanderpump came to boiling points at the taping. "She feels like everyone else in the cast can do whatever they want, but whatever she does gets criticized."
Lisa Rinna has proven once and for all that you can rock a bikini bod at any age.


Part One of The Real Housewives of Beverly Hills reunion didn't bring an epic brawl Monday night, but it did provide plenty of drama, most of which was focused on Brandi Glanville.

In fact, Brandi was a dandy, providing some of the night's best lines despite being in the line of fire.

"I can give you a lap dance if you want, if you're nice," Glanville said in response to Andy Cohen's question if she drank too much and was a mean drunk.
The Real Housewives of Beverly Hills
Get PEOPLE Everywhere
Advertisement