TV Watch
The Real Housewives of Beverly Hills
The Real Housewives of Beverly Hills
After surviving reality TV and personal tragedy, Taylor Armstrong has finally found her happy ending.


Before The Real Housewives of Beverly Hills stroll into the setting sun on Rodeo Drive until next season, there was time for a few more diamond-studded fights on the reunion finale.

Life certainly wasn't all diamonds and rosé for Lisa Vanderpump, whose fractured friendships were front and center all season, and who felt ganged-up on during the reunion.

Leading the attack was Kyle Richards, who once compared Vanderpump to chess player Bobby Fischer due to all her strategizing and who was still miffed at Vanderpump for bringing up the tabloid cheating rumors about her husband.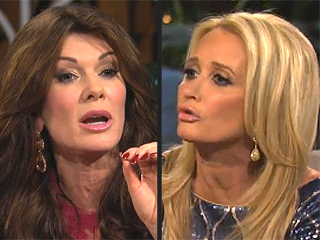 If Part 1 of The Real Housewives of Beverly Hills reunion was filled with knockout moments, Part 2 was chock full of, well, tasty morsels (and chocolate always helps to ease the tension, right?).

Here are the best "Snickers" from Part 2:

Krackel
Kyle Richards and Carlton Gebbia continued their high-voltage rivalry, which started this season with her comments over Gebbia being Wiccan and ended with Richards calling her anti-Semitic.


Sure, Lady Gaga has had her fair share of major cameos (Beyoncé Knowles, anyone?), but this was one we've been dying to see: The Real Housewives of Beverly Hills. The stars of the hit Bravo show make their music video debut in Gaga's new single "G.U.Y" and it doesn't disappoint.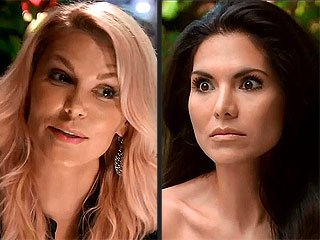 Let's get ready to rumble!

The women came out fighting on part one of The Real Housewives of Beverly Hills reunion Monday night, and it didn't take long before the gloves came off.

Although we all know host Andy Cohen is saving the best (or worst) for last, here were the knockout moments from Round One: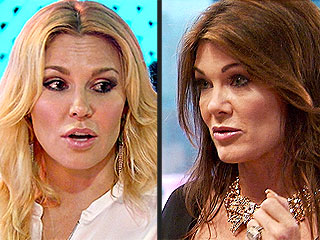 The Real Housewives of Beverly Hills gathered to celebrate the centennial of Beverly Hills, but the Hundred Years' War between Lisa Vanderpump and the wives only escalated.

"I've been under your spell for two years," Brandi Glanville told Vanderpump, who abandoned the ladies in Puerto Rico after Glanville told Kyle Richards that Vanderpump had encouraged her to bring damaging tabloids about her husband to a girls trip in Palm Springs. "Truth is, I'm stronger on my own. I don't ever want to be on the other side of your anger."

Continued Glanville: "With this fight, I finally feel free. I love you, but I'm not part of your game anymore."
Seems she had too much magic potion.

While dining with friends at Mastro's Steakhouse on Wednesday night, Carlton Gebbia – the Wiccan member of The Real Housewives of Beverly Hills – had one too many tequila shots and passed out at the upscale Beverly Hills eatery.

According to TMZ, a 911 call was placed at around 9:20 p.m., and the reality star, who was out cold at her table, was taken out of the restaurant by stretcher and into an ambulance.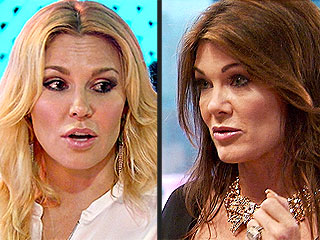 Who do you believe, Lisa Vanderpump or Brandi Glanville?

The Real Housewives of Beverly Hills traveled to Puerto Rico on Monday's episode, but even the turquoise waters couldn't wash away the stink that was created when Glanville decided to tell Kyle Richards exactly what kind of "friend" Vanderpump had been to her.

"Lisa wants to take her down," Glanville said. "Kyle needs to know the truth."
The Real Housewives of Beverly Hills
Get PEOPLE Everywhere
Advertisement