TV Watch
The Real Housewives of Beverly Hills
The Real Housewives of Beverly Hills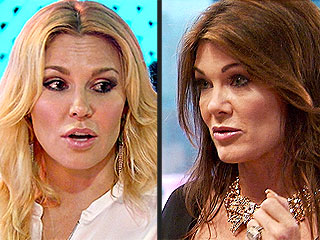 The Real Housewives of Beverly Hills gathered to celebrate the centennial of Beverly Hills, but the Hundred Years' War between Lisa Vanderpump and the wives only escalated.

"I've been under your spell for two years," Brandi Glanville told Vanderpump, who abandoned the ladies in Puerto Rico after Glanville told Kyle Richards that Vanderpump had encouraged her to bring damaging tabloids about her husband to a girls trip in Palm Springs. "Truth is, I'm stronger on my own. I don't ever want to be on the other side of your anger."

Continued Glanville: "With this fight, I finally feel free. I love you, but I'm not part of your game anymore."
Seems she had too much magic potion.

While dining with friends at Mastro's Steakhouse on Wednesday night, Carlton Gebbia – the Wiccan member of The Real Housewives of Beverly Hills – had one too many tequila shots and passed out at the upscale Beverly Hills eatery.

According to TMZ, a 911 call was placed at around 9:20 p.m., and the reality star, who was out cold at her table, was taken out of the restaurant by stretcher and into an ambulance.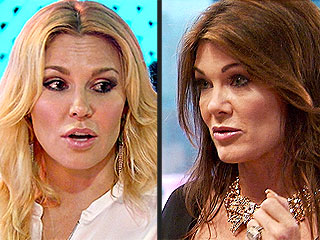 Who do you believe, Lisa Vanderpump or Brandi Glanville?

The Real Housewives of Beverly Hills traveled to Puerto Rico on Monday's episode, but even the turquoise waters couldn't wash away the stink that was created when Glanville decided to tell Kyle Richards exactly what kind of "friend" Vanderpump had been to her.

"Lisa wants to take her down," Glanville said. "Kyle needs to know the truth."
Nearly four years after their messy split, Brandi Glanville and Eddie Cibrian are still at odds – and this time, it's over money.

On Tuesday, Glanville posted on Twitter: "Im not taking cheap shots at my ex in my new book cuz its all true,&now mr fancy new cars&house man is asking ME for child support!"

Glanville, 41, and her ex have two sons, Mason, 10, and Jake, 6.
Talk about a bling ring.

On Monday's Real Housewives of Beverly Hills, a peace offering of jewelry from Kyle Richards to Carlton Gebbia ended up putting Lisa Vanderpump squarely in the middle of an escalating war.

After Richards's heated fight with Gebbia in which she called the Wiccan anti-Semitic, Richards asked Brandi Glanville to give her a gold piece that went with the necklace she gave Gebbia at her R-rated pool party.

Although Gebbia, 40, refused the additional bling, it was Vanderpump's intrusion in the matter that ended up angering Richards the most.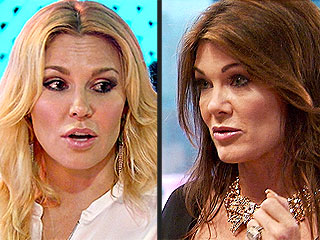 Brandi Glanville's tongue may have been swollen from an allergic reaction, but that didn't stop her from spilling the beans to Kyle Richards about her fractured friendship with former BFF Lisa Vanderpump on Monday's The Real Housewives of Beverly Hills.

"I used to get morning phone calls," Glanville revealed on a hike with Richards, who has had her share of issues over the years with Vanderpump. "I'm starting to wonder if I was doing her dirty work."

"Planting seeds," Richards said, referring to the times Glanville has taken on those in Vanderpump's radar.
Oil and water don't mix. And neither do Kyle Richards and Carlton Gebbia.

On Monday's Real Housewives of Beverly Hills, the two exchanged ugly words, rather than gifts, at an elegant party to celebrate the birthdays of Kyle's husband, Mauricio, and Lisa Vanderpump's husband, Ken.

And it all started over one of the two things a guest should never discuss at a party: Religion.
The Real Housewives of Beverly Hills
Get PEOPLE Everywhere
Advertisement