TV Watch
The Real Housewives of Beverly Hills
The Real Housewives of Beverly Hills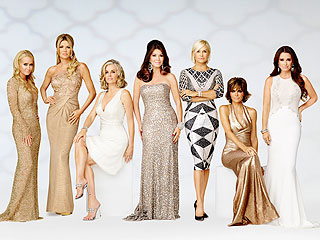 Credit: Michael Larsen/Bravo
The Real Housewives of Beverly Hills has always been filled with drama, but Season 5 will likely reach new heights with the addition of soap opera divas Lisa Rinna and Eileen Davidson.

"If you spend enough time in this town, you know everybody," replied Rinna, smiling through her famed lips.

Continued Rinna about her family and husband, Mad Men actor Harry Hamlin: "It is a trip and a half to raise two teenage daughters … Harry is king. We play along with that. Sometimes I rebel against that."
This type of decision is never easy – especially when you consider your dog your "best friend."


Lisa Vanderpump is known for her lavish lifestyle, but her most treasured possessions may surprise you.

While sitting in what she calls her "boudoir," the Real Housewives of Beverly Hills star reveals her "most sentimental things" – and PEOPLE has the exclusive footage.
Three years after her estranged husband's suicide, Taylor Armstrong is remarried and ready to return as a guest star on Real Housewives – though the tragedy still lingers over her and her daughter.

"I don't know if you ever move on from suicide," Armstrong, 43, tells PEOPLE while attending the Marjaree Mason Center's 31st Annual Top Ten Professional Women and Top Business Awards Luncheon as a keynote speaker. "It's something that I'll always have questions about, but for my daughter's sake, I can't dwell on the past. I have to look to the future, and I do bring up her father. We work with a child psychologist ... It's not as though we just pretended someone disappeared in her life."
It won't be long before the ladies – and the drama – of The Real Housewives of Beverly Hills are back.

"We're still filming. We're right in the thick of it," Kyle Richards tells PEOPLE about Season 5 of the reality show. "I think it's going to be a very exciting season. There's some new people on the show that we already have existing relationships with."

Although Richards, 45, remains tight-lipped about who is joining the Housewives cast, she says not everyone is getting along.
One way to add more drama to The Real Housewives of Beverly Hills? Throw in a couple of former soap opera stars.

Just a week after PEOPLE learned that Days of Our Lives alum Lisa Rinna will appear in the Bravo series, a source says that Eileen Davidson is now set to join her soap opera star pal next season on the reality show.
It was a day she never thought would be possible. On April 4, a beaming Taylor Armstrong exchanged vows with new husband John Bluher, finally finding the happy ending she'd so longed for.

Armstrong's first marriage, to Russell Armstrong, was turbulent and abusive, even landing the reality star in the hospital. Then, just one month after Armstrong filed for divorce in July 2011, Russell committed suicide, leaving her with unpaid bills, an outstanding lawsuit and their then 5-year-old daughter, Kennedy, to raise on her own.

"When everything you think is one way turns out to be different, it's a scary feeling," Armstrong, 42, tells PEOPLE. "I couldn't fathom ever loving somebody again, ever trusting somebody again."
The Real Housewives of Beverly Hills
Get PEOPLE Everywhere
Advertisement