Survivor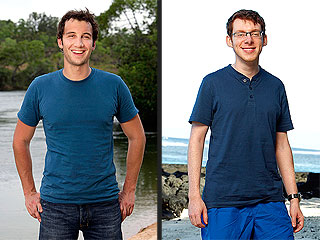 Credit: Monty Brinton/CBS (2)
"What I have to do is focus on the positive, visualize success, and just get these negative thoughts out of my head."
– John Cochran, Survivor: South Pacific

Cochrowned! On Sunday, Survivor super fan John Cochran swept the challenges and swept our hearts. More importantly, he swept the jury votes, becoming the third winner in Survivor history – after JT and Earl – to shut out his opposition. Congratulations, Cochran! You win a million bucks and the final Fishy!

When the season started, I thought Cochran was DOA. He was physically maladroit, he was a known backstabber and his skin blistered on exposure to sunlight.

But the politics of the Favorites tribe favored him. Phillip, Andrea and Dawn wanted to work with him while they settled old vendettas. Cochran served as therapist to a group of volatile players.
It has been an exceptionally cutthroat season of Survivor, full of blindsides and broken promises. Two contestants were medically evacuated, one player was voted out in an impromptu tribal council and big characters went down in flames.

On Sunday, the season ended with an unlikely final three: Dawn Meehan, Sherri Biethman, both over 40, and 26-year-old John Cochran, who played his previous season as what some might call a weakling.

The final tribal council was contentious, with each of the nine jurors taking their shots at the finalists. Biethman was criticized for riding the coattails of the other two players. Meehan was attacked for forming personal relationships with contestants before backstabbing them. And Cochran took some heat for sitting back and allowing Meehan to do the work.

And then it was time to reveal the votes. Jeff Probst read the nine votes, and a winner was crowned.
Survivor has been on for 26 seasons now, but the long-running reality show still manages to stay interesting year after year. Case in point: Survivor: Caramoan. With medical evacuations, shocking blindsides and epic meltdowns, the season started out slowly but eventually picked up steam around the merge.

In anticipation for Sunday's finale, Jeff Probst – who has gone on record saying that Survivor: Caramoan was one of his favorite seasons in recent history – handicaps the final five. Who will win? Who doesn't have a prayer? Probst breaks it down for PEOPLE.
"It's a little hard to be living with people for 32 days and have these relationships and what you think is trust, and then find out they've been lying to you the entire time!" - Andrea Boehlke, Redemption Island

We've been waiting for this moment all season. With antagonists Malcolm and Reynold twirling their mustachios from the jury bench, the remnants of Stealth R Us have to turn on each other. For 33 days, the Favorites have coasted in their easy majority, kept in lockstep by Phillip's relentless drumbeat. With only seven players left, who will take the reins?

The episode came down to an amicable power struggle between Cochran and Andrea. Cochran wants to protect his bestie Dawn and ensure he's part of every alliance. Andrea wants to keep her boy toy Eddie and take out the adorable Brenda.
Stephen Fishbach was the runner-up on Survivor: Tocantins and has been blogging about Survivor strategy for PEOPLE.com since 2009. Follow him on Twitter @stephenfishbach.

"There's no reason to give people a reason to get rid of me."
– Malcolm Freberg, Survivor: Philippines

Goodbye, bro. After 25 straight episodes of Survivor, we finally say farewell to Malcolm Freberg, one of the season's most dynamic characters. Malcolm proved you don't have to be crazy to make the show fun. He was strategic without being robotic; physical without being muscle-brained; charming without being smarmy.

He was the complete Survivor package. So why's he going out in ninth place?
The last time Phillip Sheppard played Survivor, he played a crazy game, running around in pink underwear and wearing feathers on his head.

Returning for Survivor: Caramoan, Sheppard played a more strategic game, but was still called out for his eccentric behavior.

Now on the jury after getting eliminated on Wednesday, Sheppard chatted about his upper body strength, his fear of water and why he's not crazy.
Stephen Fishbach was the runner-up on Survivor: Tocantins and has been blogging about Survivor strategy for PEOPLE.com since 2009. Follow him on Twitter @stephenfishbach.

"Early on in this game, I made myself the villain."
– Phillip Sheppard, Survivor: Redemption Island

Oh lucky day! The Specialist has been neutralized!

In a way, all of us has a Phillip to face. For some, shyness might be their Phillip. For the Three Amigos, their Phillip is an overbearing former federal agent (?), who wants to vote them off Survivor.

But as sure as their names are Malcolm, Eddie and Reynold, on Wednesday the Amigos conquered their own personal Phillip – who also happened to be the actual Phillip!
Stephen Fishbach was the runner-up on Survivor: Tocantins and has been blogging about Survivor strategy for PEOPLE.com since 2009. Follow him on Twitter @stephenfishbach.

"Everybody tells me all the time how much they believe me, how much they trust me. Were these guys paying attention the first 32 days?" – Rob Cesternino, Survivor: The Amazon

Has Dawn Meehan hoodwinked her entire tribe? The kindly mother of six adopted children has somehow become Survivor: Caramoan's most fearsome assassin. She lures her prey into a false sense of security – and then, she strikes!

On Wednesday's episode, yet another alliance fell victim to the poison stinger of the weeping Meehan. Malcolm, who somehow isn't on the outs even after his failed coup last week, is nonetheless determined to destroy his position in the majority alliance. He rallies lothario Eddie, sexually ambivalent Michael and exuberant golden retriever puppy Reynold for another putsch.
On Survivor, one of the most fatal mistakes is overplotting.

When Corinne Kaplan, a 33-year-old clinical consultant from Los Angeles, schemed to overthrow Phillip Sheppard, her tribe turned on her instead.

Kaplan opens up about the drama, the lighthearted moments, and the worst contestant she's ever dealt with.

(Hint: It's not Phillip.) 
Survivor
Get PEOPLE Everywhere
Advertisement