The X Factor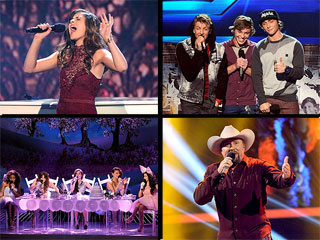 Credit: Ray Mickshaw/FOX (4)
Sparks will fly at the finale!

On Thursday, The X Factor revealed its top three acts, who will perform next week in the final night of competition – in hopes of taking home the $5 million recording contract.

Simon Cowell said it would take a miracle to get his girl group, Fifth Harmony, to the finale after they performed Shontelle's "Impossible" and Ellie Goulding's "Anything Could Happen" on Wednesday. Keep reading to find out if their dream came true ...
The latest season of The X Factor is down to the wire – but L.A. Reid is already looking ahead to next season. And he's not planning to come back.

"I have decided that I will not return to The X Factor next year," Reid, who is chairman and CEO of Epic Records, tells Access Hollywood. "I have a company to run that I've kind of neglected."

Of his decision to leave the singing competition, he says, "It saddens me a little bit, but only a little bit."
There may not be a front-runner following Wednesday's semi-finals on The X Factor, but there does seem to be a weakest link.

Most of the judges seemed down on girl group Fifth Harmony, whose rendition of Shontelle's "Impossible" left them wanting more, following a better performance of Ellie Goulding's "Anything Could Happen."

Britney Spears, Demi Lovato and L.A. Reid were all doubtful of Fifth Harmony's chances to be one of the three acts in the finals, with only Simon Cowell defending them, saying, "You've been one of the strongest acts tonight."

Not that the other performers were slouches.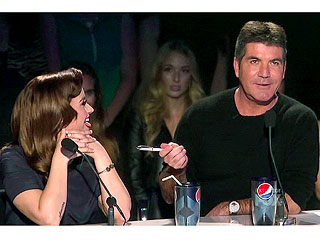 She's sassy with Simon Cowell and, after Thursday's elimination of CeCe Frey, she became the first judge this season to lose all her contestants on The X Factor.

So, should freshman judge Demi Lovato be worried about going the way of season 1's female judges, Paula Abdul and Nicole Scherzinger?

"It's that time of year [when] you're always going to get asked that question," Cowell told PEOPLE after Thursday's show, "and I'm not going to answer it."

If Demi does leave the show it won't be due to any personal issues Simon may have with the "Give Your Heart a Break" singer. Despite their near-constant bickering on the panel, Simon admits he has a soft spot for her spitfire nature.
There were tears on The X Factor Thursday night.

With only four spots in next week's semi-finals, the six acts who performed two songs each Wednesday night were a tense bunch. Especially after last week's shocking elimination that sent home fan favorite Vino Alan.

A majority of PEOPLE.com readers picked Demi Lovato's only remaining contestant, CeCe Frey, as the singer who most deserved elimination. Was she able to make it through one more week? Keep reading for all the results ...
Mario Lopez called the first elimination on Thursday's The X Factor a "bit of a shocker."

And so was the second.

The top eight contestants sang No. 1 hits Wednesday in an emotional night. Keep reading to find out which two performers were sent packing – and who's in season 2's top six ...
The family that shops together, stays together!

Britney Spears and sister Jamie Lynn Spears stepped out for a shopping trip at Target in Los Angeles on Sunday.

With her sons Preston, 7, and Jayden, 6, in tow, the X Factor judge, 30, couldn't look more relaxed in a button down tank, shorts and flip-flops. Meanwhile her sister, 21, sported cozy boots, shorts and a striped top as they strolled through the parking lot.

On their way out, Britney and crew were spotted enjoying drinks from Starbucks as she pushed their cart.
Taylor Swift appears to be taking her love life in a new direction.

The "Never Ever Getting Back Together" singer is seemingly taking her lyrics to heart as she moves on from recent ex, Conor Kennedy, and enjoys the company of One Direction hottie Harry Styles.

"I had to literally do a double-take," an onlooker tells PEOPLE of finding Styles, 18, with Swift, 22, on the set of The X Factor Thursday morning.
As most Americans sit down for Thanksgiving dinner, he'll be on the court with the Los Angeles Clippers in New York and she'll be on the stage in Los Angeles.

But even if Khloé Kardashian, 28, and her basketball star husband Lamar Odom, 33, won't be together this year for the family holiday, they remain connected and supportive as both continue their busy careers.

"Honestly, I'm fine with it, because I'm obsessed with my husband – in a healthy way – but he's on the road. He has a game in Brooklyn, so I don't feel guilty, like, 'I'm not going to be able to cook for him!' " Kardashian told PEOPLE from the set of The X Factor on Thursday.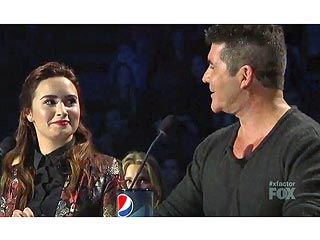 Double elimination time on The X Factor!

The top 12 performed songs by divas the night before – and then faced a night of diva-worthy drama on Thursday's show. And it was a particularly tough night for the young adults' coach, Demi Lovato, after the outcome of the viewers' votes were revealed.

Keep reading for all the results ...
The X Factor
Get PEOPLE Everywhere
Advertisement